iCrowdNewswire - Aug 12, 2015
MuslimManga
Goal
The Goal of Muslim Manga is to shed light on real Muslims and who we are through the form of manga (comics). We think that this is an effective way to attract the attention of our own young Muslim brothers and sisters so they have more pride and confidence in their religion through seeing main characters and individuals who share the same belief as them. This form of story telling is also a good way to attract non-Muslims and give them a better representation of who Muslims are and what we are like. With every $25 that is raised, we can illustrate one page of our stories. Each chapter of a story has 20-25 pages. With your support, we can create the content that brings about our vision. Bellow, we have listed some examples of stories we are working on. The goal is to raise $30,000 to give us the funding to produce consistent monthly chapters of our stories and to work on our app (also described bellow). With your help, we can bring about our vision and become the first main Muslim Manga content creators! However, if we don't raise the $30,000, we get nothing and you don't get charged. So if you like our campaign and what we do, please help us reach our goal. Insha'Allah with your help, we can do some big things!
What is Muslim Manga?
---
Muslim Manga is a project aimed at using the power of the medium of manga to bring forth a new era of enlightenment. Right now, the world is in the dark ages when it comes to knowledge about Islam and Muslims. With media portraying a very negative view of Islam, it is up to us to present ourselves in a different light. Muslim Manga plans to achieve this through four methods:
---
Method 1. Creating stories with general moral values that can teach people regardless of their religion about various things including having a positive attitude and being grateful.
---
Benjamin Sensei
: An American Muslim goes to Japan in search of the man who first taught him about Islam.  While in Japan, he teaches English. In his day to day life, he helps different people and is able to leave positive impacts on many people.
---
Method 2. Creating Muslim characters that Muslim children can look up to.
These will be characters that already have a strong faith, or their faith will become stronger as the story progresses.
---
Samurai Akiyama 
is set in an alternative history of Japan in the 1590s in which Muslims are present; however, the Muslims are hunted down by the government.
Hana & Her Love 
is one such example. This is a story about a schoolgirl who has an encounter with a Muslim boy and is intrigued to learn more. As she begins learning more and more, she enters a whole new world that she never knew about. She also begins to fall in love with a certain someone.
---
Method 3. Creating stories in which Muslims are portrayed in a more accurate and positive way, as opposed to mass media portrayal of Muslims.
 These stories may or may not have a specific Islamic message.  Instead, it may have a simple message– that Muslims are human; they live, cry, and laugh just like everyone else.
---
The Heart of Fawwaz 
is an example of such a story. It is a story about a Muslim high school student who is studying Japanese and has to try to overcome stereotypes and at the same time make new friends.
Method 4. Creating stories that teach Islamic principles in a simplified and fun way to younger Muslim children and people who aren't Muslim.
---
Himawari Kindergarten: 
This is a story that revolves around a Muslim kindergarten, its teachers and its students.  The goal is to teach children about various Islamic topics.  Follow these children as they learn about Islam.
The Barber and the Client:
 This is a story that takes place between the barber and his client. The barber brings up why he thinks God does not exist and the client finds a humorous way to reverse the barbers reasoning. The story is a fun way to explain the existence of God to children!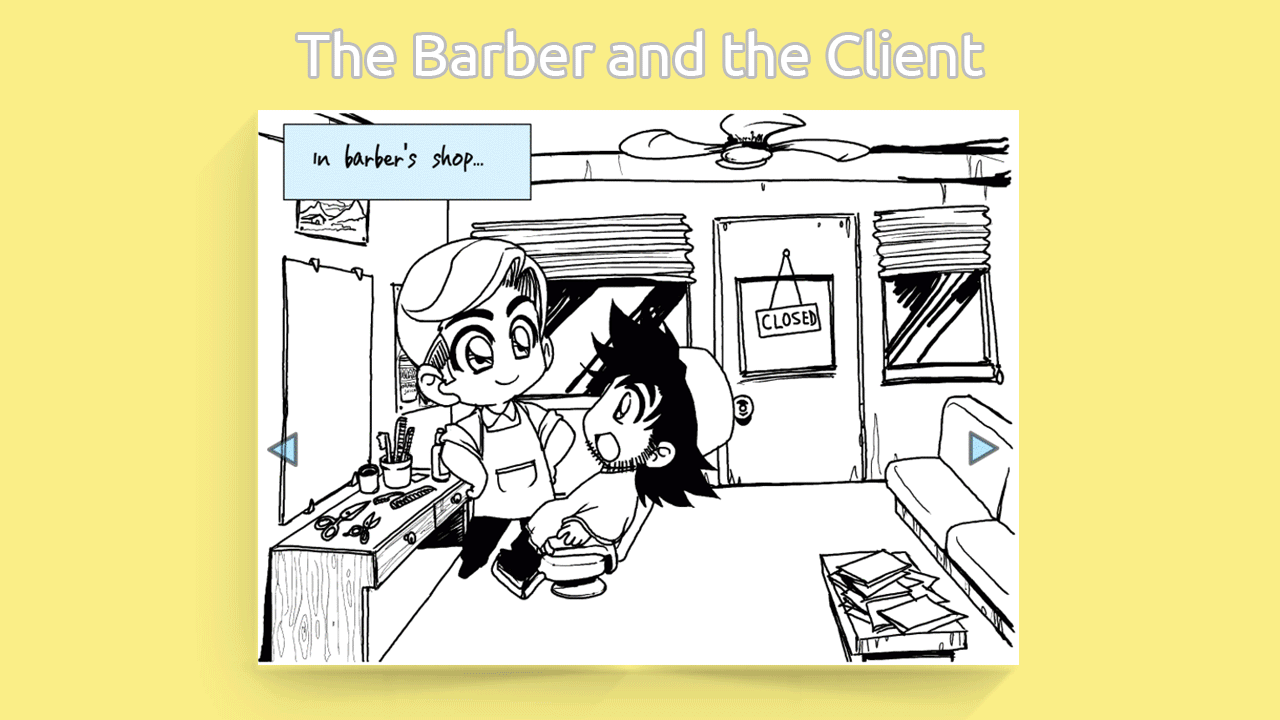 App
---
Other than creating manga, we are also creating a bedtime story app aimed at younger children, called Story Time by MManga. The purpose of this app is to read children one new bedtime story every night, 365 nights a year.
These stories will cover a mixture of popular bedtime stories, along with original content; however, all of them will share a common theme. They will all end with a lesson in which children can learn from, helping them grow up to be kind, compassionate individuals who will show the next generation the goodness of Islam through their actions.
History of Manga
---
Manga is a Japanese style graphic novel or comic book medium which is also a very popular and powerful form of storytelling. Through the medium of manga, America went from hating the Japanese people in the World War II period to loving them now. We also want to use the power of manga to create a more accurate and positive image of Muslims. Over the years, manga has gained critical attention and interest from middle school students to college students to parents. Some examples of popular anime include Naruto, Pokemon, Spirited Away, and many others.
Having been raised in a generation in which such media is so popular and effective in portraying what is "cool", we became disheartened that none of the characters in popular manga or anime were Muslims.  As Muslim children grow up, it is important for them to be able to identify themselves with a character that they look up to.  Unfortunately, characters that would be appropriate for Muslims children is missing in current popular media.   As Muslim children grow up, it is important for them to be able to identify themselves with a character that they look up to.  Unfortunately, characters that would be appropriate for Muslims children is missing in current popular media.   For this reason, we decided to create our own stories that show Muslims in a good light, as individuals who are friendly, have non-Muslim friends, help others, and share an identity with the western or eastern societies in which they live.
What is the Goal?
---
We have been working on the foundation of the Muslim Manga project for past several years and are now ready to increase the level of our manga production.  In the past year, we have begun work on three original manga and have two more in the pipeline. The work involved introducing these stories includes writing, editing, illustrating, and refining for release.
For the bedtime stories that we record, first we either find existing stories or write them ourselves.  Afterwards we record a narration of these stories, often voice acting the individual characters.  Finally we edit them for release on the StoryTime app.
Everything that we create is released for free in the form of digital content on our website, MuslimManga.org for our fans to enjoy and profit from. Once we receive the funding,we will also release the content on other platforms such as Kindle, Nook,Google Play, iBooks, etc., all for free. God willing, our goal is to reach as many individuals as possible.
We do not run ads, and have been creating all of our content, managing our apps and running the website using our personal funds. As two college students, it is often hard to keep up with the expenses associated with the projects. Artist fees and app fees are our largest expenses, with one illustrated manga page costing us approximately $25. With your help, we plan to release monthly chapters of Samurai Akiyama, Hana & Her Love, and Benjamin Sensei, as well as many other manga. We also aim to improve our Story Time app.