iCrowdNewswire - Aug 12, 2015
LifeDock – Bring life to your space 'n smart device!
The Story behind LifeDock
Pause for a moment and take a look around. Whether you are at work or at home, you are probably surrounded by lifeless inanimate objects. It does not have to be that way! What's missing is the presence of green luscious plants. Since smart devices have become indispensable from our lives, combining plants with the charging station is the perfect solution. Let LifeDock bring a breath of fresh air into your lives!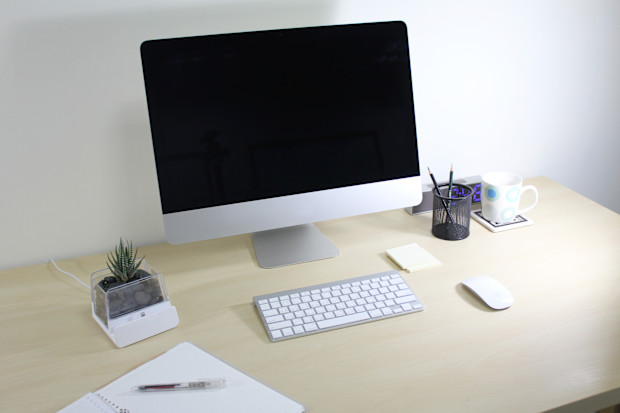 Why plants?
According to some researches, having indoor plants provides numerous benefits. Plants can:
Beautify the indoor space
Enhance physical and mental health
Eliminate harmful toxins from the air
Reduce stress and relief eye strain
Boost creativity and sharpen focus
Provide a sense of accomplishment and satisfaction through the process of cultivating plants
Decorate your home or office with different plants. Whenever you take out a plant container to water it and give it sunlight, you can place another container with a different plant. Your space never has to look the same again!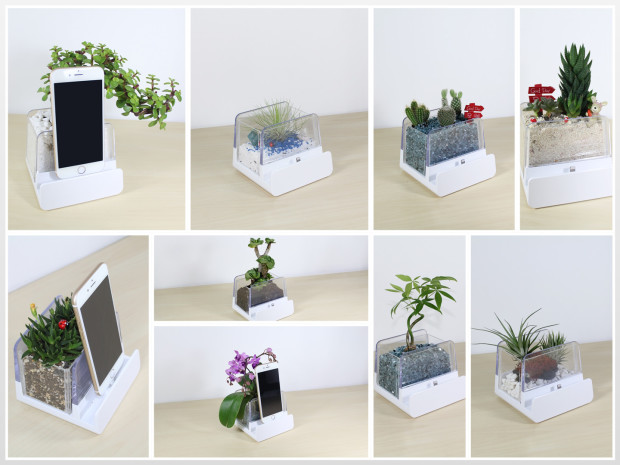 LifeDock in 6 sentences:
You will always have the benefits of plants
Home/office will never look the same! Interchange plant containers as often as you want, based on either your mood or the seasonality!
Smart phones/devices will always be fully charged
One hand removal of device
No screws, no fuss!
Elegant and space saving, looks great even without the phone!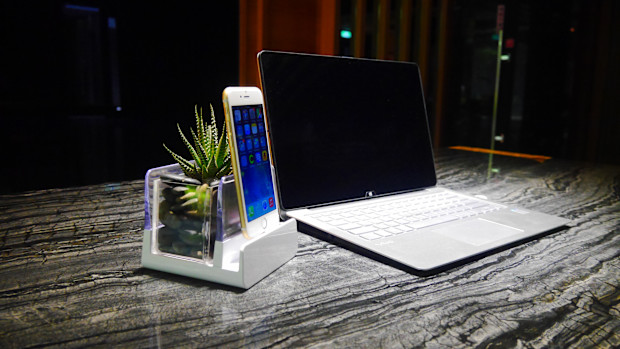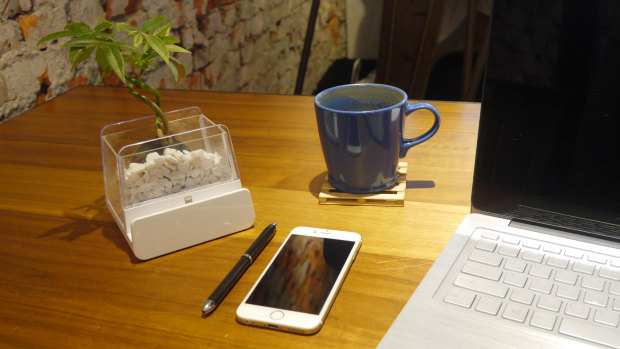 Concept & Design
The idea behind LifeDock is to simply combine function and form. The minimalist charging stations on the market are very minimal but the usefulness stops there. We want a charging station that does more. Since having plants around provides so many benefits, combining the two made absolute sense.
Our very first prototype is a bit bigger. In order to save space, we redesigned it into a slimmer version.  
First Prototype with iPhone 6: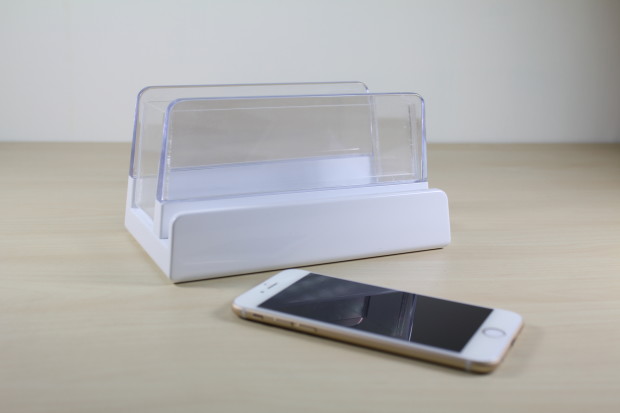 Second Prototype with iPhone 6: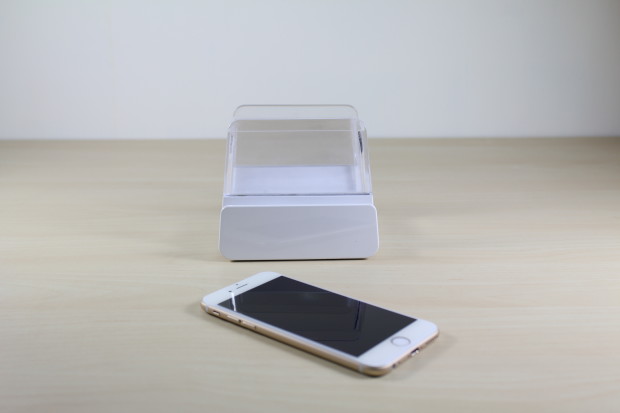 Design Revisions
Our goal is to bring LifeDock into life (see what I did there?) at a reasonable price, but without compromising quality.  In May to June, we have met and spoken with quite a few manufacturers. All of them indicated that this particular design will be difficult to make. The trapezoid container poses the most complications. Thus we had to make revisions to make the whole design more rectangular instead of trapezoidal. The final product would look more like the pictures in "Features & Materials".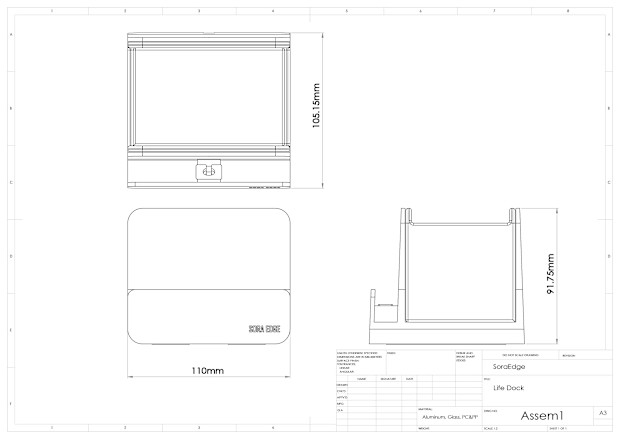 Features & Materials
 
LifeDock's base will be created from our aluminum die-casting mold, and then undergo CNC porcessing to acheieve a smooth finish. The container will be made of glass and the clear walls acrylic. 
Besides charging, the main feature of LifeDock is the container for plant placement. Aside from that, LifeDock's first clear wall acts as backrest to support the smart devices. Two clear pads of different thickness will also be provided to ensure that your device can rest comfortably on the clear wall, whether you use a case or not. 
The two clear walls allow unobstructed view of the plants, letting you admire their beauty from all angles. The open design, in the sense that it's not enclosed, facilitates easy removal of the container, enabling you to interchange one for another. (Alternating containers with different plants in it is recommended, since plants need to get enough sunlight and be watered as well!)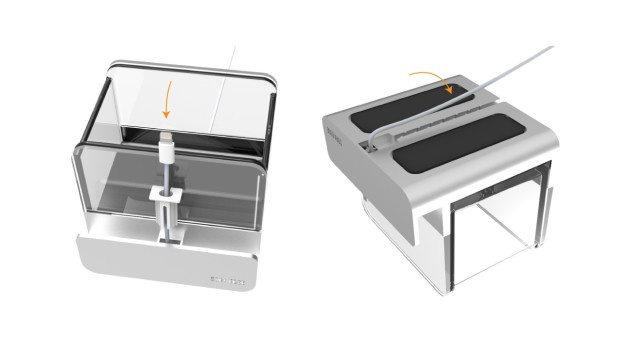 Two pieces of "sticky pads" will go on bottom of the docking station. We chose to use sticky pads to allow one hand removal of the phone. The sticky pads can be wiped with a wet cloth to restore its stickiness.
The following have been tested: 
Apple: iPhone 5, iPhone 6, iPhone 6 Plus
Android: LG G3, LG G4, Samsung S6 Edge, Samsung S6, Samsung A7, Samsung E7, Samsung E5, Asus Zenfone 2, HTC Butterfly
Tablets: iPad Air, iPad mini
We tested LifeDock with an iPhone 6 Plus that uses the Spigen Tough Armor protective case as well. If your case is similar to the Spigen Tough Armor case or something slimmer, it will work with the LifeDock!
What's included with each LifeDock unit?
Each LifeDock comes with one container, one adapter designed for Apple Lightning USB cable, two clear pads(for wall), and two sticky pads(for bottom). (The Apple Lightning USB cable is not included.)  
The Android adapter and micro USB cable will be included with all LifeDocks once the stretch goal is met.
Available Colors: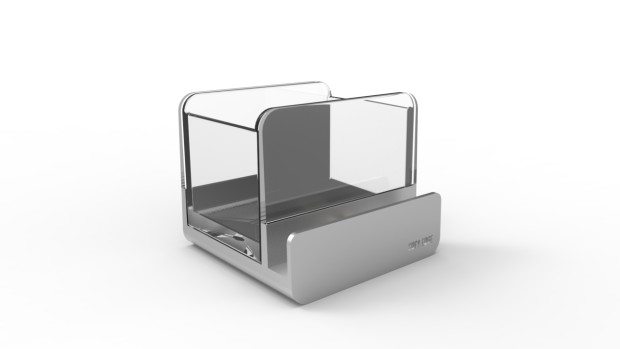 Arctic Silver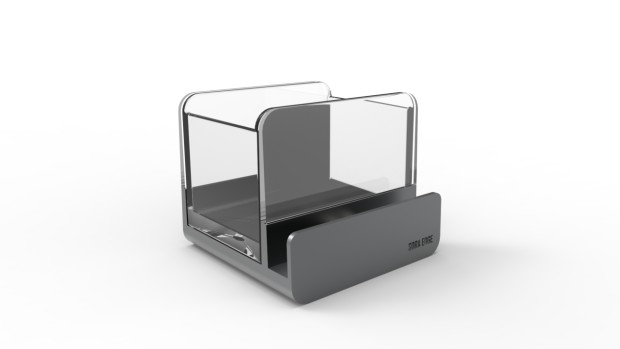 Stealth Black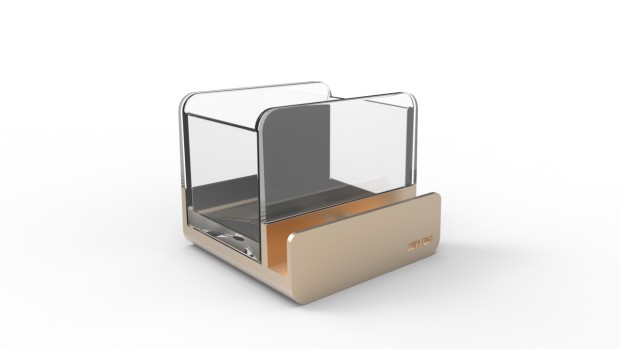 Blazing Gold (Available once Stretch Goal met)
Risks & Challenges
Volume – It is difficult to gauge ahead of time where the Indiegogo campaign will take us. If we see huge volume by campaign's end, the timeline may be pushed back a little bit. However, we will still strive to deliver the goods on time!
Manufacturing – We have met and spoken with quite a bit of manufacturers. From the meetings, we have learned of the kinks and flaws from our initial designs and have hence tweaked the product design so that manufacturing process can be smooth. If there were any manufacturing issues overlooked by the manufacturers, we will make sure the matter can be worked out. 
Meeting the timeline – Our number one priority is to deliver quality products to you on time. Unexpected and unforeseen challenges sometimes do arise and that may affect the timeline. We will do our very best to overcome any obstacles that come our way and will keep the contributors constantly updated!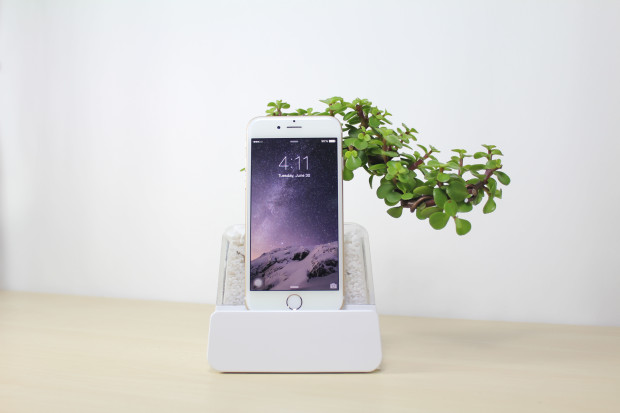 Our Story
Sora Edge is made up of a team of three: Alec, Felipe, and Joey. Alec is our lead designer, the quiet one with lots of ideas up in his mind. Felipe used to be an auditor but believes that he can better serve the world by coming up with great product ideas instead of crunching numbers! Joey is in charge of our sales as well as product development. We wants to bring interesting and unique products to the public at an affordable price. Sora Edge was founded in August of 2014. The three of us have been long time friends and we decided to work together to bring our visions to the world. At the core of Sora Edge, we believe that form and function are equally important, and neither should be sacrificed for one another. We want to bring a wide assortment of interesting products to the world and we are taking our very first step right here at Indiegogo!