iCrowdNewswire - Aug 11, 2015
A better world = micro finance + you?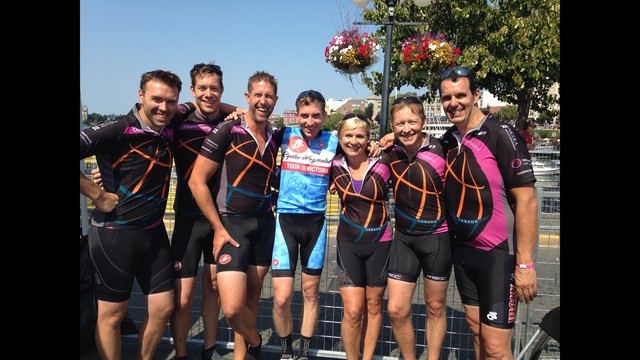 Our Story 
Simply put, we want to see more micro loans in the hands of budding entrepreneurs. We see the education and commerce as paths to prosperity. Like many of you, I am amazed at the level of small scale entrepreneuriasm in South America and Africa, two areas of the world where Opportunity InternationaI concentrates their efforts. Business credit in these third world countries is often akin to "loan sharking" – micro finance allows us to give the impoverished a fair shake and a hand up.
Last year's ride was a great experience with awesome support and exceptional team members. The biggest obstacle was a psychological one…wearing a jersey with one of our worthy competitors name on it! I (Chris) got over it and made sure it didn't happen again this year :). We are now pulling out the stops and pounding out the miles. Arleen will be tackling the 85 km route, while I will be attempting to play with the big boys in the 145 kmride…slowly, I am sure.  
So how did we make out last year? Between the generous donations from many supporters, our personal commitment and a $ for $ matching program, the grand total pegged in at $14700. This year, we are going for the high bar, with nervous treptitation, we have set our "all in" fund raising goal at $25,000.00. To help get us there, we have lined up a $ for $ matching program through the Raymond James Canada Foundation (RJCF), Psalm115:1 account. That's right, for every $ you donate, RJCF will be stepping up with a matching $, up to an aggregate limit of $25000. A value proposition, I hope you can't refuse.
Interested? What follows are some stories of the people you will be helping. Will you partner with us? 
Who Are You Helping?
Meet Yesenia del Socorro Rostran, Managua, Nicaragua, 32 years old.
Daily routine: She gets up at 3:40 am, she starts the day by cleaning the corn for the tortillas, then her husband and 13 year old son take the corn to be grained . She starts making tortillas at 4:30 am. Through the day she takes her of her corner store and sells tortillas while doing house work. At 4 pm she goes to the market to replenish supplies for the businesses.
Garlic business: She buys boxes of garlic, which she then packages them by weaving banana leaf through the middle. She sells packages of 10. Her 13 year old son also goes on the streets and tries to sell them or takes them to the market and sells it to the fruit stands.
She dreams buying a bigger truck to be able to buy more inventory for her businesses and grow bigger in all of them.
Who used to work with her in 2009:  Just her and the husband.
Who does she employ now:  her brother who has 5 children.
Between her family and brother, 12 people benefit from this business
Marital status: married (husband helps with all the businesses)
Level of education achieved:  grade 6
Children: 4, ages 13 to 5 months
Originally: from Tipitapa.  Left her hometown looking for better job opportunities.  Arrived to Managua 7 years ago only with her clothes and a matress
First loan:  in 2009- US$300
Type of business:  sells garlic, makes and sells tortillas, sells beans, butchers pigs and owns a corner store
Why did she choose this business:  Her father used to sell garlic, so she started helping her father at age 9. 
What did she use the loan for:  To buy inventory for her corner store, to buy garlic in bulk, to buy bigger pigs to sell the meat. 
NEED IN NICARAGUA: MICROFINANCE SERVICES
Nicaragua is the poorest country in Latin America and the second poorest in the Western Hemisphere after Haiti. Close to 50% of the 6.5 million people are living below the poverty line (32% with less than $2 per day). The unemployment rate is 7% and underemployment is over 46% which means that most Nicaraguans do not have a source of income to meet the most basic needs of their families. Nicaragua needs an influx of capital to stimulate the development of the private sector in the poorest and marginalized areas of the country in order to break the cycle of poverty.
OPPORTUNITY INTERNATIONAL
Opportunity International provides access to financial solutions empowering people living in poverty to transform their lives, their childrens futures, and their communities. $150 dollars funds one loan, is repaid and re-loand every 3 months and helps mothers provide more meals, regular schooling, and basic santization for their kids. Families, communities, and regions are developing out of poverty because of this powerful tool that is recycled and multiplies. Read more WOMEN represent an estimated 70% of those living on less than $2/day. Cultural and legal inequalities in developing countries create obstacles that prevent women from starting and financing new businesses.This leaves them more vulnerable to poverty, forced labour and violence. Yet, women consistently show inspiring resilience and determination to find ways to break free from poverty. Many studies, and our own experiences, confirm that women with access to financial services can dramatically improve the quality of life for their families. In families where women have an income, they have a voice in financial decisions, resulting in better nutrition, health and education for children. When family needs are met, women are more likely to invest in their community. When women have the skills to participate in public life, government corruption declines. The gains that women achieve by accessing microfinance services are almost 3 times more likely to be reinvested in their children, providing a powerful generational multiplier that accelerates economic growth.
By Supporting this ride you will be supporting people to start, run and grow small business that will creates jobs for family and communities memebers so that our neighbors in the developing world can have dignity and purpose through personal achievment. The tool of microfinance transforms everyone involved!