iCrowdNewswire - Aug 5, 2015
The Smart Pot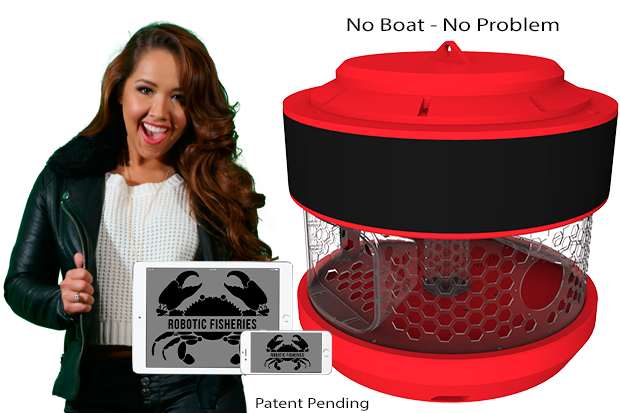 About us:
We are Robotic Fisheries.                                                                                               
Our product is beyond amazing! 
We feel it's going to radically change the recreational and commercial shellfishing industry forever.
Our startup is located in Anchorage Alaska
Although we now have two seperate patents pending on our robotic drones, We do have to be very careful about revealing too much of our under the hood technology until we gain a solid lead in our market.
Please review the images provided by our engineering department,  and we will provide on our website a video of live testing due to take place in Alaska – Fall 2015 when available. Prototype and video of our prototype testing will largely depend on the success of this campaign, so if you like what you see please support us.
Our Concept:
The concept for the smart pot was born many years ago when the wife and I lived in Bellingham Washington. One of our favorite things to do was go to the dock located in Blaine Washington to fish for crabs. Most everything we caught was undersized and had to be released. The problem was we could not get our pot out far enough to reach the big crabs and we did not own a boat.
Thats when the concept hit me. We needed a pot that could swim, submerge, and most importantly – inflate back to the surface. "Right!"
Well, it sure sounded good at the time and it still holds true to this very day. That was 14 years ago and many revisions and technology changes later we finally have our proof of concept, engineering, and so much more.
The Engineering:
The development of the smart pot has literally taken us years and a ton of contracted outside engineering expertise to get this product just right. 
Our shell is constructed of Nylon polymers specifically formulated for optimal UV and severe impact resistance. 
The design concept is centered around convenience and value for the end user. That was, and always will be, our primary focus. 
We have engineered a multi use design that can adapt and change into other configurations based on the users preferences. 
You can remove the navigation component thereby creating a hand/rope retrievable configuration while still utilizing the software command application to control the drone's submersion, dwell, and ascent functions.
You can also remove the ballast and navigation components which makes the unit into a traditional shellfishing pot. 
This configuration may save commercial fisherman a fortune in pot replacements and webbing maintenance.
You can change the basket ring entry ways to adapt to any shellfish industry. 
This feature could save commercial and recreational operators the expense of acquiring two or even three separate species specific pot types.
Our propulsion technology is non destructive and engineered to be anti clogging. 
Our rechargeable power pack design is hermetically sealed to prevent any possibility of leakage while in use or storage under the most extreme conditions.
We will be offering five versions for sale when in production. 
The X10 "Our standard 24 inch pot"
The X12 "Our base pot with some electronics" this version is just like a standard fishing pot but much better.
The X13 "Our base pot and ballast system with all top electronics"
The X14 "All components included with X12 & X13 but also includes the navigation components.
The X15 "Our commercial pot" Soon to be announced!
We will also have all components available for purchase separately plus several industry specific basket entry insert types that target the many different fisheries. 
Our basket entry way designs cover Blue claw crab, Stone crab, Dungeness crab, Red Rock crab, Lobster, Shrimp, Crayfish, and Octopus.
In development are baskets targeting Snow crab & King crab. These two species require larger diameter pots and basket entry and escapement designs. 
You could even catch fish with our pots!
The Software:
The Smart Pot is GPS enabled and uses proprietary onboard software, valves, sensors, a gyro compass, and MEMs chip plus other systems to control navigation, submersion, and ascent functions as well as other variables in one of the worlds harshest environments, The Sea.
Our onboard robotics software has built in triggers that monitor realtime environmental conditions and will initiate reactions to events accordingly.
Our mobile command application has realtime top side depth, battery life, air pressure, speed, video, scan,  and navigation functionality as well as a host of user settable conditions.
 Users can set favorite coordinates, dwell timers, drift policies, and depth emergency evacuation flags as well as autopilot scenarios. 
This device can be used by kids with adult supervision and is easily controlled by any smart phone or tablet using the Android, Apple, and other popular operating systems with our application installed.
These smart pots are really amazing work horses! 
Watch our website for current and future innovation details.
Our recreational software application is also easily upgraded and absolutely free when released!
Global Importance:
We feel this project should be important to anyone who enjoys shellfishing. Millions of people all over the globe can benifit from owning one of these incredibly fun devices. 
This is a wonderful way for families to spend time together at the beach or other locations with access to any shellfish fishery.
Kids will get a huge kick out of navigating the pot to and from the shellfish beds usually located at 45 – 60 feet in depth.
Just think of all that fuel the Smart Pot can save as you discover you no longer need that gas guzzling boat to catch the big off shore shellfish. 
The captured shellfish never leave the water until the moment you have a chance to examine them for fishery compliance. 
You can non-destructively release your unintended catch and because you are at the shore, the species has a better chance of survival as they are released at ground level into the water. 
Shellfish sometimes fall prey to predators during their decent when released from a boat.
Your Contribution: 
When you contribute to this project you can be proud of helping us bring to market a game changing and eco friendly product designed specifically for the fishing industry. 
A new green device intended for both recreational and commercial applications that could revolutionize how seafood is harvested in the future. 
Environmently Friendly: 
As we previously stated, our product is constructed of Nylon polymers and will actually outlast traditional pots. In fact, our pots can be passed down for generations unlike pots constructed of metal or wood which rot or corrode in a saline or wet environment. 
The Smart Pot is far cheaper to operate than a boat, and requires no fossil fuels which makes it environmentally safe for all marine life.
Our Goal:
We need to raise 85,000 dollars to help fund this project as we move from the engineering, design, and prototype revisions phase into the final prototype, testing,  and manufacturing phase. 
These devices require advanced CNC machining to produce. 
The actual basket components require a specialized manufacturing process that we will be keeping as an in house secret.
We currently have the parts ready to be manufactured in Houston Texas by a multinational Nylon casting company utilizing 5 axis CNC machining. 
This process is very expensive but will do nicely for the test phase scheduled to be conducted this fall – 2015 Alaska.
There is no better place in the world to test for harsh conditions response and severe environment operational parameters than Alaska. 
Stay tuned for some fantastic video footage of that testing phase!