iCrowdNewswire - Jul 30, 2015
Rebuild and Renew Harpers Ferry

Photo Credit: Harpers Ferry resident Don Burgess
Historic Harpers Ferry has survived raids, battles, floods, and more. We, residents of Harpers Ferry, are dedicated to rebuilding our town and renewing our history. We now need you to contribute to our rebuilding work through the Harpers Ferry-Bolivar Historic Town Foundation.
The Harpers Ferry-Bolivar Historic Town Foundation is a tax-exempt 501(c)3 non-profit which needs you to contribute to help us rebuild and recover from this fire. The Town Foundation is dedicated to a sustainable future for our historic town and your contribution is tax-deductible.
The Town Foundation has set the aggressive and necessary goal of raising $150,000 to rebuild our town.  The Foundation is fundraising from a diverse group of potential donors, including you. The specifics are being discussed and figured out as you read this and this fund will be used to help our businesses, their employees, our residents, and our entire town mitigate our losses while repairs are made. Your donation is key to fund our recovery and you can be a part of rebuilding.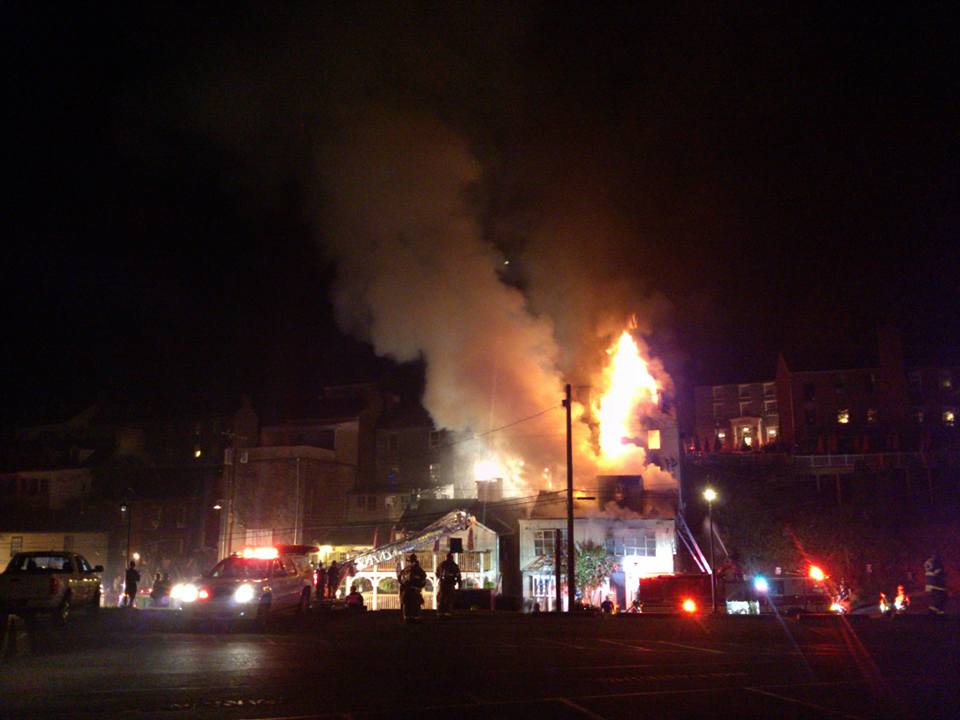 Photo credit: Harpers Ferry resident Robert Brzostowski
In the early morning of July 23rd, 2015, a fire broke out in Lower Town Harpers Ferry. While our fire department and others from surrounding counties dutifully kept the blaze from spreading – four large buildings were heavily damaged from the flames and smoke. Thankfully, no one was injured.
This fire damaged four buildings and eight businesses. In our town of 300, this is a huge loss.
If you have visited Historic Harpers Ferry, you know that our town depends on our local businesses to be the lifeblood of our town. You may have enjoyed browsing the unique home decor of La Niche Boutique, the fair trade goods in Tenfold Fair Trade, sipping good West Virginia beer in Private Quinn's Pub, or checking out West Virginia crafts in the Vintage Lady. You may have bought your favorite dog a new bed in Sophie & Bailey's or a pepperoni roll in the Upstairs Downstairs Sandwich Shop. These are real businesses run by the real people who have made our town vibrant.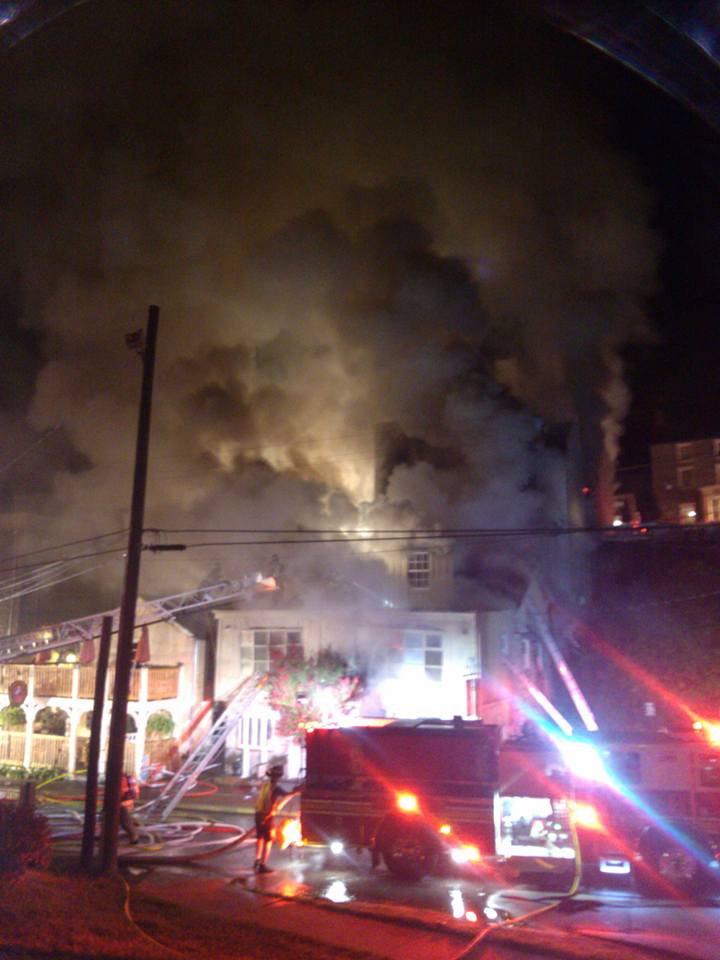 Photo credit: Harpers Ferry resident Robert Brzostowski
Harpers Ferry is a town of rebuilding and we are known for our history. Thousands upon thousands of you flock to our town each year to see the battlefields, take ghost tours, go for a hike, and learn about John Brown's Raid. We are now coming together to rebuild again and ensure Harpers Ferry has a bright future ahead.
Martha Ehlman, owner of Tenfold Fair Trade which saw great loss in the fire, is hopeful for the future of her business and our town.
"The fireman were shooting their water on the building…and there was rainbow there," she said, smiling. "So I can just hope for rebirth for all of us."
Elhman said she speaks for all of Harpers Ferry business owners when she says that the fire won't get the best of them.
"Harpers Ferry has been down many times," she said. "We've been through floods and fires before, so we'll be back."
The Harpers Ferry-Bolivar Historic Town Foundation is creating a plan to distribute this money and we will share details as they become available so you are clear on where your donation is going.
We place our hope in those of you who know and love Harpers Ferry. It is well worth a long voyage to see and with your help we can rebuild our town and make it vibrant for decades to come.