iCrowdNewswire - Jul 30, 2015
Nourish – Intelligent Countertop Supplement System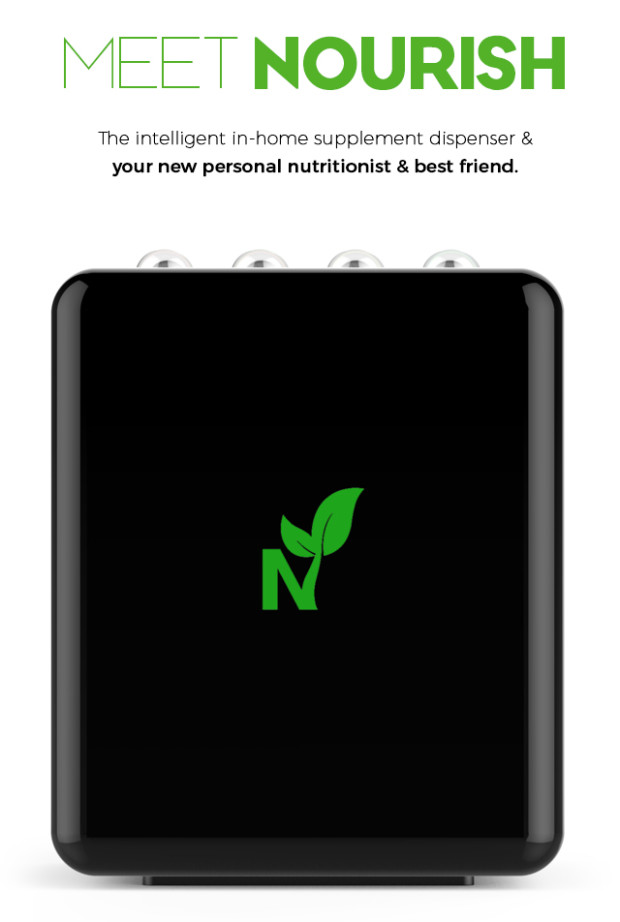 Nourish is a WiFi enabled countertop appliance that provides personalized supplement suggestions and dispenses the right nutrients at the right times. Nourish is the best way to achieve optimal nutrition, it's the only product that gives you actionable insight and lets you easily take action on all of your health and fitness data.
How Can Nourish Help Me Live Healthier?
Nourish syncs with your favorite fitness trackers, food loggers and health apps to suggest an optimal combination of nutrients that your body needs. Nourish knows your goals, how close you are to reaching them, and how to get you there. Nourish is able to accurately measure, and dispense a personalized supplement blend to satisfy your body's daily nutritional needs, so you can feel your best throughout the day.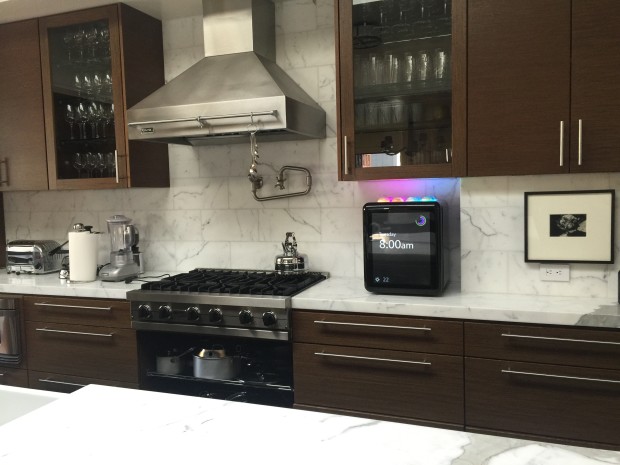 By turning your health & fitness data into personalized blends and actionable insight, Nourish empowers you to make life-improving decisions that help you reach your health and fitness goals.
Hands-On Demo
What Are Seeds?
Nourish can hold up to 16 Seeds at the same time. Seeds are RFID-enabled supplement containers that are planted on top of Nourish. Each Seed is filled with a different type of powdered nutrient, vitamin, mineral, or herbs and has enough servings for about a month. Seeds will be available for those with gluten, soy, nut, dairy, GMO, MSG, and sugar intolerances, allergies, and other dietary restrictions.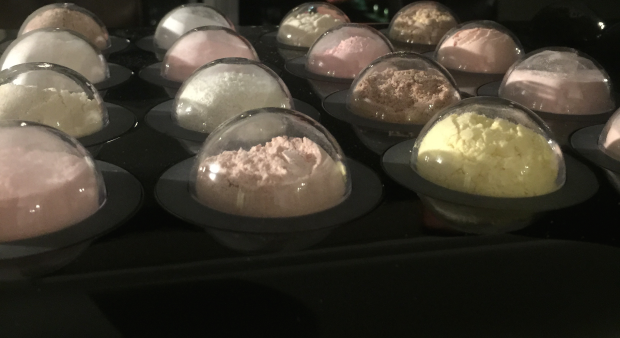 What Happens When Seeds Are Empty?
Nourish knows how much of each Seed has been dispensed and will alert you before any of your nutrients run out. As Nourish learns more about you over time, it recommends new Seeds that will be more beneficial and help you reach your goals faster. You can set up automatic home delivery and we'll ship replacement Seeds right to your door, so you don't have to waste time searching through vitamin aisles or speaking with pushy salesman.
Nourish App
The Nourish App for iOS and Android makes it easy to keep up with your nutrition, and stay on track. The app creates an always up-to-date record of your current health and shows your blend schedule, which nutrients your body needs, and how you can improve. During your optimal metabolic window, you will be reminded that it's time to drink your next blend. Simply tap Dispense on your next blend, and Nourish will accurately measure and pour the perfect blend to keep you going strong.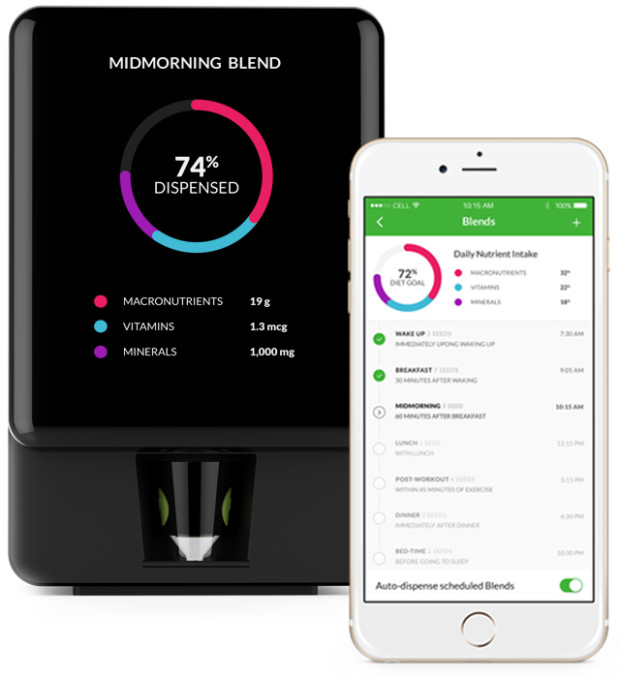 Works With Apple Watch
The Nourish App for Apple Watch was designed to deliver simple, intelligent reminders to keep you motivated and on track. You can even dispense your next blend on the way home from the gym, right from your wrist.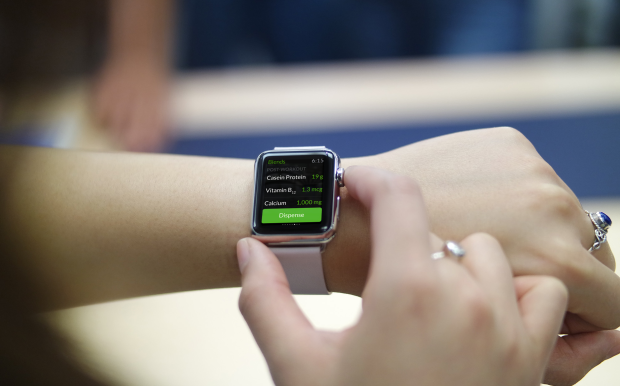 Nourish Pod
The Nourish Pod was carefully designed to be incredibly functional, even when it came to the smallest details.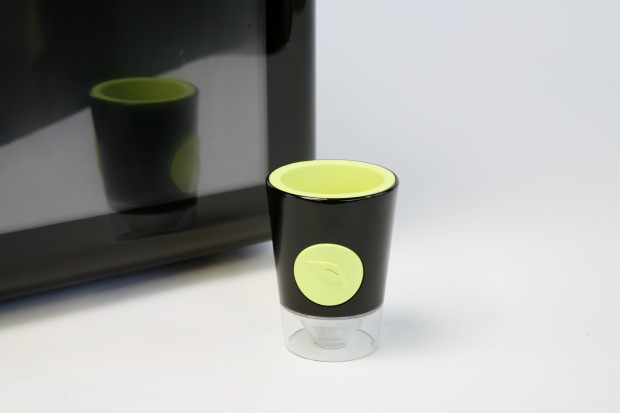 Pod has a closed funnel & flat base so you can move around and put it down on the counter without spilling powder everywhere. The clear base makes it easy to position the mouth directly over your container, and even pour cleanly into a water bottle.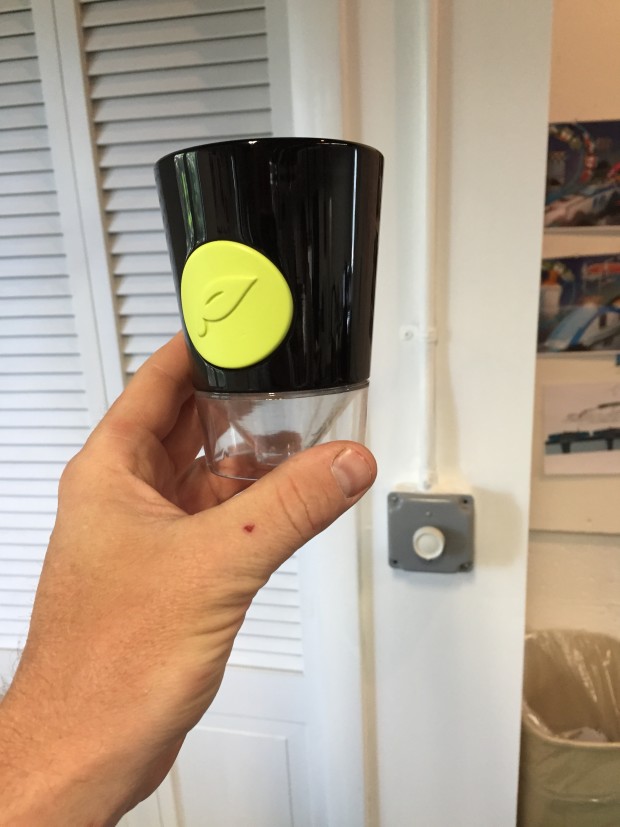 Powder is dispensed quickly and easily from Pod's large 70g chamber by pressing the two silicon buttons on the sides. Pod was made with machine washable silicon and plastic materials, so cleaning is a breeze.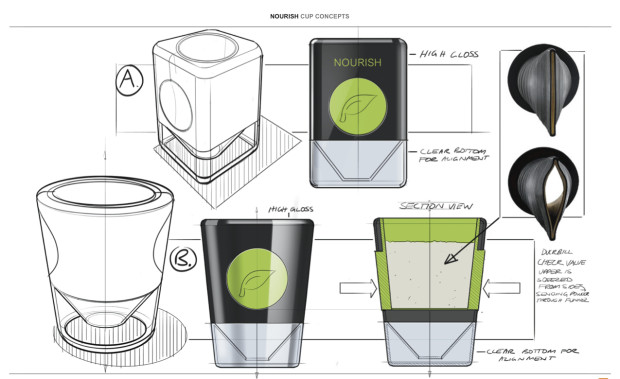 Just Sync It
Nourish works with your favorite health apps, food loggers, and fitness tracking devices you already use, so you can hit the ground running. When you add a new device, your data is sent to Nourish, analyzed and then automatically converted into science-based suggestions and personalized supplement blends. 
Fitness Trackers: FitBit, Jawbone UP,  Apple Watch, Garmin
Food Loggers & Health Apps: Apple Health, MyFitnessPal, LoseIt, MapMyFitness, 
Design & Hardware
When designing Nourish we set out to create a truly beautiful device to stand out on your counter and compliment a modern decor. Achieving this goal began with months of intense research, component sourcing, multiple prototype designs, and numerous meetings with manufacturers.
After designing the enclosure, our next step was to craft a vibrant display screen that stands up to the physical demands of daily use. We used a special type of curved Gorilla Glass that is scratch resistant and extremely durable. The precision of the touch screen we created far surpassed our quality and functionality expectations.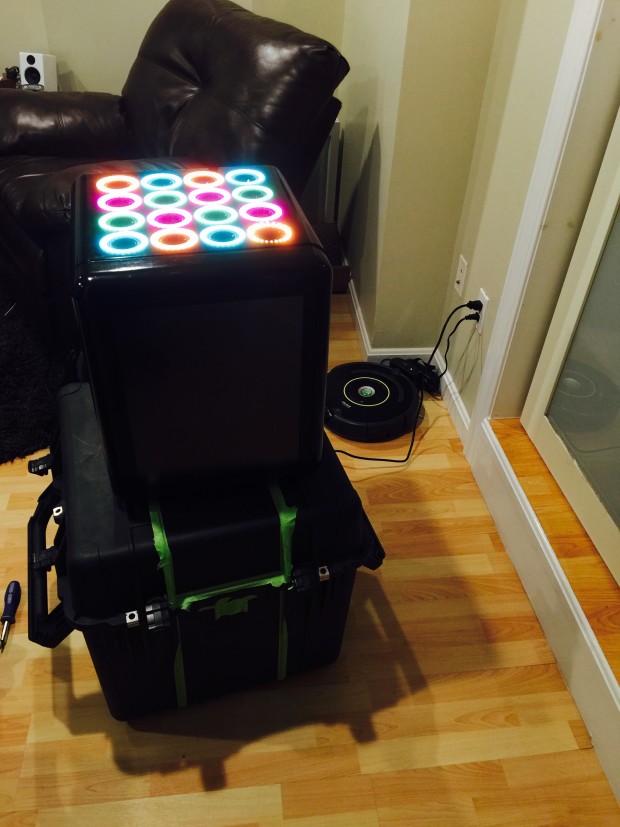 Engineering Nourish to accurately dispense nutrients wasn't easy, but we were able to design an incredible mechanical system that was capable of adjusting the pour amount for different nutrients with varying weights, grain size and volume. Every component in Nourish's powder dispensing process was meticulously engineered and precision-machined for pouring accuracy and to ensure durability.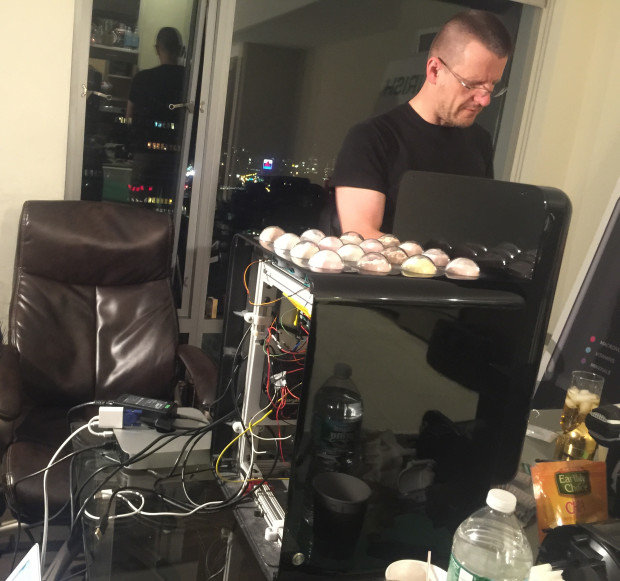 Multiple Customizable User Profiles
16 Slot Seed Reserve w/ Precision Dispensing System
15" Mechanically Elevating Curved Retina HD Touchscreen: The vibrant, 15-inch Retina HD Touchscreen is a beautiful display that is easy to navigate and simple to interact. Nourish is built with a Curved Gorilla Glass screen that is extremely durable and delivers precision touch accuracy.
Energy-saving Sleep Mode
Smart Seeds: RFID Labels enable Nourish to accurately dispense the right nutrients. Alerts when Seeds are low & easily replaceable when they run out. Sealed to maintain quality and prevent contamination.
Living User Interface: Nourish uses your realtime data to display a clear & current view of your fitness, nutrition, and sleep progress. Customize Nourish with a variety of widgets to display the information you care about most.
WiFi + NFC Connectivity: Nourish will continuously sync your Fitness, Nutrition and Sleep Data so that every blend is carefully refined and adjusted to give you right balance of vitamins, nutrients, and minerals. Nourish is intelligent, each device you connect helps Nourish learn more about you and suggest more accurate nutrient blends. + OTA Software updates
LED Feedback: Every Seed is lit with an LED ring that changes color depending on which type of nutrient is inside. The LEDs display a completion status ring while Seeds are being dispensed to show you the progress of each nutrient.
Why Do We Need Your Help?
We've done the hard part, now we just need your help to make Nourish a reality, so please pledge to our campaign and help us reach our goal. 
The main use of funds will be dedicated to creating the tooling and molds our manufacturer needs to make Nourish. We have a working platform, but we still have to finalize our firmware development and optimize our platform.
Here is the complete breakdown:
Cloud Optimization: 15%
Final Firmware Development: 20%
Production & Tooling: 60%
Shipping & Fulfillment: 5%
Nourish is better with with friends! So please spread the word and tell everyone you know by tweeting or sharing on Facebook.
Together we can start a nutrition revolution, one countertop at a time.