iCrowdNewswire - Jul 27, 2015
Skoog iOS, the tactile music interface for iPad
What is Skoog?
Skoog is a musical instrument designed for kids, enjoyed by everyone!  A tactile cube you simply touch to play. Tested and honed in education, performance and therapy, we are pleased to announce the release of a special edition of the new wireless Skoog 2.0. Available only via Indiegogo.
SkoogiOS will ship with the iOS app only for just £199.
There's nothing like Skoog out there. No other digital musical instrument or music software controller is this tactile, flexible or naturally expressive.
Recently awarded the good practice award by the design for all foundation the Skoog is accessible, adjustable and easy to use.
In addition to being a whole lot of fun Skoog has a range of applications in field of disability and inclusive music provision. Any questions, just ask a member of the team: info@skoogmusic.com
---
The research behind Skoog
Skoog has featured in:
---
Play.
Designed to be played with, the Skoog lets you get 'hands-on' with musical sounds. It's like a games controller for making music; it's a squashy foam cube that acts as a controller for the app running on your iPad.
So what's the game?
Have fun making sounds, create your own music or connect to your media library or streaming service and play with your music. No need to know your scales or music theory the Skoog app will automatically tune to the music you are listening to.
So you can rock out, get down with the kids or lose yourselves in the classics.
Check out our "Skoog Jams" playlist for examples of the sounds and instruments availableSKOOG JAMS PLAYLIST
Or check out the montage below:
---
We call it musicplay.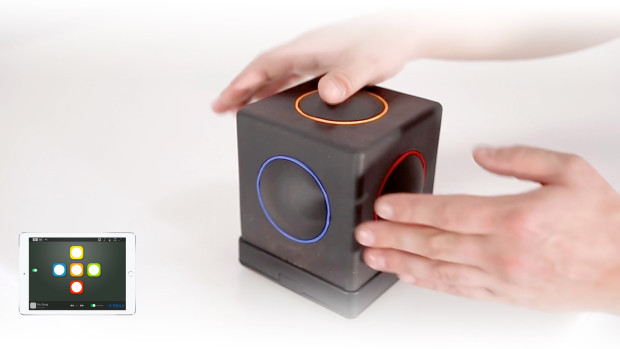 ---
Who is it for?
Skoog can be used by everyone; young and old, disabled or able bodied, from novices right through to music teachers and sound designers.
For everyone, age 3 to 103.
Use the built in media integration and autotune features to jam with the music you love, or take it to the next level by hooking it up to other music apps and using it as a tactile, flexible multi-touch, multi-dimensional controller.
---
We play Skoog: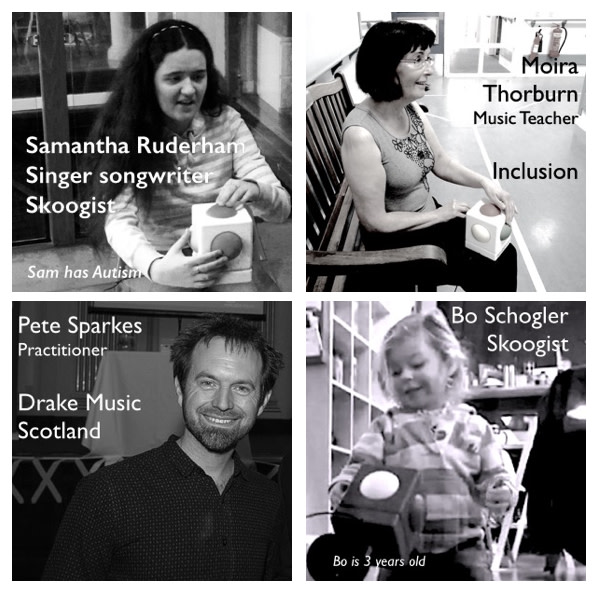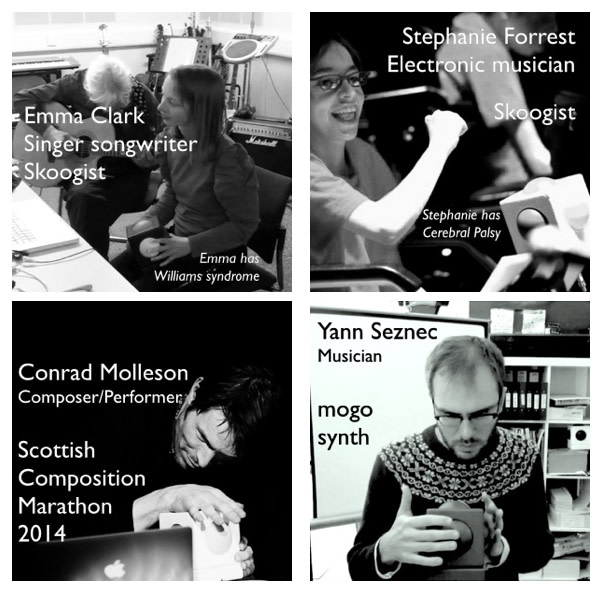 To find out more about the features and benefits of Skoog that are relevant to children with special needs see below or visit the Skoogmusic website.
You can support a range of different music making activities using Skoog and the interface can be customised to suit a wide range of physical abilities. The Skoog concept was developed specifically to address the barriers faced by children with physical and learning difficulties. You can watch a BBC report on Skoog here.
You can check out the news coverage, history and all the gossip on the Skoogmusic education website: http://www.skoogmusic.com/info/news
---
What is included?
Every Skoog perk comes with the wireless Skoog 2.0 device and the Skoogmusic app for iPad, We have other music-making apps, games and an API in development, and Android versions in the pipeline, so your Skoog experience will continue to grow.
---
So how do you play it?
When you are using it as an instrument, you choose a sound (guitar, say),  it has a different note on each side (giving you the option of 5 notes at a time), and when you touch a side you play the note. Use the autotune feature or set the notes yourself.  The expressive bit comes from how you touch it:  if you touch it gently, it will be a quiet, soft note, press hard and it will be loud and brash.
Whilst you can choose to aim for the buttons, when you're playing the Skoog you don't have to: the whole surface area of the cube is responsive.
When you are using it as a 'controller' you can assign different notes, effects and parameters to up to 17 different playable areas of the Skoog so that you can customise to your heart's content.
---
Who are Skoogmusic?
The Skoogmusic team brings together expertise in music learning and performance, hardware and software design, coding, music technology & psychology, branding and business.  What started as a post-doc research project at the University of Edinburgh has turned into a mission to liberate the musician inside everyone.
---
The story so far…
We're tooled up and ready for the production of Skoog 2.0.
Our first Indiegogo campaign helped us finalise design, tooling and manufacturing partners. Now, we are ready to rock.
Our work with Skoog 1.0 in education and our original Indiegogo campaign to go wireless is the proof that we can deliver. We have already managed the entire production process necessary and now we're applying everything we've learned to bring Skoog to your home.
---
What Could Possibly Go Wrong?
We could fail to reach our funding targeting; 
Our target is based on a limited production run for Skoog 2.0. The only real question now is how many to make!
What if we don't have the necessary skills and experience to execute on our plan?
Well, the team has been together for four years and has already successfully designed, engineered, manufactured, launched and sold its first product. It works.
What is certain is that Skoogmusic is a lean team of talented and skilled individuals who share a passion for music, technology and for making the tools for creative expression available to as many people as possible. We couldn't have got this far without passion, determination and expertise.