iCrowdNewswire - Jul 26, 2015
TheSmoothingHairDryer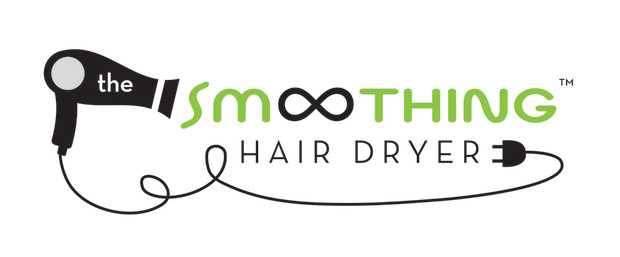 So why reinvent the hair dryer?
Well, the answer is simple really…
The standard hair dryer causes hair chaos and frizz. 
I have a background in Information Technology and I am accustomed to looking at a problem, assessing the issue, breaking down the requirements, engaging the correct team of resources, creating the solution, and driving to success.
With my background and need to win the war on frizz, I have developed and patented a new hair dryer that will remove or substantially reduce frizz from your morning routine. Now everyday can be a great hair day!
Let me state that I love hair products,  all hair products. Flat irons, curling irons, hair goop, all of it. However, I have fine, baby-like hair that I keep "encouraging" to naturally change color to the blonde that I believe I truly am.  
Benefits of this new hair dryer:
1. Eliminate or substantially reduce hair chaos (frizz)! Really, who doesn't want that? 
2. Faster drying time by using hot air in both directions. 
3. Less damage to the hair follicle by reducing time with other damaging hair tools (ex: flat iron). If you want that poker straight hair you may still have to use a flat iron.
4. Smooth hair, not flat hair – when you use the flat iron (to get rid of frizz) you sometimes end up with flat hair. The Smoothing Hair dryer will not flatten your hair. It will allow body and fullness but still eliminate the hair chaos (frizz).
5. Get the polished look by using the smoothing feature without the heat.  This option is great to refresh your hair without the time commitment of redoing it. 
Where did we start?
Step 1: Define the idea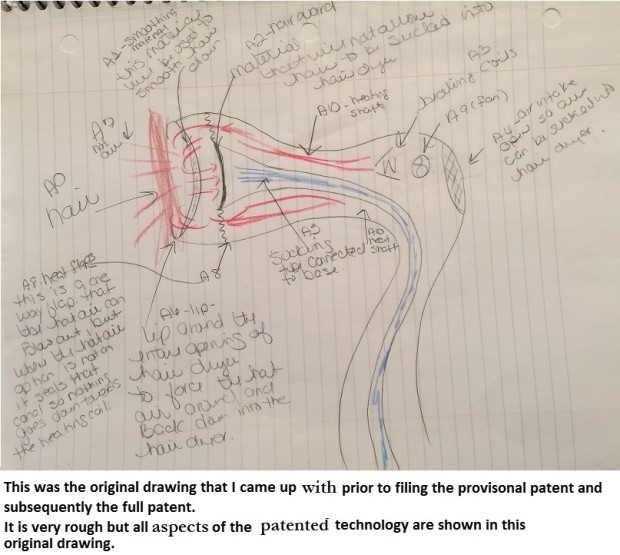 Step 2: Build a simple proof of concept out of household components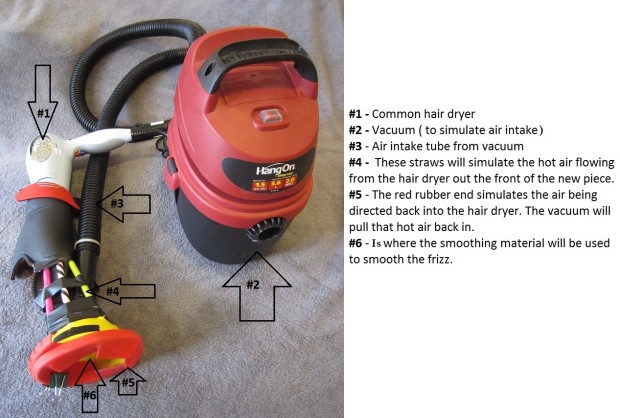 Step 3: File for provisional patent
Step 4: Design prototype that can use a standard hair dryer and a vacuum to establish proof of concept. 
Step 5: Build 3D model prototype to work with existing hair dryer (white attachment on front of hair dryer)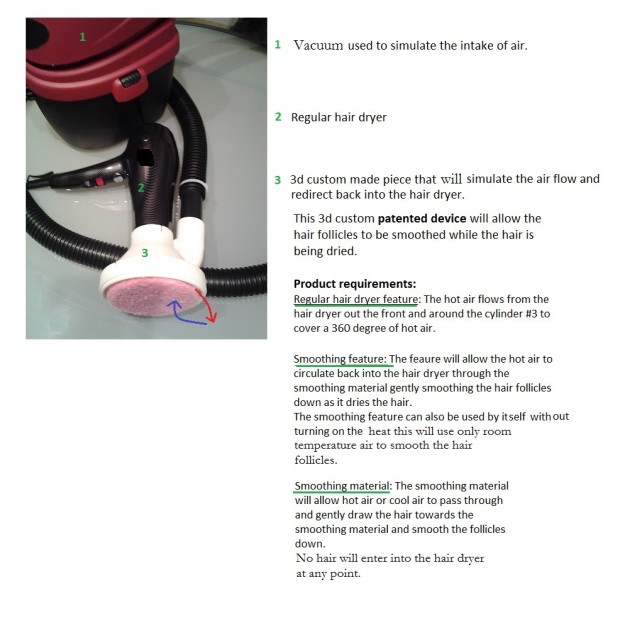 Step 6: Hire an industrial designer 
Step 7: Create a 3D drawing 
Step 8: Create a design for the final product
Step 9 (Where we are now): Funding – We need your help!
Challenges – The Next Phases
Now that we have established the proof of concept and secured the necessary legal documents, we enter the engineering stage of the process. The next couple of phases are critical to ensure that the product can withstand everyday use and achieve the desired results. 
This is where we need your help.
 As you can see in the chart below I have outlined a project plan with a time line of expected dates and estimated costs. As anyone knows, a time line and budget are estimates, and must remain flexible to accommodate unforeseen challenges.  
This product has a 18 month development period but the good new is you will only have 18 months more of hair chaos then you will have the tools to fight this war on hair chaos.
Miscellaneous information:

How long will the hair dryer last: A normal hair dryer will last 1000 hours so the length of days depending on how long you use your hair dryer on a daily bases. 
How often will I have to change the smoothing material: that will depend on whether you use a product in your hair.
Will my hair ever enter the hair dryer at any point: No, the smoothing material will engage with the hair to smooth the hair follicles. The hair will never enter the hair dryer or go through the smoothing material. 
Can I wash the smoothing material in the washer: yes it is machine washable.
Will the front end of the hair dryer rotate in a 360 degree – yes, it will swivel complete around to allow the user complete control of the air flow.
Will the hair dryer work as a normal hair dryer: yes, it will have all the same attributes as a regular hair dryer. 
The smoothing material, will there be other smoothing material: yes, we are working to develop multiply types for many different types of hair.