iCrowdNewswire - Jul 25, 2015
EAGLE ENERGY – The Portable, Caffeine Infused Vapor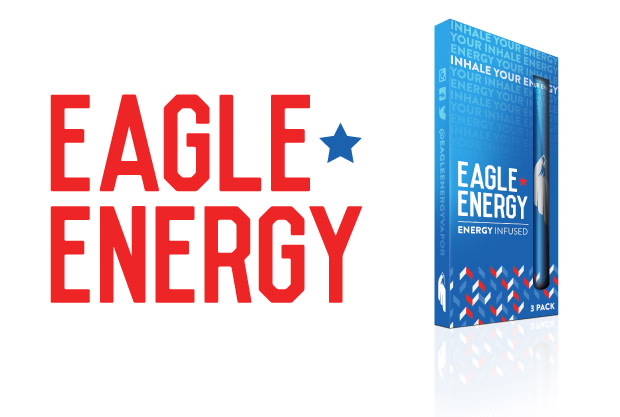 Eagle Energy Vapor is an energy boost product that leverages vaporizer technology to deliver caffeine through inhalation. With no sugar and no calories, this ground breaking product comes from a team of dedicated entrepreneurs, aiming to revolutionize the energy boost market.

The idea behind the product spawned from two challenges,
How do you make a more portable energy product?
How do you get rid of the inevitable crash?
And so the search began, at first we looked at liquids but wanted the ability to carry it around at all times, use only what you need, and pack it away without any hassle.
We came across vapor and DING* LIGHTBULB* we're set. Unfortunately our chemist friends told us it was impossible to vaporize caffeine. And after a montage worth of research we finally concluded that nope you certainly cannot vaporize caffeine, hard day.
BUT it turns out the naturally occurring botanical Guarana could and in addition to being packed with caffeine we realized that when you vaporize it for the purpose of inhalation, the way it interacts with your body is different from drinking it. The result is a faster acting, shorter lived boost of wakefulness with NO CRASH.

At the moment we have a 10 pack that we sell to distributers and retailers and thats great, but we love this product so much that we want to make it available to everyone, everywhere. The only way to do that is online, so the funds from this campaign will go towards the development and purchase of the first round of three packs. By purchasing a bigger order of $30 000, we're able to pass the savings on to our customers making it easier to try Eagle Energy Vapor for the first time!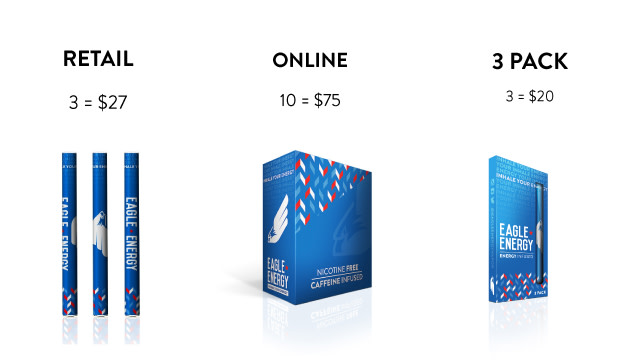 We've already got a trusted manufacturing partner, so we're able to commit to a quick turnaround from funding, to production, to delivery.

Part of the ethos of Eagle Energy Vapor is about making sure no matter what you're doing and where, you can get the energy you need to make the most of your "anywhere" (the rhyme was an accident, keeping it wasn't).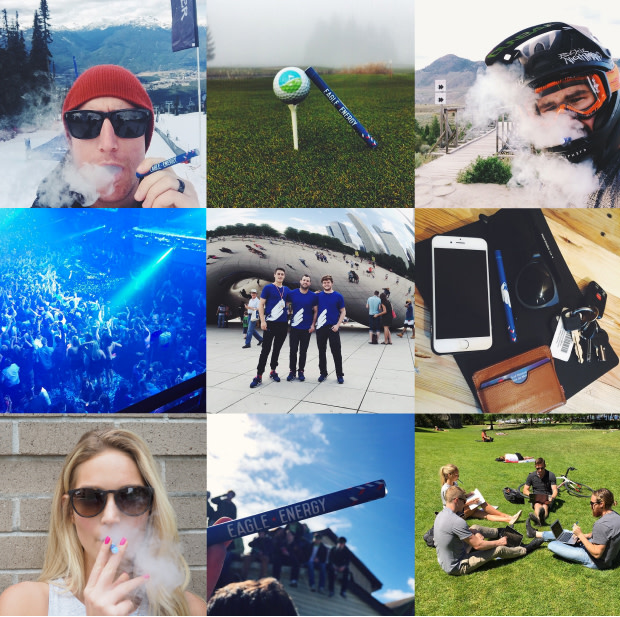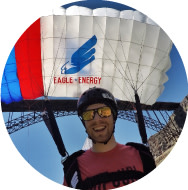 Braden Dean
(BASE Jumper, Snowboarder)
"Eagle Energy Vapor is a super compact, lightweight energy solution for those on the go. I can stash it in my pocket while BASE jumping or in my jacket while snowboarding and it's always on my person when I need it. A stick takes up way less space than an energy drink, lasts for days and there's no crash!"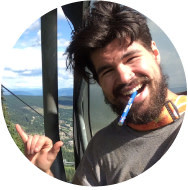 Ace Hayden
(Freeride Mountain Biker)
"I've never seen a product and felt the need to be involved instantly until I was introduced to Eagle Energy. For years I've been against energy drinks and the insane amounts of sugar, the inevitable crash , and the excessive spending. Now all I have to do is reach in my pocket wherever I am and have a couple puffs off the Eagle and I'm instantly fired up and ready to go. On the chairlift crushing downhill laps in the bike park, long road trips or evan a rough day at work, I always count on the Eagle to get me where I need to be! No sugar, no nicotine, no crash…yeah sign me up!"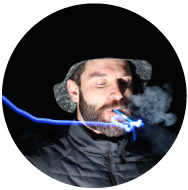 Myrosha Daly
(Sales Rep – Spy Optic)
"I've been using the Eagle Energy vapor sticks for about 6 months now and really like the boost they provide. Working in action sports sales and marketing is a non stop, no rest lifestyle sometimes. You have to drive to different retailers and events, and show up ready to go! It's a lot of fun but really demanding too. I like the Eagle Energy products because I can use as little or as much as I need. I keep one in my car, and one with my laptop. I use it on long drives, long days of work, big days snowboarding or mountain biking, on a hike, or even at a late night dance party with my crew. I appreciate that there is no sugar or aspartame required like with other energy products. They just work with my lifestyle. Energy Anywhere!"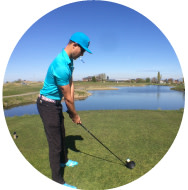 Julian Dobko
(Golf Pro & Founder of Hole 72)
"Over the course of 17 hours playing 72 holes (to raise awareness for mental health) and, walking 50km, adrenaline can only take you so far. Eagle Energy had my back on and off the course including hour 11 when I knocked in my first eagle, on my 41st hole"

Our suppliers are currently successfully producing Eagle Energy for the retail market. We've been selling since April of 2015 and have worked through issues on both the production and shipping side. Risk factors that could effect delivery dates include:
Temperature – If the weather is too hot there is potential for delay.
Packaging – Currently each stick is packaged in individual plastic tubes, for this SKU, we've elected to remove these tubes. Trial will be required to ensure quality control.

Not ready to drop in just yet? That's cool we still love you, and we know that you at least think we're neat?
Here's a couple things you can do to show your support.
If you're at home, head next door and let a neighbour know about our campaign
If you're on your phone, nudge the person next to you and let em know
If you're in a field and no ones around, don't worry about us, drop a pin, text the cops and help yourself!
The biggest help though? let your friends know about what we're doing here we really appreciate your support.
– Eagle Crew