iCrowdNewswire - Jul 24, 2015
BSEEN – This LED pack keeps you & your phone alive


Presenting the running, walking and cycling pack that keeps you illuminated, stores your personal items, and charges your phone.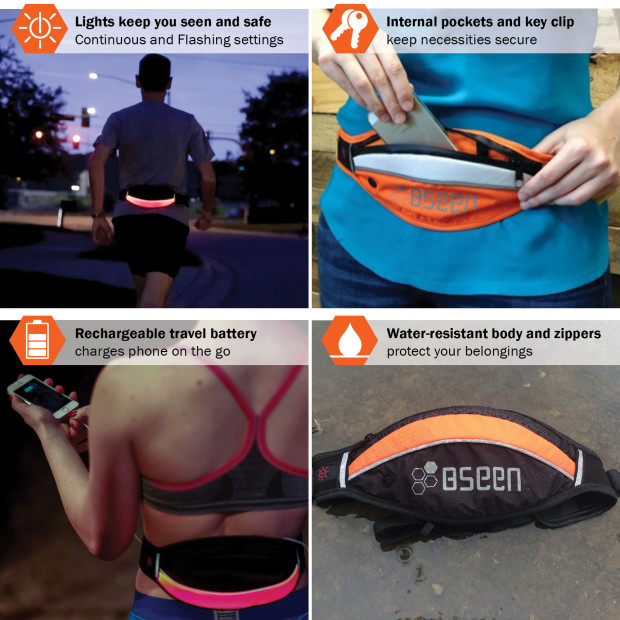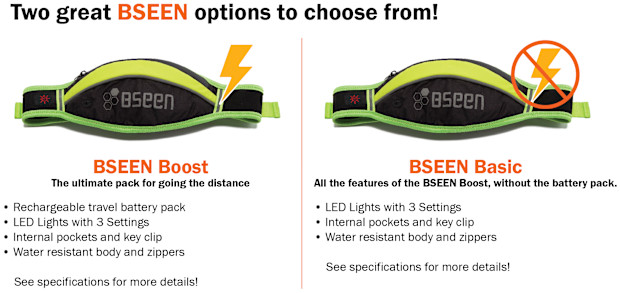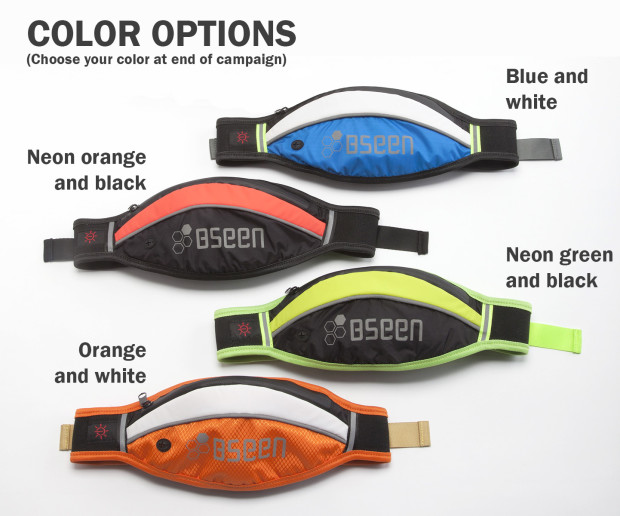 Has your phone ever died far from home?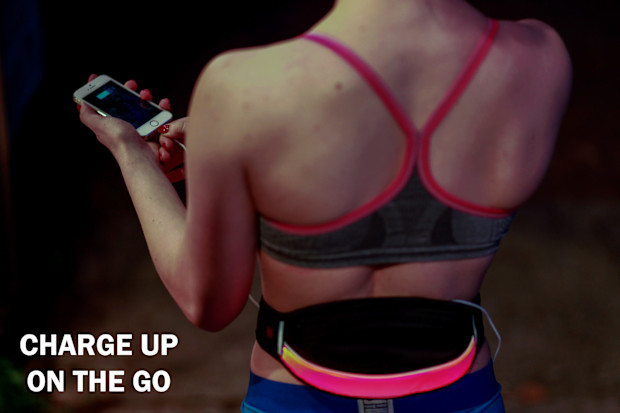 Many people fear not having their phone available to them when they need it. On a long run or bike ride, you may be listening to music or using GPS, which can drain the batteries quickly. 

The BSEEN Boost pack has a 4000 mAh backup battery, which can give the average smartphone (iPhone 6, Samsung Galaxy, HTC One) a full charge and give you the peace of mind that you will stay connected when away from home. Listen to as much music as you want without worrying about draining the battery. The battery is removable, so it's easy to recharge and also take on the go without the pack.
AVAILABLE FOR BSEEN BOOST PERKS ONLY. The phone charging battery pack is not available for BSEEN Basic perks.
Do you usually run in the dark?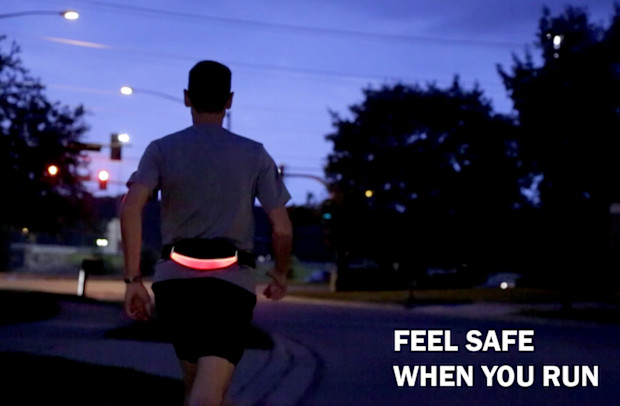 According to RunKeeper, Americans run the most at 6am and 6pm.
That means that many people work out when it is dark. In some other countries, this time is even earlier in the morning or even later at night.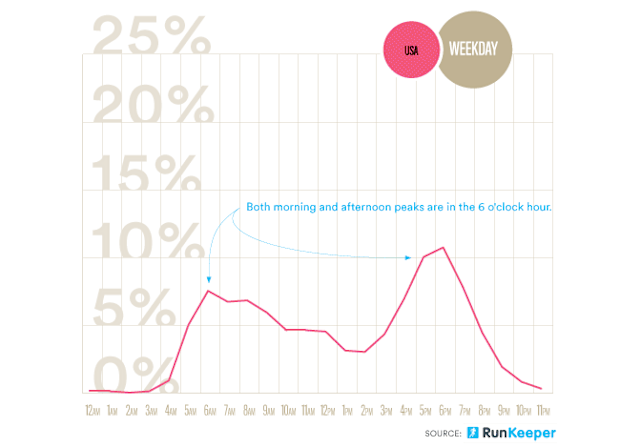 The National Safety Council states that chances of being struck and killed as a pedestrian increase 1100% after dark. Reflectors provide some visibility, but are only effective in the presence of a light source, and can be hard to see from certain angles.

The BSEEN pack is illuminated as well as reflective, so you are even more likely to be seen. The battery will provide up to 180 hours of consecutive illumination in flash mode. Our lighted products can be seen from 250 yards away.
Know that your children are safe and seen.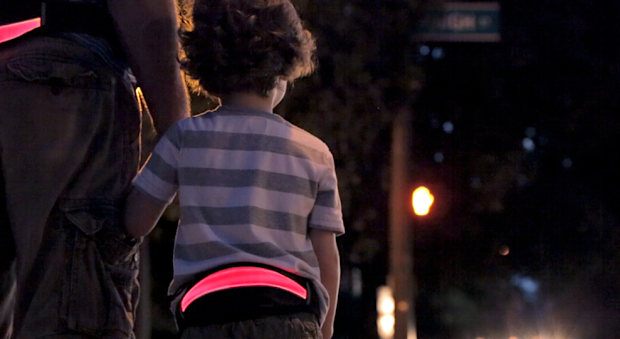 The BSEEN waistband is highly adjustable, so even a young child can wear one. This pack is perfect for night walks and late family outings.
Store all of your necessities.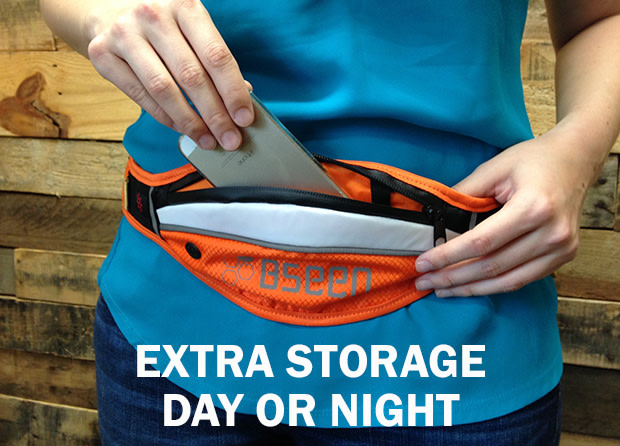 The BSEEN pack holds everything you need on the go. Store your cell phone, wallet, keys, chapstick, and anything else you might want with you. Use the pack for storage during a daytime hike or add the light for an evening walk. We've got you covered.
Go the distance.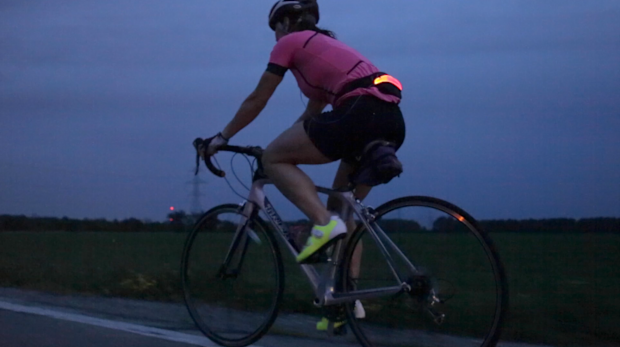 Take the BSEEN anywhere far from home. Know that you can rely on the extra battery to take you all the way.
Worried about running in the rain?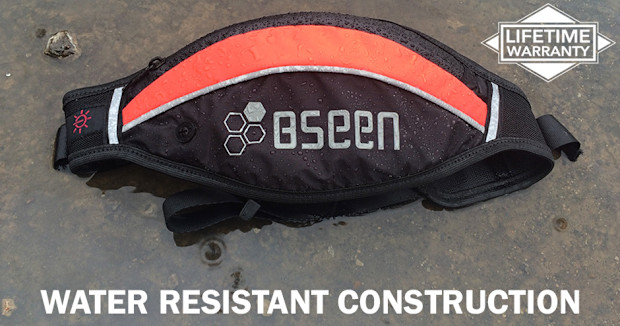 Know that your belongings are safe from raindrops. The BSEEN is made up of water resistant materials and closes with water resistant zippers.

---
Features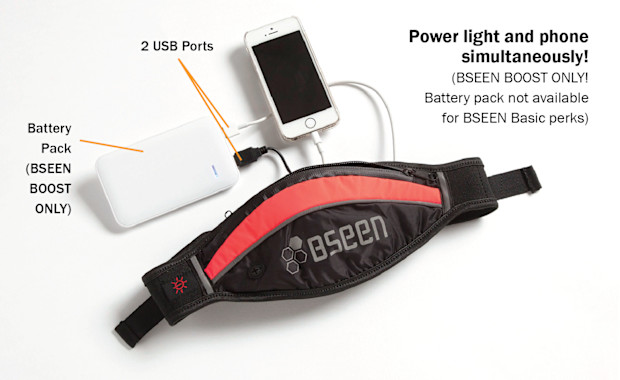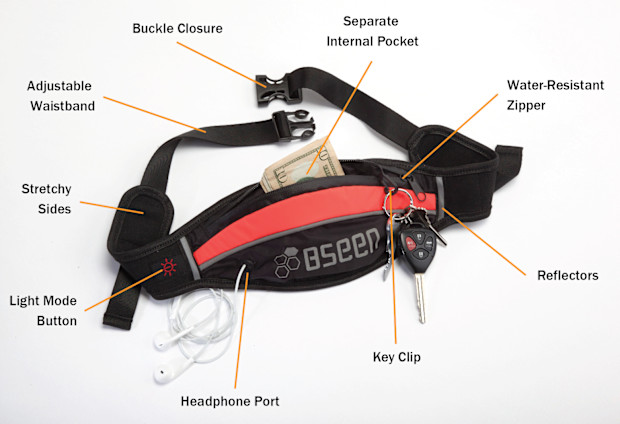 LED lighted section, which can be set to continuous or two flashing settings
4000 mAh removable/rechargeable external battery to run lights and charge cell phone (BSEEN BOOST PERKS ONLY)
Main zip pocket to store phone and other necessities
Smaller interior pocket with velcro closure
Interior key clip
Headphone port
Water resistant easy to clean fabrics
Water resistant, smooth zippers
Reflective piping on various parts of the pack
Stretchy sides for a snug fit and less bounce
Adjustable waist belt with side-release buckle closure
Can be worn in front, in back or crossbody
---
Specifications

Dimensions of pocket section: 8″x 4.5″ (20 cm x 11.5 cm). The pocket will fit most popular phones on the market, including the iPhone 6 and 6 Plus, Samsung Galaxy S6, LG G3, Nexus 6 and HTC One.
Waist belt: Tri-glide length adjustment, side-release buckle closure. Adjusts from approximately 22.5″ (57 cm) to 39″ (99 cm) with about 3″ (7.5 cm) extra stretch from elastic on the sides.
Lights: Efficient LED light panel. Each panel is a polymer piece that is highly light transmitting. There is an LED at each end, so not much power is required and almost no heat is generated. There are 3 light settings: Continuous, Slow Flash and Rapid Flash.

Construction: Nylon and polyester construction, nylon waistbelt with elastic sides for snug fit, water-resistant outer zippers.
Weight: Battery and pack together: approximately 10 ounces.
External battery (BSEEN BOOST ONLY – NOT AVAILABLE IN BSEEN BASIC PERKS): Power: 4000 mAh. Dimensions: 120mm x 65mm x 9mm. Weight: 5.6 oz. Runs lights 120-180 hours or provides a full charge to a smartphone, or a combination of the two. Charges with micro-USB.
---
BSEEN Basic
We are also offering a lower cost BSEEN pack. All features and specifications are the same as the regular BSEEN, but without a backup battery pack. This means you cannot charge your phone using the pack, but you will have a little more storage and a little less weight (the total weight of the pack will be approximately 5oz). The lights are just as awesome, and will last 4-6 hours between charges. The battery is easily recharged via cable.
---
LED Slap Bands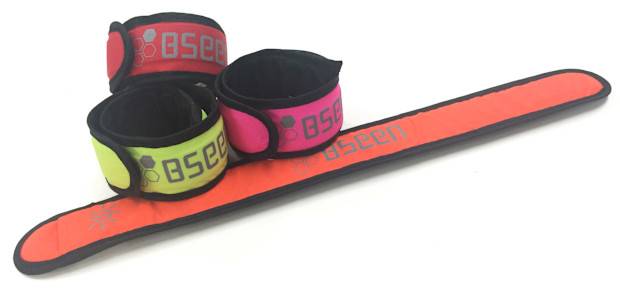 Some of our special early bird perks come with LED slap bands. Wear them on your wrists, forearms or ankles while walking, running or cycling to help you BSEEN. The slap bands have two modes: continuous and flashing. Available colors include neon green, neon orange, neon pink and red. Choose your slap band colors at the end of the campaign.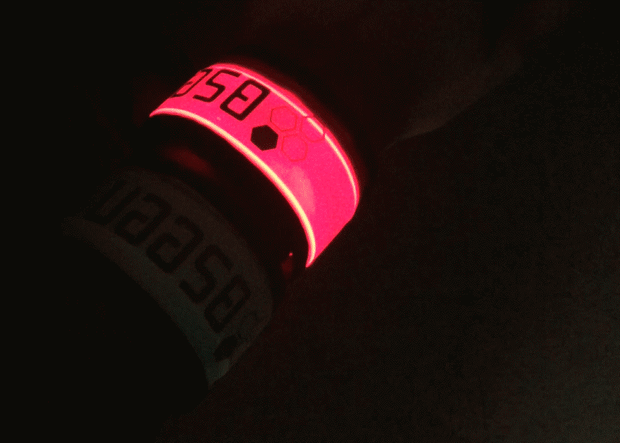 Project Development
We have been working on this pack for about a year. We have been developing and selling our slap bands for about 3 years. We work directly with the factory, so we are able to make design refinements quickly and easily. This means we will be able to produce our pack quickly and get our perks shipped efficiently. We also used our pre-campaign to get feedback from our audience, which allowed us to narrow down to the most highly recommended features and colors.
---
Why we are crowdfunding
We are crowdfunding as a way to bring new and better products to market faster. We are a manufacturer so we already have the factories to make our product so we are able to develop products quickly and efficiently. We are also crowdfunding so that we can afford to create mass quantities of packs. This requires having a mold cut for the polymer piece that transmits light, and building up our inventory.
We are also looking to the potential users of our product to provide feedback so that we can improve and refine our current solution. We want to make the best, highest quality, and safest lighted pack possible, and the input of the public will make this goal attainable. We are also able to offer the best prices possible during the campaign, as a thank you to our buyers who are helping to support our development and refine our product.
---
About us
Ming D&Y Inc. is a California-based company that is actively involved in designing, developing, manufacturing and marketing LED lighted safety sporting goods. We already produce LED slap armbands, LED sporting belts, and many other lighted products. 
---
Risk and challenges
Because we are manufacturers, having this product made is very low risk for us. We have a factory that already can make our product, so we won't need the time and effort that a crowdfunding campaign typically requires in this stage.
There are a few things we still have to consider. Currently, the polymer that transmits light is created by cutting from an extruded piece. To mass produce the BSEEN, we will need a mold. We still need to cut and test the mold, which will take some time. We also need to ensure the polymer is clear enough to transmit light from a distance. We don't think this will be a big roadblock for us, but it could potentially effect our timeline.
Contact
For press and bulk order inquires please contact us at contact@lightedpack.com.