iCrowdNewswire - Jul 21, 2015
The Wayfinding Academy
WE ARE THE WAYFINDING ACADEMY
We're a group of professors, students, higher education professionals, non-profit and community leaders, and everyday citizens with over 100 years of experience in higher education who know college can be the incredible experience it promises to be. Right now too many students can't afford college, drop out, or even finish college without finding direction or purposes in their lives. We believe there is a better way. We are starting our own college.  A new model for higher education.
COLLEGE REIMAGINED
The current model for higher education works for some people, but not all. You might know someone who:
has a job unrelated to their major;
went to college as a rite of passage, but wasn't ready;
has interests that don't fit in a specific major;
learns better through experience than in a classroom;
wants guidance to help discover their strengths, passions, and interests;
accumulated an unacceptable amount of student loan debt;
has a job they are not passionate about.
The Wayfinding Academy will be an affordable, 2-year college based in Portland, Oregon focused on what matters most in education: real world experience, community support and individual passion.
Students won't be asked to choose a major from a list, they'll be supported in discovering their own personal mission. They'll take core classes building skills that will serve them on any path. And they'll work with advisors to create handcrafted experiences meaningful to them and build a portfolio through real experiences. We stand committed to helping students find their pathway, so when a student graduates from the Wayfinding Academy, we ​guarantee we will work with them to plan and execute their next steps. We promise no student will leave the Wayfinding Academy not knowing what they are doing next.
WHAT WILL IT BE LIKE TO BE A WAYFINDING ACADEMY STUDENT?
We will start by getting to know our students and what they are passionate about. What they might be good at. What they might want to spend their time doing. We will connect them with experiences that will help them explore what those options might be.
When a student arrives they will participate in a cornerstone course called Passion Based Leadership where they will engage with these questions: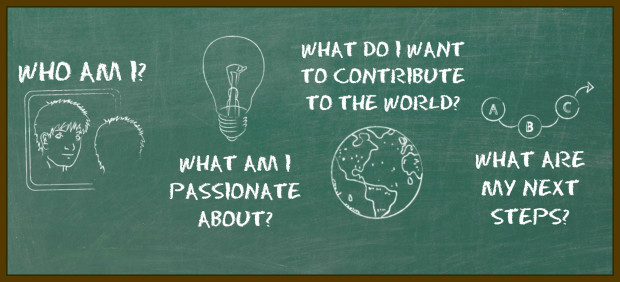 Students will then be given a team of 2-3 advisors and community mentors who will help them take some next steps based on their interests, the options they would like to explore, and the skills they would like to build. They will sit together and map out a portfolio of experiences for the student to complete. All students will choose a topic or issue they care about and will be supported in making a short film or a podcast episode or blog or similar project about that topic. All students will have some type of travel experience where they explore another culture. The rest of their portfolio will be customized for them.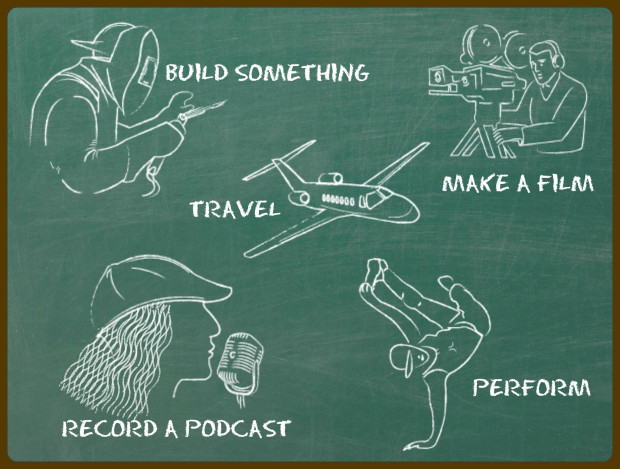 This portfolio will serve as a record of learned skills, accolades, as well as reports and recommendations from teachers and professionals they've worked with. Prospective employers or 4 year colleges or internships or volunteer programs will be able to look at a student's  portfolio and view all the experiences and skills they have acquired.
Students will also complete several foundational courses designed to provide skills that are useful no matter what they choose to do with their life. Skills that are important to being a good citizen, which include:
Futures and Citizenships – examine your role in creating a better world and confronting the challenges of citizenship with courage and imagination

Systems and Conflicts – explore a range of tools from general systems thinking and conflict resolution to discover a sense of mutual interconnection and interdependence

Problems and Choices – explore creative approaches to problem solving and decision-making, engage real-world issues and learn to focus and clarify your choices.

Communication Strategies – explore the theory and practice of communication in everyday life and gain greater confidence and skill for speech

Engaging Information – build greater power to research any topic and learn how to accurately sort good information from bad while making fast use of the Internet and other sources of online information, libraries, dictionaries, thesauruses, encyclopedias, and academic publications
When a student graduates from the Wayfinding Academy, we we will work with them to plan and execute their next steps.
HOW YOU CAN GET INVOLVED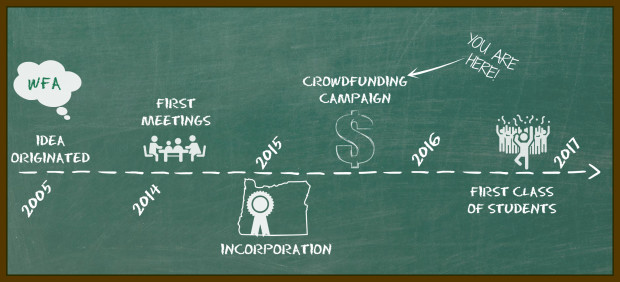 We took some of the first steps to getting the Wayfinding Academy started, but we need your support to take the next ones. We plan to open student applications in February 2016 and one year from now (August 2016) we will enroll our first cohort of students. This campaign will raise the funds we need to prepare for those students to arrive. Soon we will be eligible to apply for grants, financial aid monies, and start collecting tuition dollars, but right now, we need your help to launch.
WHAT WILL THE FUNDS BE USED FOR?
Our goal of $200,000 will enable us to get a space for Wayfinding Academy headquarters, pay a few of our current volunteers to be staff, apply for regional accreditation, and establish a scholarship fund for students.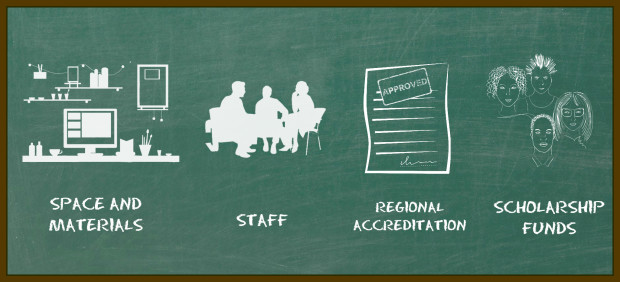 ADDITIONAL WAYS YOU CAN HELP 
Share this campaign with people you know who care about re-imagining higher education and finding a better way (Or who just think it is pretty cool that some folks in Portland are starting their own college.) Here's the link to share:www.WayfindingAcademy.org

We are on Facebook and Twitter (and Instagram and LinkedIn and all those cool places). Find us there. Follow us. Like us. Invite your friends to do it too.

If you want to get updates as we grow, sign up for our email list and we will send you those updates right to your Inbox. Invite your friends to do the same.
THANK YOU!
No, really, thank you! We can't do this without you and are so glad you have chosen to join us.