iCrowdNewswire - Jul 16, 2015
Car snow and ice melter, and defroster
Short Summary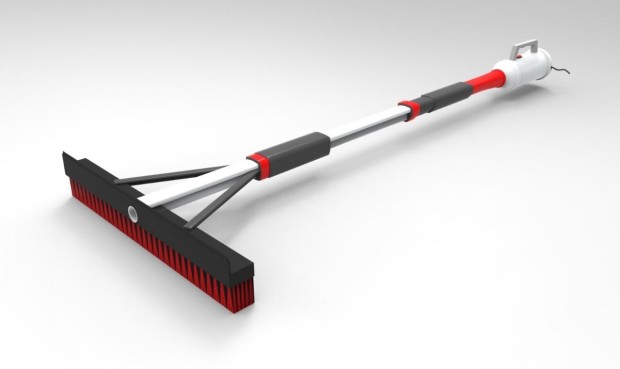 I
am an Electrical Engineer by trade, and an entrepreneur at heart. For the past couple of years i have been working very passionately to be able to contribute to the world by inventing a product. I put together an amazing team for brainstorming, advice and support such as other Electrical Engineers, Architect, Nurses, Financial Engineer, and other Business Management people. I would bounce back ideas to them and they would help me put them into concept and from there we would turn them into products. And finally I was able to design a product that meets their approval. I then built a prototype and tested it to our specifications, and it was what we expected; the product passed. And now we have decided to launch our first product
What We Need & What You Get
Hello and thank you for viewing my project. My name is Richard Pierre and I am raising funds to mass produce and sell my invention called "The Hurricane". The Hurricane is a new, fast and effective way to clean your vehicle's exterior of snow and ice in immoderate zones. In warmer climates, it can be used to clear dust or debris much like a leaf-blower. People living in immoderate zones have been affected by severely cold winters. Cars were covered with thick layers of snow and ice that were not easily removed with ordinary ice scrapers. Large amounts of de-icing sprays were required and even then they turned out to be unreliable most of the time. The process of getting a vehicle to a state that would be considered safe for the roads took close to an hour. Many gave up in the process and took their cars to the streets, still largely covered with snow; a safety hazard to themselves and others. As the saying goes "necessity is the mother of all inventions", I was compelled to come up with a solution to this enormous problem that all of us living in immoderate zones must face every winter for months at a time.
The Impact
How do you battle harsh winters, snow, ice, leaves and debris covering your vehicle?
With The Hurricane of course! The Hurricane is essentially a personal snow removal/leaf blower device that can be easily disassembled and stored in the trunk of your car. The unit is battery powered and rechargeable using the outlet in your vehicle as well as a regular 110 volts wall outlet in your home. For snow removal, the Hurricane utilizes a heating element in conjunction with a blowing fan, all engineered to fit snugly into the handle of the device. This produces a consistent warm flow of air at approximately 120 degrees Fahrenheit which effectively melts away snow and ice upon contact. The Hurricane's brush and squeegee sides help to further force the snow and ice away from your vehicle's body and windshield without leaving any marks or damage. For leaves/debris removal, the Hurricane utilizes a strong blowing motor that can produce thrusts of wind with similar force to those produced by conventional electric powered leaf blowers. The device's small size allows for more detailed cleaning and keeps your vehicle free of any potential clogging that could otherwise have an unwanted effect on the performance of the vehicle.
Here are some of the features of The Hurricane:
– Can be operated "hot" or "cold", i.e. with or without the heating element turned on.
– The long lasting and removable Lithium-ion batteries can be recharged using the cigarette lighter outlet in your vehicle or by plugging the unit into a regular 110-volts wall outlet in your home.
– Quickly heats up to 120 degrees Fahrenheit to melt away snow.
– Air blowing mechanism can produce wind thrusts of up to 230 CFM, equivalent to the conventional electric leaf-blower.
– Easy to re-purpose and use for other appropriate cleaning applications.*
– Lightweight and durable, it weighs only three pounds. The unit is strong and durable enough to operate as a conventional snow remover even without power.
– Comes with a retractable 12 foot long car charging cord that is practical and easy to use.
– Most important of all it works and it won't leave any scratches on your car.
I have already built a working prototype and was very pleased with the results. I am convinced that this invention can become the next house-hold item that people cannot do without much like the vacuum cleaner or the microwave. My plan is to be able to raise enough capital to begin manufacturing the final production version of "The Hurricane", getting the product tested and certified by UL Laboratories, and then move the product into the mass market where I am confident the public will find its broad and specific uses applicable in their lives. We will of course also run a limited production to ship to all our wonderful supporters.
Small, light, efficient and power motor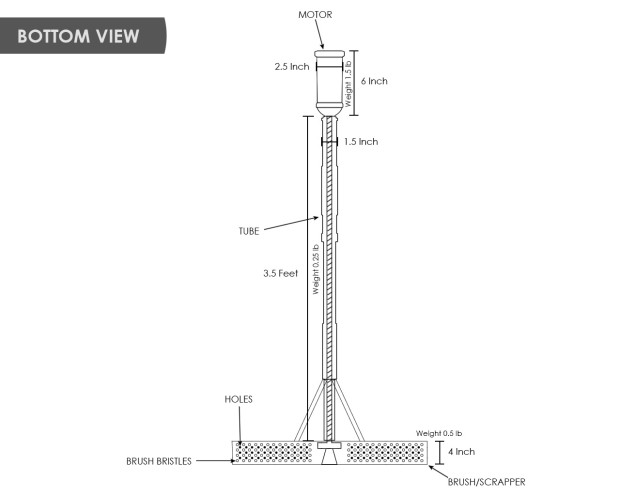 Risks & Challenges
As with any product or invention, there are risks and challenges involved. I have therefore taken proactive steps to ensure the success upon the launch of the invention both in the form of the product design itself and through legal documentation and registration to protect my intellectual property.
Also another key advantage is my 10 years of experience in R&D and Manufacturing. I am very familiar with different ISO standards and different manufacturing processes to ensure a successful production of the Hurricane
One of the first risks to consider when investing in any business is the barrier to entry. Sophisticated investors certainly would not want to invest in a product that would be easily copied by local or foreign companies. For this specific reason, I have a patent pending on the technology used in this device.
Also I am in the process of applying for international patent protection.
Another risk factor is the adoption of the product by the masses. It is possible that the average customer may find no value in my invention, specifically customers who live in temperate zones. To guard against this I will make sure to focus all of my marketing efforts in the temperate regions, including international markets. The product will be available online and buyers will be able to purchase the product either directly from our website or through giant online retailers such as Amazon, Walmart.com and/or eBay. For this purpose, I have also designed a version that will work with a 220-volts wall outlet as found in many European countries.
Other Ways You Can Help
I am counting on your support to reach out and share the product's usefulness as well as the indiegogo link with friends and family members. Only with your support and by working together to share the link as much as possible via Facebook, twitter, and other social media platforms can we reach this goal.