iCrowdNewswire - Jul 11, 2015
Breakfaast Buddy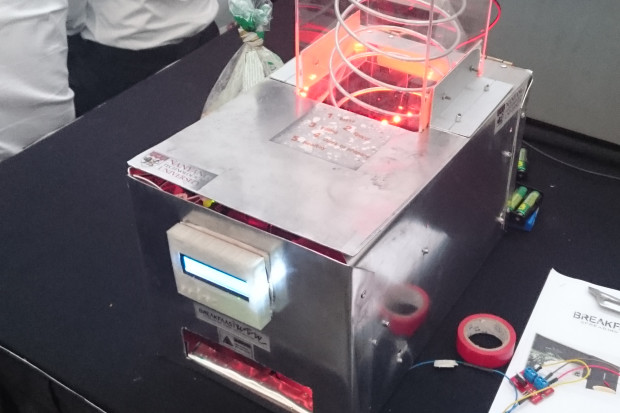 About Me 
I'm a Singaporean student,inventor and engineer passionate about creating a better world with new solutions and concepts. It's very difficult to find similar people like me in Singapore. So far I've only met one or two people like myself. Reason is simple. No one really has the money, time or passion. Everyone is always concerned about just grades. I realized crowdfunding has opened up new frontiers and given people like me opportunities. I've seen certain really weird fundings like a trip to the Maldives. Yes i would love such a trip, but i think i can achieve that from the hard work creating new things. Like i said, most of my ideas go un-noticed  or just end up as a grade on paper. I want to change this, i want to try more new things and possibly make an impact on peoples lives one day. I think that itself is a big achievement and fulfillment in life. I want to show the people around me that there more to life than just grades, and applying what we have learn in college to good use. 
Being a ex-cancer patient(when i was 12), following the success of my project. I pledge to donate part of my success to the CANCER FOUNDATION for children. 
Secondly i would also like to contribute to the conservation of marine creatures and their environment. Something which i  personally have seen it being destroyed. 
Added to that i would also work on more projects with the money i make out of the project to help third world communities and also promote science and engineering among them. 
Well all this is only a dream, to making it a reality is in your hands. 
About Breakfaast Buddy 
We all know of someone who skips breakfast. Yes including you. Many of us rush to work in the mornings, and would love to have someone make breakfast for you. My concept is to automate this process and provide you with crispy brown bread with nutella or butter spread ontop. While you prepare for your busy day, let breakfaast buddy work on your meal, the concept of breakfaast buddy works on these principles summarised. 
Storage of Loaf Bread 
Dispense of Bread according to selection 
Quick Toasting of Bread 
Spreading butter/Nutella/jam 
Dispensing of Bread for consumption 
Yes its a kind of toaster. But a more friendly one. The kind that wouldn't need you around. Just select how many bread you want toasted and spread without getting your hands messy and accumulating more cutlery. Automation is not only for factories and making money. Instead, it should help you live a better life.  A life with a good Breakfast. 
Here's some statistics from the survey i conducted 
1. Prefer Being made breakfast 
| | | |
| --- | --- | --- |
| Yes | 26 | 55.3% |
| Maybe | 16 | 34% |
| No | 5 | 10.6% |
2. Preferred Time Spent making breakfast 
| | | |
| --- | --- | --- |
| Below 5 minutes | 28 | 59.6% |
| Below 10 Minutes | 15 | 31.9% |
| I have plenty of time, i can wait. | 4 | 8.5% |
3. What do you usually eat for breakfast 
| | | |
| --- | --- | --- |
| Pancakes | 1 | 2.1% |
| Spread Bread | 18 | 38.3% |
| Cereal | 9 | 19.1% |
| Biscuits | 2 | 4.3% |
| Noodles | 2 | 4.3% |
| Others | 15 | 31.9% |
What has been done 
1st Prototype is out and tested 
Programming LCD Panel
CADD models & Material testing 
Mechanical tests. 
What needs to be done 
2nd prototype with added features 
Prototyping and testing Injection of condiment 
Improvement on User functionality 
Manufacturing of the Breakfaast Buddy X-1 
What I need
Money, without it i wont be able to make my prototypes. 
People whom might be able to help me in other ways like providing professional advise. 
Risks & Challenges
Well, i don't have the attitude of quitting. Apparently this project went through my university engineering design competition. Regardless me having a product with the most programming and mechanical aspects. I lost miserably. But managed to get a A+. Many of them whom i talked to are willing to buy something like this. But to make it more affordable more research is being done, but prototyping will make huge leaps in development of this product. The challenge is getting my product ready to be manufactured. I need to integrate all the various microcontroller boards all into one. and heat shield all the components to protect it from the heat produced by the nichrome wire. The worst case scenario is, someone might have to specially place an order from me to buy this machine rather than off the shelves of their local store. 
Here are some images from my prototype manufacturing.