iCrowdNewswire - Jul 9, 2015
New, Exciting & Original boards games
About me and my brain!
I am a 41 year old Graphic Designer who has worked with and along side the toy industry for over 15 years.
For the majority of that time I applied my trade as a creative with the worlds largest toy manufacturer in Hasbro (as well as several other major toy companies), designing packaging, developing brands and producing identity for some of their biggest product ranges, Monopoly, Game of Life, Trivial Pursuit and Cluedo (Clue in the US) to name a few.
I have always had a passion for creating, designing and inventing new ideas, with my first ever game being created when I was still in High School, and this is a game that I really want to bring to life now… this will be game to help develop a number of skills from strategy and tactics to team play and co-operation.
To give you an idea of me and how my brain works I want to share a number of passions, ideas and projects I am currently developing.
I have a real passion for Photography and carry my camera with me at ALL times in case I see 'that' photo!
I am currently writing 2 books… one with my young daughter aimed at children and the second is a crime novel that I am half way through penning!
I have a passion for creative cooking and developing my own unique flavours and tastes.
And I guess most importantly there are the games and toy concepts! These I have had niggling away in my head for several years and these I need to create – to develop and to make real.
Why is this SO important to me?
How many of us dream or think of an idea and then do nothing about it? These games are just some of the ideas that run through my head, the trouble is they won't go away – in fact there is one idea that I've harbored for 24 years!!
I want to make my ideas become reality. I don't want to look back in 30 years time and wish I had done something about this! I want these ideas to come alive and ultimately for you and others everywhere to enjoy them!
The truth is you never know if it's a good idea unless you try it…
What games am I thinking about making?
I don't want to give too much away at this point… but the first of the games is a strategy game that can be played one of two ways… with or without dice, depends how you want to play it.
Think Chess mixed with Warhammer….?!!? Though this game is very much modeled around the here and now… this is not a futuristic battle! (not yet anyway!!!) This game I think sits alongside the likes of Chess, but adds a modern and exciting appeal to people of all ages!
This is a first rendition example of a section of the board, which will be made up of between 370 and 407 hexagonal spaces.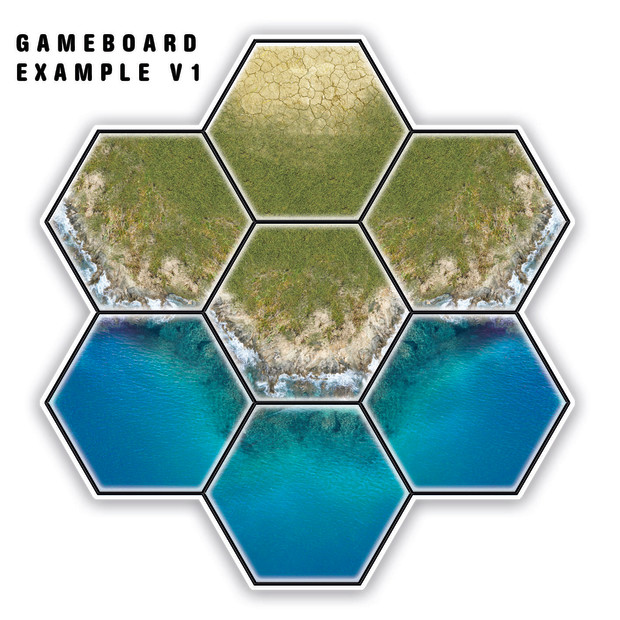 What I want to do over the next month is share some more images of the initial version as I develop the layout – I will add more as soon as I can!
The second game – I am not sure how best to describe, but it involves marbles!
I have another two ideas that I need to finalise but want to get these two to a working concept first…
Why am I asking for £15,000?
The truth is I don't have the funds to do this alone! Your willingness to believe in someone you don't know or have an understanding of their vision but yet still donate money is the only way I will ever be able to convert my ideas from dreams into reality…
The funds will be used in a number of ways:
Firstly, I need to develop my ideas up, this means creating mock ups and ultimately working models to see that the concepts work!
I will need to work with experts in toy modeling to help develop the games to help perfect them and to make sure they work!
Finally I will need to produce and promote a final working version to take to the industry and sell…
If you can help me in any way financially I would really appreciate your input, whether from £1 to £100, the money will be invested in finally realising a dream…
What will I do with the concepts once developed?
This is an avenue that I am still exploring, the one thing I do know is that I have made MANY contacts in the industry over the years… people with knowledge and vision,
Risks & Challenges
I appreciate that there may be obstacles in the way but I promise with my creative ability, my commitment to working hard, to invest all of myself into my ideas is something I hope you can trust. Not only that, but because I have worked with many companies over the years and I feel there is a real opportunity for fresh input, fresh fun! How many versions of Monopoly do you need?
Other Ways You Can Help
I am looking for help in any number of ways, yes the money will produce the goods, but you can help simply by forwarding my campaign:
Please help me just get the word out and make some noise about my campaign.
You can use the Indiegogo share tools to help me make this all happen!