iCrowdNewswire - Jul 6, 2015
Rebuild Pommes Frites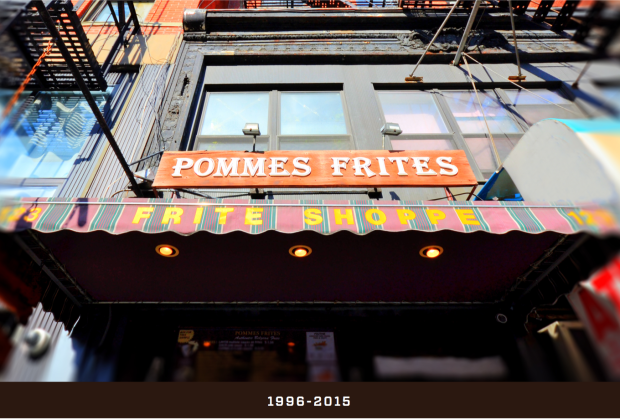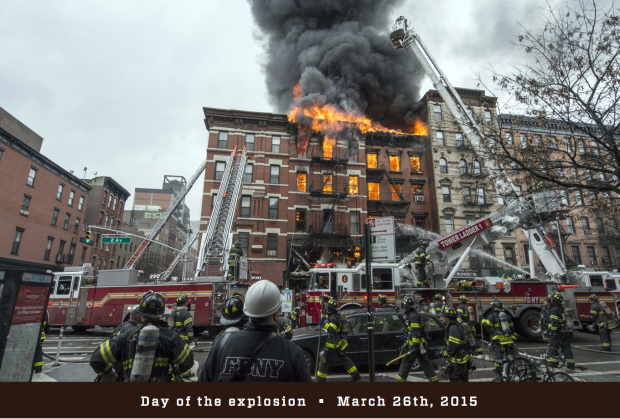 On March 26th, 2015, a massive gas explosion destroyed several buildings on 2nd Avenue in Manhattan's East Village. It was a tragedy that affected many families and neighbors of ours, and we keep those hit the hardest in our thoughts every day.
Alongside this tragedy, there was a much smaller loss that day, too: our shop, Pommes Frites. Pommes Frites  was destroyed when our home for 18 years, 123 2nd Avenue, collapsed. After the accident, we received a tremendous amount of support and encouragement from New Yorkers and those who had visited us from elsewhere. The love for Pommes Frites has spurred us to rebuild and renew at a brand-new location: 128 MacDougal St, just a few blocks west of  of the original location!

That's why we're running this campaign. After an outpouring of support and love from around the world, we want to bring Pommes Frites back to life, hire back all of our amazing staff, and get back to serving piping-hot Belgian Fries to another generation of late-night snackers!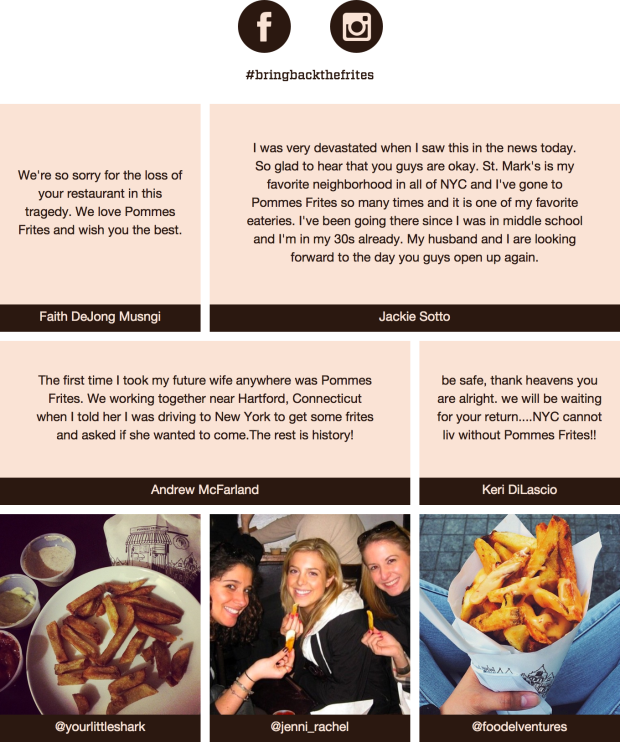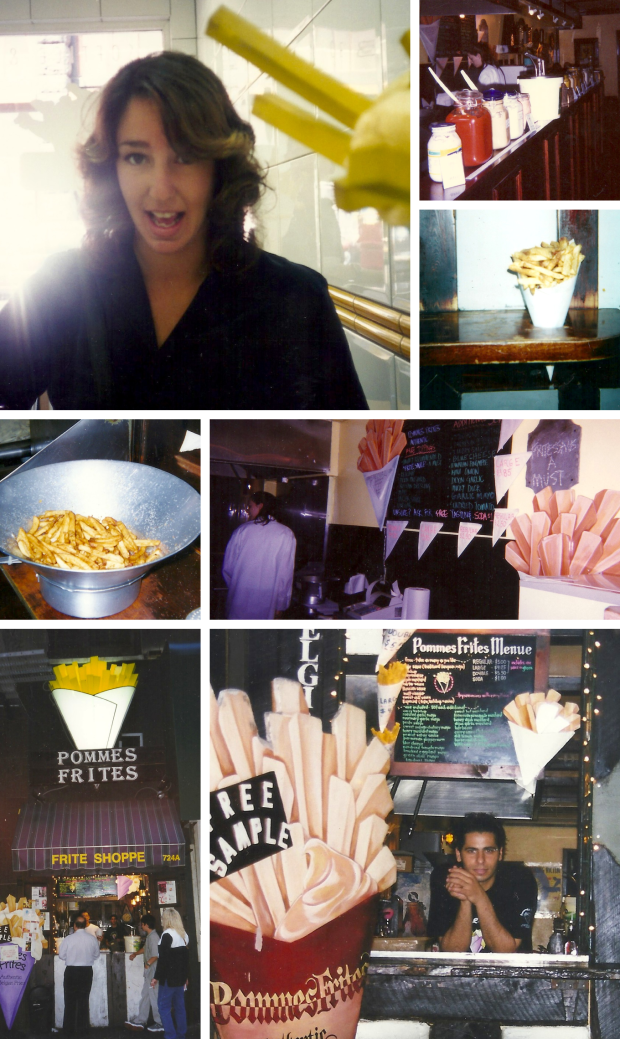 Long before Pommes Frites opened, I traveled to Europe as a student. I loved so much about my time there, but one element stood out: the piping hot frites I found in Belgium and the Netherlands, served in a cone with a dose of mayonnaise on top!
I worked for a European tour operator  after college, and every time I made it back, I always had a cone of frites on my mind. As a lifelong New Yorker, I wondered: if New York has every imaginable street food, why wasn't there a frites shop anywhere around for one to indulge in this amazing treat?
After years of dreaming about having my own frites shop, I took a break from my job to put together a business plan and see if I could make it a reality. And that was before the Internet was helpful with that kind of thing! The dream finally came true in January of 1997, when I opened Pommes Frites in a 500-square-foot space that would soon become a fixture on 2nd Avenue. In March of that same year, CNN Europe ran a story on us — without telling us first! Almost immediately we had lines around the corner, and we were running out of potatoes.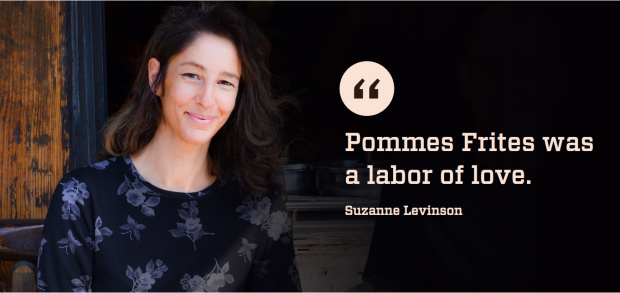 From that moment on, we focused on becoming the perfect frites shop. Everything from the potato we use to ingredients for the sauces, layout of the restaurant, flooring, etc. has been tweaked to perfection over 18 years. Even the equipment in our shop was custom designed by us to help us meet the incredible task of serving anywhere from 400 to 900 customers every day. 
To us, Pommes Frites was our little work of art! It was a labor of love for us — Suzanne and partner Omer Shorshi — and our amazing, amazing staff.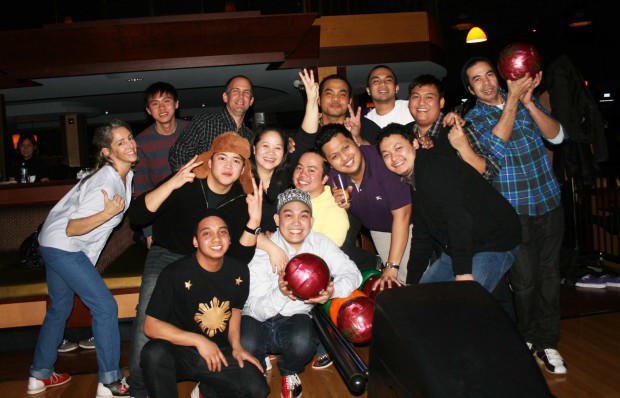 Today, Pommes Frites is set to start a new chapter in its history. We're excited and ready to re-open in a new location this fall – and while we're very sad to leave the East Village, this was actually the original target location from the 1996 business plan. We are so excited that visitors will be able to grab a cone of frites and stroll to Washington Square Park, or sit down in side in the space we'll be transforming into a beautiful old-world European oasis. We will even be adding new sauces and (hopefully) Belgian beer to the menu!
That said, losing a great location and all our equipment is a tremendous challenge. While we did have insurance, receiving a settlement is a slow-moving process – and what's more, because Pommes Frites has been in operation so long, many of our assets will be considered fully or significantly depreciated. 
In short, it's likely that we'll be getting much less than we need to re-open. 
Here's a rough breakdown of the pre-opening expenses that your donations will help cover: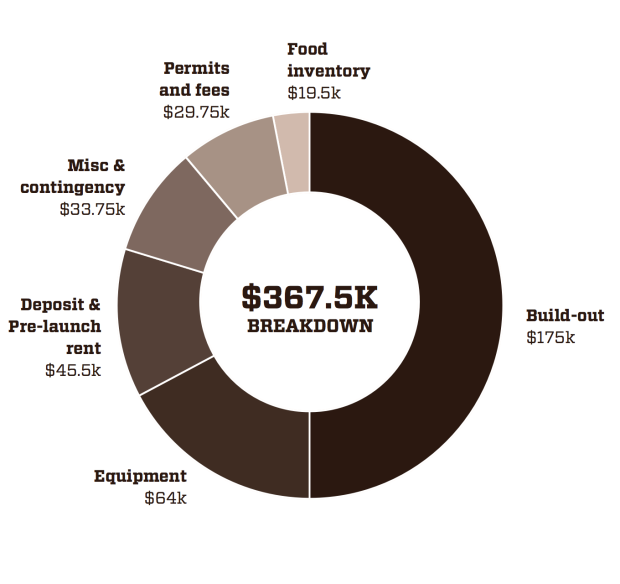 We've decided to set the target of this campaign to cover the cost of replacing our equipment…and any additional funds that we can raise will allow us to reduce the amount of bank loans we need to take on, and will help us open our doors sooner!
We're very excited to build up a new shop, including all the lessons we learned in the last 18 years. But the biggest joy will come when we can hire back our staff, and hitting our fundraising goal will help us bring every one of our talented cooks, managers, and counter staffers back on board as quickly as possible.