iCrowdNewswire - Jul 3, 2015
Journo: The World's Most Sophisticated Journal App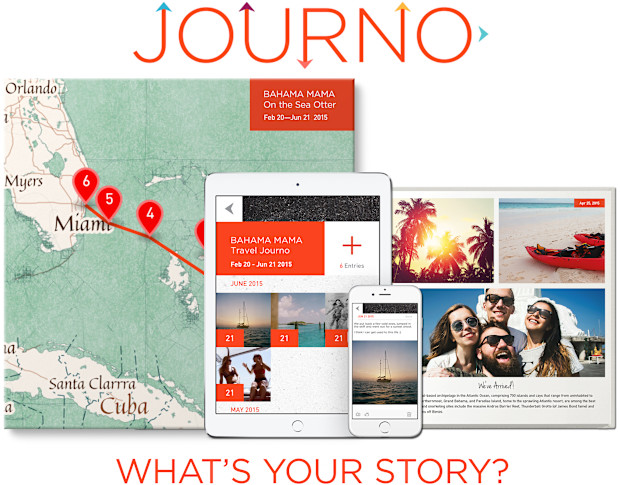 Let's face it, journaling has a bum rap.  Which is too bad because not everyone who journals is a 12-year-old girl with a heart-wrenching pre-teen crush (poor girl).
We're here to change that.  Journaling might not be for everyone but great things rarely are.  Journo, though, is for us, and hopefully you.
We've created the most sophisticated journaling app available, but that's only part of the equation.
The magic lies in what happens to your life when you use it.
As you read this, you're probably not in the midst of a life crisis, but maybe deep down you know you were made for more.  No matter the place you're in, it's never too late to start writing the story you were made to live.
And that's why we're here – to give you a blank canvas, a blank page and to urge you to start (now?) because otherwise time will fly by and you'll still be left with the same blank canvas, the same blank page, and a life full of regret.
So, what kind of life do you want live?  Not for your parents, not for your friends, not for anybody but you.
What words do you want to fill these pages?  What pictures and videos do you want to fill this canvas?  Again:
What's your story?
Journo is here to help you fall more and more in love with your life.  To get you waking up everyday excited for what's in store.  To encourage you to live an adventure.  So let's burn your couch and do just that!  

1 – Travel Maps.  Have an adventure lined up?  Wouldn't it be sweet to view your route?  Wouldn't it be even sweeter to view it on a custom designed map you can only find in Journo?  Well then we've got you covered.  Check out your current options:
2 – Text Schmext.  One of the biggest reasons we wanted to create this is because buying a paper journal is cool, but extremely limited.  I was anchored in a gorgeous and secluded bay in The Bahamas, watching a strikingly red sunrise and not able to add a picture of it to my paper journal.  That needed to be changed.  So we took care of it.  Seamlessly add as many pictures or videos as you want… for those moments when words just don't cut it!  Take a gander: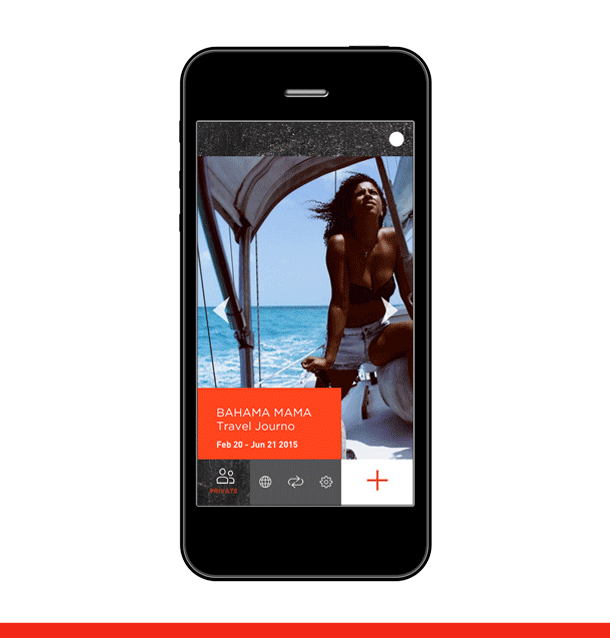 3 – Not Just Digital.  Remember how I just said "a paper journal is cool"?  They certainly are – to look at!  But hauling one around, with all it's limitations, isn't so cool.  We got you covered here as well and made it as easy as pie to print your Journos directly from the app.  We lay them out and let you alter and edit to your liking (fonts, colors, pics, placement, etc).  Then just print!  It's the best of both worlds and only Journo does it.  Check out the beautiful finished product here: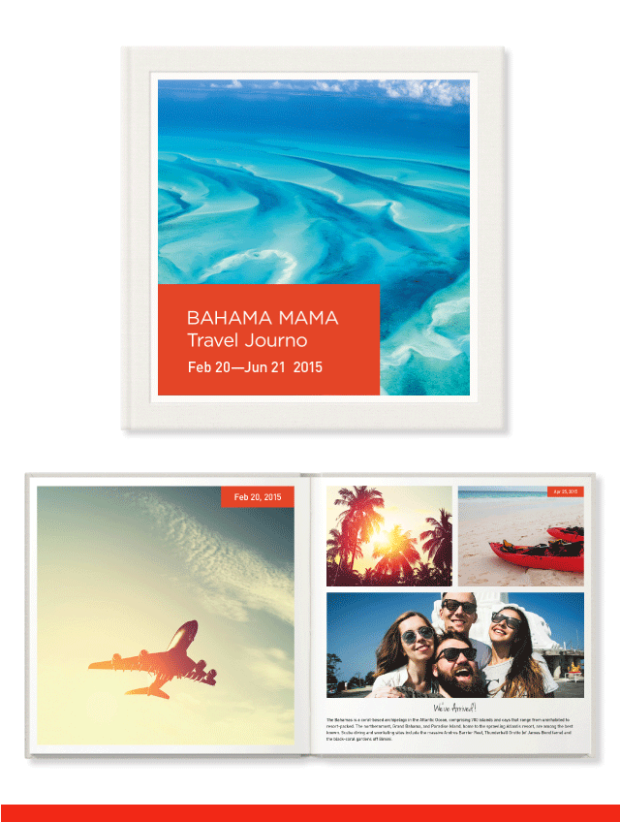 4 – Collaborate!  Never before has there been a way for two people to contribute to the same journal.  We're pretty jacked up about this.  You and the hubby want to journal about all the funny things your kid is doing?  No problem.  Heading out on a road trip with a pal and want to collaborate on the same journo to maximize the memories?  No problem.  The options are endless.  Here's how it works: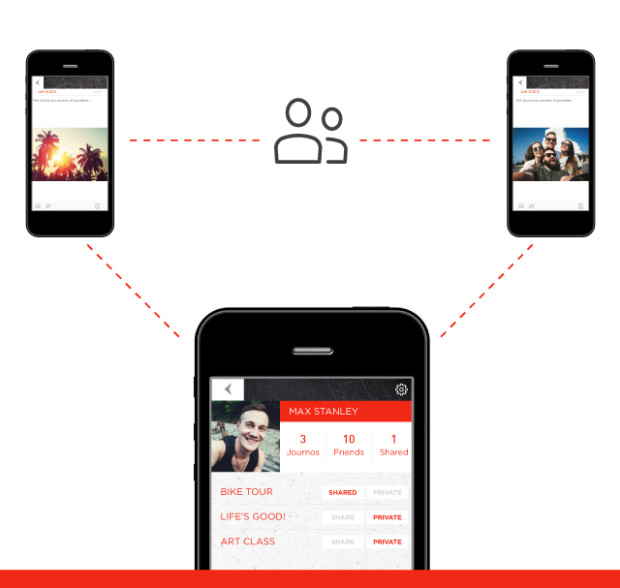 5 – Tailored Journos.  We've customized a few different journos to suit your needs: a daily gratitude journo, project journo and travel journo.  All of which have a few different features that fit nicely within that theme.  Use one, use them all.  Unlimited journos with your subscription.  Take a look: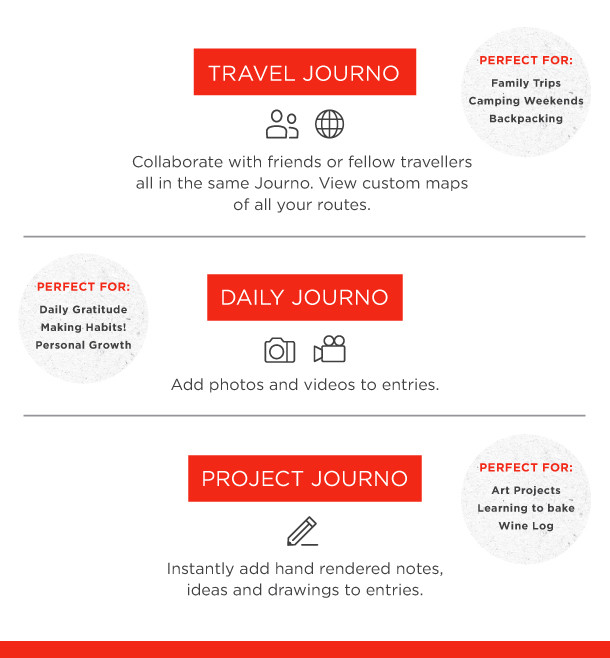 BONUS 6, 7, 8… – Safe, Secure, Cross-Device, Etc.  Your privacy is priority numero uno, so no worries there because your journos are locked up tight and only available to you (on any of your devices you're logged in to).

While most IndieGoGo campaigns launch with a concept or prototype, we feel that most of the risk in our project has already been cut by having moved far beyond that stage to an alpha version of Journo for iOS iPhones & iPads, by our incredible and deeply experienced team.
This isn't our first rodeo.  We've successfully launched over 40 applications for The App Store.  We've built the #1 Entertainment app in the United States, as well as a few other top Apple Picks.  Our apps have been used over 40 million times and we're happy to say that none of which are as sweet as this one!  So this is the only project we are running, and has the undivided attention of our team.
Launch Timing: With any software development, there are potential risks in unforeseen variables causing delays in launch. While this is always a possibility, we don't expect this to play a significant role given the stage we're at. We have already made a tremendously detailed effort to create a streamlined and extremely reliable application. 
We feel confident that we could launch Journo for Apple devices shortly after the conclusion of our IndieGoGo campaign. 
We will keep our backers up to date with our progress and let you know if we encounter any setbacks.

If you can't contribute with money, no sweat!  There are still a few great ways you can really help us make this project a reality:
Get the word out!  Use the Indiegogo share tools and tell your friends and family about the project.
Give us feedback.  We LOVE feedback because we constantly strive to improve for our amazing users.  So tell us what you think of the campaign, the perks, or anything!
Thank you for your support! 

We couldn't have made Journo this amazing without the crucial integration with these two amazing companies:
Milk Books:
We scoured the planet for the best print shop for your Journos and no one could compete with these guys.  Your custom maps and printed Journos are in the best hands and are printed on the highest quality fabrics and paper available.  You'll be more than excited when you crack open this box from the mailman!
Mapbox:
After another heavy search, MapBox easily took the cake as our map integration partner.  We teamed up our Head Designer, Ann, with these guys to create the most beautiful maps around… ones you'll be excited to show on your wall.