iCrowdNewswire - Jun 30, 2015
Plum – Series Seed
Plum is the Nest of lighting – try Plum's WiFi connected light
Quick Pitch
Plum makes lighting and appliance control easy and affordable.  Our Wi-Fi enabled lightpad is the first product of its kind.  Competitively priced and easy to install, it provides the incredible convenience of controlling your lights from your smart phone from anywhere in the world.
The Plum Lightpad
Plum has completely reimagined the light dimmer.  We've created a connected device that not only dims lights, but creates a completly new user experience.
The Plum LightPad connects directly to your home WiFi network without the need for additional bridges, dongles or gateways.  The initial setup of the dimmer is as easy as sending or receiving a text message.  You simply launch your Plum app and answer two questions to provision the dimmer.  
The Plum LightPad features an intuitive, multi-touch, touch pad interface. Simply tap or on off.  Use one finger to swipe up or down to change the intensity of the light.
But, if you use two fingers, you can simultaneously control all the lights in a room.  Multiple dimmer communicate with eachother directly over WiFi.
Or, when you go to bed at night or are leaving the house, just use the pinch gesture on any Plum TouchPad to turn off all the lights in the house.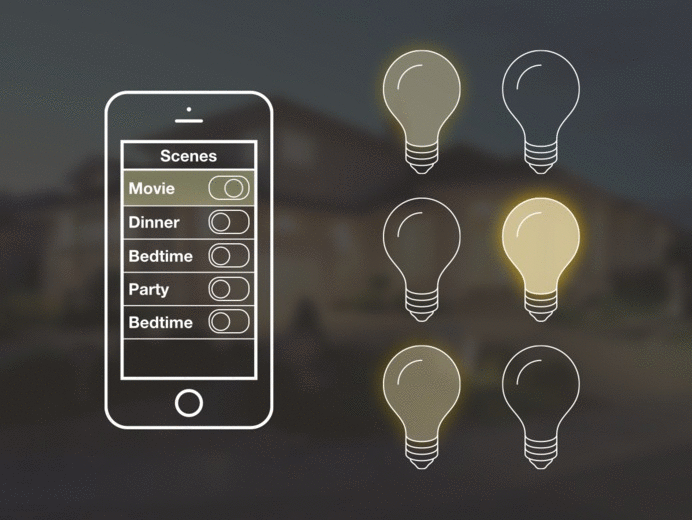 With the Plum app, you can quickly program scenes that control multiple dimmers throughout your house.
Plum has built-in sub-metering in each dimmer.  This allows you to know how much you're spending for your lighting or that your kitchen lights cost you 10% more this month.
The Plum Lightpad has an illuminated ring around the touchpad.  When you approach the dimmer, it detects your presence and glows in your choice of colors.
Plum has a full line of energy management and convenience products.  In addition to the Plum lightpad, we also have the Plum SmartPlug and the Plum Smart Outlet which allows you to control table lamps or electrical appliances.
Traction & Accomplishments
Over $850K in PreSales
Almost 4000 Customers
Over $150K in Purchase Orders from Amazon
New POs From Amazon Every Week
In Beta Testing Now
Successful Kickstarter (Over $300K)
Accepted to Techstars Accelerator (only 10 of 850 accepted)
Winner of Demo 2012 (Beating 77 startups in Silicon Valley)
Selected to 2013 SXSW Accelerator
Accepted to Microsoft Ventures Accelerator (only 10 of over 500 accepted)
Over 500 Dealer Requests
Quotes from Investors and Customers
What Our Customers are Saying
I think your product is the best on the market by far…"  Freddie V
"I've been looking for something like this for a while. All the other vendors have some inherent limitation…   It looks like you have exactly what I need!" joseph85750
"I find your system very revolutionary." Alvaro M
"Your products look great." Jason B
"This just what I am looking for." Matthew B
"…awesome Idea, finally what I and miilions have been waiting for, and it is genius design too.." Steve H
"You can go to lowes or home depot and you will not find anything similar." Jorge O
"I'm sure once all my lights are converted my friends will be wanting some, too." Carl W
"It's you're own fault for creating such great products, now you've created a monster out of me and I want more! =)" -Shai L
"Very excited about this and can't wait to install the dimmers in my house!" Jaime P
"I like the belkin lights, but yours are a heck of a lot better." Brian G
I was looking into buying the new belkin wemo light switch when i came across your site, i believe you have a much better product…" Gaetano 
"I have seen the device Belkin recently marketed but I like your approach" M.A
Love this product… I think we can move a lot of it for you here in Eastern Canada. Pat S
"I was going to buy the WeMo Light Switch but saw this and put that purchase on hold."  Nick 
"I've been looking at WeMo and others but Plum seems to offer more than they do." condorone