iCrowdNewswire - Jun 28, 2015
Closca Bike Helmet – Safety, Functionality & Style
Closca Fuga, part of your outfit
"Never compromise safety, functionality or style"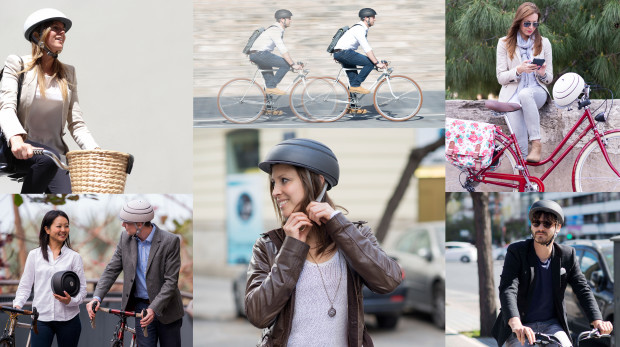 Closca Fuga represents the balance between Safety, Functionality and Style, transforming a safety element into a fashion accessory. Closca Design, thus stays committed to offering design and innovation in an ever-growing global market: the bicycle as a mean of transportation in our cities.
This is our 2nd generation of helmets. The creative process has been carried out taking into account the guidelines that urban cyclists themselves have feedback to us day by day, with contributions by means of opinions, preferences and wishes to be implemented in this new product.

It's not magic, it's engineering
"Safety certified and convenient"
Closca Fuga is not only a safety certified helmet but also it has an unique & worldwide patented foldable system allowing to become flat and to reduce its volume by more than the 50% for easy storage in any bag while you are not pedaling.This very convenient helmet comprises 3 mobile rings hinged together with 2 stable positions, folding only when it is empty and providing the same functionality as any regular helmet does and exceeding the safety standards worldwide.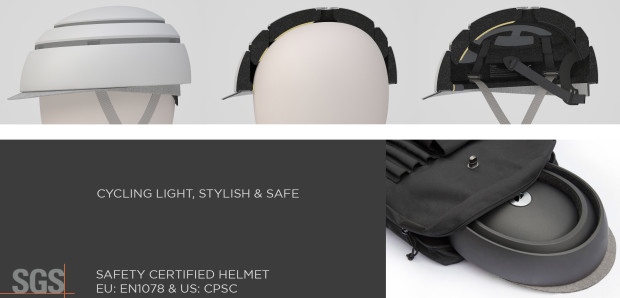 Closca: Your prêt-à-porter
                           "Change your outfit – interchangeable helmet dressing"
It is important to look good.  Closca offers an accurate assortment of materials and finishes, detached from usual standards for cyclist equipment and closer to product and fashion trends.  It's another accessory of your own style.
Closca Fuga is provided with an interchangeable accessories system so you can dress your helmet combining it with your everyday outfit.
[Goal 2- $50k : Mass production for Aviator and Nordic Extra Accessories]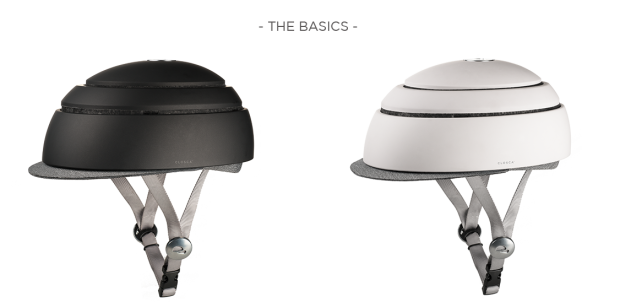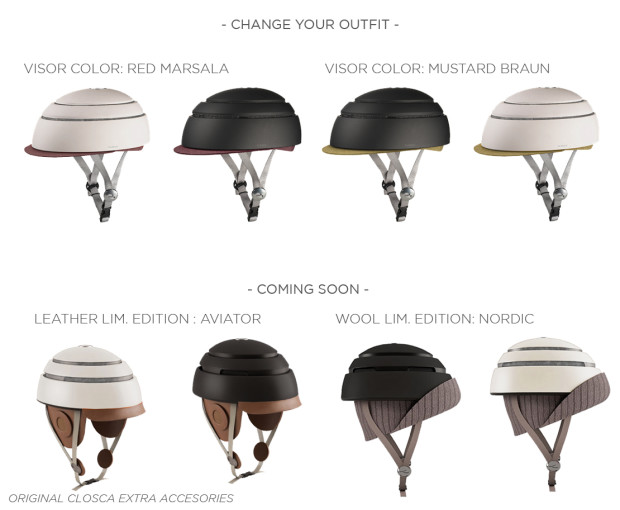 Specs
"Not only a helmet, but a helmet"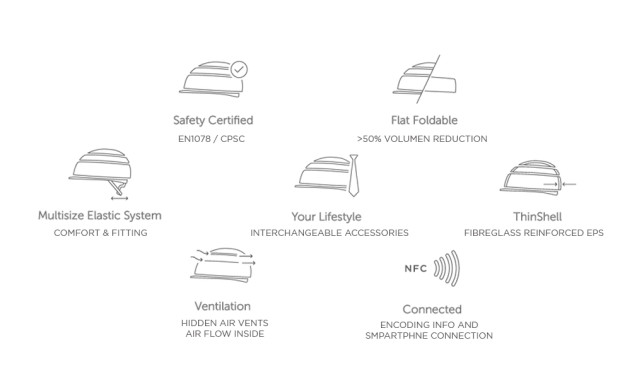 Recently featured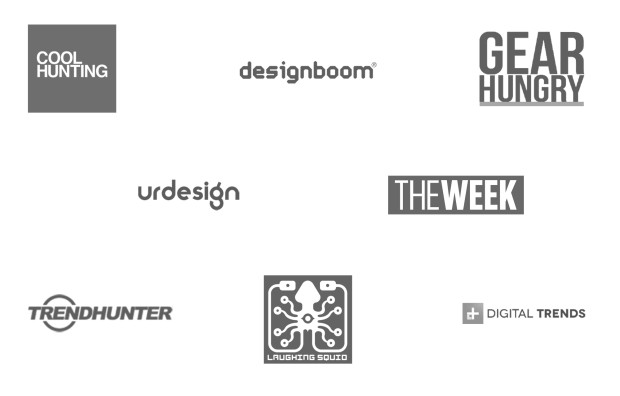 The Story
"Reason loves emotion"
We work to provide design and innovation to the urban cycling community.
Carlos, Co founder, realized thanks to his wife, the common helmets were not adapted to the way urban cyclist live and understand the cities.
Closca redefines the cyclist helmet, wisely adapting it to the city, focusing on two important handicaps conventional helmets have:
– Excessive volume, which makes carrying it difficult after pedaling.
– A look that is cut off from the personal style of those who choose bicycle as their transportation alternative and do not want to compromise their style.
To develop this smart and elegant product, Closca teamed up with 2 great partners:
The Polytechnic University of Valencia, one of best technologic centres according the Academic Ranking of World Universities (ARWU). Engineering and lot of talent to resolve the impact absorption, anthropometric   and comfort design.
Culdesac, creative partner for product deconstructing and helping to get a very sexy product.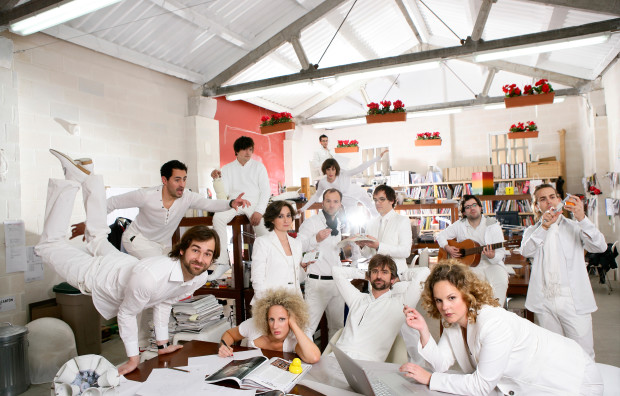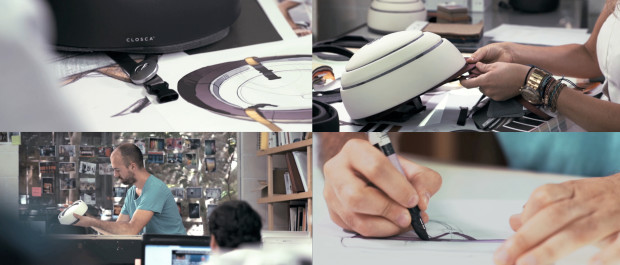 Bike to work
"We believe in better cities"

We believe in bicycles, not only as the best mean of transportation for cities but also the most beautiful. Our aim is to encourage as many people as possible to adopt a stylish two wheeled approach.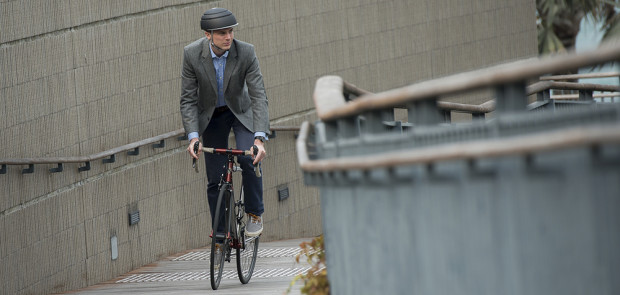 Our contribution:
Get Partnership with global brands like Airbus or Telefónica; promoting #biketowork among their employees.
Our new App – RideU – for smartphones that is capable of browsing over 240 municipal bicycle rental services in more than 25 countries. With RideU it is possible to check bicycle availability, find empty bicycle bays and know the general status of the service. Furthermore, this new app is compatible with the new Apple Watch and with Google Glass.
Supporting also the talent of a 17 years genius of Mobile Programming @cecetaca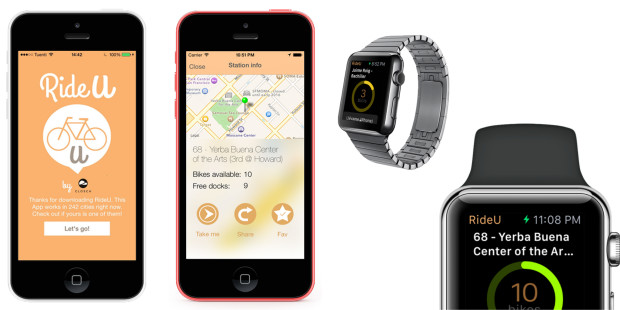 [Goal 3- $80k : Closca new App with NFC Integration]
We Love Technology – Our helmet is the first with integrated NFC chip for bidirectional communication between helmet & smartphone.  Would you like if your helmet could give the instruction to call your emergency number only by approaching your smartphone? Can you imagine taking your public bike using your Closca helmet instead of your citibike card?
Yes! This is possible today and Closca Design is working on it.
Is there something else you would like us to include in the New App? Let us know  your suggestions
Sustainability: Awarded Eco Value proposal
As consecuence, we have been winners of the
Accelerator Climate Kic-European Program
, the EU's main climate innovation initiative, promoting smart cities and CO2 reduction.
Design Process
"Our challenge: Urban Helmet Deconstruction"
Treating cycling as an icon itself, has inspired us to create an honest set, where form and function coexist in a balance, generating the personality of the product. So the helmet is explained intuitively by itself.
Dieter Rams guidelines inspires today the Product Design in companies like Braun or Apple. These guidelines have influenced very positively in our Design Process, Closca Fuga is innovative, understandable, clean and timeless.
Design and innovation coexist in this useful helmet: the first safety certified and most efficient folding system.