iCrowdNewswire - Jun 25, 2015
Protect Children in International Nonprofits
The Problem
I have worked with nonprofits and children for over 10 years.  After living abroad and working with youth overseas, I have seen first hand how ill-prepared charities are to deal with abuse, both within their institutions and by outsiders on the children they serve. Like the many respondents in my survey, I learned of abuse occurring in nonprofits and have tried to help.  While working on a case-by-case basis was aiding individuals, Bigger Thinking is necessary to tackle the scale of this problem.  The assistance I was giving to individual charities must be widely available in order to make the greatest impact and help the largest number of children.  We need to Empower administrators, staff, and children with the tools they need to keep themselves safe.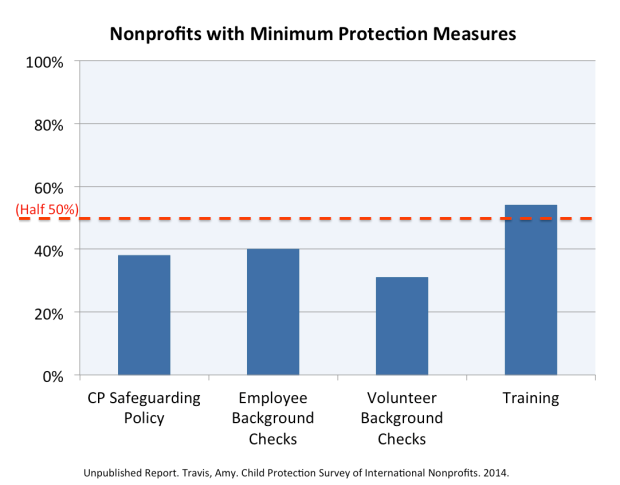 Crowdfunding
Unfortunately, this project does not fall into the current funding priorities of the USAID, most international agencies, or large international charities.  They are interested in working together at later stages once the project has been implemented.  Thus, no one is working on this problem. Crowd-funding is necessary to start saving children.
The Solution
Nonprofits want help!  86% of nonprofits surveyed were interested in having help to strengthen their child protection policies and 78% wanted more rigorous hiring practices.  Teachers and Caregivers have asked for training on how to use positive discipline.  You will be providing them the knowledge and skills they are requesting.
The project is value-driven.  This begins with recognizing the Dignity and Rights of all human beings, including children. I believe in Empowering organizations and individuals to protect themselves and their community by giving them the knowledge and skills to do this.  In order to support each other, we need toCollaborate, sharing resources and knowledge.  We all have something to contribute and together we will make the world a better place for children.
Based on these values, the child protection toolkit will include manuals, training videos, and templates to support nonprofits in understanding the problem, assessing their situation, learning skills and techniques for protecting children and dealing with abuse, and implementing these new protection mechanisms.  Additional resources will be provided the enhance holistic care of children so that they are not only safe but thriving.

Core Toolkit Contents
"How-to" manual for writing child protection policies and procedures
Training videos for staff so that they can recognize, report, and teach children about abuse
Training videos on positive discipline and replacement skills for abusive techniques
Key international legal documents to understand rights and laws
Risk assessment to learn where vulnerabilities lie
Volunteer & employee screening manual
Reporting mechanisms and investigation process assistance in order to properly handle allegations of abuse
Child rights to privacy and marketing guidelines
Children's health information, education research, legal documents, and much more will be provided as supplementary resources.  Additionally, I am working to highlight and utilize work that has already been done on these topics.  No point in re-creating the wheel!
Actions
Donate to support the creation of the toolkit.
Share this video with friends so they can learn how to stop child abuse in international nonprofits.
Advocate by talking with your charity to learn more about their child protection systems and how they can be strengthened.  Help your charity to keep children safe.
The Goal
The goal is to create a toolkit as a tested & proven, free, web-based resource for smaller international nonprofits to prevent and address abuse within their organizations.  The first phase is to create the core resources, launch the toolkit online, and monitor and evaluate implementation.  Later stages will include additional documents & research, trainings, events, and broader marketing and networking.
$20,000 pays for the website, core toolkit documents, 3 training videos, and basic follow-up with pilot organizations.  
Deliverable Date:  June 2016 
Money raised above the goal helps fund:
Document translations (~$5,000 per language; need 10 languages)
More training videos (~$3,000 per video; need 5 videos in 10 languages)
In-depth monitoring & evaluation of implementation at pilot organizations (~$10,000 – $15,000 per organization; need 5 pilot sites)
Wider outreach, faster implementation, better quality resources, and more research
Full-time salary for two years
Conference on Child Protection for International Nonprofits
To achieve ALL of the above, the project will cost about $500,000.
Partnerships and Collaborations
As the project progresses, I'm looking forward to working more closely with Liz Wilson of SKIP Peru and Valerie Handunge of the Malini Foundation, both of whom have been strong supporters and willing partners.  I am grateful for the help of John Sheehan of the National Center for Missing and Exploited Children and the organization Keeping Children Safe as we share resources and hope to work together on collaborative events.  And special thanks to all of organizations that participated in my 2014 survey.  I look forward to working with you as this toolkit is released.
More Information
The Gallery tab provides more information on child abuse and this project.
Please feel free to contact me if you have additional questions.  I'd love to talk to you more about the project and the issue:  AmySTravis [at] gmail.com
If tax-deduction is an issue, please contact me.
Thanks to the many people who are working with me 
 to make this project a reality!   
A special shout out to Mat, Sara, Liz, Judy, Joe & Ada, Zack & Kile, Joe, Marli, Kevin, Amy, Dave & Barbara, and Patty.