iCrowdNewswire - Jun 24, 2015
A Future for the Kirkgate
What it's all about
Our much-loved, well-used building is worn out. So, we have plans to make it bigger and better than ever. Help us give a new lease of life to a vibrant arts, community and heritage venue in the heart of our town.
The Kirkgate Centre in Cockermouth, Cumbria, is a charity run by and for the community.
For 20 years, it has been a place where people of all ages and backgrounds have come together to be entertained through live music, film, comedy, touring theatre, dance, festivals, creative workshops and more.
But it's crunch time. We cannot continue without modernising and extending the building.
We need your help to keep this vital arts centre going for generations to come. If you make a donation, we'll give you a fantastic perk in return!
The plan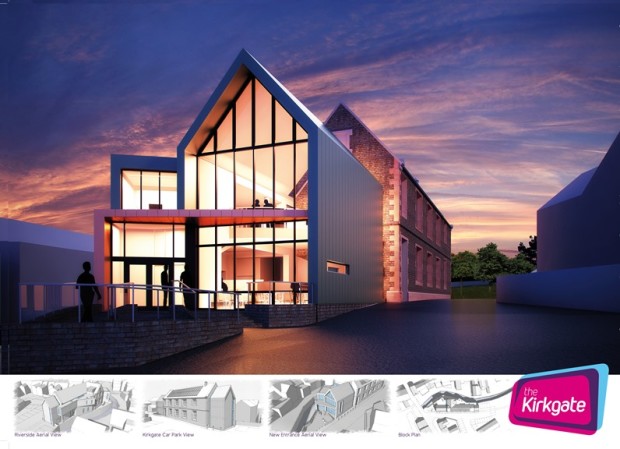 We are redeveloping the building, which is an old Victorian school. People want more space, a café, larger bar area, better sound, lighting, film projection, comfortable seats, better access for all and a greener building. That's what we will provide, without losing the friendly and quirky atmosphere on which our centre thrives. We will also:
create better community spaces to hold more events and workshops
improve access for people with limited mobility and parents with prams
install exciting state of the art heritage features, reflecting the history of the people, town and old school
attract more performers by having up to date technical equipment and better back stage facilities
create more opportunities for local artists
have the only disability accessible stage in West Cumbria
What we need and what you get
The great news is that we're already well on the way to raising the majority of the money towards our £2.2 million project from funders such as Arts Council England and the Heritage Lottery, but we still need to raise £200,000 through large donations, sponsorship, events and membership schemes
This is where you come in
This campaign is critical to raise awareness as well as funds. 
We're aiming to raise AT LEAST £15,000 through this crowdfunding campaign towards fitting out our community rooms. The result will be outstanding community spaces for the town's clubs, community groups, societies and local businesses to use.
You can contribute from as little as £10. We will be grateful however much you can afford and you will know you helped make something special happen.
The Perks
In return for your generous donations, we're offering some really cool products and goodies. You have to do each as a separate transaction, but you don't have to limit yourself to just one!
To buy just click on the perk in the column on the right.
The Kirkgate limited edition mug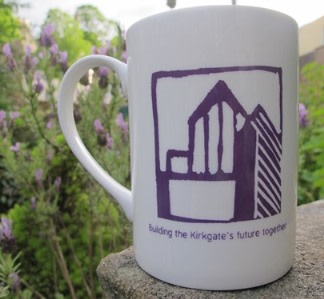 The Kirkgate cool t-shirt in purple or white
Women's T-shirt (size XS, S, M, L, XL)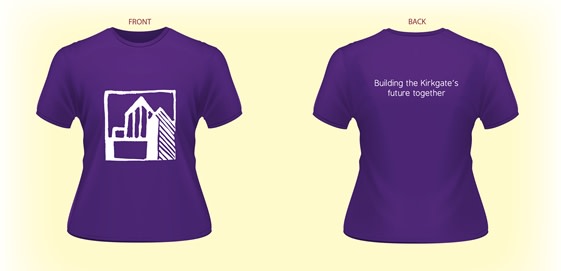 Men's T-shirt (size S, M, L, XL)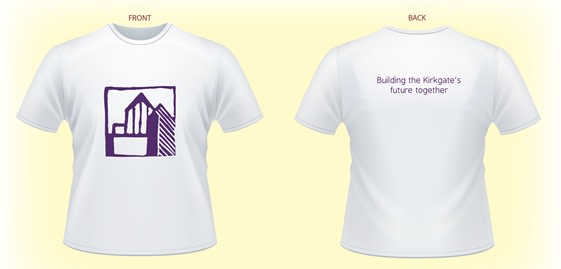 We will be in touch for your size, sex and colour preference but please feel free to email erica@thekirkgate.com your details in the meantime. We will do our best to provide the colour you choose but it will be down to availability when you order.
Hand made enamelled brooch by artist Jane Sheppard
Hand made enamelled cufflinks by artist Jane Sheppard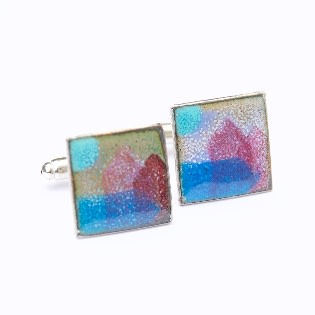 Framed photo of Polar Bear on Arctic Ice by photographer Keith Snell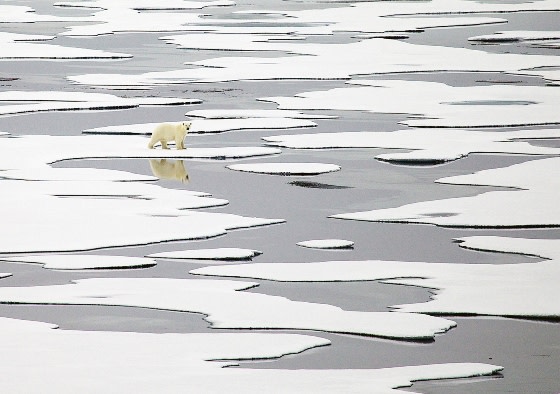 We are able to post all the following perks, apart from the framed photo, but to keep our costs down (and make as much money as possible) if you live locally, or know someone who can collect on your behalf, please pop into the Kirkgate. Please emailerica@thekirkgate.com if you have any queries.
What's the big deal?
With greater access to entertainment at home, we believe now more than ever, it is essential to support spaces that encourage people to come together socially and enjoy themselves.
The Kirkgate Centre not only strives to inspire and encourage creativity but it plays a big part in community life. We helped Cockermouth cope with the devastating floods in 2009.
We offer audience and users affordable opportunities to enjoy the buzz that music, film, theatre and comedy bring to a small town like ours on the edge of the Lake District. Places like the Kirkgate Centre can alleviate loneliness and isolation, particularly for the young and old. 
What people say
Amateur drama group leader 'the Kirkgate Centre is an essential amenity at the heart of our community. It's like my second home".
One of the artists talking about the effects of losing the Kirkgate Centre"It would be devastating as we'd lose a cultural venue and all the opportunities that come with it … Placing work in a professional arts centre/context means people realise you know what you're doing."
A Kirkgate volunteer "I have small children so volunteering fills the same role as paid work would: gain skills, maintain existing skills, interact with other adults, gain a sense of achievement. I also gain a lot of satisfaction working for a cause I truly believe in … I would feel quite lost without the Kirkgate."
Comments about the new building:
"Looks wonderful. Changes will definitely bring new people in – stand out building that would make people excited and want to come and see it."
Risks & Challenges
The main risk is that we may not raise the full amount we need. However, we have an excellent track record for attracting funding, and for delivering and managing projects effectively. We are  a tenacious bunch, who have driven this project, through thick and thin – to this exciting stage.  We are certain we will be able to complete our funding package – especially with your help!
Other Ways You Can Help
If you're able to donate that's fantastic but it's also really important for us to get the word out so please make some noise about our campaign! 
Don't forget to use the Indiegogo share tools!
And that's all there is to it.