iCrowdNewswire - Jun 23, 2015
The Family Jewels Project – Burning Man 2015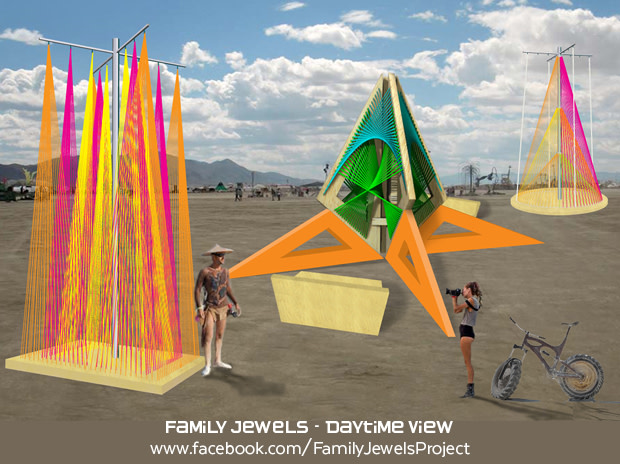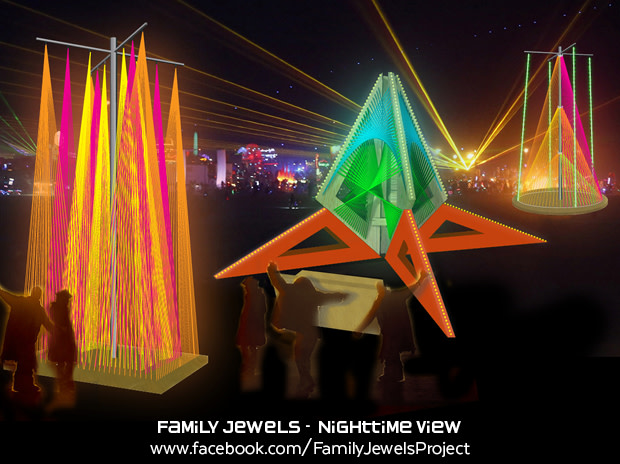 What are the Family Jewels?
The Family Jewels is a large-scale sculptural installation inspired by 70's-style string art that will debut at Burning Man 2015. Glowing with beacon-like brilliance against the night sky, the installation will stand in steady contrast to the piercing, pulsing Playa horizon. 
Unlike their monochromatic string-art predecessors, our plugged-in, amped-up, color-saturated gems will pack a visceral punch with glowing facets and miles of brightly colored strands. They will be a polychromatic vision during the day and emerge as glowing angles of colored, dancing light at night. 
The centerpiece is the Crown Jewel, a 12' tall, four-sided faceted structure composed of triangular wooden "fins" resting on a geometric setting. The walls are coated with phosphorescent paint and glow brightly when exposed to UV or very bright light. UV-reactive glowing tubing wraps around and through the sculpture criss-crossing to create a radiating woven web of lacy geometric dimensional patterns. Edges are defined by LED lights that animate, illuminate, colorize and interact with visitors. Lay down face up on our specialized cart that is part Flintstones, part mechanic's creeper for a fantastic full-color fluorescent view inside the Jewel. 
Flanking the Crown Jewel are two 15-foot tall "solitaires" — simple steel frames wrapped with over a mile of day-glow twine that creates an airy web of luminous color in the day and glows brilliantly at night. The solitaires will be lit by black light floods.
Angular shaped seating allows visitors to sit and stare or lean and gaze as they interact and enjoy the jewels.
Designs and Prototypes
The Jewels have evolved dramatically over the last eight months. Much discussion, exploration, testing of ideas, and many dead ends have brought us to the current designs. While building has begun, we will continue to test materials, and modify and adapt designs to ensure these jewels sparkle as brightly and safely as possible.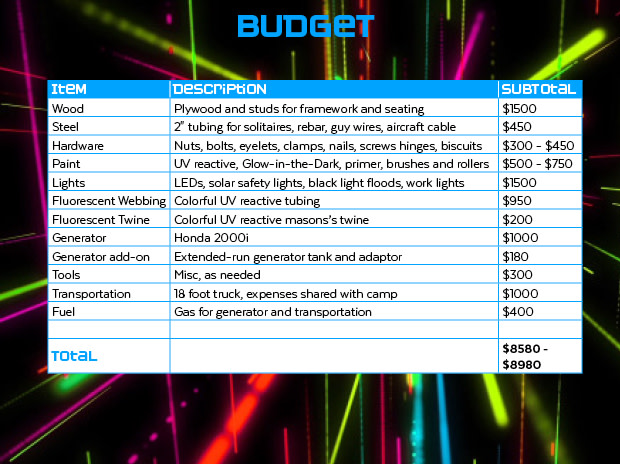 Risks and Challenges
Gems as fine as these are formed under intense pressure, and our Jewelers are up to the challenge. While much work lies ahead, we feel we are well positioned to make this project sparkle. Since this is our first installation at Burning Man, we have kept our scope in check so that the results are fabulous. (Think dazzling solitaire versus diamond-encrusted four-finger ring.) Our group has the expertise needed, and since we are based at American Steel Studios in West Oakland, we have resources nearby should we need any outside assistance.
Ways You Can Help
Financial support is a Jeweler's best friend, but If you can't fund this project, there are other ways to contribute:
Help us get the word out and support our campaign. Share this page, share the project, come see us at Pre-Compression, and like us on Facebook. Volunteer for one of the build days. They will be enjoyable. 
Help us out at our weekly builds. Bring your skills and your knowledge or your will to learn and we can put you to work.
If you are in the Bay Area, come see us on June 20 at Pre-compression in Oakland, or check our Facebook page for details about our Costume Swap Fundraiser on July 19th at Oasis. 
Use the Indiegogo share tools and share these Jewels. Help make something beautiful happen!