iCrowdNewswire - Jun 19, 2015
Pebblebee Stone – Item Tracker & Smart Button

The Stone is a small tracker with TWO main features. It tags your stuff so you can find it later AND  boasts a smart button that acts as a shortcut for anything the apps on your phone can do.

With a motion sensor and range finder incorporated into the Stone, you'll know your items are safe, just where you left them.
Quickly Locate Your Lost Stuff: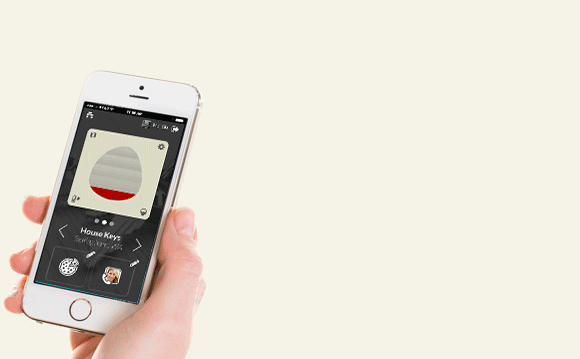 Misplacing your keys—or anything really—can quickly throw an unwanted kink in your day. There's nothing worse than noticing their absence the moment you need them, like when rushing out the door to an appointment. With the Stone, you can prevent this from happening in the first place. (Disclaimer: App does not levitate keys to your phone)
What is Crowd GPS™?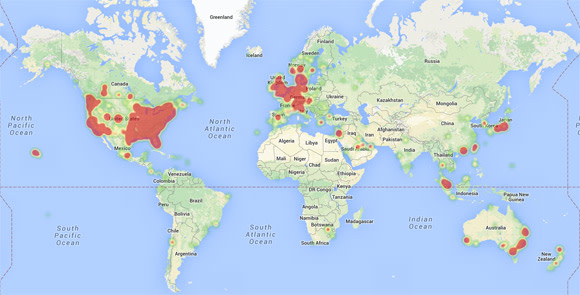 We have tens of thousands of active Pebblebee users growing on a daily basis.  The best part is now you don't need our app running in order to locate your lost items! Anytime someone with the app just installed on their phone passes within range of your Pebblebee, you'll get notified with the location pinned on your map. This essentially expands your reach to anywhere in the world.  
Use the Stone to…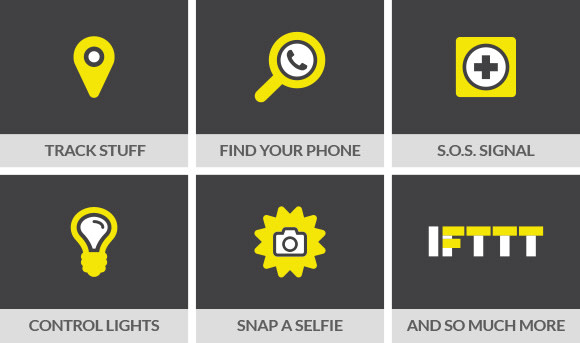 Personalize Your Stone!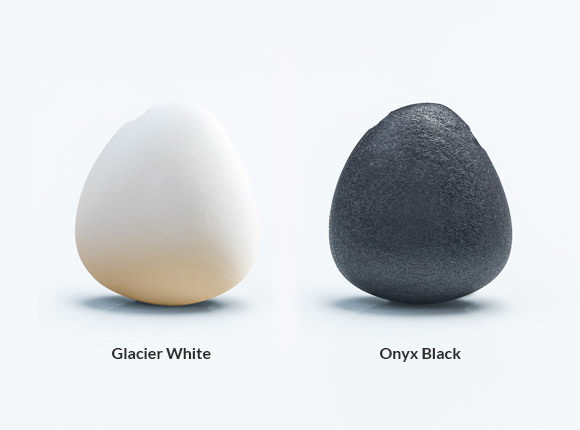 Perfect For Parties!
For those group pics when your arm isn't long enough.
Range alerts come in handy: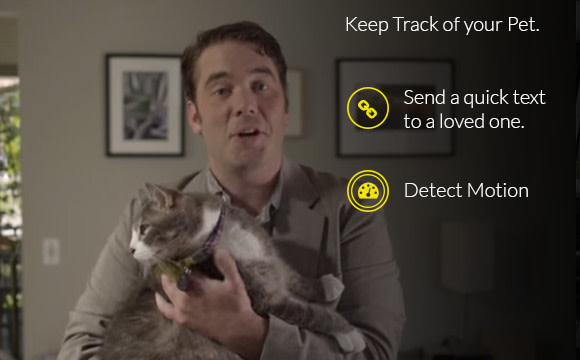 Track your pets to know when they come and go, and be alerted if they make a dash for freedom. Or, put it on anything you tend to leave behind like your re-usable grocery bags, jacket at a restaurant, or water bottle at the gym.
What could you possibly want a thermometer in it for? Well…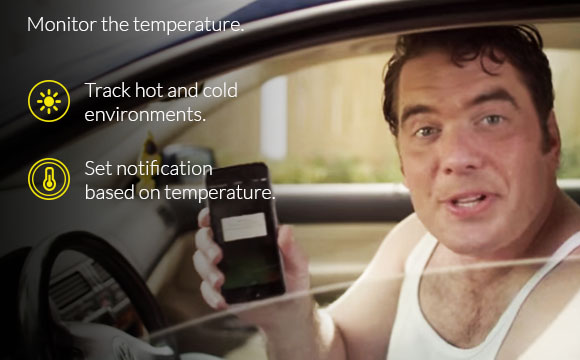 Be warned when things become too warm like your car, garage, or wine cellar. Also use it to get better location-specific weather information, since weather apps are generalized by city.
Driving but need to use your phone?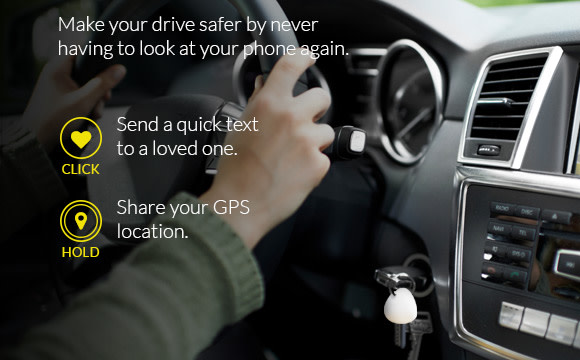 Sometimes you can't wait till you get there; send preloaded texts like "On my way" or "Running late" to a predetermined contact. It's safe, not to mention legal!
Ever feel uneasy on your walk home?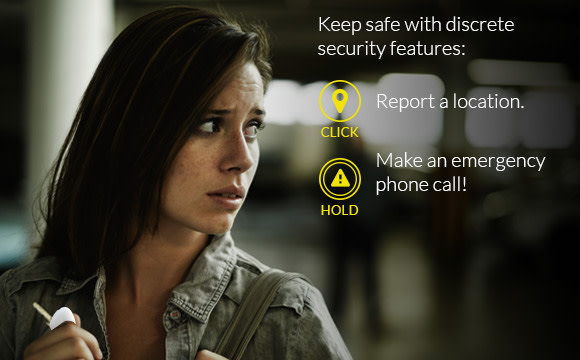 Have the peace of mind that help is only a discrete press away. If you walk home after work everyday, have the button set to let your friends or family know where you are or call 911.
The Button: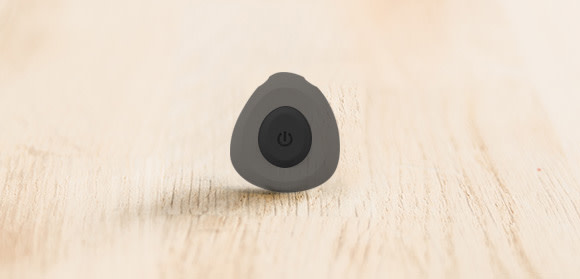 Speaking of the Button, it can be set to 3 different modes which change the way it switches between your cache of shortcuts:
Manual – Use the app to manually select the two actions you want to happen when the button is pressed; quick press or hold (2 seconds).
Automatic – preset to automatically change based on the time of day.
Smart – learns your preferences over time and adapts itself.
The Stone will record which action you want to happen, when, and where. By logging time of day, location, and recipe used, the Stone will smartly adjust to the actions you want throughout the day without you doing a thing.
Easy to Setup:

Setup a Recipe:
In this example, we want to change the Stone's Click button from ordering a pizza to S.O.S. Emergency.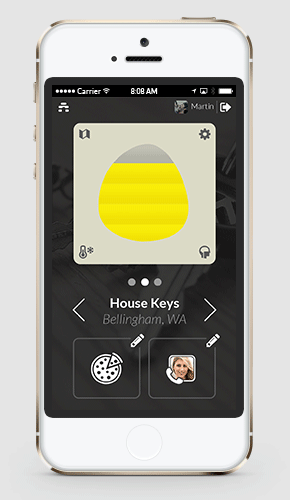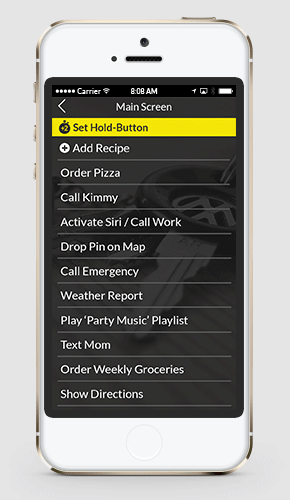 (Left Image) Select the Edit Icon on the Main Screen. The Main Screen has two customizable options tied to the Stone's Physical Button: Click and Hold.
(Right Image) Find the Call Emergency Recipe and select it. Once the recipe is confirmed, your Stone will be set for S.O.S. Emergency until you change it.
How It Works:
The Stone is powered by a Bluetooth Low Energy iBeacon, a standard certified by Apple, that allows your iPhone to natively detect your Stone without running our app at all! By pressing the button you activate the Stone's Apple Certified iBeacon communication that automatically interacts with any BLE platform nearby, iOS or Android, automatically letting them know its proximity. Have we mentioned your app doesn't even need to be running?
The Shortcut button works by using IFTTT logic: If This Then That. You don't have to be an engineer to use this, it's actually rather simple. IFTTT simply states that if circumstances are this, then the action desired will be that. For example, if you are in your driveway leaving the house, pressing the button could lock your house doors, or turn ON/OFF all your outdoor lights. If you are in your bed, the button will turn off your bedroom lights for you. You can create these simple recipes online using IFTTT's platform. The Pebblebee Stone channel is currently in development and will be available before the Stone is shipped.
What's Inside?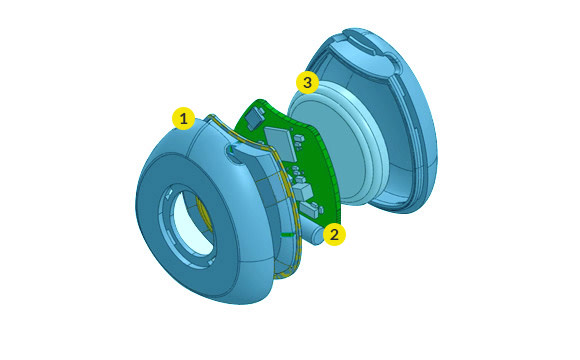 1. SHELL
Built from a rugged ABS material to make the Stone water resistant, yet still allow you to replace the long lasting battery.
2. PCB
Bluetooth low energy (BLE) microprocessor, a motion sensing switch, a momentary push button switch, an on-chip diode temperature sensor. The BLE microprocessor transmits within the advertisement band of the 40 BLE channels that span from 2.402 GHz to 2.480 GHz in 2 MHz spacing.
3. BATTERY
A 3V Lithium Ion CR2032 coin-cell battery for a long and extended life.
Features: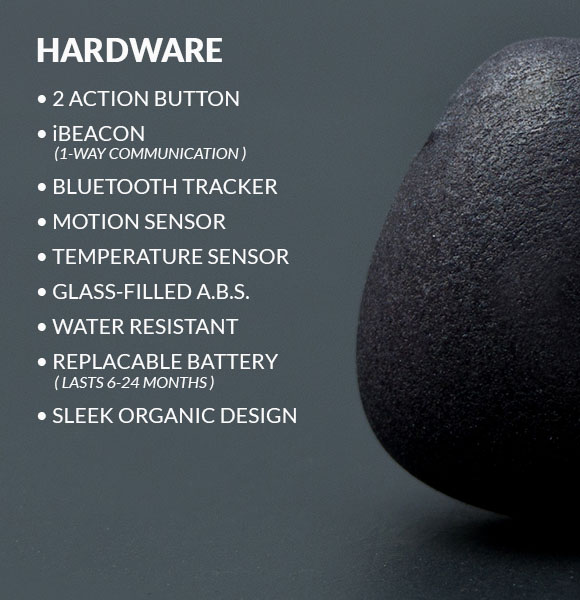 Stone Specs: Diameter: 28mm, Thickness: 10mm
Battery Life: 6 months when in tracker AND smart button mode. With the tracker mode turned off and using it solely as a shortcut button, the battery will last up to a year.
Battery Type: 3V Lithium Ion CR2032 coin-cell battery
Connectivity: Bluetooth 4.0
Device Compatibility: iPhone 4s & later, iPad 3rd Generation & later, and Android devices with 4.4 or above.