iCrowdNewswire - Jun 17, 2015
DACport HD: High-Res music, finally affordable
Do you like Music?
Of course, you do! Guess what? You came to the right place, because you are about to hear amazing sounds you never knew existed. Get ready to be blown away!
We make it easy to listen to music in high definition. Rediscover your own music collection, or enjoy streaming from Tidal, Spotify, Slacker, Pandora, and many others. Now you can access amazing audio quality at a truly affordable price!

Do your ears a favor!
When you plug your headphones into your laptop's audio jack, the music sounds muddy, buzzy and "clogged up". That's because laptops aren't designed by musicians. Do your ears a favor and try gear designed by the music guys. At CEntrance, every one is a musician and our mission is to eradicate crummy audio!
Back in 2009, CEntrance invented the category of the Portable USB DAC. At that time we released DACport ™, the portable amp that turned the audiophile industry on its ear and made computer audio sound great. We brought sweet music to the ears of thousands of customers worldwide. Our little cigar-shaped DACport was featured on the cover of Stereophile and received numerous industry awards.
Since then, CEntrance released many exciting recording and playback products. Products such as MicPort Pro and AxePort Pro, endorsed by the Hollywood elite. Products such as DACmini and HiFi-M8, named best DAC ever tested by CNET. 
Who we are
CEntrance owes its reputation to thousands of happy customers of our products, all around the world. Starting out as designers behind today's famous audio brands, CEntrance now  has many products of its own on the market. Our products are endorsed by Hollywood's famous producers, mastering engineers and musicians: people who demand quality— just like you do!—and whose livelihoods depend upon our products.
Our list of endorsers includes Harry Shearer from This is Spinal Tap, John Kapelos from Law and Order, David Bryson from Counting Crows, Richard Fortus, who plays with Guns and Roses, Rihanna, and Britney Spears; David Hampton, recording engineer for Prince and many others!
CEntrance makes recording and playback gear. Our recording products are used by famous broadcasters:
With CEntrance, you can rely on audio quality, build quality and value. Here is a small sampling of awards and recognition our products have received: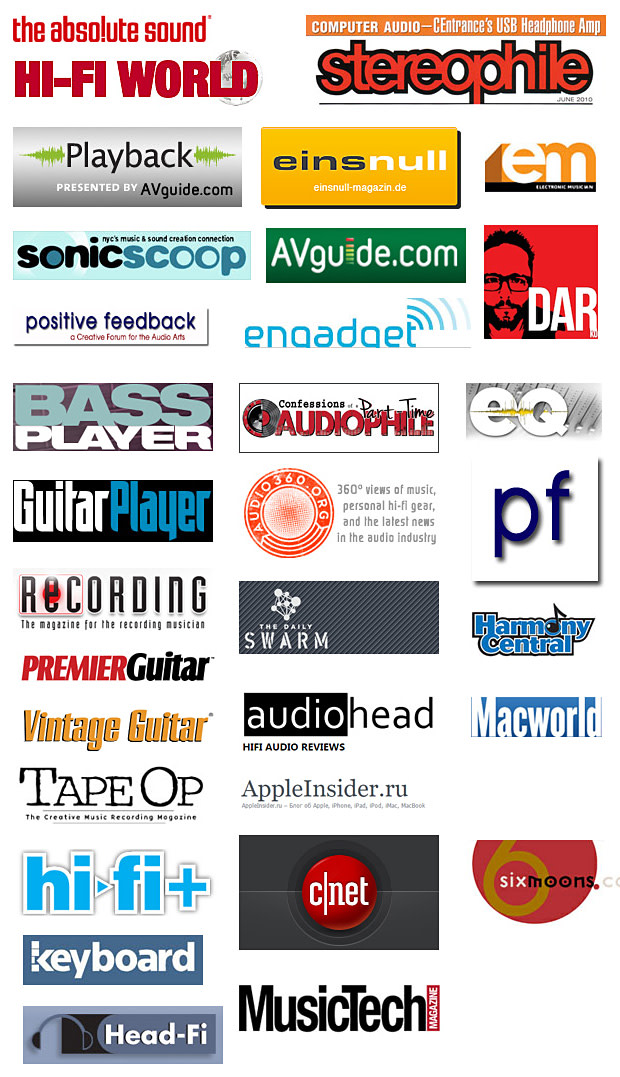 Which brings us to today…
Technology marches on. Electronic components get cheaper, audio quality gets better. We felt it came time for the legend to be reborn! Today, the much revered DACport, the product that started the revolution, returns as DACport HD!

DACport (left) and DACport HD (right)
It's gotten smaller! Now just the size of a lighter!
It's gotten smarter! Now with full 384kHz high-definition audio!
It's gotten cheaper! Now, the famed CEntrance quality is truly affordable!
Introducing DACport HD
DACport HD plugs into your laptop and dramatically improves the sound quality of the connected headphones. The real strength of DACport HD is the ability to handle pretty much any headphones, from large over-the-head cans to sensitive IEMs. All that with pitch-black noise floor, unmeasurable jitter and lowest distortion!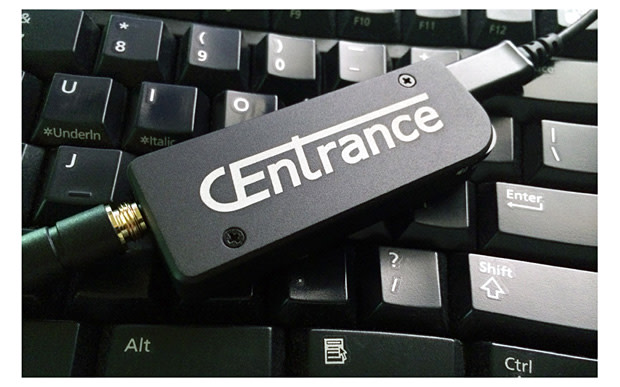 Features at a glance:
Audiophile-grade D/A converter plays HD music with bit-perfect accuracy.
Headphone amp designed for listening without fatigue, offers clarity, soundstage and detail.
Plug 'n play operation with Mac laptops, bundled ASIO driver for Windows.
No power adapter, no battery to charge—DACport HD uses USB power and works anywhere you take your laptop.
DACport HD's 1.8″ (3.5mm) headphone jack drives the most advanced headphones on the market.
Overall, the product shape resembles a lighter. You hold it in one hand and where your thumb usually goes to strike the lighter, that's where the volume control is on DACport HD. It's a very innovative, ergonomic design.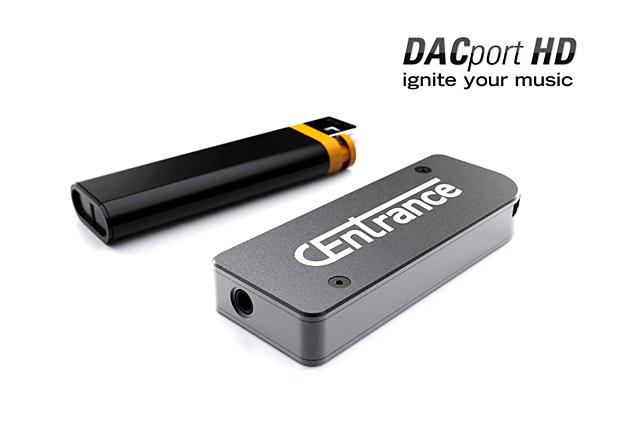 Amazing performance at an amazing price!
Frequency response: 20Hz…40kHz, +0.0/-0.2dB 
Harmonic distortion (THD+N): 0.0035%
Output power into a 32Ω load: over 500mW!
Sampling rates: 32, 44.1, 48, 88.2, 96, 176,4, 192, 352.8, 384kHz + DSD!
Resolution: 16, 24 and 32 bits.
Dimensions: 76mm (L) x 29mm (W) x 11mm (H)
Case material: Aircraft aluminum, sandblasted, anodized for hardness.
USB Audio: Asynchronous, USB 2.0
Compatibility: Mac, Windows, Linux. 
Power: Powered entirely from USB, runs cool to the touch, even at full power.
User adjustments: Convenient thumbwheel volume control and analog gain switch to select either IEM headphones or Over-the-head cans.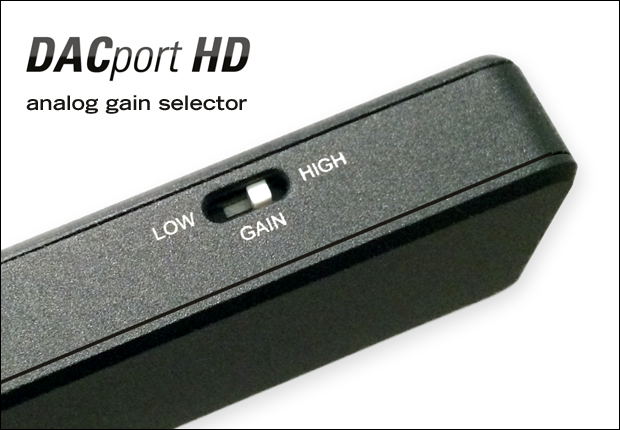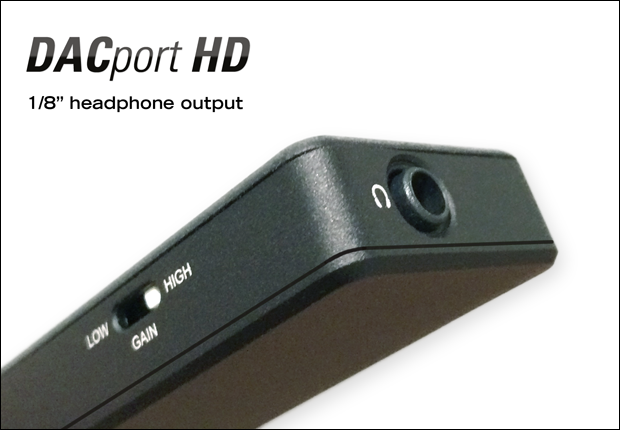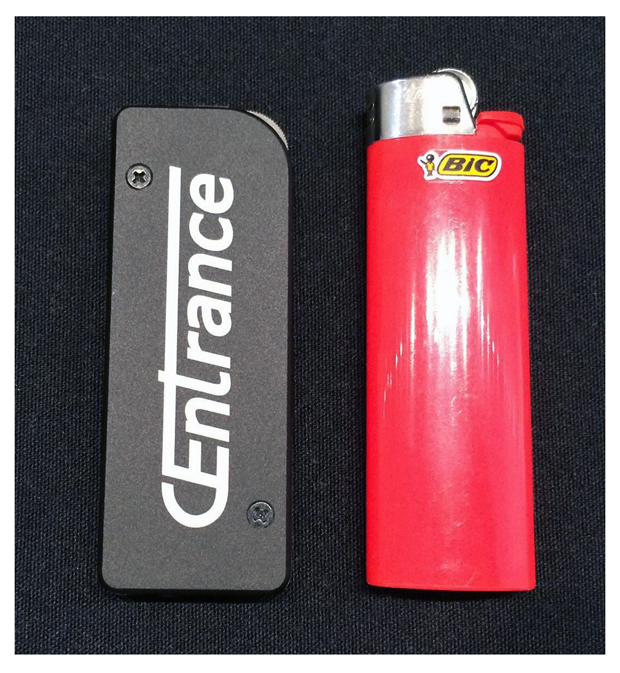 Under the hood
You are probably wondering what's under the hood. We don't mind sharing. 
Upgraded Power
DACport HD takes 5V from USB and filters the living daylights out of it, to make sure all noise is kept out of your audio. Internally, in addition to multiple filter stages, DACport HD has five power supplies, creating six different voltages to power its high-end digital and analog circuitry.
Upgraded Amp
During the very successful HiFi-Skyn effort, we developed Amp Extreme, a headphone amplifier circuit that delivers high power and ultra low distortion, making any headphones sing loud and clear. DACport HD has Amp Extreme built in. 
Upgraded DAC
DACport HD also shares the DAC chip with HiFi-Skyn. The DAC chip used here is the brand new AK4490 from AKM. CEntrance is an official 3-rd party development lab for AKM, so we have access to the best parts and we know how to use them. Analog interfacing is still largely a black art, but we've perfected it over the last 15 years.
Upgraded USB
The asynchronous USB interface is handled by the brand new XMOS U8 chip. CEntrance is also a 3-rd development house for XMOS. we help XMOS build their parts into other companies' products and this gives us unprecedented level of support.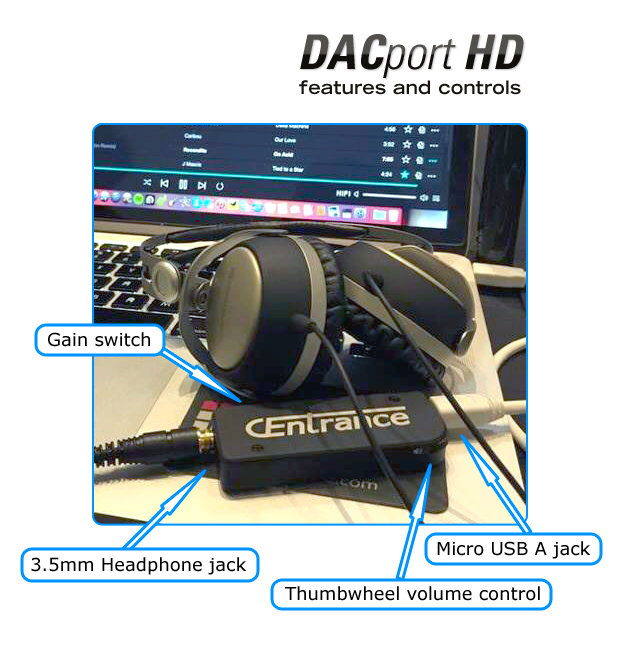 Which headphones should I use?
We get that question a lot. You are in luck. You can use pretty much any high-end headphones. Because DACport HD has a powerful amp, it will match up not just with the ultra-sensitive IEMs, but also with the high-end models from AKG, Audeze, Beyerdynamic, Fostex, HiFi-Man, Mr. Speakers, Sennheiser, and many others. Very few DAC/Amps can boast this kind of performance, but DACport HD can! All of these famous models are supported: