iCrowdNewswire - Jun 17, 2015
Baby Steps

"Baby Steps" is a quirky dramedy that follows the story of Maggie, a hyper-organized woman sheltered away in her work, who confronts her priorities in life after the death of an old friend, by following the instructions from a notebook given to her as a child.
The notebook contains a series of fun little missions and tasks, once meant for her 10-year-old self, that will help her reconnect not only with those around her, but with the lively person she once used to be.

The story of Baby Steps comes from the expression that "we don't know what we have until we have lost it", but most importantly that we shouldn't have this be the case. It's a very personal story inspired by a harsh moment of realisation of this expression, as I'm sure most of us have had at one point or another.
We live in a very fast paced and goal oriented society, in which we find ways to go from Point A to Point B, and as soon as we get there, we are already planning how to get to Point C.  I believe we can sometimes lose ourselves in this mentality and we start to overshadow things we end up taking for granted.

Baby Steps is a short film written and directed by me, and presented as the Intermediate Thesis for my graduate level directing program. I'm currently  enrolled in a Master of Fine Arts in Filmmaking here in Los Angeles, California as a Fulbright-LASPAU Scholar.   
As a Fulbright scholar, I am not learning things to keep for myself, I am learning so that I can then bring my experience back to Dominican Republic and be part of the growth of the industry back home.

Filmmaking is about collaboration. Nobody makes a movie by themselves, and my team and I are not exception.
There are a lot of costs that come into consideration when making a film, specially when filming in L.A. As a single individual, the goal of US$7,500 seems incredibly overwhelming. But with your help, as a community that believes in the power and magic of film, we can make this a solid reality.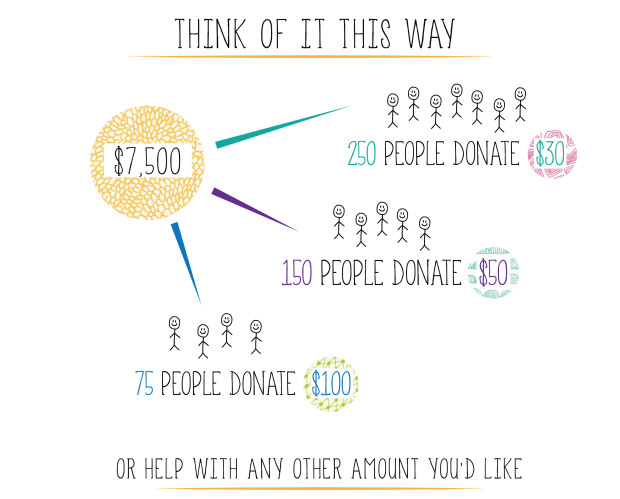 Every contribution is extremely valuable to us. No matter the amount, anyone who donates will receive a Special Thanks credit at the end of the film.
Don't forget to check out and claim the PERKS we have for you on the right column of the page!

We understand that every last dime we receive is a dime you've worked incredibly hard for, which is why we have been working thoroughly with the project's budget in order to make sure the funds will be spent wisely.
With the money you donate to this film, we will be able to cover not only production costs, such as locations, equipment rental, production design; but also make sure our cast and crew are well taken care with safe transportation, health insurance, and meals.

There's different ways to achieve a goal. Support shouldn't be measured solely in donations. One of the most powerful thing we have to offer is our voice. 
If you believe in the potential of this project, let the world know! 
Indiegogo and their social media tools offer so many different ways you can share it with those around you. With people you think can identify with it, people who you think will be challenged by it, and anybody who you think will be interested and enjoy it.