iCrowdNewswire - Jun 15, 2015
THE TINWIFE – A Retro Science Fiction Short Film

WHAT IS THE TINWIFE?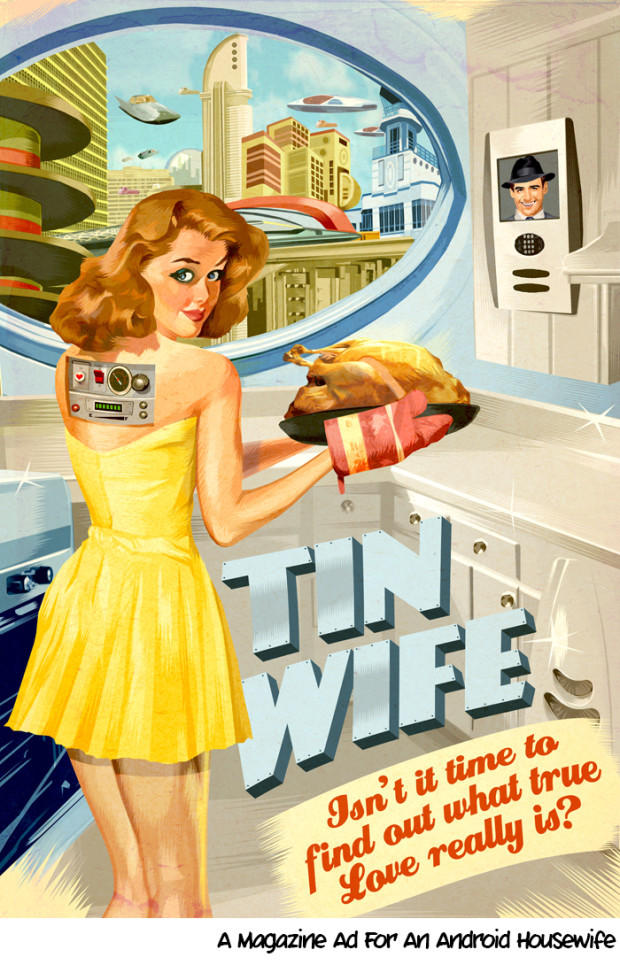 The Tinwife is a retro science-fiction short film based on an award-winning short screenplay. The film is set in an alternate future inspired by the fantastic future-predictions of many artists, illustrators, architects, and science-fiction authors from the 1950's. 
It's about a human woman who is accidentally arrested and imprisoned with a group of defective and unwanted android housewives (see: Tinwives). While trapped in the holding cell, she discovers that the Tinwives are much more than they seem and sees for herself the horrific nature of the society in which she lives. 
It's a thrilling story, filled with sensational characters and moments that will haunt your soul and leave you screaming for more – all set within a world of ray-guns, flying cars, and futuristic art deco metropolis cityscapes!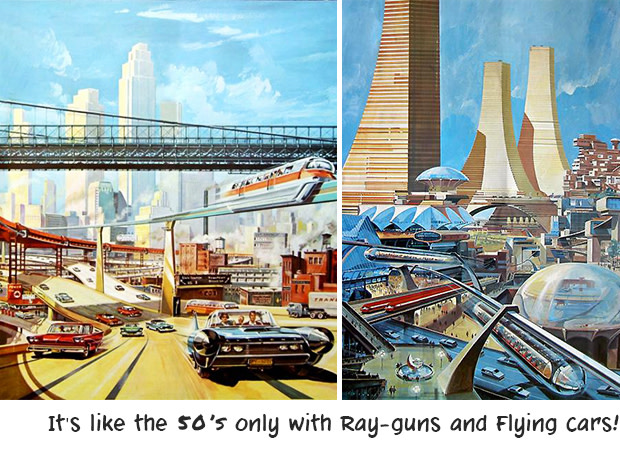 As you can probably imagine, this is not an easy film to make. We've taken great care and effort to bring this antiquated yet technologically wondrous and incredible universe to life by putting together a near legion production team of filmmakers, special effects masters, costume designers, art directors, prop makers, set designers, and of course – a magnificent and enchanting cast! 
Together we're a team of nearly 35 people in total (cast & crew) and we've been in pre-production since October 2014. We've shot some stuff already, but we still have the bulk of the film to shoot which we plan on shooting in August.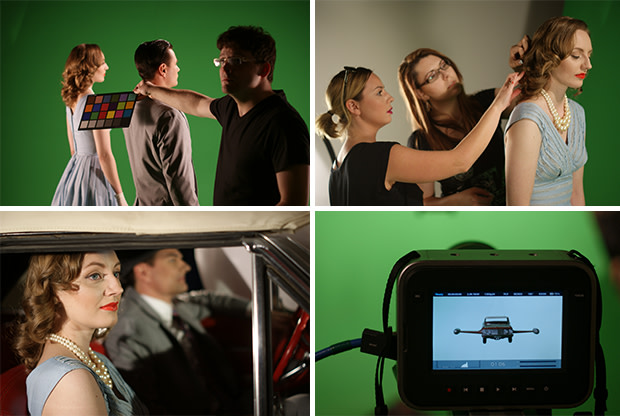 The money from your campaign contributions will go directly towards renting equipment & locations; hiring visual effects artists; buying vintage set dressings; fabricating costumes; constructing large retro-computers, gizmos, and machines; and creating props like ray-guns and 50's inspired practical special effects. With your help and support we are going to make The Tinwife a stunning reality.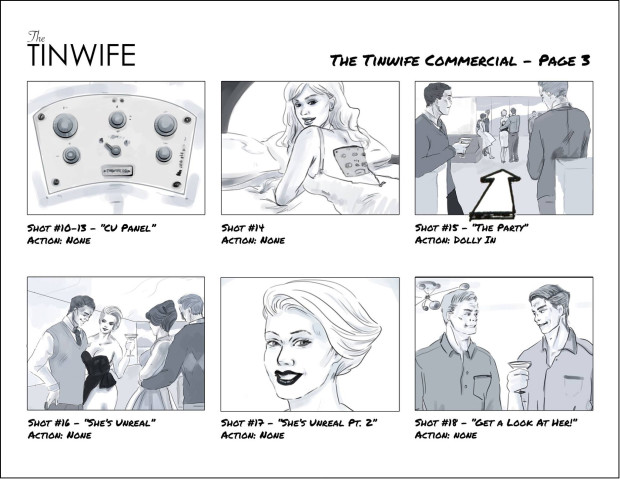 We'd like to invite you to join us on our journey to create this film.  We've come up with a collection of exclusive and astonishing perks that are guaranteed to make you the toast of the town and the envy of every man and woman alive! No matter what perk you choose, your Tinwife stuff will be relished forever and passed down for generations to come.

The film opens on suburban housewife Wendy Miller as two detectives show up at her door to inform her that her husband has died in an AstroCar™ accident. To make matters worse, the two men reveal that as a result of his death, they'll have to take her into custody and transport her to the nearest evaluation centre.
This is regular protocol for repossessing a Tinwife – android housewives that have been created for men as a safer alternative to the messy dangers of love with human women. There's only one problem: according to Wendy, she's not a Tinwife. Despite Wendy's insistence that she isn't an android, she is arrested and imprisoned in a holding cell with a group of "defective" android women who are awaiting disassembly and deactivation. 
While in the cell, hopeless and alone, Wendy bonds with the android women and discovers that they are much more than what they were created to be. She becomes witness to the horrors of a utopian society which has used technology to recreate love, not as it was, but as they wanted it to be…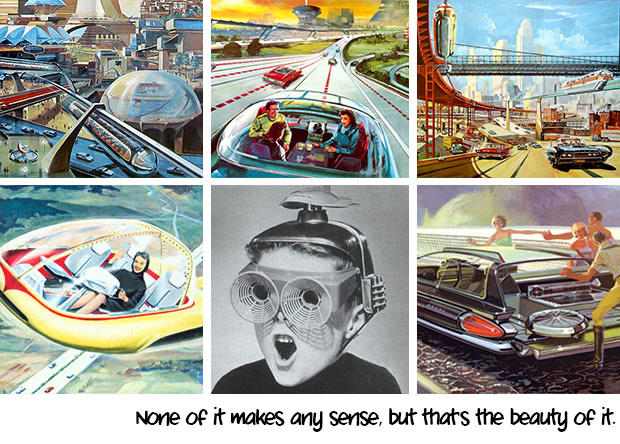 The Retro-Future is a universe inspired by the visions and predictions of artists, illustrators, architects, and science-fiction authors from the 1950's. Through their eyes, the not too distant future was place where nearly anything was possible and everything was automated. People drove flying saucers and vacationed on neptune. Trains were powered by atomic energy and suburban homes were filled with a brilliant spectrum of elaborately absurd appliances and devices. 
The most interesting thing about these predictions is that they never account for the change that would occur as a result of technological advancement. Instead, the future as seen through these predictions is a world that has wildly impossible technology but has somehow inexplicably remained culturally identical to the 1950's.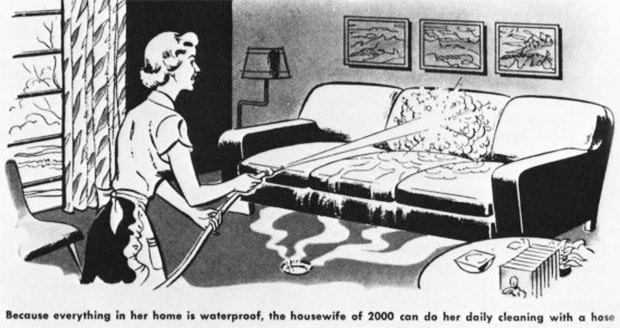 **NOTE: FOR THOSE WHO CONTRIBUTE IN FIRST 48 HOURS OF THE CAMPAIGN, WE WILL BE FEATURING YOUR NAME IN AWESOME AND MIND-BLOWING ANIMATED CREDIT SEQUENCE AT THE END OF THE FILM.**
We want all of our funders to become part of our film and our story in a big way. Not only are all of our perks amazing beyond all reason and belief, but are designed to connect you to our little community.  
We're offering everyone who contributes $25 and above unlimited access to concept art, storyboards, new script pages, camera tests, and photos taken throughout the production and during the shoot. You'll get all of this emailed to you as they are developed/created so that you can share in our successes and feel excited by each new development every step of the way. 
WE SHOULD ALSO MENTION THAT WE WILL BE GIVING ALL OF OUR FUNDERS A SUPER-SECRET ULTRA-PERK WHEN WE REACH OUR $3,000 & $6,000 MILESTONES.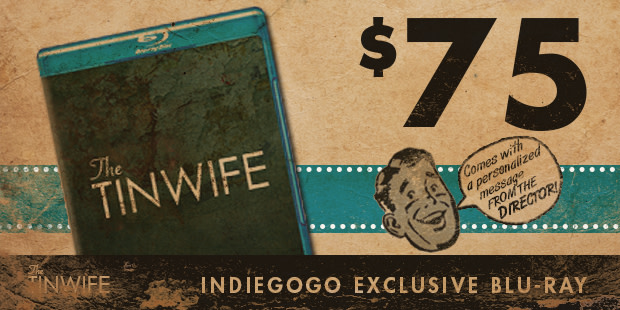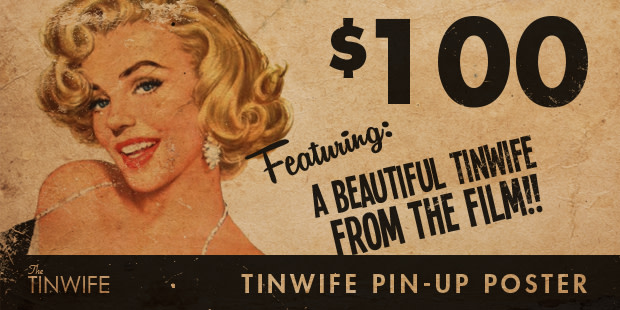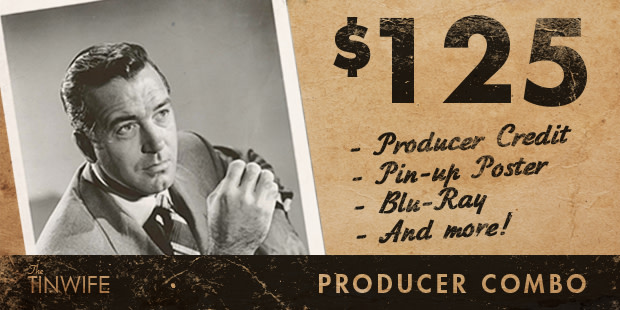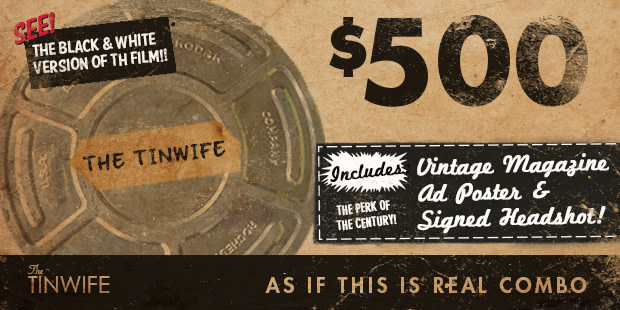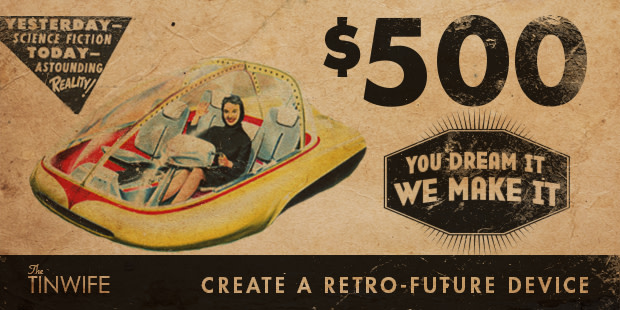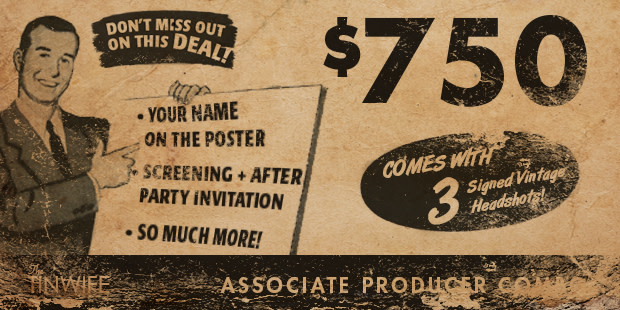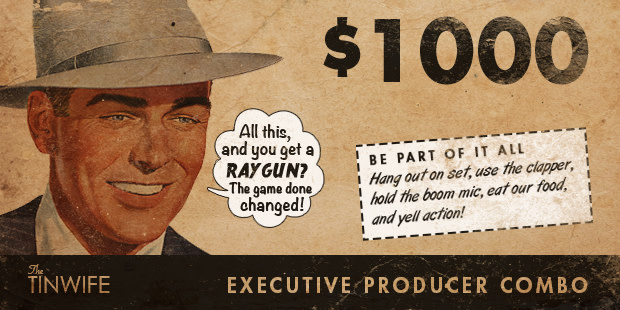 Since October 2014, we've been developing concept art, finding locations, holding auditions, creating props, and buying vintage furniture. Here is a quick overview of what we've been doing and the production's key elements.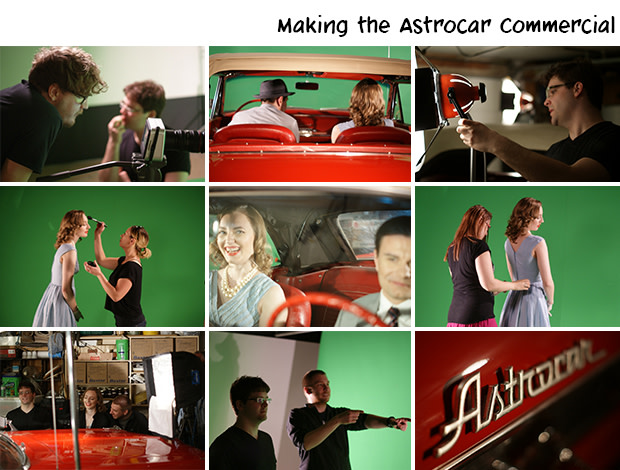 The AstroCar™ is featured in a 1950's black and white commercial that a character watches in the film. In mid-April, we all got together over a weekend and shot the commercial. 
SPECIAL EFFECTS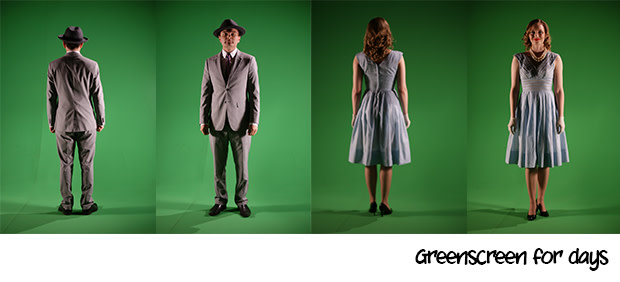 As you can probably already tell, The Tinwife relies heavily on special effects. While we've been incredibly fortunate to find some unique and of-the-era locations, we still need to create some of the film's moments using effects. 
For the AstroCar™ Commercial, we set out to create a car commercial that would seamlessly blend in with actual 1950's commercials. In our effort to be as authentic and true to commercials from this era, we shot everything in 4:3, used framings sourced from actual commercials, and employed a mixture of digital and 1950's-esque miniatures / practical effects.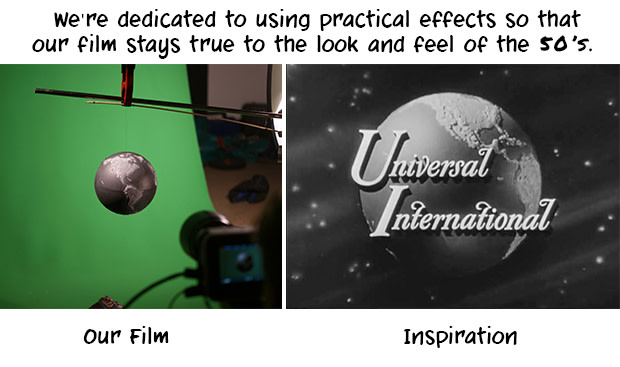 PRODUCTION DESIGN
Production design is a colossal part of this film. It's one of our biggest challenges and motivations for making it. We're doing everything we can to stay true to the look and feel of the 50's throughout the entire production from set decoration to our framings and shot structures. 
In order to bring the Retro-Future to life as accurately as possible, everything seen in the film will be based on actual ideas, concepts, and illustrations that were created in the 1950's. In the case of the Astrocar, it was heavily inspired by the cover of the August 1950 issue of Science and Mechanics. If you compare the original inspiration with a still image from The Tinwife, you can see the similarities (compare the two men driving the car).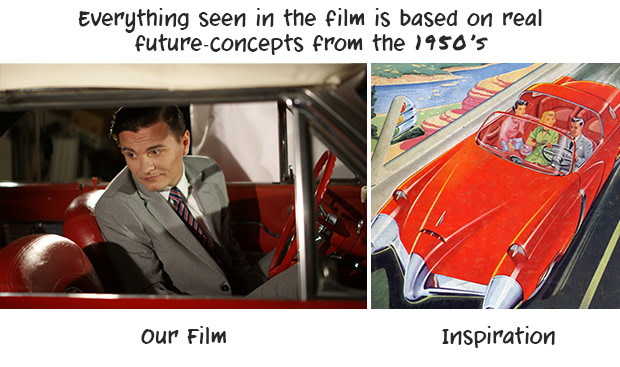 THE CAST
With over 30 roles, The Tinwife is a big film to cast. What you see here is just half of who we have cast.