iCrowdNewswire - Jun 11, 2015
Vesperanto

Hi there, my name is Daniel. I am founder and CEO of Vesperanto Inc.
I am visionary and perfectionist. My goal is to create unique and wonderful product. Not only a service which could help you find easily and fast all the information about media, but also a space where you could spend great time with people having similar interests. Couple of years I've been forming my vision of the future project. New ideas came, new features were added. About a year ago I gathered a team of experienced professionals who were passionately excited about the idea from the beginning.
And now we are excited to introduce you Vesperanto!

Vesperanto is an interactive social media service. An all-new way to explore information about your favorite media. A platform combining the biggest database, nextgen social network, digital marketplace and features of RPG games. The most complete information on video games, movies, TV shows, books, comics and music in the history. The entire world of media on the screen of your computer, tablet or smartphone. 
1. The largest database of media ever

The most complete information on video games, movies, TV shows, books, comics and music in the history.
•   Home page 
On the home page you can find the most relevant and up-to-date information. From news and upcoming events calendar to sales charts and top lists of the best titles.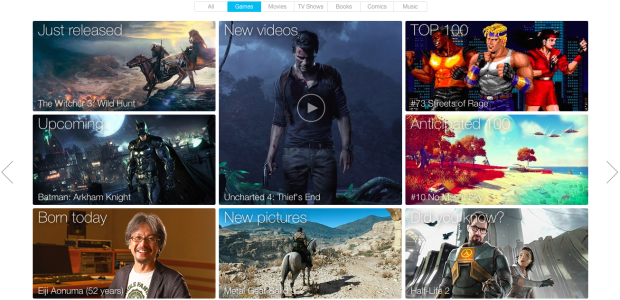 Each kind of content has personal color. It helps to avoid confusion while surfing Vesperanto. You always know to what kind of content a page is related.

•   Search engine 
Incredibly fast and smart search engine and flexible filtering system makes it possible to satisfy your information needs in a split second. Searching for extensive details on favorite game or, for example comic book, has never been this easy before.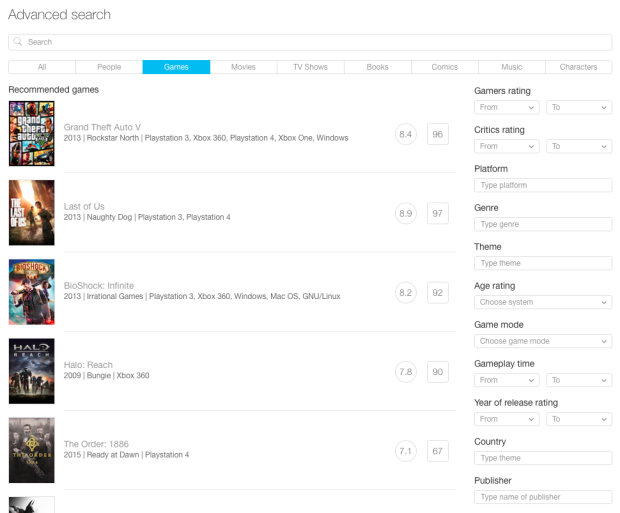 •   Titles' page
Title's page provides you with accurate and comprehensive data. General info, credits list, walkthroughs, secrets, achieves guide, photo and video galleries, add-ons and dlc guide, soundtrack, editions guide, interesting facts, ratings and reviews, related news and plenty more.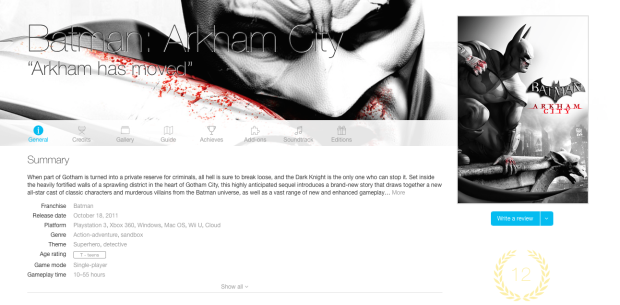 •   Celebrities' page

On celebrities' pages you can find biographies, related news, tweets, photos and list of their works. Movies and TV shows they starred, books they wrote or, for instance, music albums they released. You can follow page and always stay in touch with updates. If you are a celebrity, you can request access to your page and maintain it personally after verification.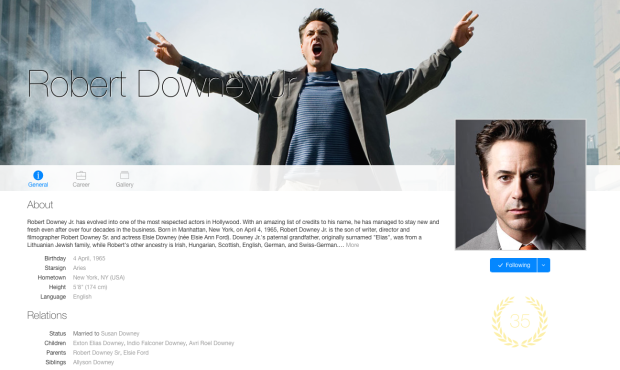 •   Characters' page
On characters' pages you can find biographies, related news, photos and list of appearances in games, movies, TV shows, books, comics and even music, as well as list of connections to other characters. You can follow characters and stay informed about the latest related news.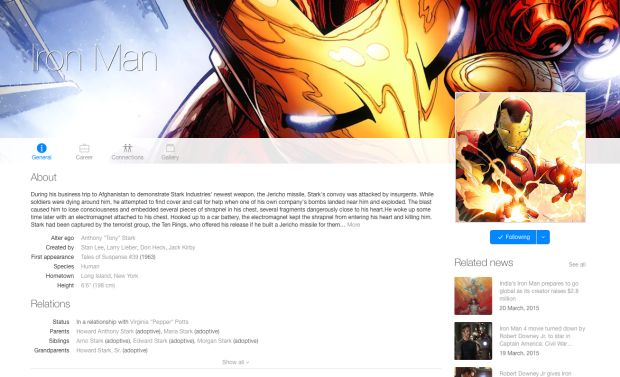 •   Chronicle 
This feature helps to look through all titles related to any Series. 

One click – and Chronicle shows all of them on a convenient timeline.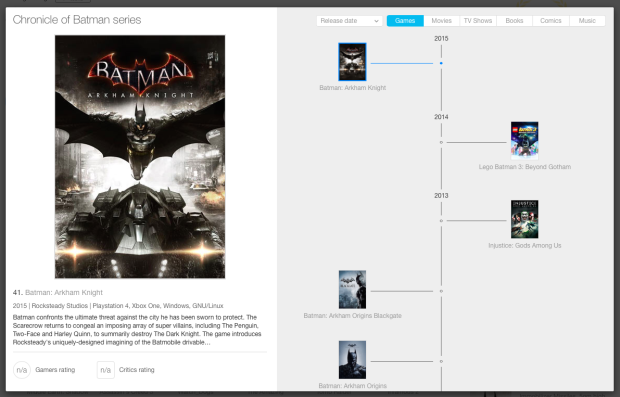 You won't miss any title of your favorite Series. 
•   Like this? Try These! 
Enjoyed a movie? Like this? Try this! feature will suggest you alike movies, books or, for instance, games. Imagine, you watched a movie and wish to go through the same experience in a game. Plunge into similar story and atmosphere, but this time in a position to pull strings. Like this? Try this! feature will help you to find games, movies, TV shows, books, comics and even music with much resemblance. 
For example: Suggested titles similar to Mad Max: Fury Road



•   Rating
Perhaps the most important information about media that determines our choice is rating.


In fact it is difficult to evaluate a title just by one rate scale. So, on Vesperanto, you can give overall score or an advanced one evaluating each aspect separately. Our system of advanced rating allows to obtain the mostly accurate rating.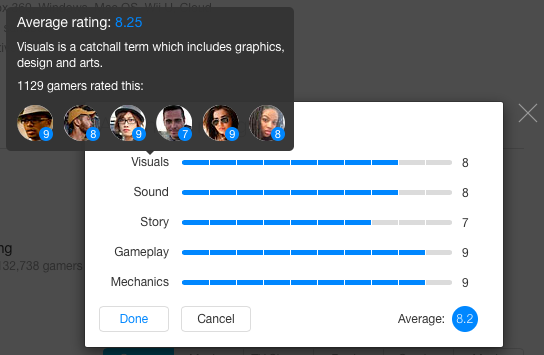 You can learn average ratings of each aspect as well as to use them for filtering. As the result, you are able to search a game with highest graphics, music, plot, gameplay or mechanics rating. 
2. Nextgen social network 
A community of people of related interests and passions.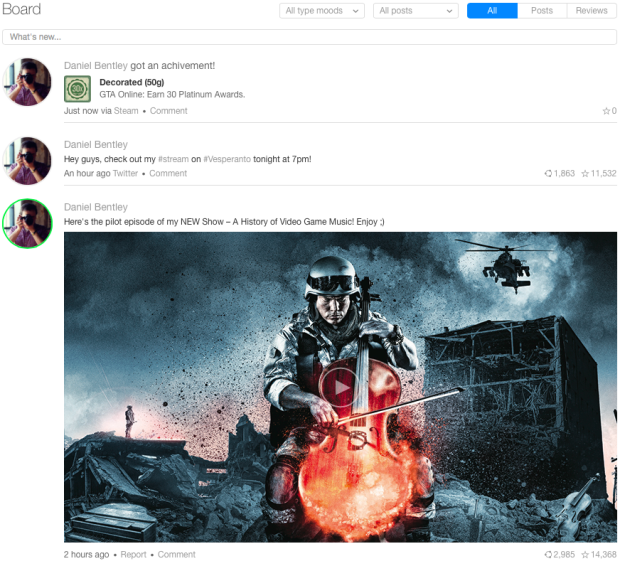 Each user has a personal page. You can:
•   Add friends.
•   Create community pages.
•   Send gifts to other users.
•   Follow pages of titles, celebrities and characters of interest.
•   Communicate with friends and other users by great convenient messenger (text/audio/video, group chats).
•   Rate and review (text and video) titles.
•   To bookmark your favorite titles.
•   Suggest edits for a page of any title and add new pages.
•   Integrate game accounts (PSN, Xbox Live, Steam). The whole progress such as unlocked achievements can be automatically synchronized with your page on Vesperanto. This feature especially convenient if you use achieves guide. With integrated game account it is possible to see achievements you already unlocked and there is no need to mark them manually.
•  Integrate social network accounts (facebook, twitter, instagram).
•  Publish your digital content (photos, videos, music, apps).
•  Broadcast live your show or stream. 
•  Sell your digital content (photos, videos, books, comics, music, pay-per-view videos and streams, in-game items, apps, etc.).
•  To monetize your traffic (views of your free content such as video shows and streams, comments to your reviews and posts, etc.).
•  Withdrawal of earned funds.
Various actions on website increase your experience and unlock personal tokens.For achieving levels you will be rewarded: discounts and free digital copies of media content (games, movies, TV shows, books, comics, music) and other amazing gifts.

The higher your experience and level – the higher the position of your reviews on titles' pages and position of your posts in Trends.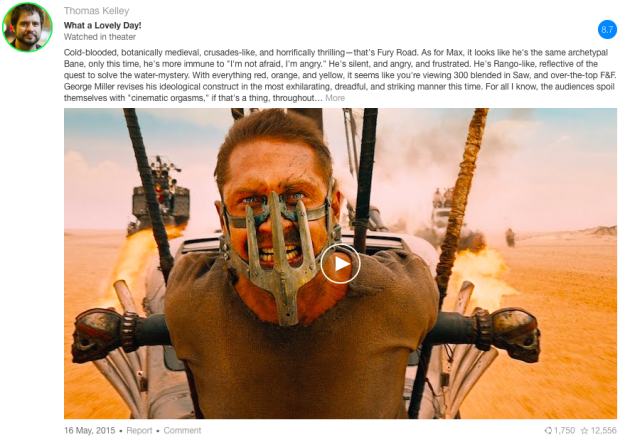 Green stroke around the user's avatar means that this review is positive. It can be red (negative) or grey (neutral) as well.
Weekly challenges (review 3 titles, rate 5 games, publish a video, etc.) will help you earn experience much faster and have more fun on Vesperanto. 
3. Online digital marketplace
Users are able to purchase digital copies of games, movies, TV shows, books, comics and music. As well as to sell own digital content. 

Working on Vesperanto we care about every, even slightest, detail. It is important to us that user feels comfortable as far as possible. Amazing clean design, easy-to-use interface, highest performance and user security – are the cornerstones of our company.
 


Vesperanto is an international project. Service is available in over 20 languages including English, Spanish, French, German, Portuguese, Russian, Chinese, Korean and Japanese. 

Users are able to filter posts and reviews by language easily. Just in a click.

All contributed funds will be added to your personal account on Vesperanto. $1 equals to 1 coin. Coins can be spent on digital content and various services on Vesperanto. 

There is no secret that implementation and maintenance of such a project need a lot of strength and resources. Therefore we divide the project into phases and set stretch goals. Eventually Vesperanto will include all the announced features anyway, but with your help we will add all of them much faster.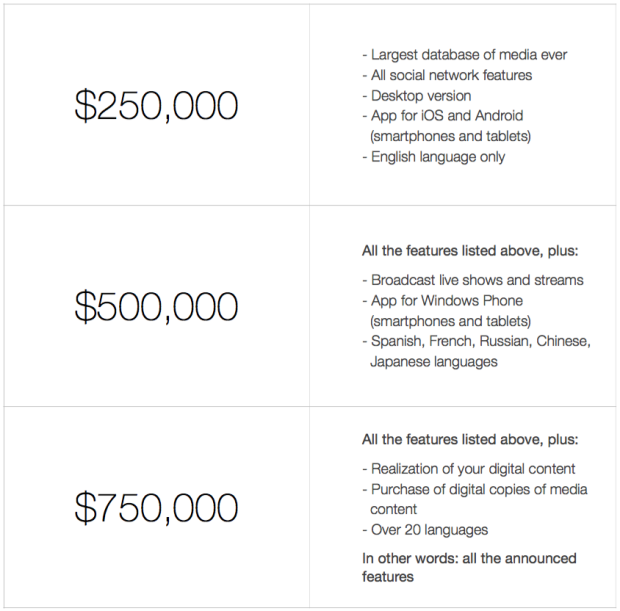 Vesperanto is coming to your desktop, smartphone and tablet 
in late 2015.