iCrowdNewswire - Jun 8, 2015
Wireless Thymio
What is this crowdfunding for?
Thymio is an educational robot already used worldwide by private users and schools. Children can play with it and program it. From now on, a new feature is available: Thymio can be programmed wirelessly. No more constraining USB cable! And good news, it is compatible with the current version of Thymio*. The development is almost finished. With your help, we can start the production of the Wireless Thymio.
*(if you bought it after May 2012)
AS SEEN ON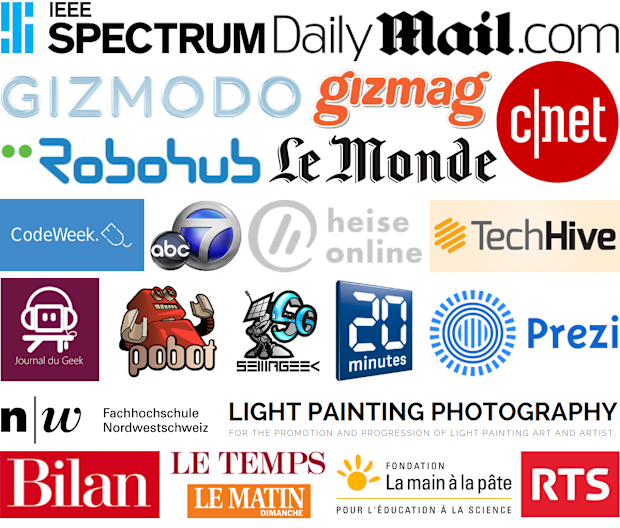 Robohub – "Within about ten minutes, I was able to modify one of the basic starter functions that allows the ThymioII to turn away from objects in front of it "
IEEE spectrum – "Thymio is a great first robot for kids: designed by roboticists and educators… it's mobile, colorful, easy to program, has tons of online support and continual development "
CNET – "Thymio has a very deep continualy developping community "
Gizmag – " […] Now, there is a piece of EPFL-developed technology that you can get your hands on […] "
What is a Wireless Thymio?
It is an evolution of the Thymio robot which is already used by tens of thousands of children
You can now leave the robot on the playground while you program it
You can visualise Thymio's internal state at any time
Six pre-programmed behaviours so even five-year-old children can play with it
A visual programming language to develop logical and inventive thinking
A textual programming language to code like an engineer
Numerous activities available on-line for free to unleash your creativity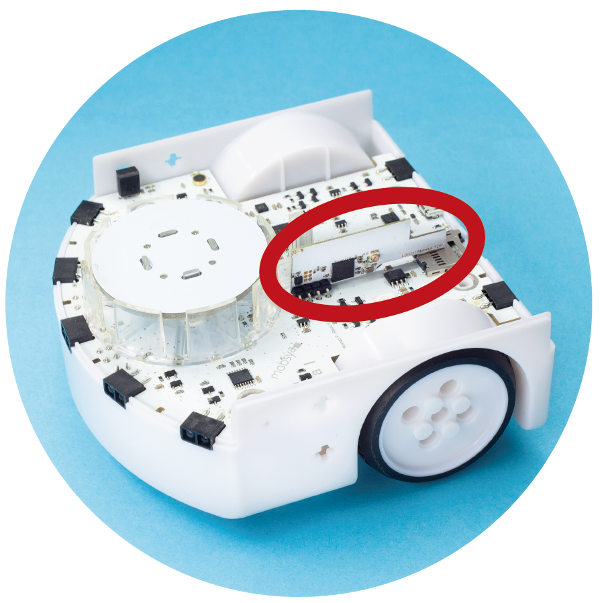 Wireless Thymio is a classic Thymio in which a small electronic module is soldered. This module is connected wirelessly to a USB dongle plugged into your computer. It simply replace the USB cable. This new feature is compatible with the current version of Thymio*
What can I do with a Wireless Thymio?
Are you tired of seeing your kids using a computer only to play crazy games online? With Thymio, your kids will continue to play and have fun but they will unconsciously learn the fundamentals of technology, computing and programming.
Why is it so important? Because our world is filled with technology and understanding it will be fundamental for their future.
Thymio is a colourful robot which comes with numerous sensors. This little robot will boost your children's creativity!
How to use it? Get it out of the box and play with its pre-programmed behaviours. Make it interact with other toys and let your children create their new universe.
You will finally have a great time with your kids and a technological device. Thymio is the best way to learn more about our digital world. The visual programming language is so intuitive that even with no knowledge about it, you will be able to help your children discovering technology.

and if you want something more challenging try the textual programming language!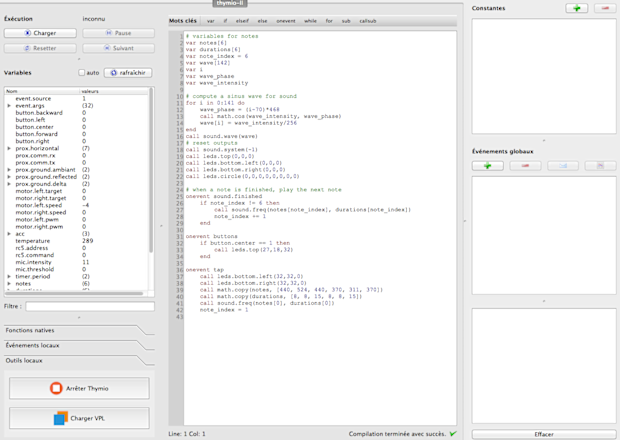 That's not all. You will find tutorials and activities ideas for free on Thymio's website: www.thymio.org!

How does it work?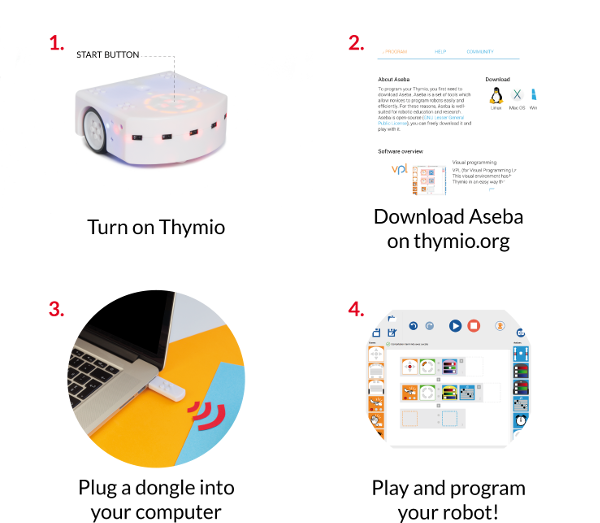 As soon as you receive your Thymio, you can play with it! Just press the central button and discover its six pre-programmed behaviours.
If you want to program your robot it is really easy. When you receive it you only need to download Aseba on thymio.org, plug the dongle into your computer and program it.
Your perks
Wireless Thymio

The perfect way to start with Thymio!
You receive a new Wireless Thymio and its dongle. You can start programming right away!

Wireless Thymio Expert Pack

With this pack, you get everything you need to program your Thymio!
The pack includes a Wireless Thymio and its dongle, a discovery poster including a printed poster and instructions, a remote control, a wall charger, an SD card, and a card reader.

We upgrade your Thymio!

You have a Thymio and you are sick of the USB cable?
We can transform it into a Wireless Thymio! Just send it to us and we will upgrade it for you. You will get it back with a dongle, ready to program it wirelessly! This is only available for Thymio bought after April 2012.

DIY upgrade kit

Only for experimented users with knowledge of electronics – you might damage your robot!
You have an Thymio and you're sick of the USB cable?
This extension lets you upgrade your Thymio to make it Wireless! You will receive a module with instructions on how to solder it into your Thymio, as well as a dongle for your computer. This is only available for Thymio bought after April 2012.

Thank you!

Thank you for supporting our project!
Your help means a lot to us. To show our appreciation, you will receive our special Tips & Tricks pdf on what to do with your Thymio per e-mail!

Wall charger (EU plug)

Recharge easily!
This charger makes it more convenient and faster to recharge your Thymio! The plug of this charger is European (type C).

SD card & USB card reader

A great addition to your learning experience with Thymio!
You will get a micro SD card for your Thymio, and a card reader for your computer. With these accessories, you can use more elaborate sounds and record data!

Discovery poster & remote control

Now that your Thymio is wandering freely, you cannot keep running after it to press the buttons!
With this remote control and a discovery poster including a printed poster and an instructions sheet, your learning space expands!

Wireless Thymio Suitcase

Enjoy Thymio with your friends!
This suitcase contains 6 Wireless Thymio with their dongles, and a multiple USB charger.
Especially convenient for schools and clubs!

VIP Pack

Wow! We are extremely grateful for your contribution!
You will get everything from the Expert Pack, plus a very special present from Thymio itself: Thymio will create a new personalized light painting video with your name!
The video will be uploaded to youtube, and you will receive the source code and the track (pdf and printed) to reproduce it at home.