iCrowdNewswire - Jun 8, 2015
Dr. Brainlove 2.0
The Brain
Dr. Brainlove is a physical platform for expanding your brain, in the form of a climbable interactive brain jungle gym, built on a modified school bus.  Dr. Brainlove made her debut at Burning Man 2014, and it was glorious!  A team of over two dozen scientists, engineers, artists, and newly-minted angle-grinding enthusiasts spent a sweat-filled three months to put together an entire art car!  Since then, Dr. Brainlove has been continuing her life as a traveling neuroscience exhibit, appearing at venues like SXSW and the Bay Area Science Festival.  Brains are vehicles for our thoughts, emotions, memories, and experiences, making Dr. Brainlove a quintessential vehicle for any mind-blowing adventure.
Even as we push (and push and push) to improve the structure and vehicle itself, Dr. Brainlove has been mutating into a bigger project than just the art car.  This year we've represented our brainloving endeavors at conferences and science festivals, become a 501(c)(3) nonprofit, and have created a mini and micro version of the interactive lighting too.  We're super excited to bring her back to the playa and continue the evolution of Dr. Brainlove!
The Phage at Burning Man 2014, Dr. Brainlove's inaugural burn
Climb aboard, and tickle your neurons from atop a giant brain!  Dr. Brainlove will stimulate all of your senses, including:
Somatosensory and motor systems: Colossal (27′ x 19′ x 15′) climbable mesh in the form of a brain, based on a brain scan of our neuroscientist crew member Natalia's brain!  Last year, we created Dr. Brainlove's structure, using technology from Digital Permaculture.  The brain now has space for a dance floor and cozy lounging spaces inside.

Auditory system: The dance floor, DJ booth and sound system will keep you going all day and all night long.  Programmable lights will respond to the sound system and to output from EEG sensors. You can visualize your brainwaves on a brain 125,000 times the size of your own!

Visual system: The brain will be filled with almost a kilometer of individually addressable LEDs, responding to the neural input of our system. As Dr. Brainlove's eyes light the way, they will act as sensors, driving glowing spikes and waves of cortical activity through the structure.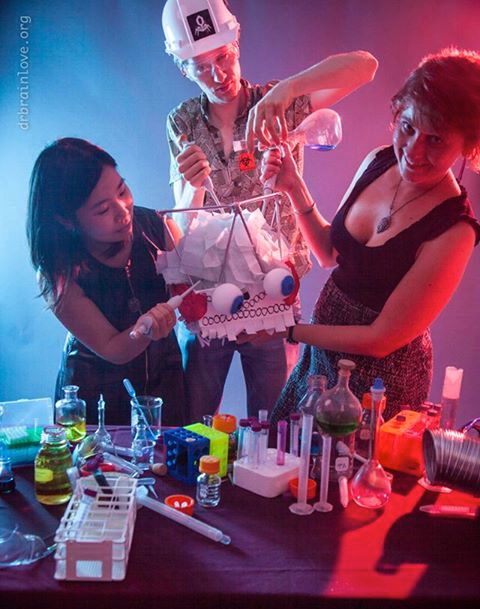 Dr. Brainlove is neuroscience plus imagination!
New for 2015: Neural Development
Last year, through a combination of luck, a superhuman crew, a few minor miracles, a whole lotta elbow grease, and your amazing help, Dr. Brainlove was born!  [cue harp music!]
This year, we want to bring Dr. Brainlove back to the playa!  We've been working on significant upgrades to the lighting, the buildability, the overall structure, and we plan to give Dr. Brainlove a facelift as well.  To do this, we'll need a bare minimum of $15,000 to get her to Black Rock City, operational, and to make some exciting updates to our brain-controlled lighting.  
Beyond Burning Man
Dr. Brainlove's adventures began on the playa, and have continued on beyond the dust.  Her scientifically inspired structure and a lighting system that mimics brain activity make her a great educator.  Since last year, Dr. Brainlove and our crew have brought brain-controlled interactive art to the South by Southwest Interactive Festival, Bay Area Science Festival, the Exploratorium's Cognitive Technologies Exhibit, among others.  With your generous help, we hope to make some much-needed updates and to continue our outreach, teaching kids and adults about the workings of their own brains.  
As a 501(c)(3) nonprofit, we're now able to offer tax-deductible credits for your donations, too.
Follow our progress as we build!  Get your brain updates at The Adventures of Dr. Brainlove, or sign up for our mailing list.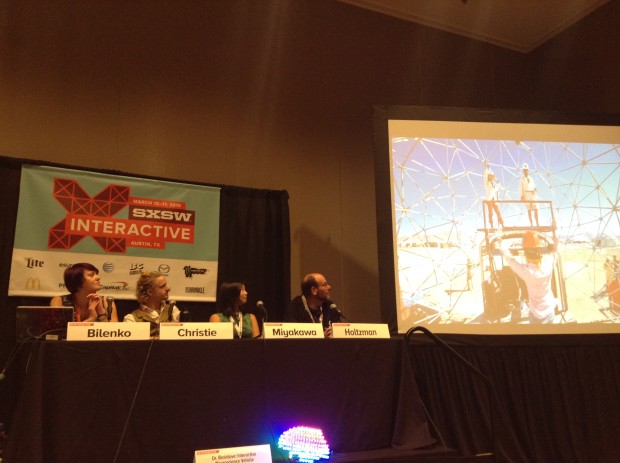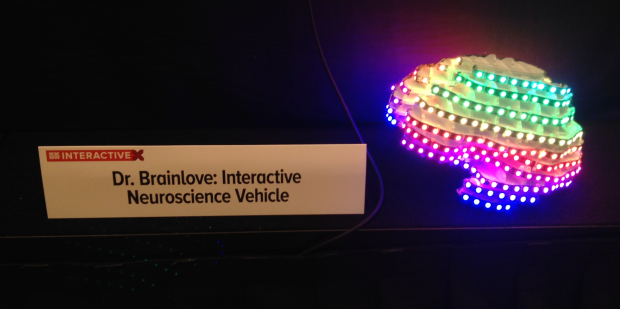 "This isn't some sacred geometry nonsense. This is neuroscientists making a brain. It's pretty legit." –Laura
Who are The Phage?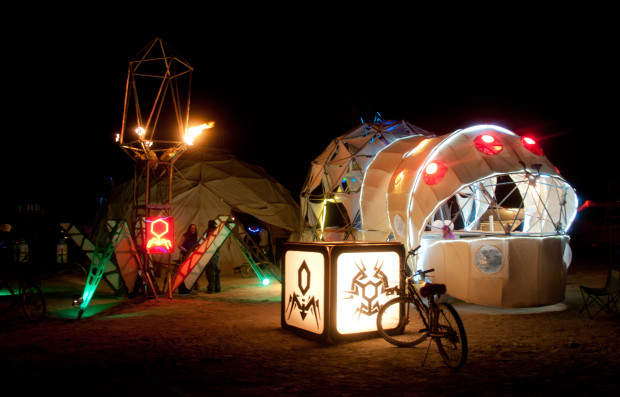 Frontage of The Phage camp, at Burning Man 2010
The Dr. Brainlove crew is part of The Phage, diverse consortium of 100+ scientists, artists, and engineers, whose mission is to use art to engage people to learn about science.  Our outreach combines scientific concepts and models with interactive art to bring education out of the classroom and into new spaces.
At Burning Man, our science themed camp is located on the Esplanade.  Some of the science outreach activities The Phage runs include:
On-playa nightly seminar series. Past topics include subterranean communication, the geology of Black Rock Desert, research on love and emotion, defining reality through information, the neuroscience of meditation, and much more.

Micro-zoo. We brought an entire zoo of micro-organisms, and the microscopes to watch them! (video here)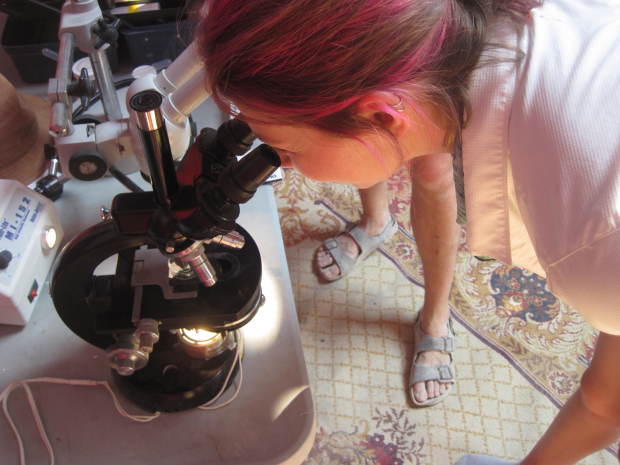 Ask a scientist.  Go on, ask us.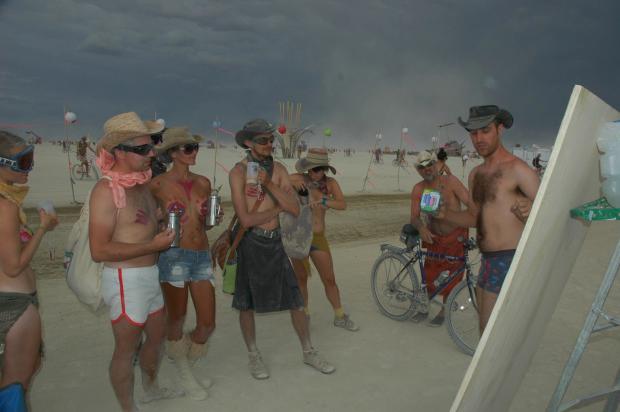 Suturing workshop. Learn and practice making medical sutures.

Fun with gallium, Fresnel lenses, and liquid nitrogen.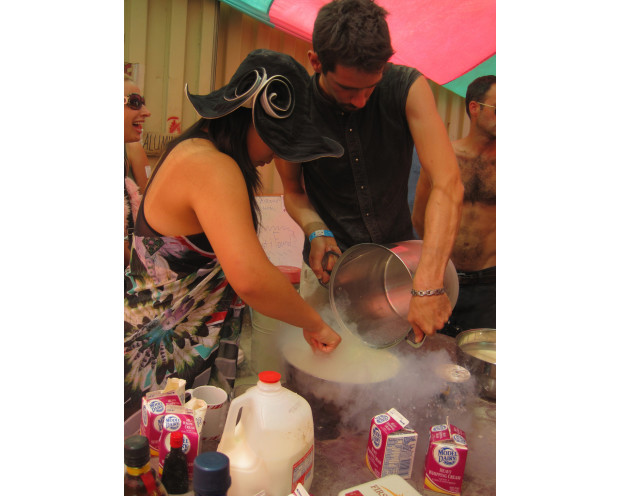 "Experience one Joule." We don't want to ruin the surprise. Come experience it yourself.