iCrowdNewswire - Jun 6, 2015
Kidd Pivot & Electric Company's BETROFFENHEIT
Kidd Pivot & Electric Company Theatre = Magic.
Shock and bewilderment encompass you in the wake of a disaster. In this timeless, liminal space you are the survivor, still responding to the crisis long after it has subsided. Created by Crystal Pite (Kidd Pivot) and Jonathon Young (Electric Company Theatre), Betroffenheit explores powerful themes of loss, trauma, addiction and recovery through a boundary-stretching hybrid of theatre and dance. 
About the Show
Crystal Pite (Kidd Pivot) and Jonathon Young (Electric Company Theatre). One actor and five Kidd Pivot company members. A design team of 6 that spans the globe.  This is a big show. A complex one. And we can't wait to bring it to you.
We are looking to raise $10 000 before our premiere on July 23, 2015 in Toronto, ON. The funds raised will go towards production elements as we get to the end of our rehearsal period. We're going to make fancy things. Sparkly things. Loud things. Bright things. BUT we can't tell you any more than that, because it's gotta be a surprise for when you see it live. Trust us.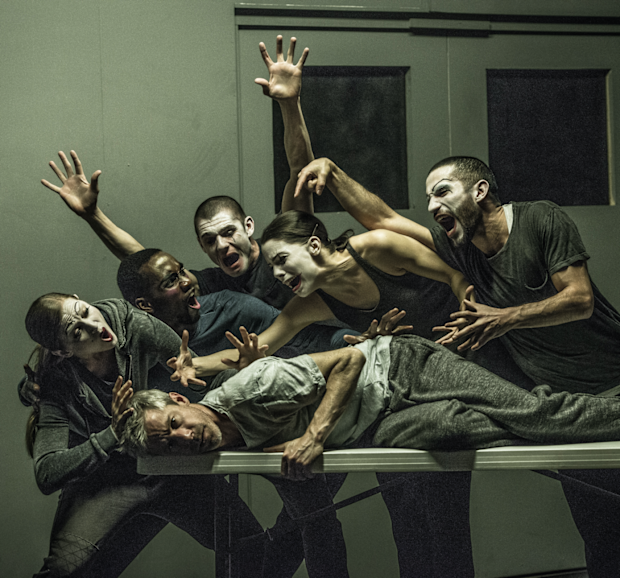 Betroffenheit, cast. Photo by Wendy D Photography.
Want to see it live?
The company will be coming together in Vancouver, Canada for 4 weeks to rehearse the work. We then all go to The Banff Centre for 3 weeks of intensive technical creation, where we will have 2 in-progress showings on July 16 & 17, 2015.
We premiere in Toronto, ON, Canada (July 23 – 25, 2015). After a few months of hiatus, the show will be out on the road for FIVE months with 14 people.
We hope you'll be able to join us at one of these shows (click the city for ticket link or more info).
February 12 & 13, 2016 – Ottawa, ON National Arts Centre // NAC Dance
February 18 – 21, 2016 – Toronto, ON Canadian Stage
February 26 & 27, 2016 – Vancouver, BC DanceHouse
March 11 & 12, 2016 – Victoria, BC Dance Victoria
March 18 & 19, 2016 – Seattle, WA On the Boards // Seattle Theatre Group
March 31 – April 2, 2016 – Portland, OR White Bird
April 21 & 22, 2016 – Dallas, TX TITAS Presents
And many more to come, including the UK and Europe – we're just finalizing details and will update soon! 
All contributions received through Indiegogo will go directly to the costs of rehearsing and touring Betroffenheit. By contributing you will be helping Kidd Pivot and Electric Company Theatre to bring this phenomenal work to the stage!
Our ways of saying "thanks"!
We welcome contributions of any size – big or small, every gift will bring us closer to achieving our goal.  For a gift $25 or more you have the option to receive one of the special perks listed on this page – from personalized shout-outs to exclusive packages that include merch, photos, signed scripts, a personalized video thank-you, an invitation to a studio rehearsal, and even Skype chats with the creators!We've listed a January 2016 delivery date for some of these items, but hope to have most of 'em out by September 2015.
If you're Canadian and give a gift of $25 or more, you will get a tax receipt for the amount of your donation (minus value of perks). Hoorah!
Other Ways You Can Help
SHARE
Spreading the word is another valuable way you can help Kidd Pivot and Electric Company. Share this campaign on Facebook and Twitter. Email it to your friends! 
#Betroffenheit
KIDD PIVOT:  Facebook and Twitter 
ELECTRIC COMPANY THEATRE: Facebook and Twitter
PARTNER
Do you have a business or organization that is interested in pursing unique cultural partnerships through sponsorship contributions? Kidd Pivot and Electric Company Theatre are two of Canada's most respected performing arts innovators, and we'd love to chat with you about additional perks available for businesses and organizations.  (Give us a shout at info@kiddpivot.org for more details!)
Join these other incredible co-producers on the road to our premiere:
PANAMANIA Arts and Culture Program of the TORONTO 2015 Pan Am and Parapan Am Games, Sadler's Wells (London, UK), On the Boards and Seattle Theatre Group through the support of Glenn Kawasaki, National Arts Centre (Ottawa), the CanDance Network, Canadian Stage (Toronto), L'Agora de la Danse (Montreal), Brian Webb Dance Company (Edmonton), and Dance Victoria (Victoria).
The Banff Centre Residencies for Betroffenheit were made possible through generous donations by The Stollery Family and Andrea Brussa.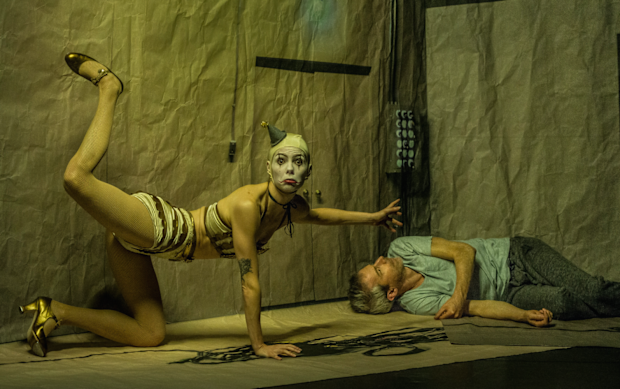 About KIDD PIVOT
Integrating movement, original music, text, and rich visual design, Kidd Pivot's performance work is assembled with recklessness and rigour, balancing sharp exactitude with irreverence and risk. Under the direction of internationally renowned Canadian choreographer Crystal Pite, the company's distinct choreographic language – a breadth of movement fusing classical elements and the complexity and freedom of structured improvisation – is marked by a strong theatrical sensibility and a keen sense of wit and invention.
Crystal Pite has collaborated with celebrated dance artists, theatre companies and filmmakers in Canada, Europe, and the United States. Since 2002, she has created and performed under the banner of her own company. Her work and her company have been recognized with numerous awards and commissions, including an Olivier Award in 2015 for her work at Sadler's Wells. Kidd Pivot tours extensively around the world with productions that include The Tempest Replica (2011), The You Show(2010), Dark Matters (2009), Lost Action (2006), and Double Story (2004), created with Richard Siegal. Kidd Pivot is the recipient of the 2006 Rio Tinto Alcan Performing Arts Award, and was resident company at Künstlerhaus Mousonturm, with the support of Kulturfonds Frankfurt Rhein Main, in Frankfurt, Germany from 2010 to 2012.
"Pite is an image-maker of rare distinction." – The Australian
"… her choreographies have their own language: mercurial and full of power and humor." – Journal Frankfurt
About ELECTRIC COMPANY THEATRE
Electric Company Theatre is a leading force in the Canadian theatre scene: creating original work rich in spectacle and adventurous in form, strong in narrative and reaching a diverse and growing audience. The company was originally formed as a collective in 1996 by Siminovitch Prize-winning director Kim Collier, David Hudgins, Jonathon Young and Governor General's Award-winning writer Kevin Kerr, who met while training at Vancouver's Studio 58. Their common respect for physical theatre, spectacle, adventurous narrative, new technology and visual art inspired the creation of their first show and the company that followed. The company's methodology has evolved but the creative process remains highly collaborative; blurring traditional boundaries between playwright, director, dramaturgy and design. 
With a growing body of work, Electric Company has created nineteen mainstage productions, toured eight times (Canada, USA, Scotland), written two screenplays, and won the first Alcan Performing Arts Award for Theatre (2001) in addition to multiple theatre awards across the country. 
"Jonathon Young is radiant.  This guy always looks like he's lit from within." – Georgia Straight
"It's no exaggeration to say that Young moves with the grace and precision of Charlie Chaplin or Buster Keaton." – Georgia Straight