iCrowdNewswire - Jun 5, 2015
ZGiRLS National Launch
This campaign is about more than just crowdfunding. It is about making ZGiRLS known and accessible by girls across the country. If there's one thing we've learned in the last three years, it's that ZGiRLS works. We know that we have something special on our hands, and we know that more girls need access to it.
WHAT WILL IT TAKE TO BRING ZGiRLS TO GIRLS ACROSS THE COUNTRY?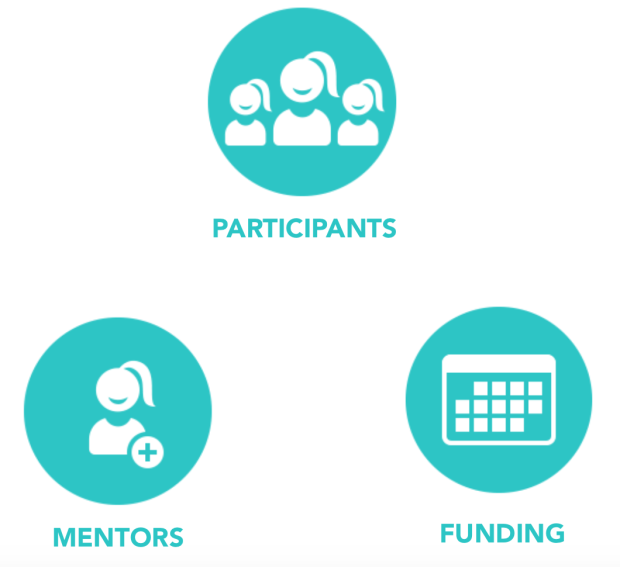 THAT'S WHY WE'RE HERE! Without funding, we can't provide our amazing programming… Without Mentors, we can't deliver our curriculum… And without participants, well… that one's obvious. YOU can help make ZGiRLS' national expansion possible.
PARTICIPANTS. One of the things that makes this campaign unique, is that parents can pre-purchase discounted ZGiRLS registration. Yep, even though 2015 ZGiRLS registration doesn't open until July 1st, parents can purchase a voucher right here on this campaign page, and lock-in a discounted registration fee. When it's time to register, all parents have to do is enter their unique Indiegogo promo code and the fee will be waived! Know some parents of teenage girls? Let them know about the opportunity (and they'll thank you later).
MENTORS. Chances are, you got to this page because someone sent you the link or you saw it online somewhere… Chances are, you also probably know some pretty awesome athletic women. Put those two things together: 

Help spread the word and share this campaign so that we can grow our awesome team of female athlete Mentors!
FUNDING! We are a startup nonprofit, and there's no way around it: we need money. We are committed to providing 10% of all ZGiRLS programs completely pro bono to girls who otherwise wouldn't have access… Not to mention, developing curricula, making instructional videos, and hosting webinars doesn't come without a cost. Every single dollar counts. Please BACK this campaign! Your contributionwill make a difference.

MENTORSHIP
We believe, "if she can see it, she can be it." That's why we go great lengths to connect girls with our amazing female athlete Mentors (mostly collegiate level athletes or better). Over the course of ZGiRLS, girls gain perspective that can only come from someone who knows exactly what they're going through. The relationship instills inspiration that lasts well beyond the Circle's last Huddle.
EDUCATION
The ZGiRLS Compass Curriculum™ covers a range of topics, from mental awareness and body image, to stress management and goal-setting. A typical ZGiRLS Huddle includes short videos, discussions, self-reflective workbook exercises, and group activities. Girls apply and practice new ZGiRLS skills in between huddles with their "ZWORK" homework.
SUPPORT
ZGiRLS isn't just a program – it's a community, a resource, and a movement. Our eight-month annual program is designed to provide the continuity and reinforcement kids need to internalize new mental/emotional skills. From our parent workbooks and webinars, to our online articles, ZGiRLS is just as committed to supporting parents, coaches, and our Mentors, as we are to empowering girls.


It starts with a "Circle Captain" (usually a parent or coach). They round up a group of 5-9 "sporty" girls ages 11-16 who are about the same age, preferable in the same sport. The Circle Captain is responsible for initiating the Circle's registration and making sure that every participant completes their registration. In September, ZGiRLS sends each Circle a kit of curriculums and pairs the Circle with a certified ZGiRLS Mentor in their area. Circles meet ("huddle") with their Mentor once per month from October through May, progressing through the curriculum with the guidance and support of the nationwide ZGiRLS community.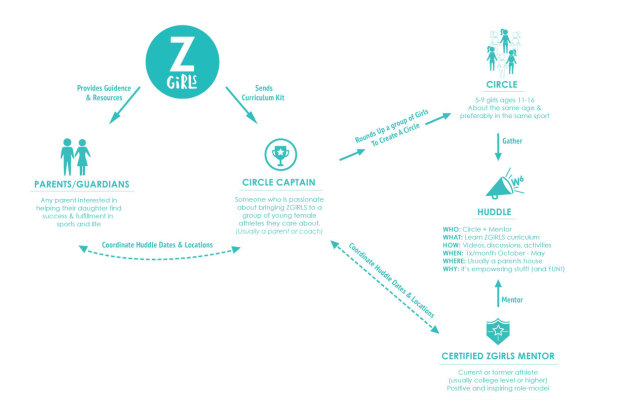 Want more information? Perfect, we want to tell you more. Just go to our WEBSITEwhere we spell out everything you need to know to start and run a ZGiRLS Circle!

SPORTS
Why does ZGiRLS work with girls in sports? Because it's a huge population (6.8 million to be exact) and the statistics surrounding the benefits of sports are convincing: girls who do sports have higher self-esteem, are more likely to go to college, and in adulthood, they are more likely to rise into leadership roles. ZGiRLS supports girls in sports, so that they stay in sports.
LIFE SKILLS
The Compass Curriculum™ teaches a wide variety of life-skills that prepare girls for success not only in their sport, but more importantly, in life. Valuable skills like goal-setting, stress management, communication, and positive self-talk can be transformational for young athletes, but most sports programs and coaches don't have the time to teach these vital lessons. In ZGiRLS, girls don't only learn about life-skills, they embody and practice them.
EMPOWERMENT
From our uplifting culture, to our nationwide community, every ZGiRL has the inspiration and tools she needs to take control of her life and chase down her dreams. ZGiRLS across the country are united by a shared attitude of positivity and progress: ZERO limitations! Nothing holds a ZGiRL back from realizing her full potential.
SPORTS + LIFE SKILLS + EMPOWERMENT = a confident, centered, courageous ZGiRL

From media pressure to "mean girls," ZGiRLS acknowledges that girls encounter a wide variety of external limitations. These obstacles are real, but rather than focusing our energy there, ZGiRLS chooses to turn within. ZGiRLS gives girls the tools they need to overcome their own internal barriers (the self-doubt, fear, and insecurity) so that they can navigate adolescence and graduate into adulthood with flourishing confidence, self-worth, and ambition… To live with ZERO internal limitations!