iCrowdNewswire - Jun 5, 2015
BOD: The Ultimate Cold Brew Coffee System

The BOD™ is the first compact, modular and completely portable cold brew coffee system. Its spill-proof, shatter-proof design allows you to brew anytime anywhere.  The BOD™ makes healthy coffee naturally and transforms ordinary coffee grounds into a super-concentrated coffee extract that's heart, stomach and smile friendly. Use the coffee extract to make healthy hot or iced coffee in seconds.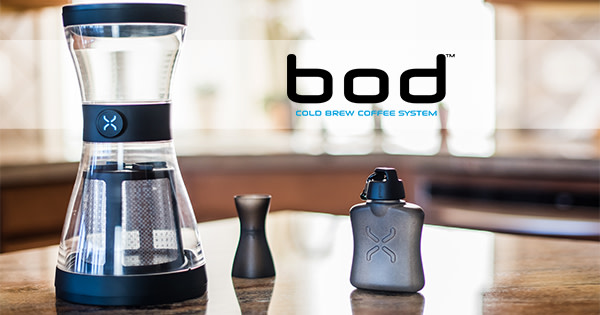 The BOD™ by BodyBrew™ was designed for health conscious coffee lovers on the go, who want great taste, portability and convenience. The BOD™ is both elegant and tough, and the compact spill-proof design, makes it ideal for travel. With the portable Bean Kanteen®, Mini-Bean Kanteen® and the Baby-Bean Kanteen®, you can brew and take your coffee virtually anywhere. No other cold brew coffee maker brings all these features together in one easy to use system.
Unique Features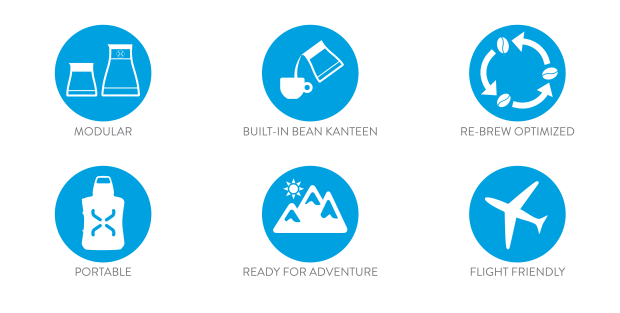 Is Your Coffee Maker Hurting Your Health?
Cholesterol?

Burning Stomach?

Teeth Staining & Acid Wear?
Published research says brewing with a French press or espresso machine could be hurting your health. French press and espresso are high in oily compounds (Diterpenes-Cafestol and Kahweol). Drip coffee makers and single serve machines, produce coffee that's high in acid that may cause stomach upset, stain teeth and damage tooth enamel.
A few years ago as we were completing development of our proprietary cold brew infusion method, we stumbled upon an exciting, undiscovered health benefit in cold brewed coffee. Researchers from John's Hopkins and Harvard found that coffee brewed using a French press was high in oily compounds called Diterpenes (specifically Cafestol and Kahweol), which have been linked to elevated cholesterol. This made us wonder if it might be the pressing of the grounds in a French press, and not the heat, that produced elevated levels of these compounds, and whether cold brewing in a French press would still have high levels of Diterpines. We hired a third party food lab* to do some testing of various brew methods, including our cold brew method vs. the French press cold brew method.
BodyBrew™ is proud to be the first company to discover through lab tests that our proprietary cold brew method had 82% less Cafestol than French press and Espresso. Other brew methods, such as drip and single serve, are high in acid that may cause stomach upset, and damage tooth enamel.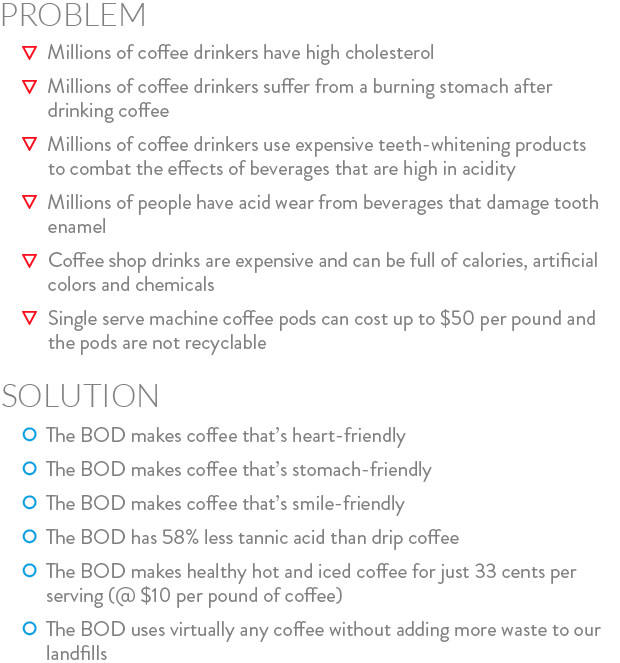 According to third party lab tests, regardless of whether coffee was hot brewed or cold brewed in a French press, both made coffee with high levels of Cafestol. In fact the lab tests showed the BOD™ cold brew method had 71% less Cafestolcompared to the French press cold brew method! 
*Lab tests referenced conducted by Intertek, a global lab services provider, and Columbia Food Labs of Oregon. Lab tests were performed using the same coffee in all tests. Coffee was made by following the instructions that came with each coffee maker. Lab test results may vary depending on coffee used and other variables.

The BOD™ cold brew coffee system 'strips away' unhealthy, oily compounds, and stomach churning, teeth staining acids, creating a super-concentrated coffee extract for healthy hot and iced coffee drinks, cocktails and desserts on demand.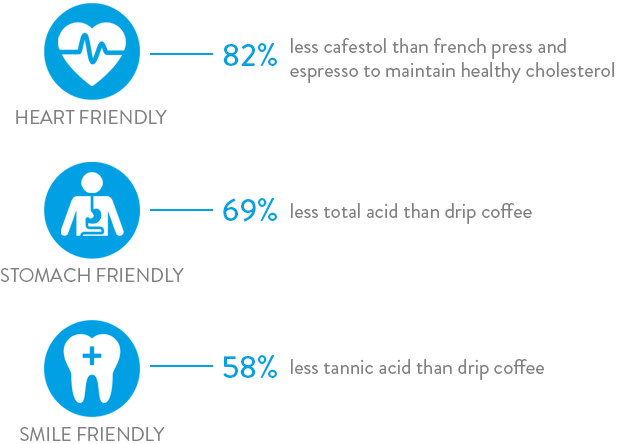 We've been cold brewing coffee for over 10 years and when we tried to find an easy to use cold brewer at a reasonable price we were left scratching our heads. Cold brew coffee makers on the market today range from DIY mason jars, to white buckets, to tubs and spigots, three-foot tall towers; some even cost thousands of dollars. True these methods all make cold brew coffee, but they're messy, hard to use, require paper filters, and lack good design and aesthetics. 
So, using our product development background, we decided to build the ultimate cold brew coffee system. Every part of the BOD™ was designed with a purpose. Its easy to use, easy to clean, and with its elegant design, you won't have to hide it after each use! After 3 years of designing, drafting, engineering and prototyping, we're ready to show our BOD™ to the world! 
Tech Specs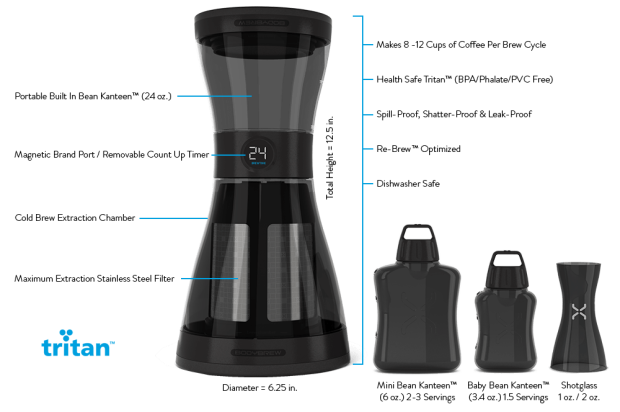 Compact Modular Portable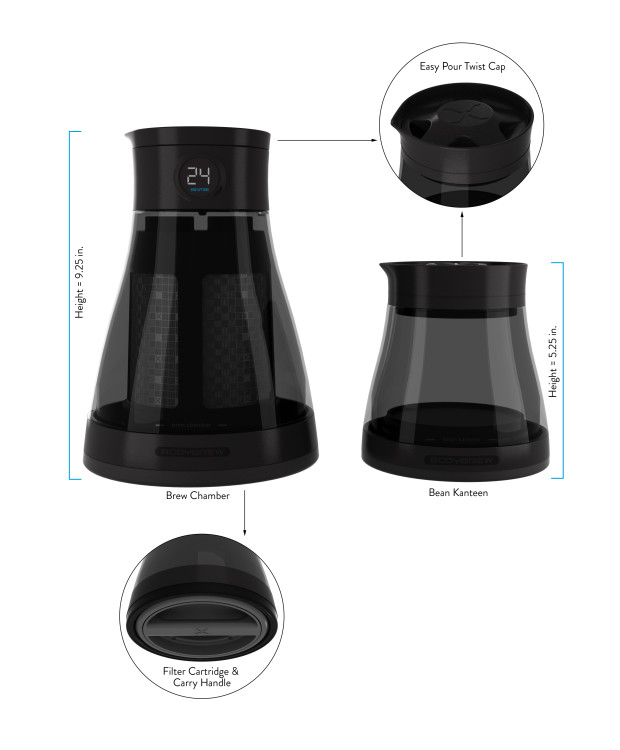 Custom Count Up Timer
Discover your brew number, from 12-72 hours with our custom, removable, count-up timer. You'll know how long you've been brewing at a glance.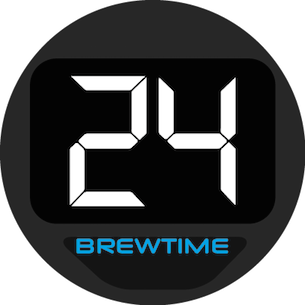 Take Cold Brew Coffee On The Go With Personalized Portable Bean Kanteen's
Take the Mini Bean Kanteen® with you to work or play. Holds 6 ounces of coffee extract, that makes (2-3) servings of coffee. The Baby Bean Kanteen® at 3.4 oz. was custom built for traveling the friendly skies and will pass right through airport security. Makes 1 large serving of coffee.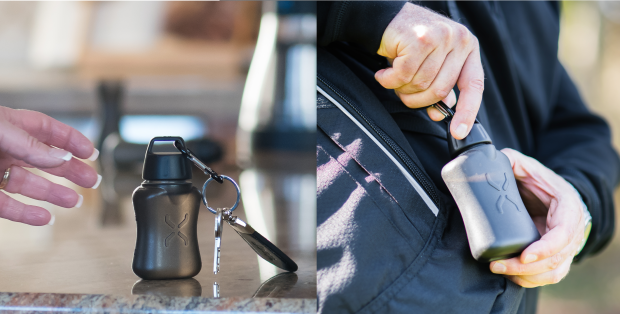 Mixology Made Easy
The BOD™ makes a super concentrated coffee extract that's healthy, delicious and fast. Use the coffee extract to make gourmet hot or iced coffee in seconds.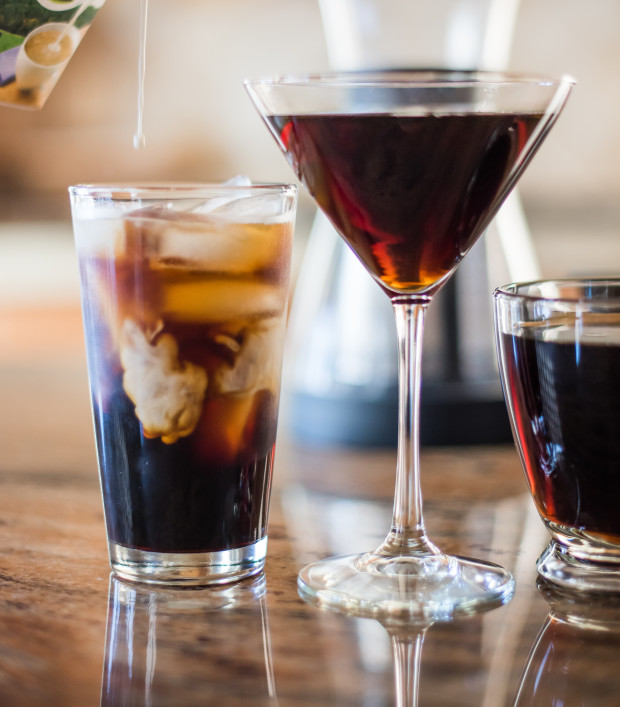 As Featured In:


Choose Your Color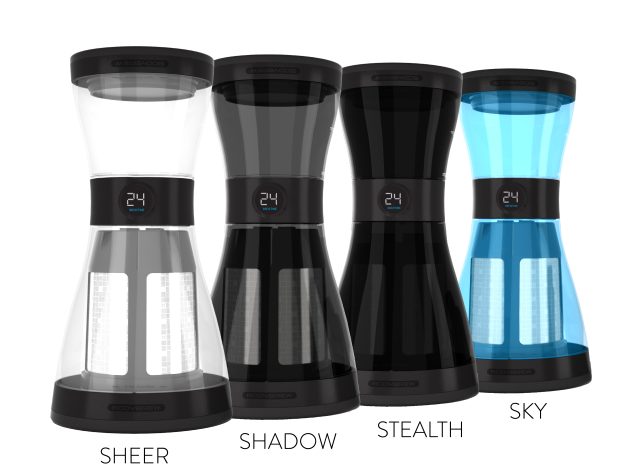 Don't worry about deciding on a color now- we'll reach out to you at the end of the campaign and find out which option you'd like! Also, if you're located outside of the US please add the $40 "International Shipping" perk- thank you!