iCrowdNewswire - Jun 4, 2015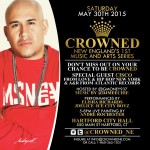 CROWNED New England lets you be the judge. Join us in Hartford CT or stream live via www.crownedne.com
Sat May 30, 2015
Doors open at 5pm show starts at 6pm sharp
The goal of the program in to inject fuel into the entertainment industry in CT and surrounding areas. The current state of of the industry is in a sense, non existent, not meaning we do not have great talent, meaning the talent have no platform to reach their audience in and out of CT. The program will allow emerging talent of all styles, shapes and form to showcase their greatness and with our help, reach a level of success that is unprecedented in the area.
We will allow artists to sing/rap/perform live in an "Americas got Talent" form with each performance being recorded in ultra high definition. The performances will be judged by a panel of experts in the music and entertainment industrybut the twist is that the performances will be streamed live and will be listed on our YouTube page for the artists to broadcast to their fans. They will accumulate likes through Instagram and FB during the event. That will translate into votes which will then be paired with the judges score to award winners that will move on to the next show. The videos will be recorded in ultra high definition 4k which will showcase the high level of quality that our organization has to offer. All proceeds Will be reinvested to ensure sustainability and growth growth throughout CT and England.
visit www.crownedne.com for more details.
Campaign link: http://igg.me/at/pg2vw5RJwd8
CONTACT: Earl S.,
Info@crownedne.com,
860.365.1021