iCrowdNewswire - Jun 3, 2015
SIENNA FINES – 2015 WORLD CHAMPIONSHIPS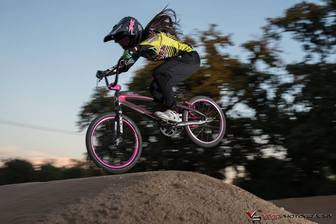 Hello, my name is Sienna Fines. I'm a Junior Elite BMX Racer on the Philippine National Team. This is my fundraising campaign to help raise money for 2015 UCI BMX World Championships taking place on July 21-25 in Heusden-Zolder, Belgium. As a token of my appreciation, I'm offering an assortment of donation level givebacks such as photos, souvenirs, jerseys, and event memorabilia. Any amount helps and is greatly appreciated.
But first, here is my story.
I'm 16 years old and a proud Filipino-American living in Sacramento, CA. For more than half of my life I have been a dedicated BMX Racer. My journey began 11 years ago when six year old me came home from school one day curious about BMX racing. After hours of pestering, my dad finally gave in. He loaded my pink Barbie bike into the back of the car, and took me to the local track. I remember the very first lap I crashed over the bars and hit the ground face first. But I got up, laughed it off, and continued to ride until the sun went down. After seeing this new obsession, my dad surprised me with everything I dreamed of- a brand new top of the line SE Mini Ripper race bike with all pink race gear to go along with it. The following Sunday we went to Oakcreek BMX where I participated in my first race and won! After that I was hooked. At the age of 9 I began performing well at the national level and have accomplished 135 podiums, 49 wins, and 7 National Age Group Top 10 rankings up to date.
I give back to my sport for all that it has done for me. Such as throwing clinics to teach the fundamental skills of riding, building bikes for the community, and encouraging the young children at my local tracks. But most importantly, I aim to inspire people to break through barriers and pursue their passions because racing has been more than just a sport for me. It has helped me overcome rough upbringings and the adversity of growing up in South Sacramento being raised by a single parent. Riding my bike has distracted me from life's struggles. The journey has taught me hard work, discipline, sacrifice, and persistence. It has brought tremendous positivity to my life through the friendships I've made. It has brought me to different places and has thrown new experiences in my face that leave me with a confident open mind. But the most important thing that this sport has taught me to do is set high goals and believe that I can achieve them.
This year, my major goal is to perform exceptionally at the UCI BMX World Championships in Heusden-Zolder, Belgium. I will be competing among the best riders in the world. But I have been working hard towards this race and I can't wait to see what I'm capable of achieving.
This is where I need your help. As an unfunded up-and-coming athlete, financial stress is an everyday burden for the athlete and parent. So I plan on doing as much as I can to help my Dad make this trip possible, such as this campaign.
Your support truly means the world to me and I genuinely thank you for being a part of my journey! ♥