iCrowdNewswire - Jun 1, 2015
Worlds Smartest Solar Power Bank with Lamp & Torch
Our Journey
It all started started in 2011 when Rohan (CEO – Elixier Tech) was finishing his MBA from IE Business School, Spain. He and his colleagues needed their electronic devices charged all day; however, were unable to do so despite having their chargers with them. The crux of the problem was finding sockets to connect the adapters. To add on, even if the socket was available, either there were too many devices for one socket or the socket was inconveniently placed. This observation planted an idea in his mind about the need of a stand alone charging device that people can conveniently carry with them. This simple idea evolved into a business plan when Rohan came back to India in 2013 and shared the concept with us (Co-founders of Elixier Tech). 
Since the inception in 2013, we have realized that apart from the problem mentioned above and irrespective of the geography and culture, there are some common issues faced by most of the urban dwellers in their day to day lives.
So what are these issues..?
How we developed a Solution:
We at Elixier Tech Innovatis LLP. want to make a difference in the lives of the people as well as the environment. We have managed to contain the extensive power of the sun in a device so compact that it practically fits in your pocket. Hence, after almost 18 months of hard-work and dedication, team ET has finally developed the 'ET-Stone™'.
ET-Stone™ is a seamless integration of state of the art technology and revolutionary design, making it by far the smartest solar power bank ever made. The super efficient & powerful lamp and torch ensure that you never face dark situations again. It is capable of charging almost every device that can be charged through a USB cable and providing hours of high intensity light output. The product is designed with only one aim – To optimise user experience.
We want to ensure that people stay connected irrespective of the location and circumstances so without any inhibitions one can EXPLORE different possibilities,ENDURE new experiences & EVOLVE into a greener and sustainable generation. Basically, our product not only offers break-through technology, but also guarantees mobility, easy accessibility and independence. Solar charging gives you the freedom to travel hassle free without any "wires" attached.
We believe that, our product will not only create an awareness of the use of green energy amongst the masses but also revolutionize the way people charge their electronic devices.
The Evolution of ET-Stone™
ET-Stone™
Specifications:
Battery – 3100 mAh Li-Po
Input Current – 2A
Output Current – 1.5A
Material – Special grade engineering polymer
Solar Panel  – 2.75V / 550mA
LED (3 Nos) – 110mA i/p current
Dimensions – 84mm x 135mm x 16.8mm
Multipurpose Kickstand – 360˚ Rotation (Patent pending) 
Lens (3 Nos) – Wide-angle, Anti-glare
Convenient User Interface
Buttons with application symbols (3 Nos)
Lanyard Holes (3 Nos)
Female inserts (2 Nos) – Universal 1/4" 20 UNC (For FCM / Tripod Attachment)

The Technology [Patent Pending]
Pre-Charge – Fast Charge – Natural Charge – Charge Termination – It basically protects your power bank battery & increases battery life
Constant boosting @ 5v giving extremely stable output
Low voltage boosting for solar (Low light charging)
During solar charging, power bank provides safety against current spiking andexcess sun
Dual Charging while charging through AC & DC
Lamp – Brightness remains constant even when battery voltage drops                                – Increased efficiency using High Efficiency Controller (HEC) to give more                light hours                                                                                                                                     – Emergency SOS feature 
Compatible with wide range of adapters, It smartly senses between PC & AC and accordingly adjusts the current
Temperature sensing – Senses the battery temperature & automatically adjusts the current in case the temperature rises abnormally
(*Detailed explanations given below in 'Features')
Features (in brief)
Main Features
1. Solar Charging
Charging Time
The portable solar products available in the market are equipped with obsolete technology which leads to higher charging time (4-5 days for approx. 2000mAh battery) thus making the usage impractical and boring.
Our company is focused on changing this stereotype by providing a product with ground breaking technology which enables a user to charge the product in less than 14 hours.
Low Light Charging
ET–Stone™ not only charges under strong sunlight but also charges in ambient (low light) / cloudy atmosphere thus ensuring that the product charges in all weather conditions.
No need to look at the weather forecast EVER
The Super Efficient Solar Panel
We have used a super efficient Solar Panel made from Sun Power Cells, thus differentiating ET–Stone™ from the other portable solar power banks available in the market. Believe it or not, the cost price of our solar panel is almost equivalent to the cost of regular power banks thus giving you an idea regarding the quality of the components used in ET–Stone™
2. Revolutionary 3D Design & Kickstand
For us, every minute detail matters. ET-Stone™ sports a never seen before ergonomic design that symbolizes a combination of rigidity, smoothness and strength which are the inherent properties of a stone. We wanted our customers to experience technology in the most natural form.
The revolutionary kickstand developed and patented by us, has been made after months of research, keeping in mind usability, convenience and durability as the main aspects to redefine user experience. It also provides protection to the main body thus facilitating additional rigidity.
The kickstand allows the user to rotate the product a full 360⁰ which facilitates:
Solar charging depending upon the angle of the sunlight
Light output in each and every angle
Hanging the product whenever needed
The kickstand boasts two ¼" 20 UNC brass thread inserts giving the user an option to attach the product to a car mount (provided with the product), tripod, gorilla kickstand etc.
3. Fits in your pocket
One of the main challenges we faced was to compress this cutting edge technology into something that fits in your pocket. Portability is the key today and we ensured that ET-Stone™ perfectly blends with your daily routine.
4. Wall-mount (Adapter) Charging
ET-Stone™ can be charged through any wall adapter in addition to Solar charging.
5. Laptop / Desktop Charging
Dual Charging is one of the most unique features of ET-Stone™. It means that, if your product battery is low and so is your device (eg. mobile) battery and you have only one adapter or PC / laptop connection, you will no longer have to choose between charging of your device and charging of ET-Stone™.
Your mobile will start charging first and once it's sufficiently charged, the charging will shift to ET-Stone™. This feature is feasible with adapter & PC / laptop connection.
An ideal situation for overnight charging.
6. Dual Charging
Dual Charging is one of the most unique features of ET-Stone™. It means that, if your product battery is low and so is your device (eg. mobile) battery and you have only one adapter or PC/Laptop connection, you will no longer have to choose between charging of your device and charging of ET-Stone™. 
How it works:
1. Connect any wall-mount adapter to ET-Stone™
2. Connect USB Cable from ET-Stone™ to your device
3. Switch on the wall-mount adapter and charging button on ET-Stone™
(*Disclaimer: This feature is not applicable during solar charging of the product ) 
7. Smart Charging 
ET–Stone™ smartly detects which device it is charging and accordingly provides output current and avoids forcible charging at higher currents (which is done by most of the power-banks in the market) so as to increase the battery life of the device. This does not mean that the product will charge the device slowly, it can charge devices up to 1.5A. 
It's Smart Algorithm manages all the functions using a high performance  microprocessor
ET-Stone™ has a provision for Low light Charging
During solar charging, the power bank provides safety against current spiking and excess sun
Pre-Charge – Fast Charge – Natural Charge – Charge Termination – It follows this process and simultaneously protects your power bank battery & increases battery life
Constantly boosts product battery voltage at 5V thus giving extremely stable output to your device
ET-Stone™ is compatible with a wide range of adapters. It smartly senses between PC/Laptop & Wallmount adapter and accordingly adjusts the current
8. Lamp & Torch
The next most important feature of ET-Stone™ is the highly efficient lamp & torch. The Lamp, which can be seen on the front face of the product comprises of 2 powerful led's whereas the Torch, which is placed at the bottom side comprises of a single led. To enhance and to provide a wide angle dispersion of the light output, we have used customized anti – glare lenses.
There are 3 intensities of light for the lamp which can be adjusted by the user according to his/her requirements, enabling longer hours of light. It gives..
a)  14 hours of light at the 1st intensity
b)  22 hours of light at the 2nd  intensity
c)  35 hours of light at the 3rd  intensity
The torch has a single intensity.
9. Emergencies
ET-Stone™ has an inbuilt SOS Light feature which can be activated by a 2 second long press of the lamp button. This feature is extremely helpful in emergency situations such as car breakdowns, camping and hiking incidences where you want to signal for help or any other dire conditions where signalling becomes a lifesaving option.
Applications 
Apart from being an ideal device for daily use, 
ET-Stone™ is also, an extremely handy device in the following scenarios:
Your perfect travel companion
ET-Stone™ gives you the freedom to roam and travel by actually staying completely unplugged. No more worrying about carrying additional chargers and wires and no more hunting for charging sockets. ET-Stone™ is compatible with almost all devices that can be charged by a USB cable. The solar charging feature ensures that you can visit the most remote or exotic locations without having to be concerned about staying connected. If you are a camping or a hiking junkie, our extremely efficient & powerful in-built lamp can become your ideal partner for those adventurous nights.
We all know that mobiles and tablets have become extremely critical for the smooth functioning of any business today. People now check their emails, presentations, project reports etc. on these portable devices. Keeping these devices charged on the go has become a persistent issue. Our 3100 mAh battery ensures that this issue is minimized and business travellers can conveniently focus on their business and nothing else.
Disaster Management
During any natural disaster such as earthquakes, floods, hurricanes etc., the two major issues that surface out are connectivity and power outages. People are stranded for days together without any access to light thus making them completely helpless. Also, having mobile phones without any charge, keeps the people disconnected from the rest of the world. This is a genuine problem faced by any disaster struck area. At such times, a powerful tool like ET-Stone™ can prove to be extremely handy.
ET-Stone™ being a standalone solar device, can provide essential 'mobile charge' to make those emergency phone calls and almost '70 hours of powerful light' to help you survive the night, without having to rely on any other source of electricity.
ET-Stone™ can become an ideal addition to your personal Disaster Management Kit. It can also be of tremendous help to those brave rescuers who provide help to the stranded victims in difficult times.

Rural Impact
Access to electricity is a serious issue faced by majority of the rural population all over the world. Efforts are being made to change this status-quo but the problem still remains persistent. People living in those environments are majorly dependent on kerosene lamps which though providing them with basic light are indirectly affecting their health and making them vulnerable to burns and explosions.
Emissions from the use of Kerosene lamps may impair lung function and stimulate infectious illnesses such as tuberculosis, asthma, and cancer risks in the long run. Apart from the health risks, there is a permanent safety issue with using these kerosene lamps as they have been a cause of many fatal accidents till date.
Some practical problems that these people face include children trying to study and women trying to perform their day-to-day chores in light which is hardly sufficient to cater to their basic needs.
Another relevant issue faced by the rural areas is the distribution of mediocre products which hardly last for a few months, thus forcing the population to turn back to the use of kerosene lamps.
Our aim is to replace these harmful kerosene lamps with an efficient, safe and technologically advanced product so as to give those people a chance to live a safer and a healthier life.
Since cost is a major constraint for the rural populace, we have designed an alternative product called the ET-BRICK™, which will boast the same technology as the ET-Stone™ but with minor changes in some of the features and a simpler design to make it easily affordable to them. 
(*Disclaimer: Technical Details of ET-Brick will be disclosed shortly)

ET Flash Cable (The Whip)


A great product deserves a great accessory. We have also come up with a customized USB A to Micro USB cable capable of charging the product and your electronic device at a faster rate as compared to the other cables available in the market. The Whip is a carefully designed accessory that not only helps in charging electronic devices but also assists in data transfer. All in all, it is a perfect extension of ET-Stone™.
Flexi Car Mount (FCM)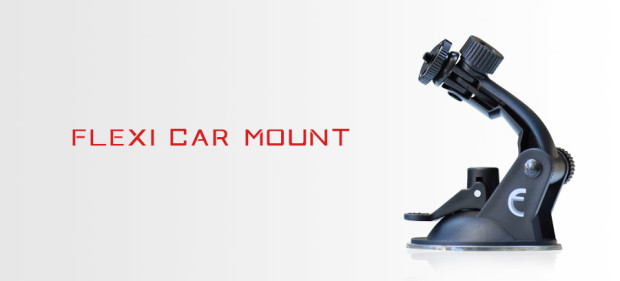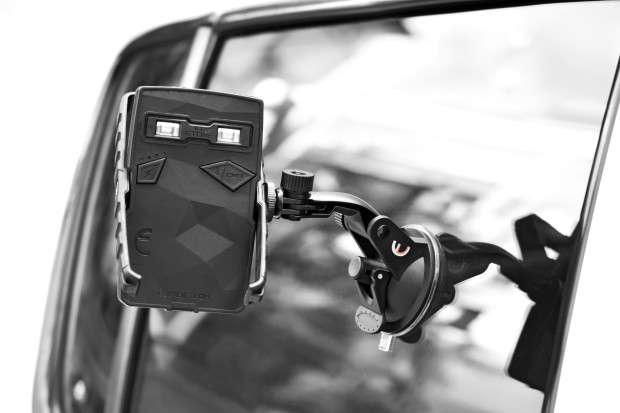 The Flexi Car Mount (FCM) takes the usability factor of ET-Stone™ to the next level. You can affix the FCM to the windshield or any window of your car (using the suction cup) and pair it with ET-Stone™ using the threads given on the kickstand. The flexible FCM allows you to move the solar power bank in various angles with the help of its 2 axis swivel mechanism. The FCM gives you a cool opportunity to start using the solar charging function of ET-Stone™ while you are 'on the go'. 
The FCM, paired with ET-Stone™ can also be used in your home or any other indoor place (by attaching it to a window or a mirror) to either give light output or to achieve solar charging.
Package Includes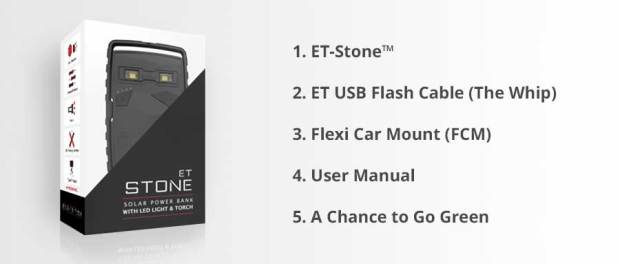 How will the funds be allocated..
The funds raised are going to help us to achieve the following goals:
In case we don't reach our Goal
We understand that Indiegogo backers want their product as soon as possible and we thoroughly respect it. We assure you that even in the case of us not reaching our goal to raise the money, you will still receive the perks that you have selected.

Perks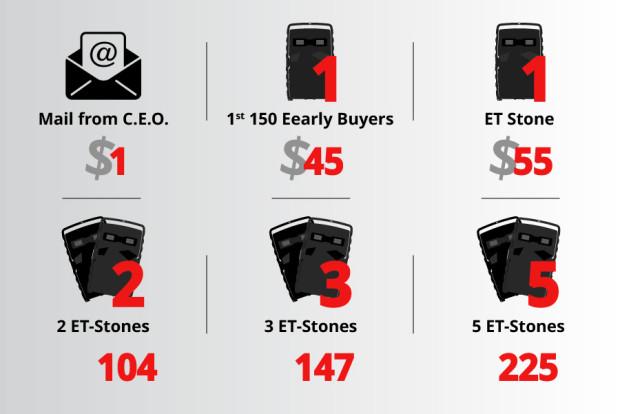 (*Disclaimer: To get full information about the perks kindly visit the perks column)

Timeline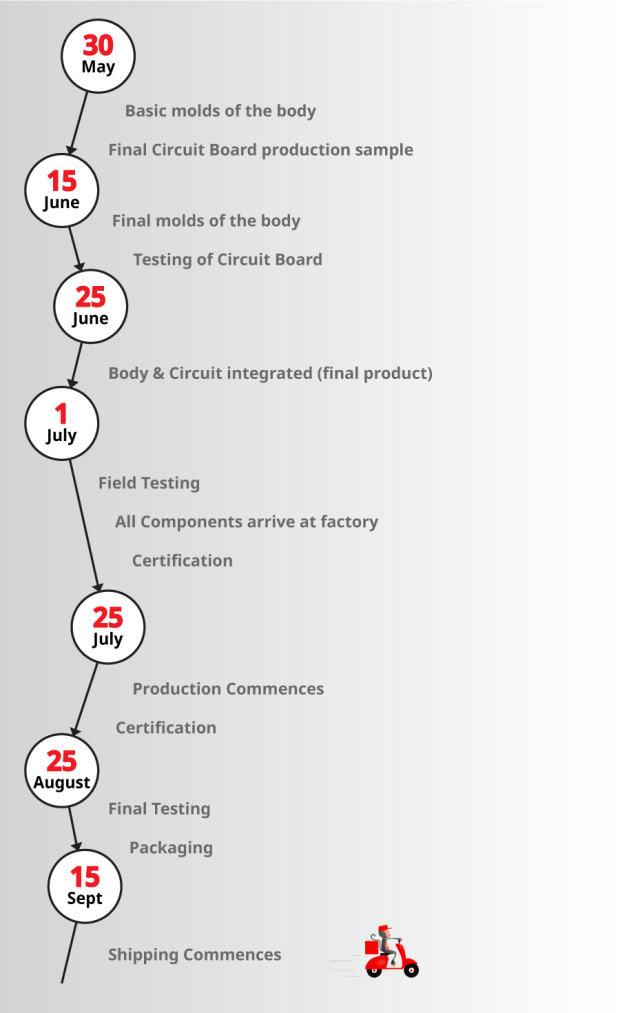 Risks & Challenges
We have been working for over a year for developing ET-Stone™ and getting it ready for production. The manufacturing aspect is completely sorted and our vendors are established. We are almost ready with the molds and are currently in the process of acquiring necessary certifications for the product. ET-Stone™ comprises of components coming from countries such as USA, Italy, Korea and China which means that the only possible risk we may encounter is the uncertainty / delay in shipping of these components to our manufacturing site in Goa (India). We have ensured that this risk is mitigated by tieing up with reputed vendors and by following a well-established procurement process.
Other ways you can help us..
If ET-Stone is not for you, it maybe for your family and friends. We will be obliged if you could share our Indiegogo Campaign on your Facebook, Twitter and Google+ accounts. You can share by posting the link on top of this page on your respective accounts. If you are not that active on social media, you could also send emails to your folks with our campaign link in it. Even word of mouth can make a major difference to our campaign. We genuinely appreciate any form of help from your end.