iCrowdNewswire - May 31, 2015
TerViva
Summary
TerViva develops new crops for under productive agriculture land. Environmental hazards such as climate change, land degradation, and water scarcity could soon eliminate as much as $8 trillion in agriculture assets annually, according to the University of Oxford. To combat this problem, TerViva is developing a new class of agriculture crops that can be grown on sub-prime agriculture land with far fewer inputs (e.g., water, fertilizers) than crops such as corn and soybeans.
Project Highlights
Addressing $121B biofuels market Featured on CNN Money
$225k in annual revenue from pilot plots
Customers include US Sugar Corp and Mosaic
TerViva's Pongamia has oil yield 8x of soybeans
Pongamia grows on under productive land, does not compete for food
Selected Partners
Why Pongamia?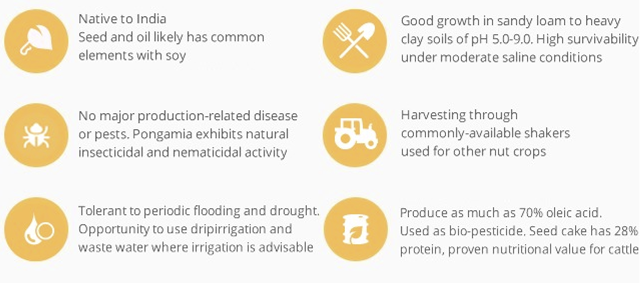 Two factors make pongamia extremely compelling as a commercial crop:
1. "Drop-in" to existing infrastructure: landowners can use existing equipment, labor, and skills for cultivation and harvesting. In addition, pongamia is processed with conventional crushing equipment used for other oilseeds like soybeans.
2. Disruptive economics: pongamia produces almost 10 times the yield per acre as soybeans, with far smaller water, fertilizer, and pesticide requirements. This translates to an excellent economic diversification opportunity for landowners, who are facing the degradation of their agriculture land.
Gallons Per Acre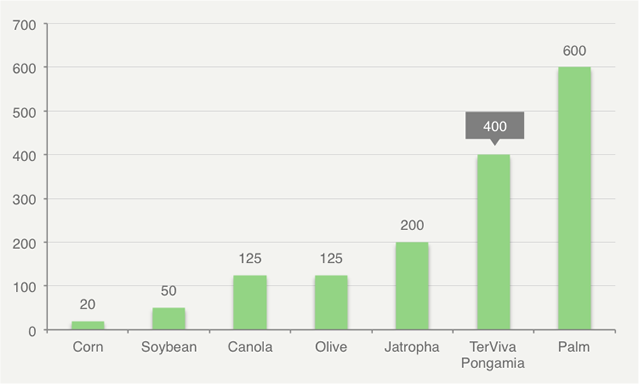 Business Model
We use a licensing business model with growers:
For pilots (<50 acres), we charge upfront fees on a per-acre basis.
At a commercial scale, we charge an upfront fee with a 10 percent royalty on the ultimate sale of the oil to downstream users.
Growers receive $1,000 per acre of net income at steady state harvesting, which translates to a 25 percent plus IRR.
We already have 100 acres in pilots, and will have 2,500 acres at commercial scale by 2015.