iCrowdNewswire - May 31, 2015
Sabbath-furniture for more rest and less work
Sabbath is the debut furniture collection by artist and woodworker Grant Kaihoi
The Idea
The idea for Sabbath came from the busyness and stress I experienced from graduating art school, having my first child and starting my working career all within three months.  As an artist and woodworker i responded by making a chair that served as a sanctuary during my day to recharge and take 10-15 minutes to gather my thoughts and center my mind on what really mattered. That chair has evolved into what I now call Sabbath.
Studies Show-the stats are in
In the U.S, 85.8 percent of males and 66.5 percent of females work more than 40 hours per week   
Americans work 260 more hours per year than British workers. 
According to the New York Times Americans left an average of 9.2 vacation days unused in 2012 
Working in 90-minute intervals turns out to be a prescription for maximizing productivity
Sabbath is For?
Mothers and fathers who wake up at 3 am to crying babies.
CEO's who work 80 hour weeks and need to set new work habits for themselves and their entire company
The general contractor who feels the need to answer emails after 5pm
The hard working auto mechanic
 Executive assistants who find themselves sleeping under their desk
Anyone seeking to balance work and home life
That friend of yours who needs to be told, "you deserve a break"
Your local coffee shop
Your office
About the Perks
My perks exclusively feature the Sabbath collection itself.  All the perks are priced at a level significantly lower than what Sabbath will retail for once it enters full production.  Now is your chance not only to be among the first Sabbath owners, but also get your Sabbath collection at a crazy discount.
Details about the Sabbath collection
Chair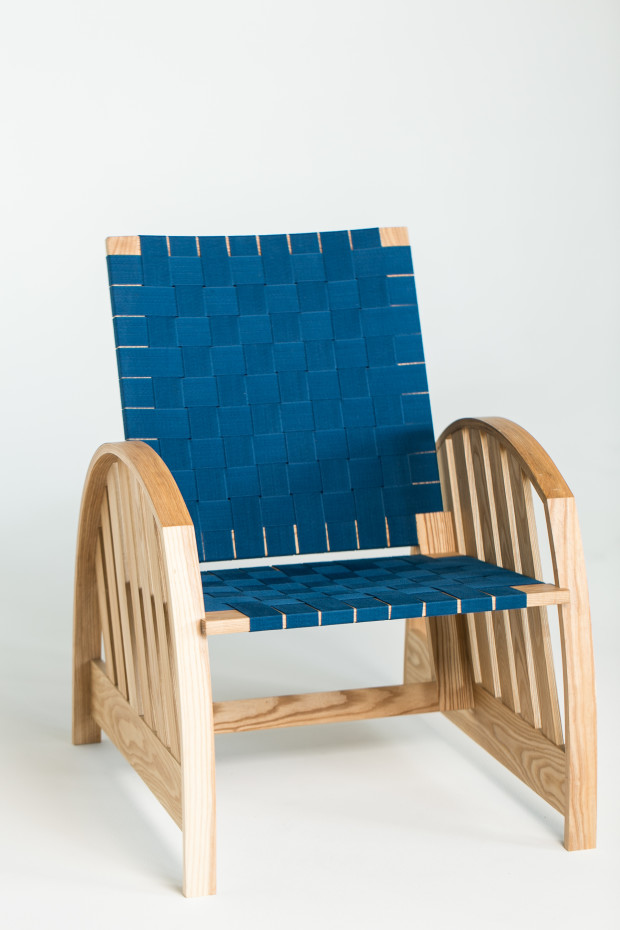 The Sabbath prototypes are made from ash and feature 2″ wide blue cotton webbing.  The chair is the flag ship, so to speak, of the sabbath collection.  I used steam to bend the backrest, arms, and legs into their curved shape.  The process, called steam bending, involves using a steaming chamber and several bending molds to achieve the strong arches that make for a elegant and sturdy design.  Every joint in the furniture uses mortise and floating tenons to create quality joints like they did it in the old days, but with modern tech that makes the process efficient.
Table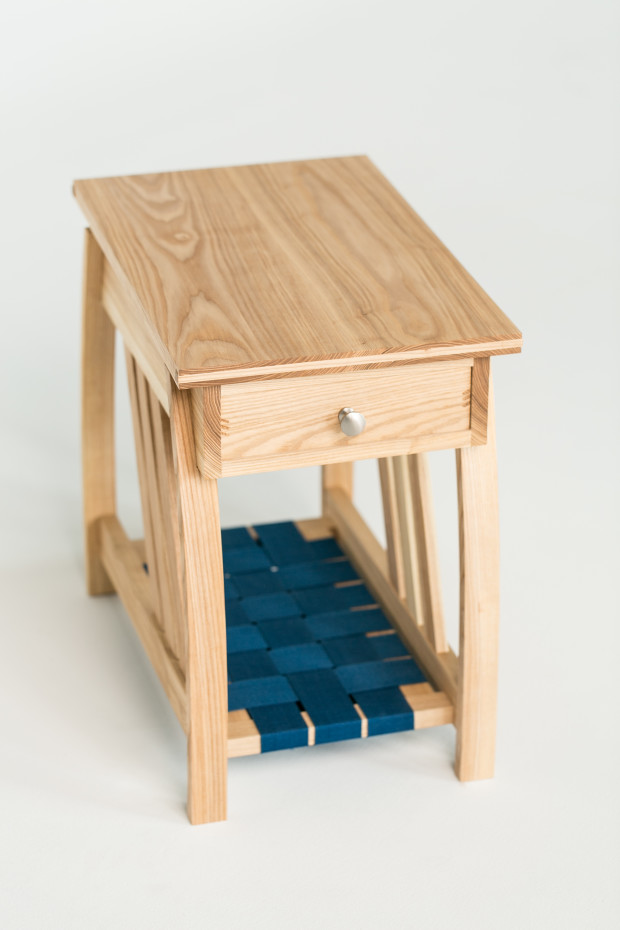 The end table's primary function is to provide a place to stash away your tech device.  Smart phones and the like are essential tools to get the job done, but they can also be a huge distraction when trying to meditate and disconnect for 20 minutes during your work day.  Put your iphone to bed in the end table's leather lined drawer.  The legs like the chair are steam bent and the top features a sliding dovetail on either end, a mark of quality.
Privacy Screen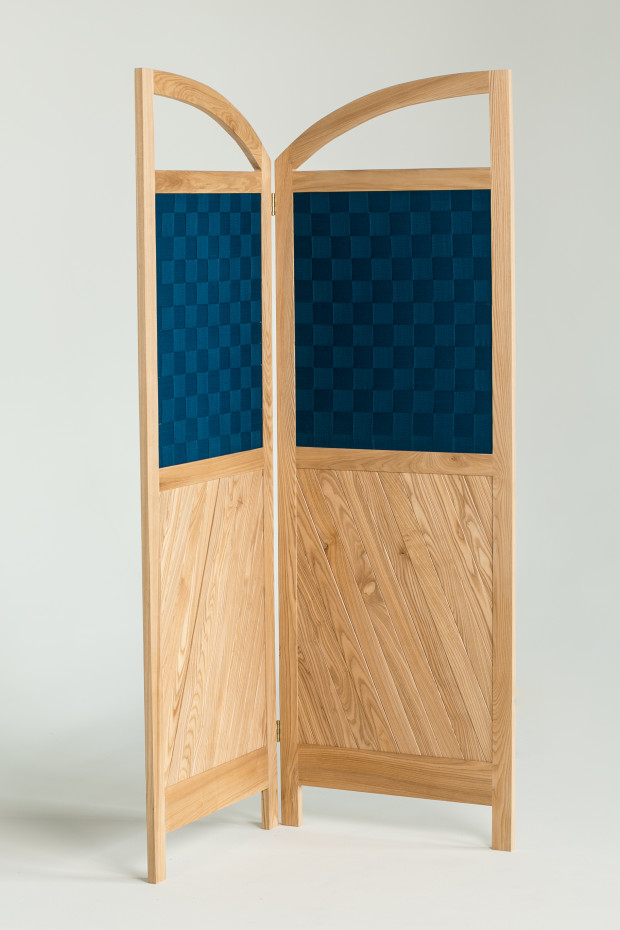 The privacy screen is intended for folks with large offices or open concept homes.  It allows you the versatility to cut out a little niche in your space.  The arc from the chair and table legs is repeated here and creates a negative space unique to the privacy screen and reminiscent of a pastoral setting.  Escape from the work day, get refreshed and get back to work.  
Wall Hanging "A Break in Time"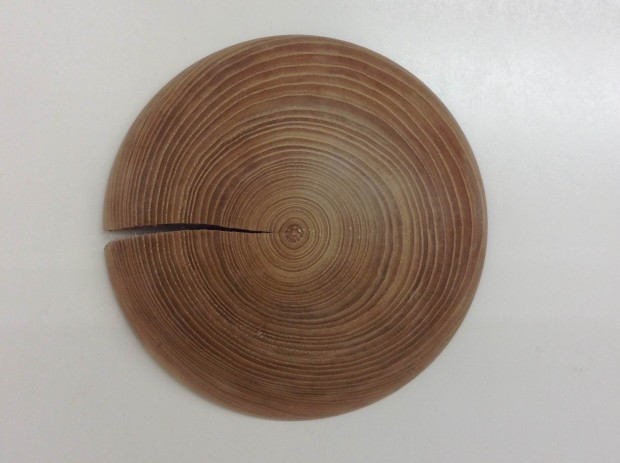 The wall hanging is a beautifully simple work of art I call a "break in time".  It's made on the wood lathe where it is turned into a disc.  It is a simple exhibition of wood grain grown over the course of many years and serves as a simple reminder for you to take regular breaks to recharge.
Custom Coaster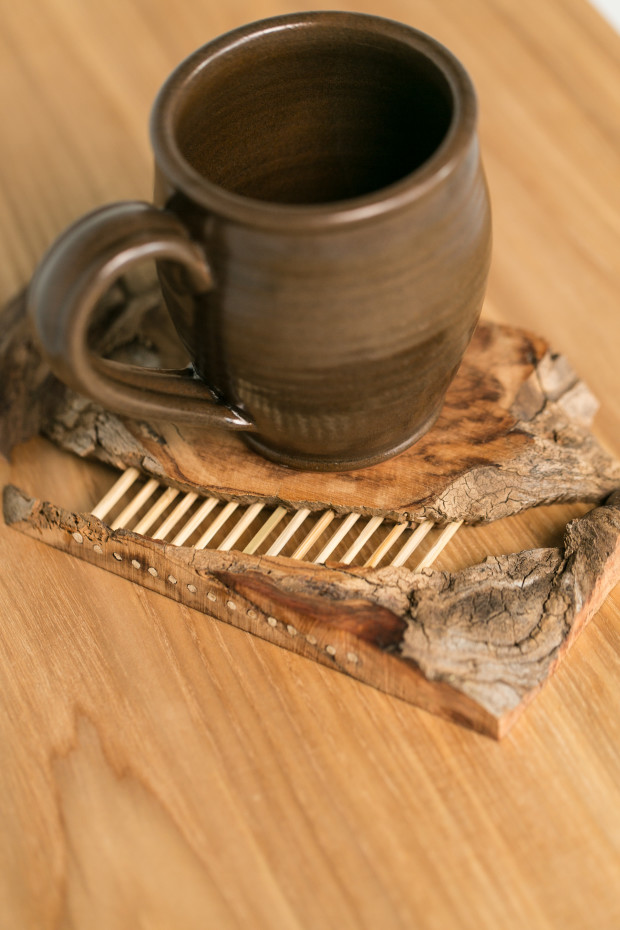 There are no two custom coasters alike.  Unlike the rest of the collection the coasters are made from a variety of found wood species.  Each one is inspired by the material itself.  I use my creativity to make a special place for you to have a little "me" time with your personal coaster to set your coffee on.
Candle Holder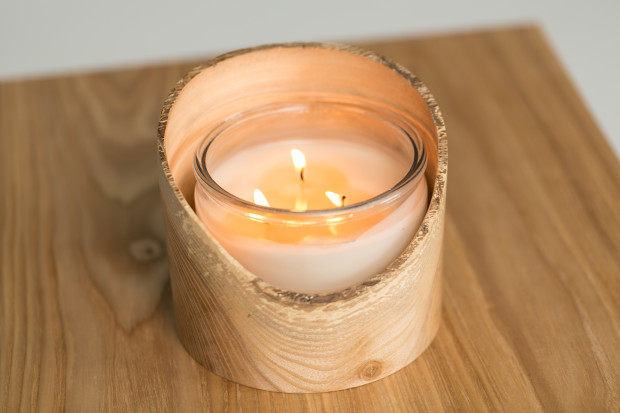 The candleholder, like a "break in time" is made on the wood lathe. There are no two exactly alike.  It features the natural edge of the log bringing a touch of rustic beauty to your meditation space.
Production Coaster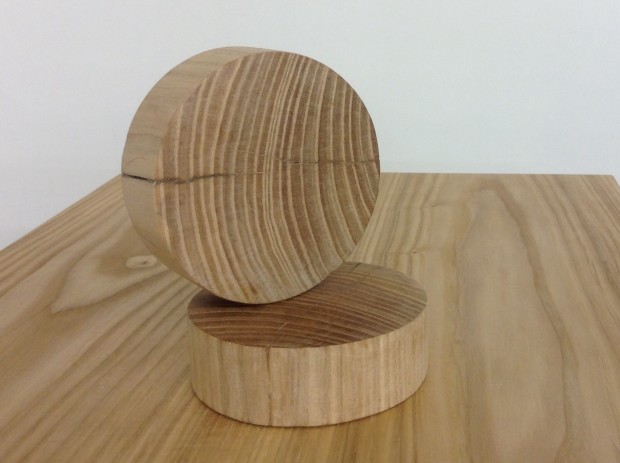 The production coaster is made on a limited scale and features a crack through the growth rings of the wood reminding you to take a break.  I make each one by hand.
About Me, Grant Kaihoi
Graduated with a BFA in Art and Design concentrating in woodworking from Northern Michigan University in 2012
Currently lives in central Minnesota with his wife and 3 sons
Love working hard and resting well
Passionate about creating beautiful objects with worthy intent and great utility.  Hence Sabbath
Sabbath is my debut work and is the first of many creative projects
The statistics I mentioned can be found at these web addresses