iCrowdNewswire - May 20, 2015
Summary
Carana Agribusiness is an independent company based in Guyana that is developing an aquaculture and agriculture production business that combines high value production, committed buyers in local and international markets, and positive social impact.
Our parent, the CARANA Corporation (www.carana.com/), is an American company that designs and implements economic development strategies on behalf of governments, businesses, and international donors. It has worked in Guyana over the last decade and conducted over $6 million in research and development in agriculture and aquaculture production. Guyana's untapped potential and CARANA's proven ability to address market and investment failures globally led them to realise what a unique opportunity they had to create a leading agribusiness in Guyana.
To this end, CARANA decided to establish and seed fund an agriculture production and marketing company that would take a holistic approach to primary production. That is us…Carana Agribusiness. We are a team of experienced agriculture and business development specialists seeking investment to continue to develop our agriculture and aquaculture assets in Guyana.
When we launched in October 2014, we immediately began work on building our aquaculture operation. Construction of our agriculture operation commenced in November 2014. By the end of 2014, we had completed the initial 30 acre aquaculture farm and stocked it with 40,000 Tambaqui fingerlings. These fish will mature and be ready for market by July 2015, at which time we expect them to achieve revenues of approximately US$ 250,000.
We have also prepared agriculture land and infrastructure including the drip irrigation system which is being installed during March 2015. Inputs have arrived ready for planting peppers in the first week of April 2015. These peppers will be ready for market by July 2015, and we expect them to achieve revenues of around US$400,000. We also began additional pond construction and land preparation during February 2015. In reaching this level of development so quickly, we are set to achieve revenues of around $650,000 by the middle of this year and clearly demonstrate our ability to successfully execute our development plans in a professional and sustainable way.
Building upon this first phase, the second phase will see us expand our land under management to 500 acres. Revenue is projected to grow from $650,000 in 2015 to over $8 million by 2018. From this 500 acre base, we envision later equity or debt raises that will see us scale operations out to over 6,000 acres of production as we move from smaller market orders to an industry wide approach.
Highlights
Backed by the renowned emerging market project developer CARANA Corporation.
Business built on the back of the UK Government Guyana Agriculture Diversification Program and the $6.7m USAID Guyana Trade and Investment Project.
Specialist high value crop and aquaculture production with established markets.
Current pepper crop and fish production valued at ~$650,000 with harvest and sale from July 2015.
Name brand buyers with off-takes in place for entire production.
Specialist team in agricultural and aquaculture development and alumni of Harvard, American University, Ruppin Academic Center, Israel and Ohio State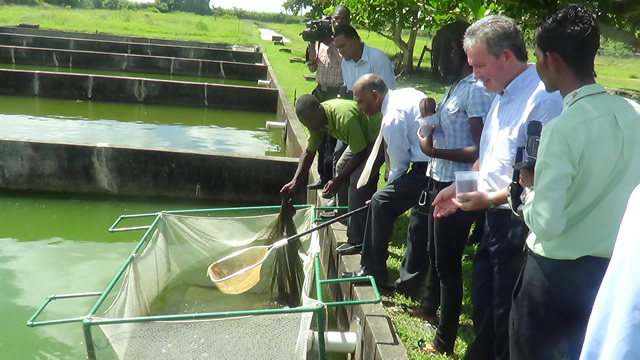 The Overarching Problem:
Capitalizing on Market Innovations to Achieve Industry Wide Scale
Guyana has enormous agricultural potential, benefitting from underutilized land, abundant water, and a secure political environment. 
However, the agriculture sector outside rice and sugar remains underdeveloped. To-date, capital investment has overlooked Guyana for a number of key reason: 
1.Research and development costs in new and emerging markets are massive;
2.Logistics costs are prohibitively high due to simple lack of scale or products to import or export;
3.Local know-how is lacking and international best practices take a long lead time to develop;  
4.There is a lack of understanding of the steps and stages required to build scale; 
5. The investment environment is closed due to lack of international interactions.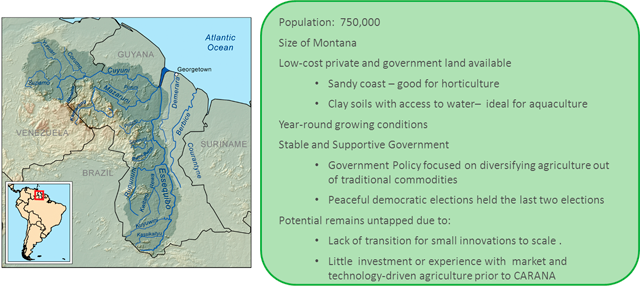 Over the last 10 years, Carana Agribusiness, through our parent company CARANA, has leveraged funding from international donors to develop a successful technology and marketing service platform and field a proven production approach that makes horticulture and aquaculture commercially viable.  We stand ready to capitalize on over 6 million USD in research, development, market feasibility and support to 11 contract farmers. We will apply our local know-how to leverage an investment that brings our farms to scale and support local contract farmers.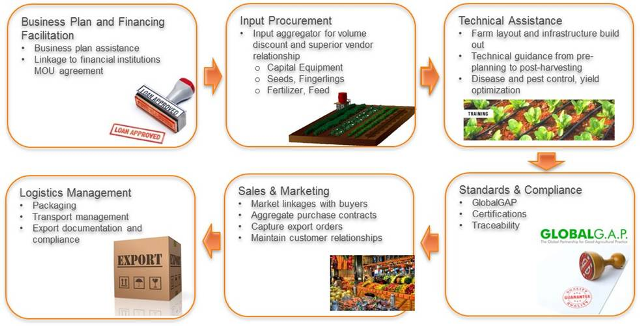 The Solution:
We are best positioned to leverage our proprietary know-how to scale the agribusiness sector in Guyana commercially. We have worked out first hand solutions to decrease logistics costs because we assembled a team of international and local experts to solve these issues. We have unlocked the investment environment to understand the local process, gain local partners and secure long-term committed buyers for our products. 
We believe the most cost-effective way of building this sector from the ground up is a multi-phase building block process.  The goal of the first phase was to build a production-based business at a scale required to both meet minimum market orders and achieve cash flow breakeven.  This stage is almost complete and we have pre-sold our first production of high value specialty crops and fish for delivery from July 2015.   The next phase will grow the enterprise into a market maker.   The final phase will lead to the expansion to an agribusiness of thousands of acres. 
In addition to our own agriculture and aquaculture activities, we have a network of skilled contract farmers who run their own business but buy inputs and sell product to us. This socially responsible approach makes perfect financial sense in Guyana. By taking an industry-wide approach at the small end of the scale, we reduce our costs of production, have more product to sell and take on a smaller financial burden, all whilst supporting local producers.  We build an immediate and long lasting local commitment to the new industry and a vocal investment constituency.  Contract farmers receive a valuable and stable revenue stream and gain security as part of a larger and ever growing national enterprise.   
Business Model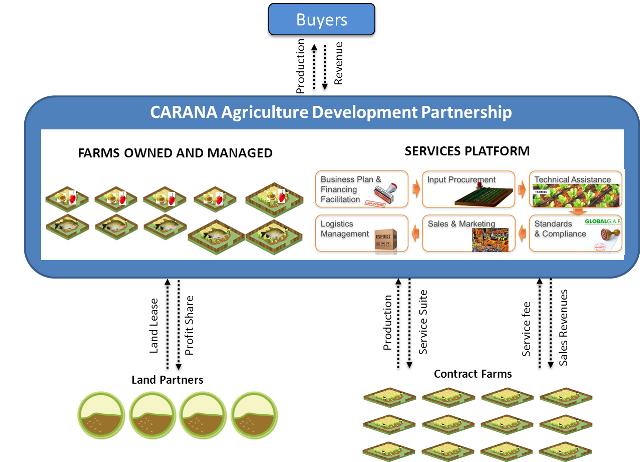 We adopt a holistic approach in our business activities. We control production, input purchasing and marketing for the anchor farms under our ownership.  Additionally, we work with our contract farmers to leverage additional production capacity, revenues and scale.  The business model will remain the same while we complete the first and second phases of development and move to the multi-thousand acre scale in the third phase.  
It is worth mentioning that we address land utilization in a different fashion. Instead of purchasing land and burning through capital to do this or taking large tracts of low cost leased Government land that is far from infrastructure, we have utilized our ties to Guyana and understanding of the local business community to enter into long term leases for high quality land at no up-front costs. These leases allow us to invest in a piece of land and pay the land owner a percentage of net profits from year 5 of the lease. This unique solution means that our land is close to infrastructure like roads and power as well as population centers.  The land is of good quality, but is excess to the owners requirements and ensures an equitable income stream to the land owner.  
Addressable Market
Accessing markets and buyers is a distinct challenge in emerging market enterprise development. For a country like Guyana to gain entry into the US or the EU, government regulatory policies must be put in place that often take years to gain approval. Growers must be able to conform to traceability regimes and environmental protections in the destination country. These regulatory regimes are complex and difficult to implement.   Our experience in international development means that we have been able to address these problems and have implemented the required quality and control regimes to ensure our farms and contract growers meet these exacting standards. 
Products:   We have chosen a range of produce to benefit from the prevailing growing conditions and to provide optimal market demand.  Such has been our success that we have secured off-takes for our entire production and the demand profile for our products far exceeds our ability to supply.  Our products are:
Passion fruit: A juice concentrate plant in Guyana has committed to purchase all of our production, to up to 2000 acres. 
Chili peppers: Caribbean sauce processors are currently purchasing all of the production by our contract farms in mash form.  A national US importer/wholesaler has expressed interest in purchasing fresh peppers.
Tambaqui fish: Local demand for our fish can be satisfied with a 60-80 acre farm. With enormous expansion potential, we already have a  Surinamese partner and a US importer committed to purchase. 
Our long experience in market building and implementing quality systems underpins these product choices. For example, our choice of hot peppers is based upon known demand and existing USDA approvals for fresh and processed peppers.  Our decision to produce fish is premised upon the presence of existing HCAP certified processors in Guyana as well as Surinamese approvals for Guyanese aquaculture production.  Our entire Passion Fruit crop will be supplied to a local processor with ISO certifications.
We introduced traceability in farm management and growing regimes in Guyana long ago.  Traceability from seed or fingerling to end user is a key to market access and its importance cannot be underestimated.   All produce and fish on our farms will be 100% traceable.  With our extensive record keeping,  we are able undertake third party certification as required. 
Our vegetables are already USAD APHIS list approved which means we can leapfrog from the Caribbean into the US as scale allows.  We are Global GAP auditable and are working to establish an EU pesticide testing regime so we can move into Europe markets as production increases. 
The result of developing this platform is that we have secured buyer commitments that match local, regional and international demand as the business scales out.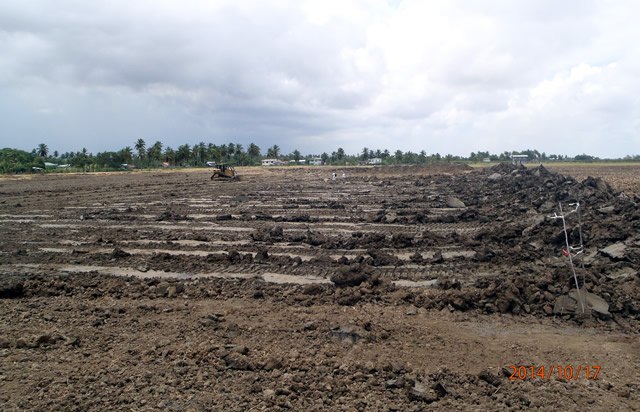 Competitive Landscape
We will be the first producer to grow its target products at scale in Guyana. Our first-mover advantage, cumulative know-how and buyer relationships will mitigate future competitive pressure from new entrants. Furthermore, potential competitors would likely find our quality, technical and marketing services platform attractive and thus instead opt to join us and become contract farms.
To date, no one in Guyana or the Caribbean has offered a full service investment and services platform to capitalize on the US market, growing season or regional market. The continuous problem is lack of investment coupled with lack of technical expertise to move agriculture and aquaculture to scale. The scale issue is complex because it is not only characterized by a lack of productivity, but a lack of market understanding.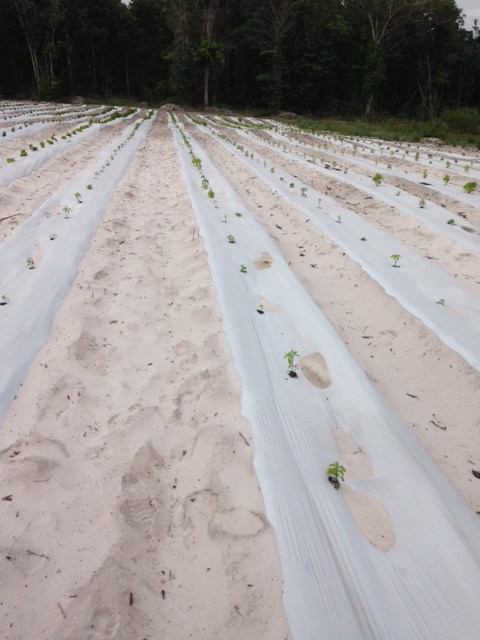 The US and EU markets are  complex and impose multiple demands on growers and sellers of produce and fish from a product quality and Government regulation perspective. The items must match buyer demands, meet US and EU import requirements and be traceable. Likewise, complex logistics and packing knowledge and experience must be in place. To date, these problems have never been addressed holistically across the region, leading to  market failure.
We are  leveraging our deep knowledge and history  of solving these problems. This gives us a considerable head start in building out the necessary farms and services to support the industry. Any new  entrants to this market will lack the technical know-how, links to markets and bureaucratic understanding to effectively move product and gain market share.
Partners
We view our partners in a different light in Guyana.  Our land leases are from private individuals deeply tied to agriculture. Our contract farmers are a mix of Guyanese who are investing in an industry wide approach and our long term commitment to Guyana. 
We have signed leases and already developed farms on the initial 120 acres. These leases are rent free for the first five years after which we begin to pay a percentage of net profits in lieu of rent. This model ensures that our partners share the risk with us in the overall investment. The next series of leases will total a minimum of 400 acres of aquaculture and agriculture.
Contract Farmers– These farms represent over 300 acres of production capacity in aquaculture and agriculture. These farmers have themselves invested over 1 million USD in infrastructure and equipment the last 5 years to form the foundation of a successful long term industry. Our farmer partners are now participating in an  advantageous Government loan program to build out their farms.
International Partners– we have begun the process of building a long term and sustainable supply chain by linking with international companies to provide inputs that are coupled with technical assistance. The list of international partners includes: Netafim, Gainegar Plastics, Ronin Seeds and Rangen Feeds.
Secured Markets
Demerera Distillers Limited is the largest producer and distiller of spirits in the Caribbean as well as the producer of juice in Guyana and the local Pepsi Cola bottler. 
Assuming we meet quality and price agreements, Demerara Distillers has agreed to buy up to 80,000 pounds of passion fruit production from us to substitute passion fruit concentrate. They have also asked us to look into other longer term tree crops. 
RainForest Guyana is a pepper sauce and condiment company that exports into the US and Caribbean founded in 2012. 
Rainforest Guyana is currently a buyer from our farms and has agreed to continue buying product as long as we meet agreed cost, quality and traceability criteria. We are exploring other options to partner and expand with them. 
Spur Tree Jamaican is an award winning pepper sauce, condiment and seasoning company based in Kingston, Jamaica and focused on the US and Caribbean markets. 
Spur Tree Jamaican is a client and has inspected our farms in Guyana. Due to the quality product and traceability we offer, Spurtree will work with us to buy product as its own business expands. 

Planned Use of Funds
The projected net proceeds from the Series A-1 round of up to $1.225 million will enable us to continue to develop 60 acres of horticulture farming and 50 acres of aquaculture farming.