iCrowdNewswire - May 20, 2015
Summary
California Safe Soil (Cal Safe Soil) uses a simple, yet disruptive technology to make high-quality fertilizer from recycled food (patents pending). This unique, scientifically based process uses heat, enzymes and mechanical action to digest food in a controlled environment. The process takes 3 hours versus 3 months for composting, producing a nutrient rich, pathogen free solution which is delivered to crops through the growers existing irrigation system. This allows Cal Safe Soil to be the low-cost producer of a high-value product while addressing a large market opportunity.
Our product, H2H or Harvest-to-Harvest, has proven to be effective in materially increasing crop yields and soil organic matter. H2H is liquid organic matter delivered straight to the root zone stimulating soil organisms and root growth, improving water and nitrogen use efficiency while cutting growers compost and fertilizer costs. Our production facilities are safe, efficient (90% yield with 100% recycling) and odor free producing no air emissions or water effluents. This allows us to obtain planning permission to construction our plants in locations advantageous for transportation efficiency. Altogether our business model is a win-win for investors, farmers, supermarkets, and consumers.
Highlights
Total addressable Californian market of ~$1.7 billion. 
Field trials conducted by large farms owning more than 300,000 acres with demonstrated yield increases of between 15% and 25% depending on crop type. 
Long term organics supply partnerships with Save Mart Supermarkets (218 stores) plus successful trials with Safeway, Nugget, Whole Foods and Grocery Outlet .
Certified Organic Product registered by the California Department  of Food and Agriculture.
Plan to build 5 plants over 5 years processing 150,000TPY of the California available 600,000TPY organic supply serving 600,000 of the 8,100,000 CA farm acres in 5 focus crops. 
Winner of the growth-stage award in the 5th annual Imagine H2O Global Competition and a Current Finalist in the Thrive Accelerator Salinas Valley Ag Tech, co-sponsored by Forbes.
Selected by Patagonia "$20 Million and Change" Program for a $500,000 Investment.
Management & Board are alumni of Yale, Tuck and Kellogg (Education); CIT, Goldman Sachs and Cargill (Industry) 
Product / Service
Our product, H2H or Harvest-to-Harvest, is a liquid fertilizer and soil stimulant made from recycled food recovered from supermarkets. It is made by mechanically grinding, heating and enzymatically digesting the food (patents pending). The resulting liquid is then pasteurized, screened, stabilized and homogenized to an average particle size of 26 microns. 
We manufacture H2H for conventional agriculture as well as our H2H certified organic product which is registered with the California Department of Food and Agriculture. Both products can be applied by any existing irrigation technology including low-pressure drip tape to bring nutrition directly to the root zone and utilize water more efficiently.
Independent research and numerous field trials have shown that H2H can improve soil quality and materially increase yields across several important crop types.
H2H contains a variety of nutrients that stimulate the soil fertility cycle including: amino acids, organic acids and sugars. These are readily consumed by soil organisms which in turn stimulate a root growth response by the plant. Greater root growth increases water and nutrient uptake, promoting plant vigor, flowering and fruiting and increasing crop yield and quality.
The Problem:
Supermarkets:
California law requires supermarkets to recycle. The alternatives to landfill are composting and anaerobic digestion. Due to their significant environmental impacts, these facilities are usually remotely located, requiring expensive hauling solutions. Composting and anaerobic digestion facilities require the generator to pay substantial "tip" fees in order to cover their costs. As a result, supermarkets are seeking cost effective processes to handle the 500 lbs. of food generated by each store per day. That's 75 tons per year, per supermarket.   Cal Safe Soils offers them a cost effective alternative.
Growers: Growers remove nutrients and organic matter from the soil each time a crop is harvested. These need to be replaced and the vitality of the soil needs to be repaired and maintained. Additionally, decades of overuse of chemical nitrogen fertilizer by California growers has severely contaminated the ground water of California's agricultural valleys. Regulators and growers are seeking a solution to maintain productivity while decreasing nitrate contamination. Our product, H2HTM, has been shown to effectively reduce nitrogen while materially improving crop yield.
The Solution:
For our supermarket customers:
We offer a cost effective and attractive solution.
• CSS provides portable collection bins which make it convenient for supermarket staff to load their organic produce
• Recycling produce, bakery, deli, meat and fish reduces disposal costs and makes stores AB 1826 compliant
• Rapid pick-up of food stored in special, double-walled containers every other day improves store hygiene
• We co-locate our facilities with supermarket Distribution Centers, minimizing collection costs
• Collection fee paid to CSS is less than what they pay today for hauling and landfill or composting or anaerobic digestion
Aligned with AB 1826, the new California law requiring supermarkets to recycle their organics, our solution for supermarkets reduces the greenhouse gas emissions, improves water quality and recycles material that would otherwise be relegated to landfills.
For our grower customers: We are a solution to improve soil health, plant vigor and crop yields.
• Liquid organic matter is delivered straight to the root zone
• Stimulates plant root growth, flowering and fruiting
• Increases crop yield by 15% – 25% and soil organic matter for plant vigor
• Improves water and nitrogen use efficiency
• Cuts compost and fertilizer costs
• Cuts food-safety risk – pasteurization removes pathogens
• Ease of application – using farmer's existing irrigation equipment
Our value proposition to the grower: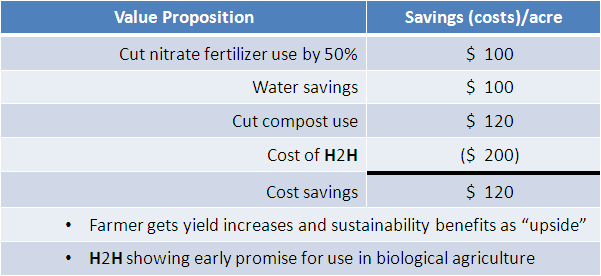 Business Model:
Economics for Cal Safe Soils
An average of 500 lbs. of recycled food is collected from each store per day.  That is 75 tons per year, per supermarket.  From that recycled food we get a 90% yield of H2H and 10% solids for pig feed.  There is no waste, no water added or removed during the process, no air emissions and no effluent or nuisance odors.  Interestingly, one day's worth of organic waste from one supermarket will produce enough H2H to treat one acre for one year. Our low costs and low impact proprietary process allows us to achieve:
• A 73% gross margin = $580/ton
• A 44% EBITDA margin = $350/ton
• Sales value of $4/gallon = $800 per ton
Growth Plan – Full-scale Commercial Plants
Each plant has the capacity to serve 340 supermarkets, and will be built in 3 phases. They will each produce sufficient H2H to treat 120,000 acres per plant.  A major advantage of our technology is that the process results in no smell and no effluent, so environmental impacts are negligible.  This means that our plants are able to obtain planning approval to be co-located with or near food distribution centers within urban areas. This vastly reduces transport and infrastructure costs.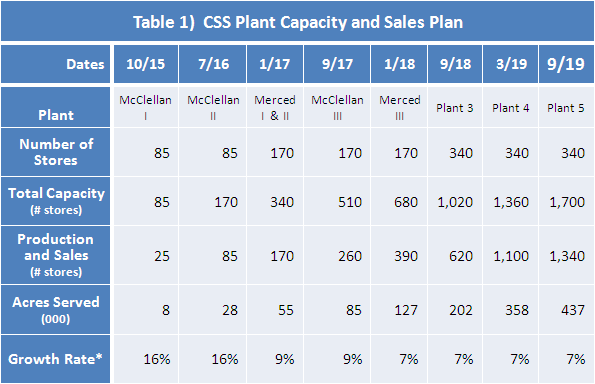 *Growth Rate: Monthly production and sales growth rate, 12 month rolling average
Market Size:
Our business plan is to build five H2H  facilities over the next five years. These five facilities would serve 1,700 California supermarkets, largely from existing customers. This will result in the supply of approximately 150,000 tons per year of food product feedstock for our facilities.
With this level of feedstock, CSS will be producing sufficient H2H to supply around 600,000 farm acres, which represents just 7.5% of the California farmland total of 8.5 million acres. For our H2H certified organic product we will be accessing the US organic farmland market of approximately 5.3 million acres (2011), a sector which is experiencing annual growth of 16%
In essence, our business model is to co-locate and utilize our proprietary technology with local food distribution to create a low cost, low impact and high performance organic fertilizer.  In context, our business will be profitable with the operation of Phase 1 of Plant 1 and just 12,000 acres of farm customers secured, with enormous expansion potential both locally and nationally.
Competitive Landscape:
Similar companies:
There are currently two companies we are aware of in a similar organics recycling space:
 WISErg, Redmond, WA – http://wiserg.com/wiserganic/ 

From their website: The Harvester™ is WISErg's first step in a proprietary process that converts food scraps into a nutrient-rich liquid. 

Enterra Feed, Vancouver, BC – http://www.enterrafeed.com/ 

From their website: The company's patent-pending Hatchery process increases global nutrient supply and simultaneously reduces the growing pressure on landfills and composting. Enterra's Hatchery process uses a local beneficial insect to recover nutrients from traceable feedstock. 
As we understand the concept, WISErg technology involves a technology placing a user purchased machine (The Harvester) at each location for organics processing. These machines require a constant service crew for maintenance and production handling. We prefer our collection and processing system to theirs. However, our view is they are affirming our basic value proposition, converting food waste to fertilizer.
In terms of Enterra Feed's process, we cannot evaluate their Hatchery process (fly larvae) for scalability. Once again, we view their business as an affirmation of the value in organic processing.
Sourcing Organics:
In terms of sourcing organics, we compete with landfill, composting, and anaerobic digestion. Unlike our competitors, we can get our plants permitted near the supermarket Distribution Centers, reducing transportation costs. We have much shorter processing times (and therefor, lower processing costs), and a much more valuable finished product. Our totes and buggies improve store hygiene, and save labor for supermarket staff. The 'closed loop,' sustainability message about getting supermarket wastes recycled and back in the soil to grow the next crop is very attractive. Based on these benefits, we are able to offer supermarkets competitive costs, and enter into long term supply contracts.
Selling H2H into the farm market:
The farm side is more competitive. There is a wide array of alternative fertilizer and soil amendment products, including guanos, manures, green waste composts, fish emulsions and kelp, all of which compete for the farmer's attention. Our favorable research alone is not enough to get field trials started. Each farm needs to satisfy itself that H2H is beneficial for them. This takes time, as farms progress through initial trials, to small acre applications, to large acre applications. We ultimately want farmers to sign long term contracts, as we are able to offer long term fixed prices below our spot prices. As we obtain long term contracts, we will reduce our business risk and increase our access to debt capital. We plan to obtain private activity bond allocations, in order to issue tax exempt debt to finance our plants.
Intellectual property:
We own the technology, and expect to receive our first patent later this year. We then plan to follow up with a second patent, which includes all the technology improvements we have identified during our operation of our pilot plant in West Sacramento over the past three years.