iCrowdNewswire - May 19, 2015
Windamp – Why step outside to feel the breeze?
Valley Wind Technology provides a safe and natural breeze from the comforts of your home or office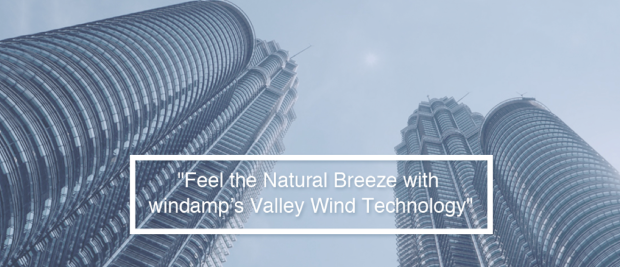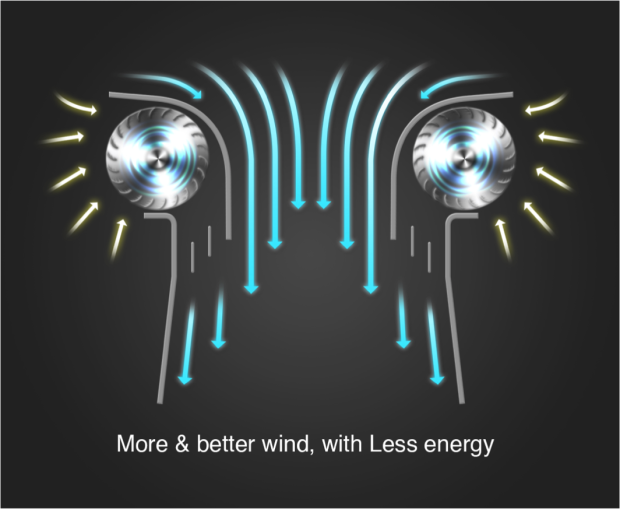 Air amplifying technology maximizes not only airflow but also user safety and energy efficiency. The unique valley air flow is generated by four cross fans facing in opposite directions.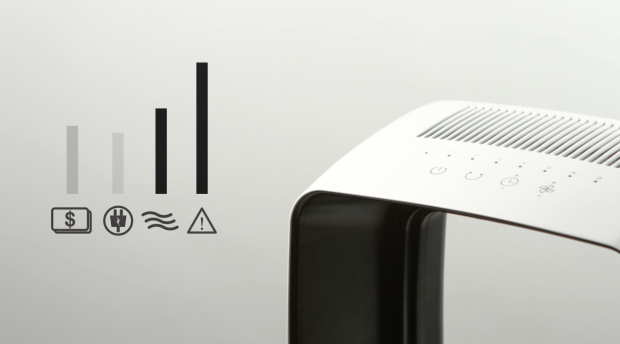 By using this principle, users can enjoy comfortable, natural wind-like conditions with less energy. Compared with existing fans, our next generation fan engenders effective air blowing at a greater distance. Blades are not exposed, so it minimizes the risk of accidents.


I wanted to feel the breeze of the forest between the buildings of the big city. So for three years we did research and development in order to bring that cool valley breeze into your home. Not only that, but we were able to amplify the air around you to bring more wind to our users.
In addition, Windamp was developed with the earth's environment in mind. If you were to apply the amount of energy a traditional fan uses and apply it to Windamp, you could plant 4464 cypress plants in a year!
In 1 year, Windamp emits less than half the amount of carbon dioxide than a traditional fan.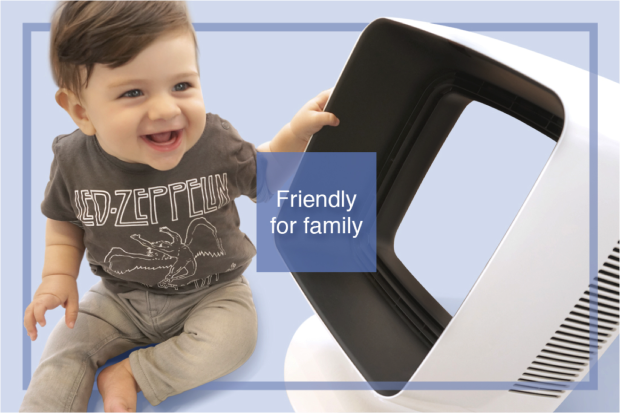 Through Windamp's technology, users can enjoy comfortable, natural wind-like conditions with less energy. Compared with existing fans, our next generation fan engenders effective air blowing at a greater distance. Blades are not exposed, so it minimizes the risk of accidents.
Windamp's comfort, practicality, eco-friendliness, and design will please anyone who uses it.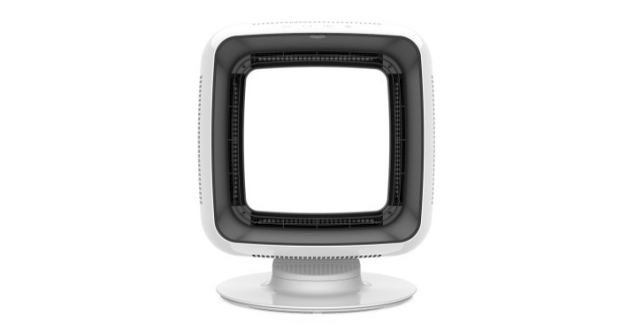 Windamp's unique square design with its high gloss Acrylonitrile Butadiene Styrene (ABS) construction brings about the next level of portable fan design. Will fit anywhere you desire while matching with your home's decor.
Simple mechanical fans are dangerous for children
Traditional mechanical fan blades collect a lot of dust which can be unsanitary for use and dirties the airflow
Traditional mechanical fans are designed poorly and do not accent your interior decor at all
Windamp takes care of all these issues while also adding to your interior decor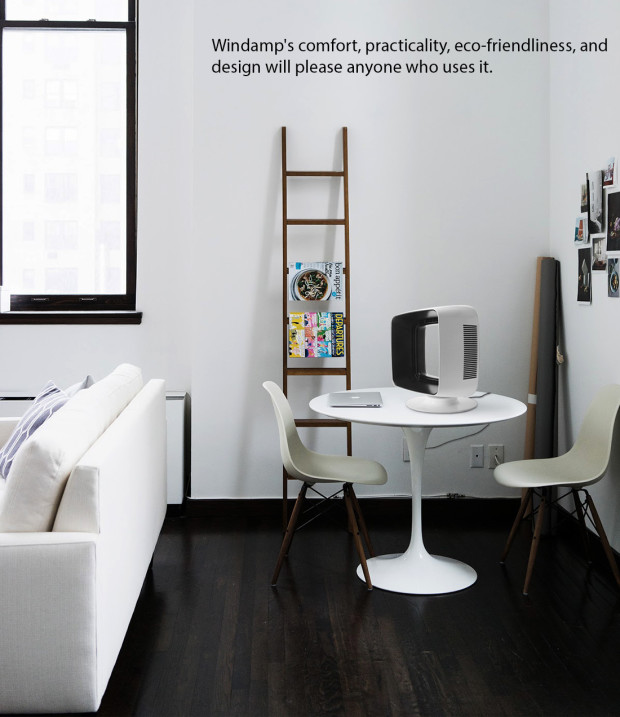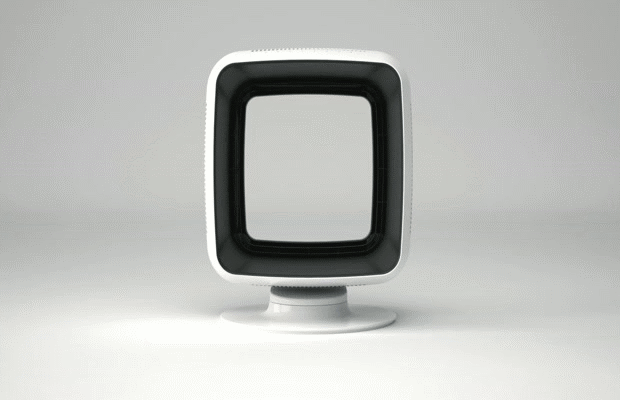 Windamps 4 internal propellers (top, bottom, left, right) spin simultaneously creating a single wind stream. Even without blades, Windamp generates a generous amount of wind that you'll feel and notice the difference when compared to traditional fans.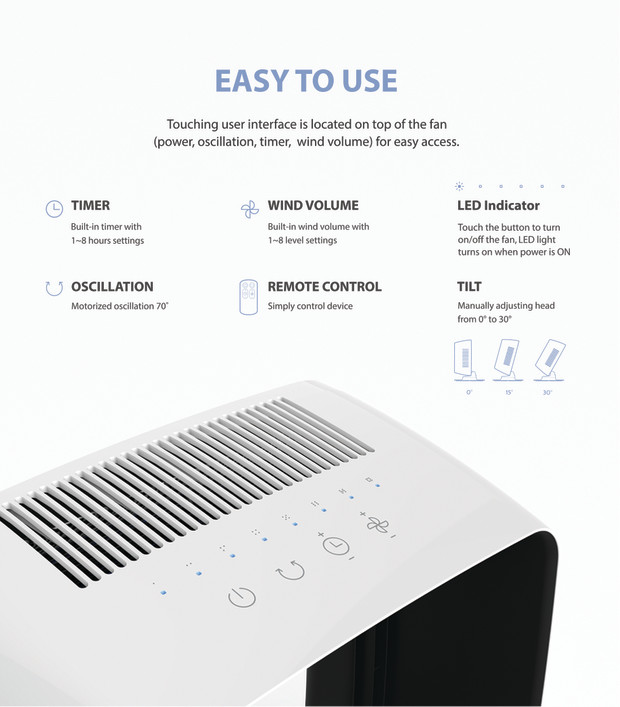 Touch user interface is located on top of the fan (power, oscillation, timer, wind volume) for easy access.
Windamp has an 8 hour timer as well as 8 different fan levels for you to control. For optimum sleep conditions and high air flow control, use Windamp's 8 wind volume control levels.
An LED indicator easily notifies you of the current operating status of Windamp.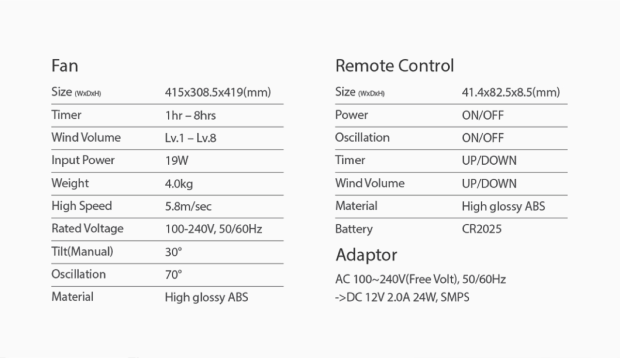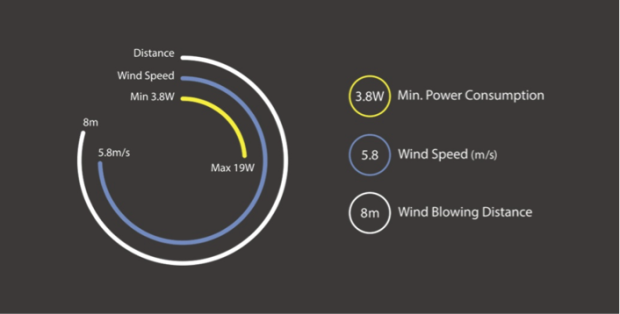 "Where less electricity meets cool natural breeze"

$100,000 Stretch Goal – Semi-Transparent Windamp
Our stretch goal will allow you to see the inside propellers working hard to keep you nice and cool.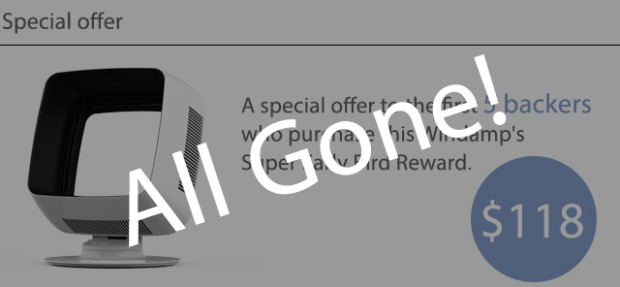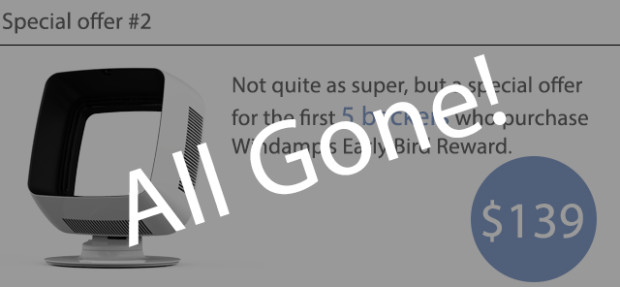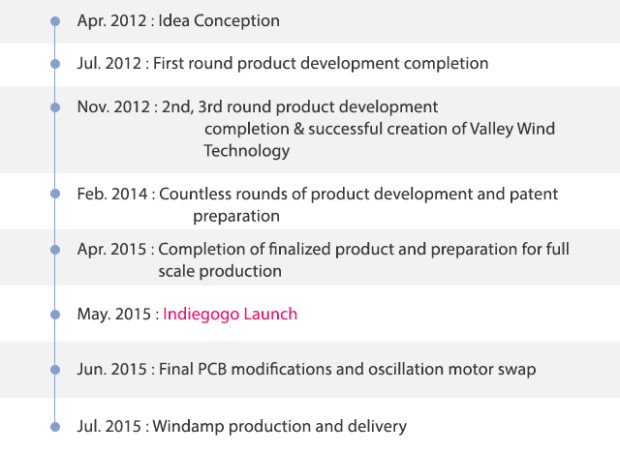 Windamp generates the same amount of wind power as conventional fans, using only half the energy. We're starting with Windamp, but hope to work with the IDC (Internet Data Center) in the future to establish and build future products. We developed Windamp with the goal of letting the world know who we are by feeling our breeze; making Windamp the standard for fans around the world and paving the way for tower fans, ceiling fans, and other types of fans for everyone to use.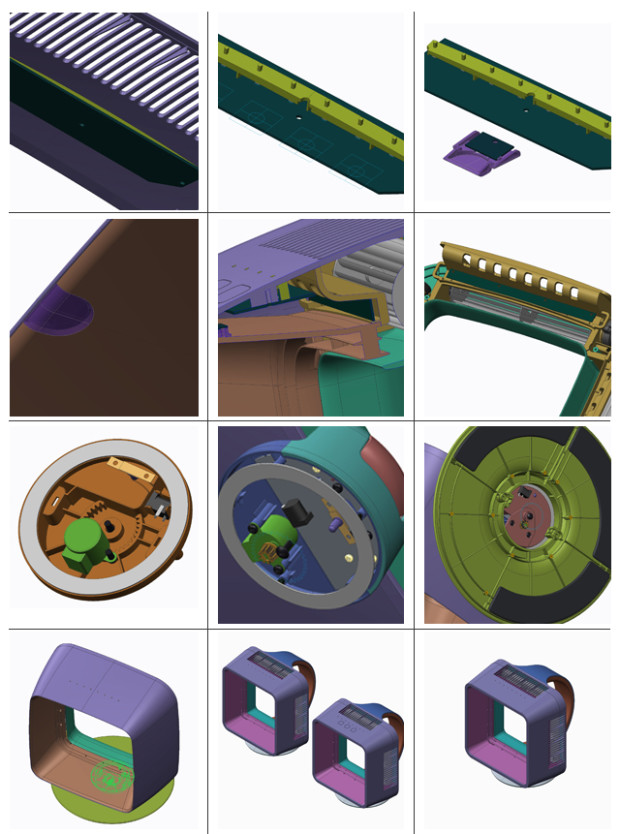 We trust that Indiegogo will be the first of many steps that help us in our path. We hope that people will recognize Windamp's value and ingenuity and hope that people will be able to simply "enjoy the breeze". If we're able to succeed with our campaign we'll be able to begin mass production of Windamp and fine-tune some oscillation issues we have seen with our prototypes as well as a more stable PCB.

The idea behind Windamp began in 2012 while walking through the city between tall buildlings and feeling the strong wind that flowed between them. It took 2 years for CEO Steve Ha and CTO John Chae to reproduce that same city breeze feeling. The hard work paid off and the end product was a highly energy efficient fan that reproduced that nostalgic city breeze.
Countless prototypes were developed and tested. To the point where Windamp almost wasn't going to be built. But in 2014, the Ministry of Trade, Industry and Energy invested gratuitously into Windamp for R&D. With their help and belief in us to develop a better product, we're not ready to introduce Windamp to the world.

Q. What if we have an infant at home, how strong should we set Windamp?
A. Of the 8 different fan levels, we recommend level 2 or 3 to feel the best breeze for you and your infant.
Q. Although there aren't any traditional blades, can I put my hand in the middle of the fan?
A. Of course. It's perfectly safe for home and items (or dogs) can pass through without any harm.
Q. What do you mean by feeling "nature's breeze"?
A. Our marketing manager's little sister refused to use fan's and insisted on using air conditioning on those hot summer days. Having weak lungs, using a fan for an extended amount of time would lead her having dry eyes and nose as fans traditional fans aren't particularly healthy for you either. After using Windamp, she uses it everyday and doesn't even turn on the AC anymore, which also saves a lot of energy as well.
Q. How do you clean the fan?
A. Like Dyson fans that are of similar design, Windamps blades are not exposed to the outside. However, Dyson fan blades are made of plastic, which easily attract dust. Windamp's blades are constructed from anodized stainless steel which do not collect dust hardly at all. As long as the device does not become filthy, a dry cloth is all you need to clean the exterior of the fan.
Q. Where can I ask send more questions?
A. We welcome all questions about our product. Either through Indiegogo or email us directly at oversea.windamp@gmail.com.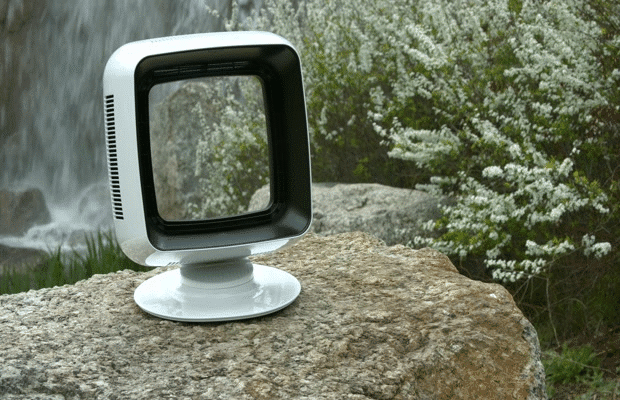 Find This Campaign On