iCrowdNewswire - May 18, 2015
Kien, the first flexible sound system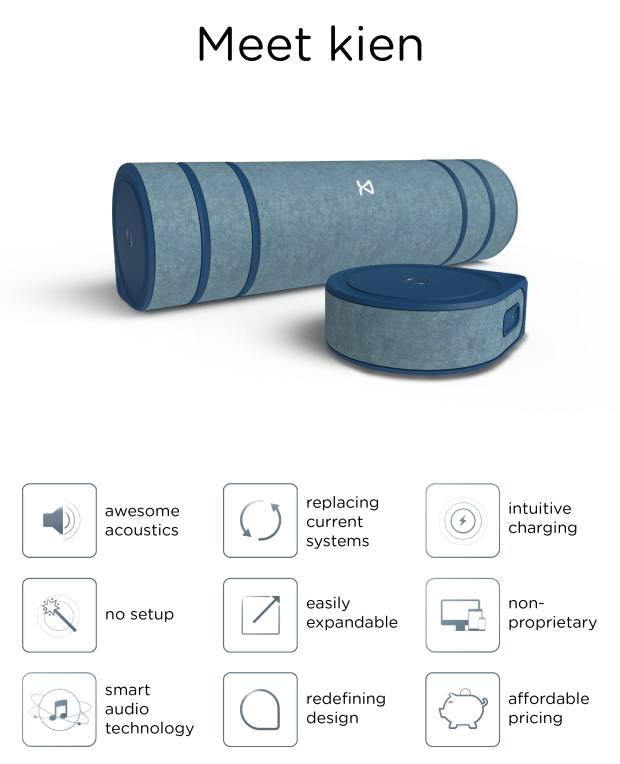 Audio is important in our lives. At kien we are determined to bring you a new breed of sound system that allows you to share audio with your friends anywhere and in any imaginable way you want: Dolby® surround sound, Hi-Fi stereo, multiroom, all made portable. Kien covers it all. Set your speakers up wherever you want: in your house or even outside. Start enjoying audio the way you want it.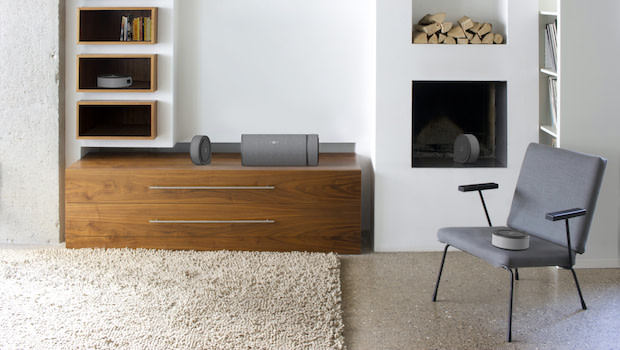 It's our goal to give you the best sound experience possible. Kien consists of high quality drivers and electronics. On top of that, our streaming protocol can handle lossless audio.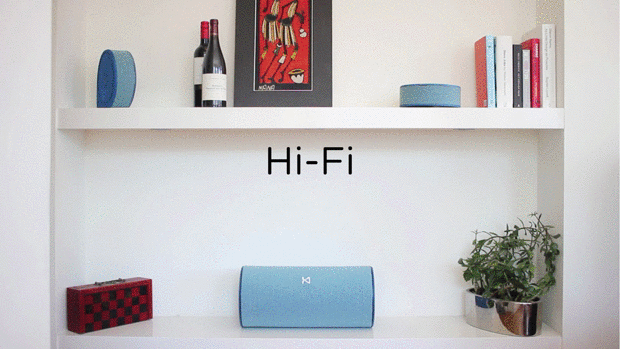 The kien system consists of satellites and subwoofer(s), which we call sats and subs. The sats are portable speakers that are free of any wire or cabling, so they allow you to set up any system you want, anywhere. You can place the system around your couch to watch a movie in Dolby® surround sound. You can listen to Hi-Fi stereo sound whereever you want. And you can grab a sat or two, connect to them and take them anywhere!

Because the sats are portable, they operate on battery power. Every once in a while, when you have to recharge a sat, you can do so by placing it on the sub. This can be done horizontally to create a sleek sound bar, or vertically to create a stack in which you can rotate the sats' directions.
In other words, whilst the sats are charging you can continue to listen to your music.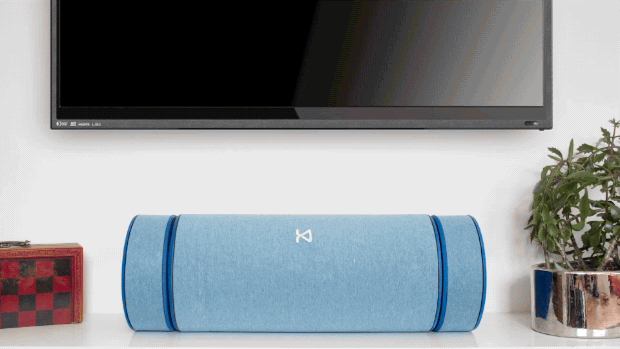 If you're always using a sat in a specific spot and don't want to move it, you can use our power dock.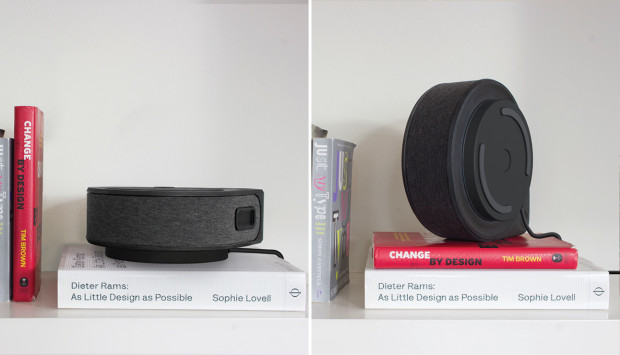 The kien system is ever so easy to use. When you relocate the speakers, the system automatically knows what to do. With our patent-pending technology, the system is constantly aware of the speakers' locations, so it knows which one should play the Left or Right part of your audio. Or even Front and Rear in surround sound.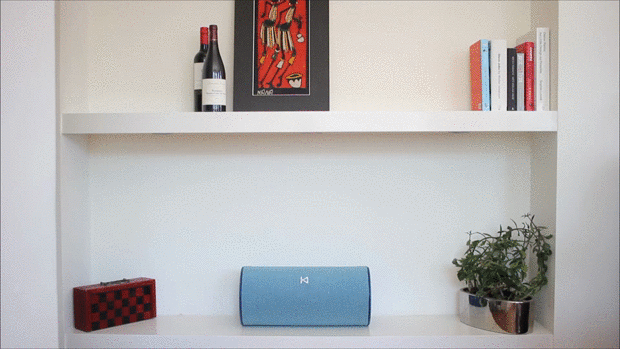 Because kien is modular, you can expand it as you like. When you need more speakers to enjoy your favourite music, simply buy some more subs or sats and place them where you want. The system will recognize the added speakers and put them to work immediately.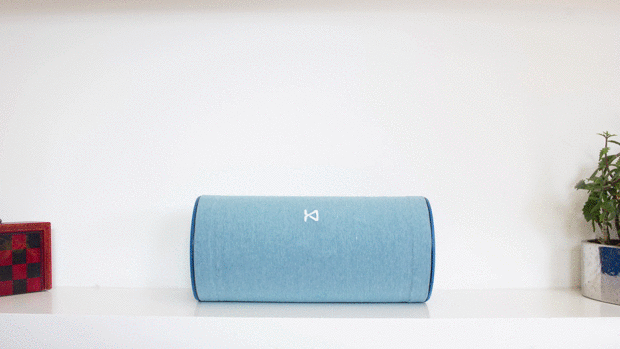 Just need a temporary boost? Borrow some kien speakers from a friend, and connect them to your system easily.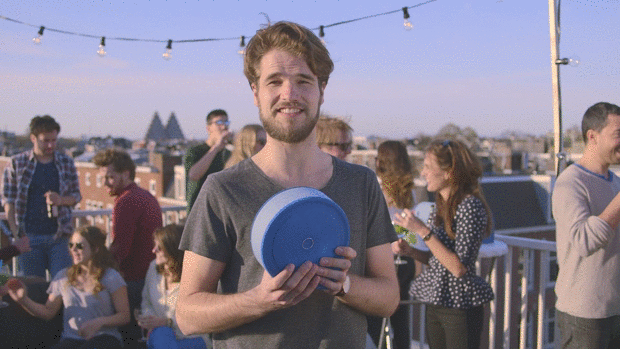 You can use any kien speaker in any kien system in the world. It works with both 110 and 230 Volts power input.
Also, kien does not have a proprietary app. You have enough apps as it is, so just use whichever app you want. Kien is compatible with Bluetooth®, WiFi®, and ethernet. You can use your kien system with all platforms: iOS, Android, Windows Phone, Windows, Mac OS, and Linux.
Furthermore, the kien technology will be available for developers in the kien Open API, so any wild ideas you have with the kien system, you're free to build them.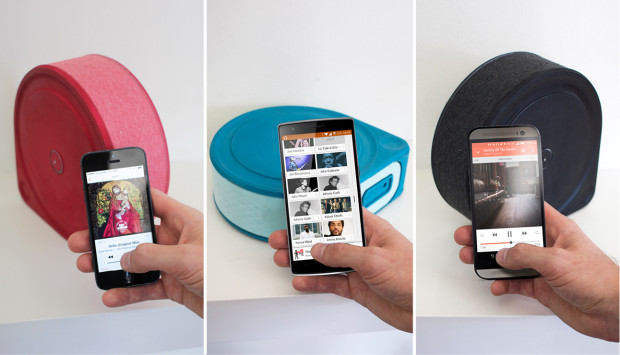 Still, you might want to take a look at the kien app for all kinds of cool settings.

One of these cool settings is that kien can track your location. With this, the music always sounds best wherever you're standing: the sweetspot of the system follows you around, instead of being fixed in one location. We call it the Dynamic Sweetspot (DSS).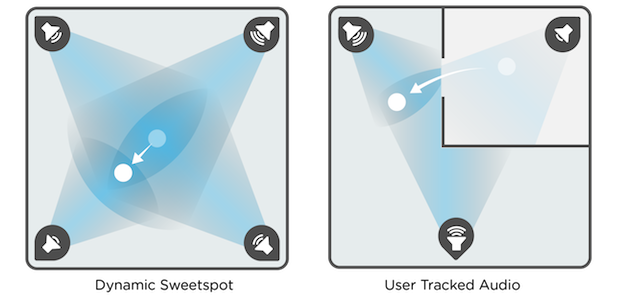 Furthermore, if you're using kien as a multiroom system, the music can follow you automatically to rooms in which you have a kien system. We call this feature User Tracked Audio (UTA).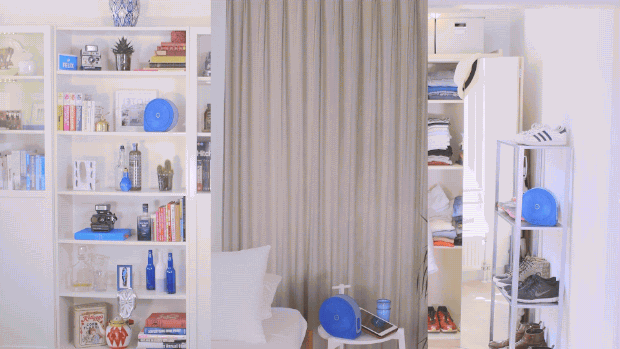 No worries though, if you don't like these features, just switch them off in the kien app.

Not a lot of speakers are very pretty. They aren't something you will display promptly in your living room. Therefore, we came up with a unique geometric design which not only looks timeless and cool, but also makes charging intuitive.
Five different colours give you the opportunity to match your kien system to the style of your interior: Onyx black, pearly white, marine blue, cherry red, or turquoise green.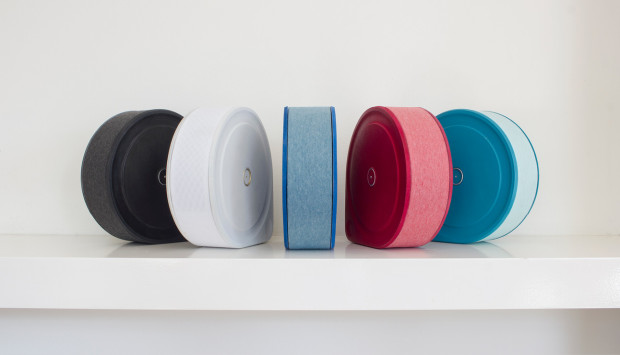 Not only are we determined to bring you all these cool features, but we also want to bring them to you at an affordable price.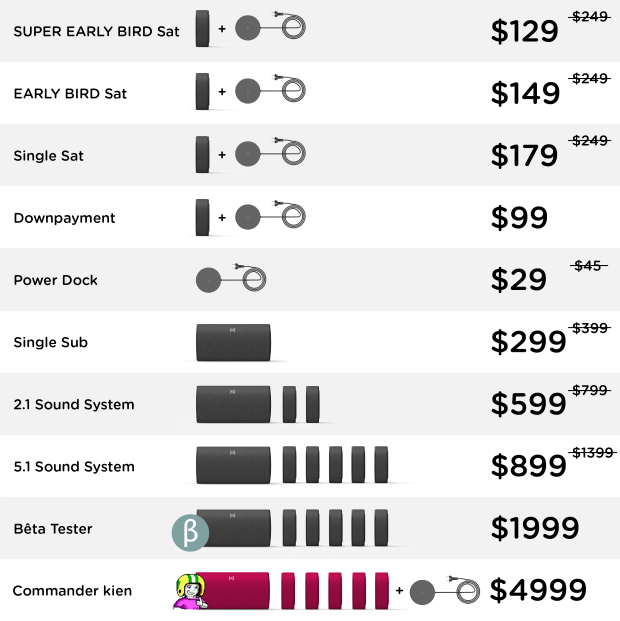 The kien speakers are small enough to be carried around, and they are big enough to give you an amazing sound.
The back of the sub (3) totes a digital S/PDIF input, an ethernet port, an analog RCA input, and an HDMI in and HDMI out port. With these ports, you can direct a video signal through the sub, so the video is synced up with your audio. It also has an on/off button with an indicator LED and a power input.
The back of the sat (2) has a state indicator LED and a state switch button. With the button, you can change the sat between Individual Bluetooth® state, and Grouped state where it listens to the sub. The accompanying LED indicates the sat's state. Also on the back of the sat are an on/off button with a battery indicator LED and a 3.5 mm jack input port.
On the front of the sats (1), there is a volume up and a volume down button. The buttons dictate the master volume of the whole system, so you can use them on the sat that's closest to you if you don't have your streaming device or a remote control close to you.
With a kien system you're going to get the following specs:

If you want to have a chance to get your sat or system for free, participate in our referral program!
In order to participate, you have to refer people by sharing your unique URL online. Sharing is easy. Simply log into Indiegogo. Then, on top of this Indiegogo page, with the buttons to the left of the video, you can share this page. You can do this by sharing it on Facebook, Twitter, or Google+. You can also share it via e-mail, or embed the Indiegogo campaign card on a website, or you can copy the URL directly to your clipboard, and share it however you want. With these buttons, you're automatically sharing through your personal URL, so we can see how many sales are made through your URL.
If you get 5 friends to back us with any perk (except for the power dock), you will get a sat for free. If you get 15 friends to back us with any perk (except for the power dock), you will get a 2.1 system for free. If you get 25 friends to back us with any perk (except for the power dock), you will get a 5.1 system for free.
Once the campaign is over, you will receive the free sat or system. Please note: you cannot refer to yourself.

We have been working on kien for over a year now, and we have matured kien's design, mastered its acoustics, written code for our patent-pending technology, and built relationships with manufacturers. Kien is now a prototype, but it's time for the next step: It's time for kien to be properly manufactured!
We have a manufacturing partner with the global capacity to manufacture for very large corporations, whose products you're using daily. After the crowdfunding, we're going to cooperate with them to get kien production-ready. We want kien in the hands of our pledgers by the end of Q1 2016.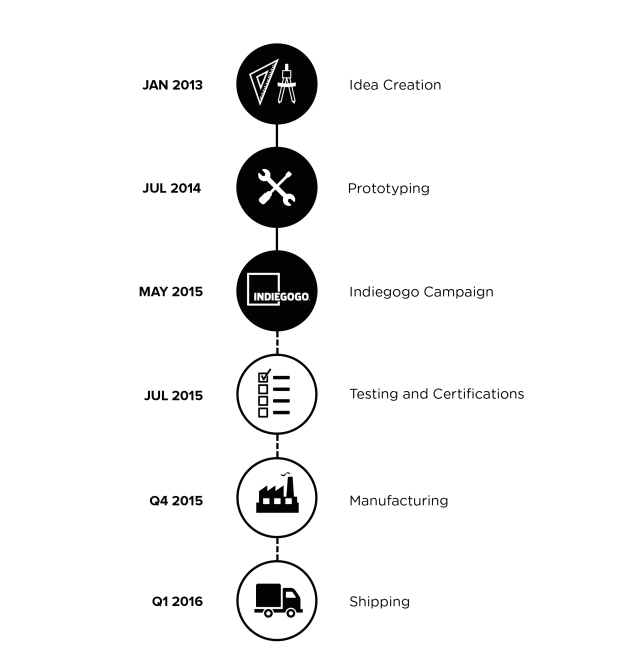 Please note: the prices in the first column are our special Indiegogo prices. The prices in the second column are estimated retail prices. These are estimates of the prices when kien will be launched worldwide after the crowdfunding campaign.

We are kien, and it's our passion to bring you an amazing sound experience, combined with innovation that is easy to use. The team consists of:
Florent Gatin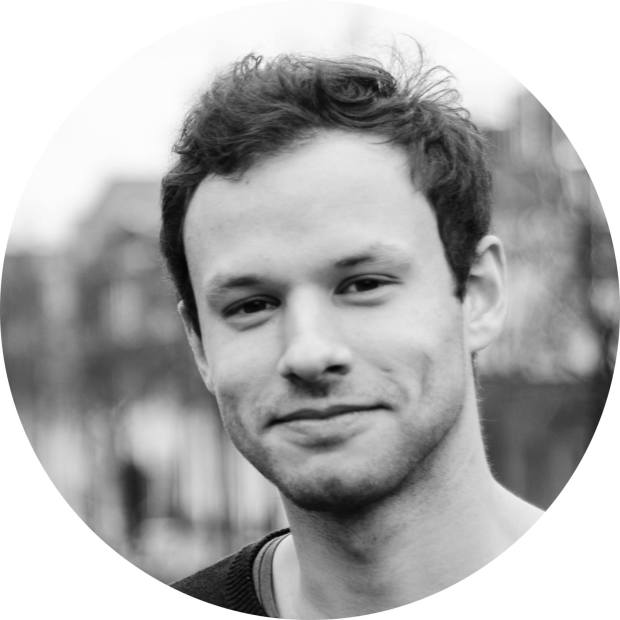 As an acoustics engineer, Florent knows how stuff should sound. His experience includes an internship as an acoustics engineer at Bang & Olufsen and the acoustical development of the db60, a Bluetooth® speaker. As you might guess from his name, Florent is French.
Jorn Ouborg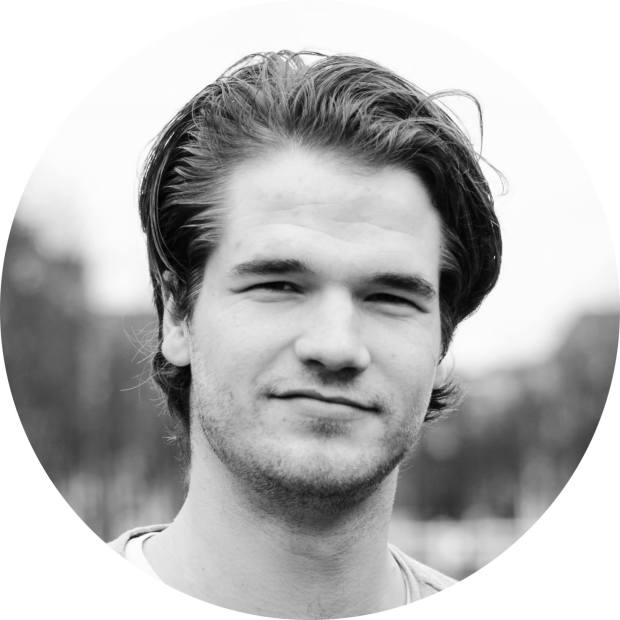 Jorn loves detail, which is good for a product designer. He and Florent met at Bang & Olufsen, when Jorn did an internship as a product designer. His experience also comprises being an industrial and user experience designer at design agency Pilotfish. Jorn grew up in The Netherlands.
Sten Ouborg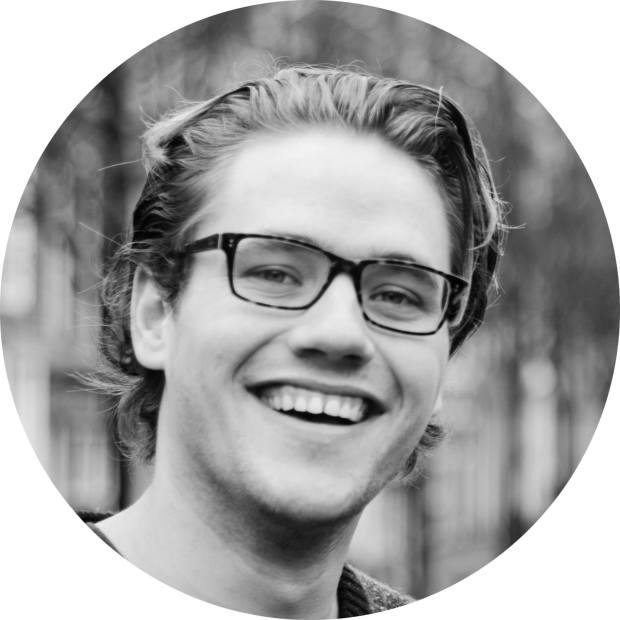 Beside being Jorn's brother, Sten is the link between the hardware and software of kien. Sten's experience comprises signal processing, control engineering, and a little bit of software development.
Thibaut Vuillemin
Thibaut develops the software that lies at the heart of kien. He has software development experience from working at Alstom and ARM. Thibaut and Florent met at their university in Lyon, France.

Kien is partnered up with:


| | | | | |
| --- | --- | --- | --- | --- |
| YES!Delft |   | TheFamily |   | The Hardware Club |
| YES!Delft is the incubator where kien is located. |   | TheFamily is a Paris-based accelerator. |   | The Hardware Club is a hardware startup community. |

Like with all hardware startups, manufacturing is expensive. Making injection molds for kien's enclosure, prototyping a custom PCB, and making sure it can withstand power surges or extreme temperatures. These are just a few things that have to be tackled on the road to getting you your very own kien speaker.
Furthermore, kien is now in the prototype phase. The enclosure of kien is 3D printed, and we are very happy with its acoustics. When we are maturing the speakers, their acoustic properties are going to change. Rest easy though, we are working as best we can to make sure kien sounds better than top brand speakers.
Subsequently, we have to make sure that kien is fully certified. This means that it has to be safe for daily use and that it can operate under harsh conditions. Luckily, we have a manufacturing partner that knows what to look out for in the maturing of kien.
Lastly, we have to secure sales licenses for all the used technology, such as AirPlay®, Dolby® surround, and Bluetooth®.

Buying & Shipping
How do I back your campaign?
You can back our campaign by choosing a perk you like, and clicking on it. You will then be taken to a payment page, where you can fill out your shipping and credit card information, or by paying with PayPal.
You can also donate an amount if you just want to support us. You can do this by typing an amount under Your contribution on the top of the page, and then clicking CONTRIBUTE NOW. You will then be taken to a payment page, where you can fill out your credit card information, or by paying with PayPal.
I have no credit card. What now?
You can set up a Net+ Virtual Prepaid MasterCard at Neteller. You do this by going to the Sign Up page on the Neteller website and filling out your personal and payment information. If you click Continue, your Neteller account is created. You can then create a Virtual MasterCard by clicking on Net+ cards in the side bar. On this page, you will find Net+ Virtual Prepaid MasterCard®. Click Get virtual card. In the popup, choose the currency, the name you want on the card, and your Neteller secure ID. Neteller will now generate your free virtual credit card.
When you deposit money into your Neteller account, you can start using your virtual credit card. You can deposit money by clicking after you're logged in. Here, you can choose a payment method to deposit money on the account (watch out, because some browser block the popup that is needed for completing the payment). Take into account that the lifetime spending limit on your virtual credit card is $500. If you want to purchase something above $500, please contact us at payment@kien.io.
When you have no credit card and don't want a virtual credit card, you can set up a PayPal account. You do this by going to the Sign Up page on the PayPal website. You can link a PayPal account to any bank account by using your IBAN. You can do this by clicking on Link a bank after you're logged in.
If you don't want to pair your bank account to your PayPal account, you can also deposit an amount into your PayPal wallet. You can do this by clicking on Wallet and choosing your preferred payment method.
Can you help me with my payment?
Of course! Just shoot us an e-mail at payment@kien.io, and we will try to help you.
Is shipping included in the perks?
Shipping costs are not included in the perk prices. When you select a perk, and advance to the Contribute page, the shipping price is added when you select your country.
Is kien available in my country?
Yes, kien ships worldwide to all countries that in which Indiegogo is available. That is, unless your country is an embargoed nation.
When will I receive my kien system?
We will fulfill pledgers in March 2016.
Is there a warranty for my kien system?
Yes, we will give you a one-year warranty with any kien product.
How does the downpayment pledge work?
The downpayment is a way for you to fix the Indiegogo sat price of $179 until fulfillment. How it works: you put down $99 now, and pay the other $80 later to receive your sat.
Can I have kien now?
Yes, you can. With the bèta tester pledge, we will ship a prototype 5.1 system to you. We will have regular conversations with you in which we ask you for feedback and ideas. When we're shipping out the final product to all backers, you're receiving the final 5.1 system which you helped mature. Also, you get to keep the prototype so you can show it to your guests triumphantly.
Why are your speakers cheaper than other, big brands?
Well first off, you're seeing Indiegogo prices. These prices will last until the fulfilment to all pledgers. However, we are still of the opinion that kien should be affordable for all to use, so even after fulfillment, kien's prices are going to be competitive!
Usability
What do I need to use the Dynamic Sweetspot?
For localization, you need at least 2 sats and 1 sub. The more sats and subs you have, the more accurate the system will know your location.
What do I need for Dolby® surround sound?
For Dolby®, you need a 5.1 system. The sats will be allocated as Front Left, Front Right, Rear Left, Rear Right, and Center.
Will kien work with any operating system?
Yes. Kien is cross-device, cross-platform, so you will be able to use it with all big operating systems, both mobile OSes and desktop OSes.
Setup
Is kien compatible with 220V or with 110V?
Kien is compatible with both! Your system will be shipped with a power cable specific to your country.
Privacy
What if I don't want my sound system to know my location?
No problem. If you switch off the Dynamic Sweetspot and the User Tracked Audio, your kien system won't record your location.
Is my location used for anything else?
No. Your location will only be used for audio optimization. Besides that, the kien system only knows your location with respect to all the sats and subs. It won't know your specific geographical location.
Is kien storing my location?
The short answer is no. The (slightly more technical) long answer is: The sub stores a little time window of past location data, because the algorithm needs it to get a more accurate location. This is a moving time window, so older location data is deleted from the sub's memory. Also, when the kien system shuts down, the location data is removed.
Technical
So how does your technology work exactly?
Well, we won't tell you exactly of course! But roughly: the sub connects to your home network via WiFi® or with an ethernet cable. The audio is streamed from your device to the sub. The sub divides the stream in the appropriate substreams, like Left and Right with stereo sound. These streams are sent through Bluetooth® to the sats. The system knows to which sat it has to send which stream due to the localization of all speakers.
You can also play audio from digital and analog inputs directly on the sub.
How do I switch the sat between Grouped state and Individual state?
You click the state button on the back of the sat and it switches between Grouped and Individual state.
In Grouped state, the sat can be found by a nearby sub. If it's the first time this sat will be paired with a specific sub, you have to place the sat on the sub so the sub recognizes it. When paired to the sub, the sub gives the sat an audio stream to play. In this state, you cannot discover the sat through Bluetooth® on your device (smartphone, tablet, computer).
In Individual state, the sat is detectable by your device. Just pair with it, or tap it if you have NFC. Now the sat plays whatever you want.
Can I use several sats together without a sub present?
Yes. If you click two sats in Grouped state together, they pair up. After this, you can take them apart and enjoy your music from both sats. Do this with more than two sat if you want more!
Miscellaneous
Who made your Indiegogo video?
Our friends over at Faberview helped us. Also, a very big thanks goes out to creatives Andrew Maaldrink, Alex Herwig, strategist Vincent Seeber, and production manager Mette Ouborg.
Where does the name kien from?
In Dutch, kien means sharp, clever, smart, intelligent. Kien sounds like the English word keen, which has very similar meanings: sharp, intelligent, but also meanings such as: vivid, strong. And also, the expression to be keen works really well.