iCrowdNewswire - May 18, 2015
Halo- The Worlds Safest & Smartest Smoke Alarm
What are Halo and Halo WX?
Halo is an industry-first combination of sensor technology for flash fires, smoldering fires and carbon monoxide in a single device. No other smoke alarm at any price offers you this same level of protection, period. The new home-alert system connects the device to the Internet and home-automation systems, plus users can receive alerts and adjust settings with an iOS and Android app. It will also send alerts to mobile devices so users are aware of danger even if they are thousands of miles away.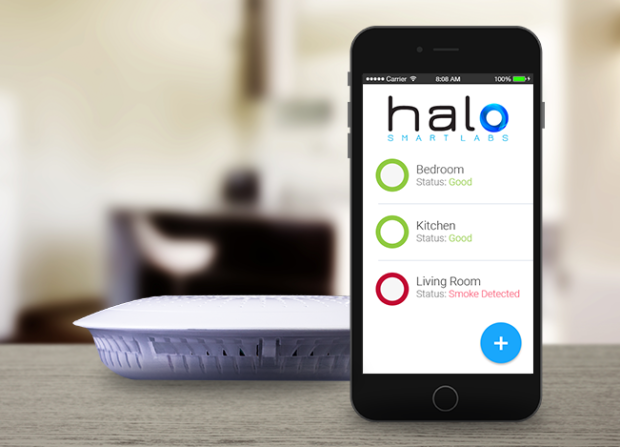 Halo WX is the only smoke alarm to combine all of the features and benefits of our Halo with customizable natural disaster alerts to create the most comprehensive alert system for hazards in and around your home. With our patented "Imminent Danger" feature, you can choose to set the device to alert you to other threats that are important to you and your family.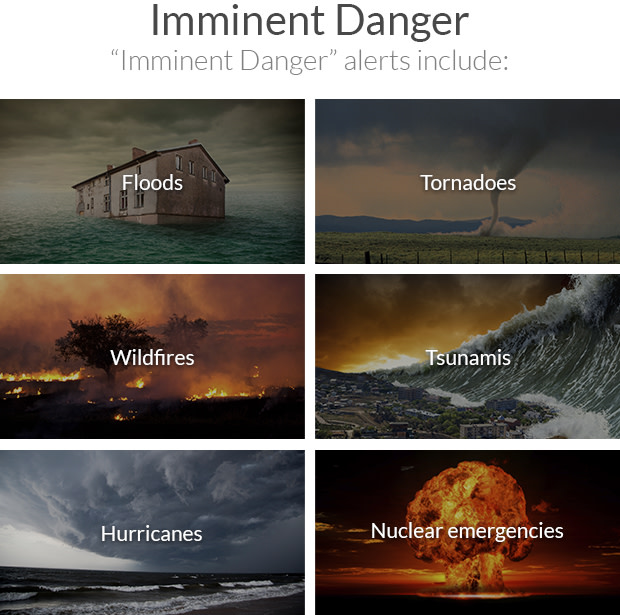 During an emergency, power outages are common and cell phones often won't work. Halo WX is hardwired directly into your home's power source, and has a battery back-up, so your home is now capable of receiving emergency messaging up to 7 days following a loss of power. These emergency messages could include evacuation routes, shelter and safe drinking water locations.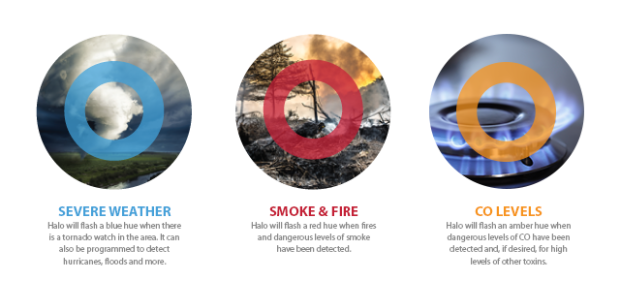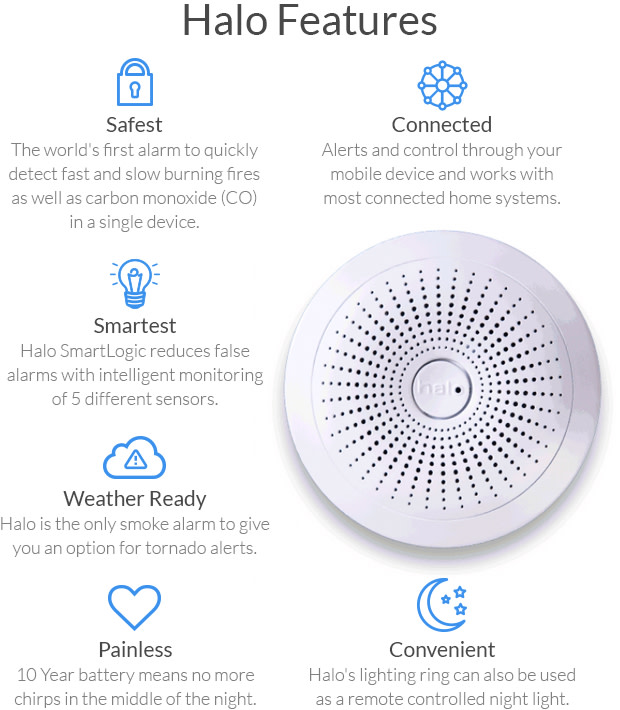 Why We Made Halo
Born out of tragedy and developed out of necessity, we made Halo because nobody else would.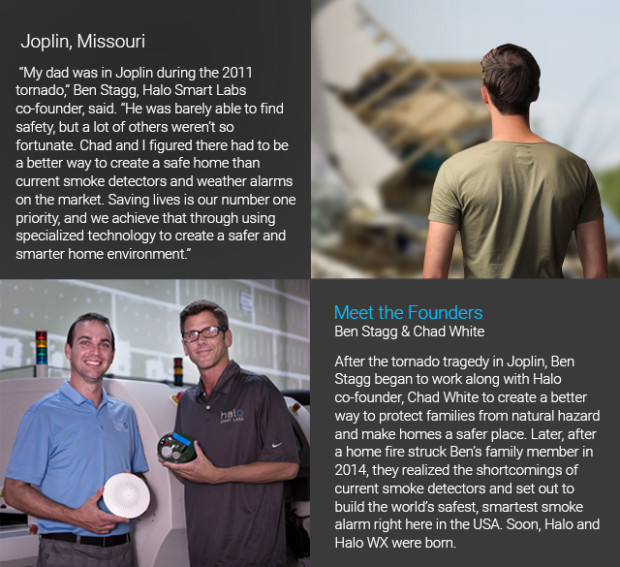 Why Indiegogo?
After a natural disaster, you often seen people rallying together as a community. We want to harness this power of the crowd and give a larger meaning to this generosity and sense of togetherness. By joining our campaign you can provide much needed support not just in your own community, but across the nation and the world.
FAQ
How many Halo Smoke Alarms do I need?  
The National Fire Protection Association (NFPA) recommends installing smoke alarms in each bedroom, outside of each sleeping area and on every level of the home, including the basement. Your state or local recommendations may increase the recommended number of smoke alarms, but this is considered a minimum.
How many Halo WX should I have in my home?    
In order to receive the best chance of receiving a timely warning in a dangerous event, we recommend at least one Halo WX on each level of your home.
It says "AC Hard Wired." What does that mean?   
There are two types of power supplying smoke detectors: "Hard Wired," which are powered by your home's electrical wiring (typically with a battery back-up) and "Battery Powered," which are NOT connected to your home's wiring and run solely on battery power. 
How do I know if my home is wired for AC smoke alarms?  
Since 1989, "hard wired" (non-battery powered) smoke alarms with battery back-up have been required in the construction of a new home. If your home was built after 1989 or has had the electrical wiring upgraded to current NEC standards since then, you probably have hard-wired smoke alarms. You can also check this by removing your smoke alarm from its base plate the next time you perform your monthly test. If there are wires coming out of the back of the smoke alarm, it is likely hard-wired. If not, it is more likely to be a battery-powered only unit.
Is there a battery powered only version of Halo or Halo WX?  
Although the Halo and Halo WX have been built to consume power efficiently, at this time there is not a way to offer this level of connectivity, visual indication and environmental hazard alerts in a battery-only version that meets our goal of 10 years with no chirp. We are developing a battery only version of the Halo smoke alarm that may reduce some of the convenience features in an effort to provide the safest smoke alarm option possible to those needing a battery-powered unit, but it is unlikely there will be a battery only version of Halo WX. If a battery powered only version of Halo is something you are interested in, please let us know and it may become one of our stretch goals!
Where are Halo Smart Labs devices going to be manufactured?  
We are very proud to say that Halo Smart Labs products will be manufactured in the USA. Some of the components required to build our units must be sourced from overseas, but every other aspect of designing, developing, electronic manufacturing, injection molding, assembling, packaging and warehousing will take place here in the United States.
Will these be difficult to install or setup?
We have designed the Halo products to be as easy to setup and install as possible, but some people may prefer not to be on a ladder or feel uncomfortable working with the wiring in their home. In these cases, we recommend finding a reputable contractor or handyman in your area who might be able to assist. 
What connected home platforms can/will Halo products work with?   
Halo and Halo WX both use Wi-Fi and Zigbee wireless protocols, ensuring our system works with almost every connected home platform on the market. Halo Smart Labs is a proud partner of the OpenHome Labs program and is currently working to certify Halo and Halo WX to work with the iControl platform, which provides connectivity to many of the existing connected home platforms available. We have also been designated a Certified Apple Product Developer and iOS Developer to make sure the Halo products work with HomeKit later this year, and have been working with teams from various other "retail branded" connected home systems to become certified as quickly as possible. We have known from the beginning that hazards don't discriminate, so safety and connectivity shouldn't either.