iCrowdNewswire - May 18, 2015
FiberStar Bio
FUNDING ROUND SUMMARY
Summary
Fiberstar Bio is a global innovation leader in "enhancing the functionality of natural plant materials". We've developed extraordinary technologies that turn low-value food processing waste streams such as citrus pulp, sugar beet pulp, and potato fiber into highly functional, all-natural ingredients. In so doing, we enable food, beverage, personal care, and industrial products manufacturers to replace chemically modified and synthetic ingredients with our green, eco-friendly, high performance, clean-label, all-natural ingredients to meet the fast growing global demand by consumers for natural and more sustainable ingredient solutions. Not only are they totally natural, they perform better and are more cost effective than their synthetic and highly processed competitors.
Our first ingredient, Citri-Fi®, is a high water binding ingredient manufactured from citrus waste and sold under a license agreement by our associated company, Fiberstar, Inc. Citri-Fi® has generated more than $50 million in global sales to date and provides us with an excellent source of on-going revenue from licence fees. Worldwide demand for Citri-Fi® continues to grow so rapidly that Fiberstar has just completed the tripling of its production capacity.
Now we are ready to execute our 3-stage plan to commercialize and manufacture our own technology called Modi-Fi™, an all-natural thickening and suspending ingredient aimed at the $1 billion addressable global food ingredient market and the $5 billion US natural polymer market for industrial applications. This technology won't be licenced, we are going take full benefit from this exciting innovation as owners and manufacturers. Here's the plan:
Stage 1: 2015—Complete technology development and pilot scale-up.
Stage 2: 2016—Build a small demonstration and commercial production plant (1/10th scale)
2017-18—Small commercial production @ $4.5 million revenue per annum.
Stage 3: 2018—Build a full-scale plant (production and sales)
2019-2021—Full-scale commercial production projecting over $45 million revenue per annum.
Highlights
Clear and growing global demand for natural additives and ingredients in food and cosmetics.
> $1 billion instant access food additive market with a potential $5 billion industrial additive market to follow*. 
Existing global distribution and customer Network of 50 specialty ingredient distributors in over 60 countries ready and prepared to introduce Modi-Fi to their customers. 
Hold two large platform technologies consisting of 12 issued and 10 pending patents. 
Strong current and growing licensing revenue from sales of Citri-Fi. 
Experienced management team that previously led Fiberstar, Inc.'s high revenue growth (3-year 47% CAGR), and are Ph.D,  B.Sc and MBA alum from Wisconsin, Minnesota and St Thomas respectively. 
Award winning technology – Citri-Fi was awarded the prestigious Food Ingredient Europe's Silver Award for Most Innovative Ingredient in 2007. 
The team drove Fiberstar, Inc. to be named three times to Inc5000's list of fastest growing companies in the USA. 
High performance , all-natural, sustainable clean label products that are superior to competing products on performance and price. 
Products
Fiberstar Bio offers highly functional all-natural ingredients:
Citri-Fi. An existing line of easy to use, all-natural, high water binding ingredients made from fibrous citrus processing waste streams which are licensed to Fiberstar, Inc. 
Modi-Fi. A new product line under development, this new and easy to use line of highly functional and all natural suspending, emulsifying, and thickening ingredients made from fibrous citrus processing waste streams can be used to maintain stable suspensions of insoluble particles and to replace chemically modified and synthetic ingredients in a wide variety of their food, beverage, personal care and in industrial products. In both food and industrial applications, Modi-Fi provides impressive suspending and thickening functionalities at low use levels, including such as in suspending sand in oilfield drilling fluids and pigments in industrial coatings (e.g., paints). Modi-Fi can also be used to replace pectin, xanthan gum, and gellan gum.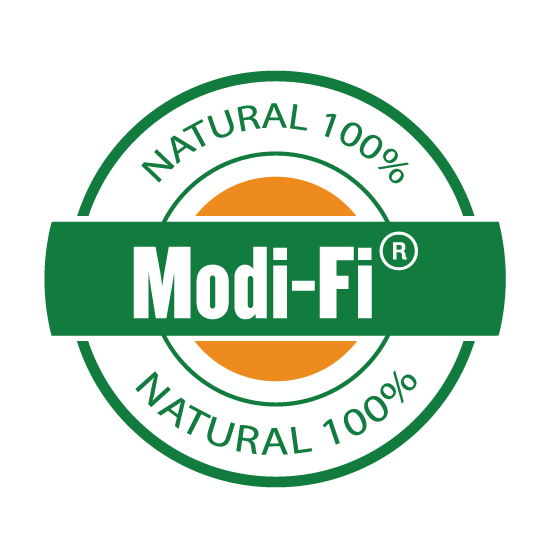 In food and beverage applications, Citri-Fi and Modi-Fi provide a non-slimy, water based mouthfeel, novel properties which other hydrocolloids aren't able to provide, in addition to being natural, gluten free, clean label and non-allergenic.
These ingredients can be used by any size manufacturer to improve their products' natural label declarations and sustainability story while maintaining or reducing their products' cost-in-use.
Problem
In food products, many commonly used fiber and gum ingredients impart a gritty (sawdust like) or slimy mouthfeel / texture.
However, as global consumers have become more connected and informed about the ingredients that go into making the products they purchase, they are asking food, beverage, personal care and industrial product manufacturers to replace chemically modified and synthetic functional ingredients with natural ingredients which are green, eco-friendly, 'clean label' and sustainable. When used in food and beverage products, they want these natural ingredients to also taste good, be non-gritty and non-slimy, and to improve the quality and nutrition of the food and beverage products. In Europe, consumers also want to consume foods and beverages that are made with ingredients that are green, sustainable, and 'e-number free'.
The problem is that there are few ingredients that meet these requirements, meaning that manufacturers are left with the choice of using chemically modified, synthetic, or extracts (meaning that they require an e-number and are not 'clean label') or using less functional natural alternatives, meaning higher use rates are required which negatively impact taste and texture.
Solution
Bio has solved the problem of fibers and gums having poor taste and texture by significantly enhancing the functionality of food processing waste streams. We open the fibrous structure of the starting raw materials to create a porous fiber matrix having up to a 20 times increase in internal surface area but otherwise leave the raw material substrate holistic.

The expanded surface area creates non-gritty, easy to use ingredients whose functionalities equal or exceed those of chemically modified, synthetic or other natural ingredients.
This enables product manufacturers to 'clean-up' or 'green-up' their ingredient labels and improve the sustainability of their products to meet consumer demands while maintaining or lowering their products' cost-in-use.
Fiberstar Bio provides superior technical support to its distributors and customers so that they can quickly and easily understand how to use its Citri-Fi or Modi-Fi line of ingredients to 'green up' the products they manufacture.
Intellectual Property
Fiberstar Bio controls two large platform technology estates consisting of 12 issued (8 licensed from the University of Minnesota on which it pays a royalty on Citri-Fi revenues), one allowed but not issued, and 10 pending patents.
It is BIO's strategy to continue to expand on the team's history of creating innovative patent-protected solutions and continue as a market leader in the creation of highly functional ingredients made from natural plant materials.
Business Model
Our primary goal is to use our intellectual property to create maximum long-term value for our shareholders. We will create greater shareholder value by commercializing Modi-Fi rather than licensing the technology to a third party. Commercializing Modi-Fi for its own account will enable Fiberstar Bio to derive revenues from the manufacture and sale of Modi-Fi and to have the option of completing a trade sale of the Modi-Fi technology following the successful completion of Stage II of our commercial development strategy.  
We intend to pursue revenues from three channels: 1) royalty revenues from third party licensees, 2) direct revenues from the manufacture and sale of products, and 3) grants.  Currently we license the production and sale of our Citri-Fi and Imulsi-Fi products for sale into global food, pet food and cosmetic applications to Fiberstar Inc. on an exclusive basis in exchange for a royalty of 5% of net Citri-Fi revenues and 7.5% of net Imulsi-Fi revenues.   As mentioned above, we have chosen to commercialize Modi-Fi for our own account with first revenues projected to begin in 2017.  
Our market research has concluded that there is enormous global market potential for Modi-Fi, particularly  in Europe initially where both food ingredient distributors and food manufacturers are urgently seeking to replace chemically modified and synthetic thickening and suspending ingredients with natural ingredients that are e-number free.   Therefore, we intend to focus our initial sales efforts on food, beverage, personal care and industrial product manufacturers in those markets where our market research indicates that the replacement of e-numbered, chemically modified and synthetic thickening and suspending ingredients is of highest priority.
A distribution model which utilizes a network of existing ingredient distributors will be established. To minimize credit risk, we intend to make sales under terms: 'ex-works' for cash in US$ prior to shipment or insured under an export credit insurance program. This distribution model was previously utilized with great success by our management team when employed at Fiberstar Inc.  We intend to price Modi-Fi relative to the value proposition it offers our customers. Based on prior experience with Citri-Fi and Imulsi-Fi,  we believe that Modi-Fi can be priced to deliver an excellent value proposition to distributors and their customers, while providing our shareholders with gross margins, net profits, and EBITDA in the range of 50%, 15-20% and 25-30% respectively. 
Addressable Market
The global market size for non-starch based food hydrocolloids was approximately $4.8 billion in 2012. Of this amount, 13.2% or $634 million is represented by xanthan gum and 11.8% or $566 million is represented by pectin.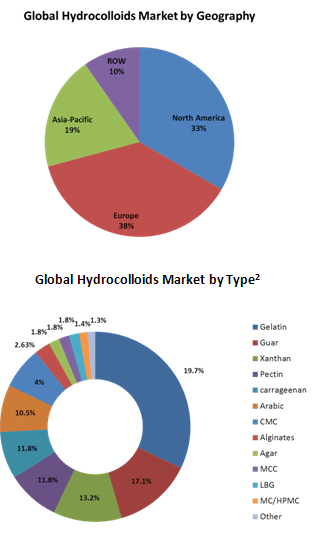 Together, xanthan and pectin replacement represent a $1.2 billion addressable market. Of the addressable market, Europe (38%) and North America (33%) accounted for 71% or $852 million. Both xanthan gum and pectins require e-number labeling in Europe.   
Based on discussions with global distributors, we believe the natural market demand represents 10% of this total. In addition, we believe that another 10% of the market is looking for clean label ingredients to replace ingredients such as xanthan gum and pectins.  Globally, this represents a potential target market for Modi-Fi of $240 million. The food hydrocolloid market is expected to grow at a CAGR of 5% through 2018.
2 Markets and Markets, Global Food Hydrocolloids Market, Trends and Forecasts (2013-2018), August 2013.
Competitive Landscape
Florida Food Products website uses the word 'viscosity' in their message but their website makes no mention of applications where viscosity is declared to be a valuable functionality of their citrus based FiberColloids ingredients. Their ingredient provides a viscosity of 3,000 cP at 3% solids in water. Modi-Fi provides a viscosity of 50,000 cP at 3% solids in water at ambient conditions. At an estimated selling price of $3.75/lb. for the FiberColloids ingredient, its cost-in-use is 8.33 times more expensive than Modi-Fi.
Ceamsa's website promotes their citrus fiber product as high water and oil binding capacity and as a texture improver, but their website makes no mention of applications where viscosity is declared to be a valuable functionality of their of their citrus based Creamsa ingredients.
Herbafoods website promotes their citrus based ingredient, AQ+, as a high water binding ingredient but makes no mention of its value as a viscosifier even though we know it produces viscosities in the 20,000 cP range at 3% solids at ambient conditions. Modi-Fi provides 50,000 cP range. As compared to AQ+, Modi-Fi would require only 0.4 units to achieve the same viscosity as 1 unit of AQ+.
Z-Trim's website promotes their corn based ingredient as a multi-functional ingredient including its viscosifying functionality. They say their product provides viscosities of between 20,000 to 40,000 cP at 4% solids and at ambient conditions meaning Z-Trim provides 5,000 to 10,000 cP of viscosity per 1% of ingredient. Modi-Fi provides 16,667 cP per 1% of ingredient. As compared to Z-Trim, Modi-Fi would require only 0.4 to 0.8 units to achieve the same viscosity as 1 unit of Z-Trim.
Key Partners
Raw Material Supply Partners 
Raw material waste streams will be secured from a yet to be selected processor of citrus fruit, sugar beets, or potatoes. 
Technology Partners 

Current Marketing Partners for Citri-Fi 

Funding Partners 

Existing Citri-Fi Customers 

Awards & Testimonials
Maarssen, 7 November 2007
 – The winners of the prestigious 'Best Innovation in Food Ingredients 2007' awards were announced last week at Fi Europe 2007 in London, UK. The awards, which honor the industry's most innovative ingredients, leading-edge technology and prized research, have been running since 1994 and are one of the most eagerly anticipated fixtures in the food industry calendar. Food Ingredients Europe: The Silver award went to Citri-Fi, a range of citrus fibre ingredients developed by US company Fiberstar that can be used to deliver fat replacement, moisture management, water and oil binding or thickening. The judges said that in creating Citri-Fi, Fiberstar had pioneered a novel process that results in a natural ingredient which provides great functionality at low cost using a previously discarded waste stream.
Meat Product Producer Agrosuper—Chile: "In the past, we made different tests with other ingredients to prepare low-fat products, but we did not succeed; there were always texture, exudation, and sensorial problems. We worked with the idea of not altering the product's appearance and sensory characteristics", says Mr. Ulloa. "Currently, very few products with these characteristics are available in the market, and their cost is very high for the consumer. The most important change was reached by developing a low-fat product, with 60% fat reduction, thanks to the use of Citri-Fi. We organized a blind panel with the product containing Citri-Fi and the regular product, and panel members did not find any difference", adds Mr. Ulloa.
Comments made by reviewers of Bio's successful SBIR Phase II Proposal
"The primary researchers are very well qualified and have a record of success in the lab and in commercialization." 
"Based on the past successes of the applicant with similar projects, my assessment is that this grant would accelerate the pace of the project toward commercialization and make it possible to acquire equity financing." 
Planned Use of Funds
Although Bio's Business Plan shows $1.5 million of these funds being raised in the form of equity, Bio intends to also raise funding through a combination of grant and low interest debt funding.Grant funding is the most highly desired form of funding because grants do not have to be paid back and do not create shareholder dilution. We intend to resubmit a $150 ,000 Phase I grant application to the National Science Foundation in June. If successful, we intend to submit a $750,000 Phase II grant application. These Phase I and Phase II grants could pay for one-half of the proposed technology development costs.  We also recently submitted a €2 million SME instrument to the European Commission. If approved, this grant funding could provide funding for a majority of the proposed technology development costs. Debt funding, especially low interest and deferred payment debt, is desired because it does not create shareholder dilution. We submitted applications for one $200,000  and two $240,000 low interest loans. All three applications have been approved and the $200,000 loan has already been funded.  
 *Grand View Research: Food Additives Market Analysis By Product And Segment Forecast To 2020 (June 2014)