iCrowdNewswire - May 18, 2015
AgDNA
FUNDING ROUND SUMMARY
Summary
AgDNA has developed the world's first automated data processing and analytics platform to deliver agronomic insights from in-field farm machinery directly to grower's smartphones and tablets. Think of it as Dropbox™ meets Google Analytics™ for precision farming data.
The cloud-based solution developed by AgDNA solves the complexity of collection, analysis and access to high-resolution precision farming data. This data is automatically streamed from the "internet-of-things" (IoT) agricultural equipment via AgDNA directly to commercial crop producers' smartphones and tablets. The agronomic insights delivered help farmers to maximise crop yield, optimize input costs and increase overall farm profitability.
AgDNA has packaged this big data analytics engine into a Platform-as-a-Service (PaaS) delivery model and now offers it as a private labelled mobile app and website to large scale agricultural equipment dealers to resell as value added agri-data services to existing clients in their exclusive sales territory.
"Our algorithms help farmers feed the world." – Paul Turner, Founder and CEO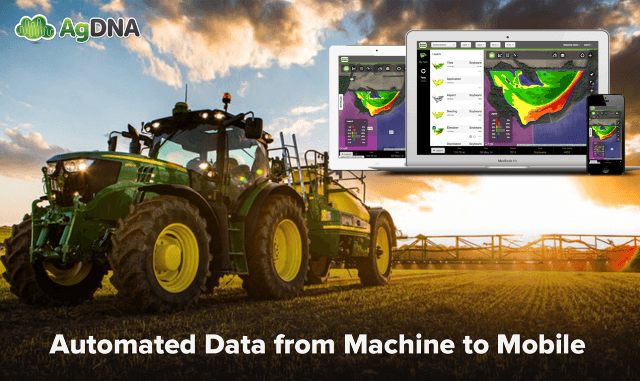 Highlights
World-wide data license agreements with the world's top machinery manufacturers and irrigation OEM's 
Proven and scalable technology being used in 156 countries to manage over 2.8 million acres 
Digital agri-data services sold through equipment dealers generating recurring per acre revenues 
World's first automated cloud-based agronomic spatial data analysis and delivery to mobile devices 
Platform-as-a-Service private labelled solution targeting 3,000 dealer locations spanning 500M acres 
Q1 of 2015  revenue of $146,000 up from 2014 total of $263,000
Monthly dealer acres growing at 150% month on month for Q1 2015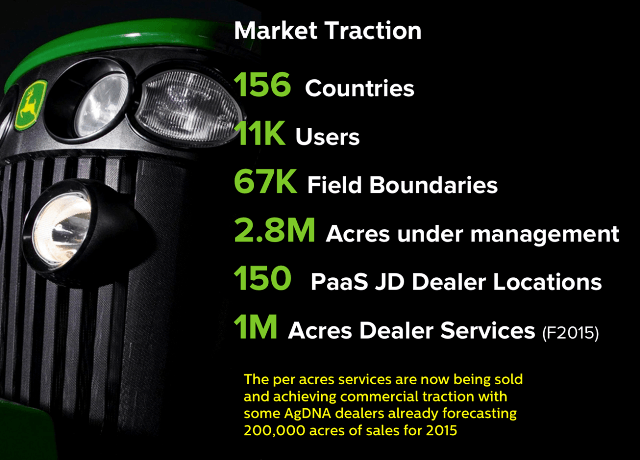 Product / Service
AgDNA has developed a world first technology, built on scalable cloud-based architecture capable of collecting high value production data from in-field equipment, processing the raw data into spatially aware information, correlating the various information layers to determine agronomic insights and deliver these findings direct to growers on their mobile device.
The cloud based data storage and processing solution is capable of:
Collection – by establishing data licensing agreements with the world's largest Original Equipment Manufacturers (OEM's) with internet enabled ag machinery, AgDNA is able to automatically collect the raw data via API web services
Processing – the proprietary cloud-based data processing algorithms developed by AgDNA are capable of automatically interpreting and converting numerous raw data sets including agronomic production, machine performance, remote sensor and precision weather information all geo-spatially sorted across every acre.
Agronomic Analysis – the high definition precision farming data being accumulated by AgDNA lends itself to Evidence Based Analytics (EBA) to determine yield limiting factors and their cause
The resulting value proposition for crop producers: 
– Make farming more profitable
– Achieve a greater ROI from technology
– Provide easy access to critical farming data; and
– Help reduce risk
Value proposition for the equipment dealer channel: 
– Time savings within dealer's precision farming technology department
– Build deeper value-added relationships with grower
– Provide higher quality precision farming services and increase revenue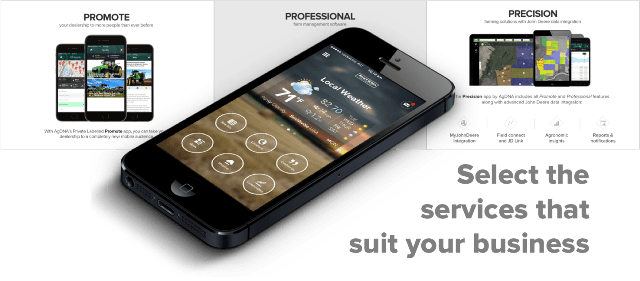 The Problem
The world's population is estimated to reach nine billion by 2050 and likely to require double today's agricultural output to meet demand. One of the critical elements required to achieve this increase in crop yield is precision agriculture, a management concept based on observing, measuring and responding to intra-field variability in crops using geo-referenced spatial data.
As the major OEM's enter the Internet-of-Things (IoT) by offering wireless data transfer capabilities as standard fitment on new high-end tractors, sprayers and harvesters, the data management burden increases exponentially and directly impacts farmers globally. This issue is further compounded by the OEM's not providing yield enhancing analytical solutions for the machine-generated data.
The Solution
By signing data licensing agreements with the world's largest farm-machinery and irrigation manufacturer's, AgDNA has established access to over 80% of the large scale farm machinery sector in developed markets.
AgDNA solves the challenge of automatically processing these large volumes of this machine generated raw data into high definition geo-spatial agronomic information. The proprietary AgDNA algorithms then analyse this information along with other agronomic spatial data sets and determine correlations and causality and identify opportunities for increased yield.
AgDNA is able to compare machine generated seeding, application and yield data with geo-spatial topography, soil and weather information to build a yield gap analysis model of every field.
We call this process Evidence Based Analysis (EBA) and it's incredibly powerful and valuable.
The platform then allows the equipment dealer to create variable rate seeding, application or irrigation prescriptions which can be deployed directly to the internet enabled equipment. By understanding the spatial variability throughout the field, AgDNA is able to provide solutions to maximise yield and ultimately profitability across every acre.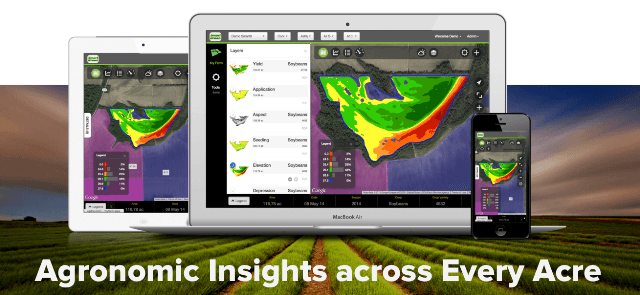 Business Model
AgDNA offers the solution via Platform-as-a-Service (PaaS) business model to large machinery dealers globally. The PaaS is private labelled for each dealer and resold as a value added service to their customers on a recurring per acre annual subscription.
The flexible and customizable nature of the digital only AgDNA solution delivers a range of value added services and allows dealers to offer a various pricing options to suit the grower's needs and budget. Each of the AgDNA services rely on different data sets which are available spatially thereby lending themselves to the "per acre" subscription model.
In addition to the per acre grower fees, the equipment dealer pays a platform sign on fee and ongoing monthly maintenance subscription proportional to the number of store locations in their territory.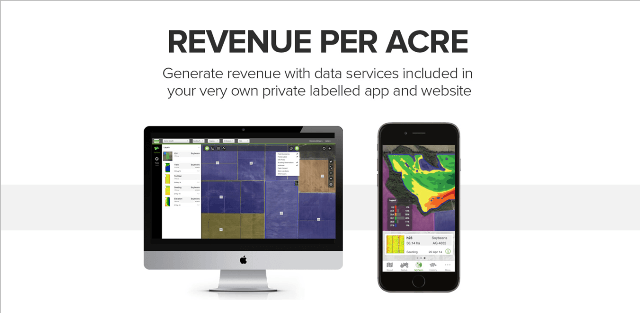 Addressable Market
The generic AppStore AgDNA record-keeping app is already being used in 156 countries with over 67,000 fields under management. However, the core focus is enterprise level PaaS dealer model where the company is already working with major John Deere dealers across 150 retail storefronts and growing. The per acres services are now being sold and achieving commercial traction with some dealers forecasting in excess of 200,000 acres of paid AgDNA services in 2015.
The company is initially targeting English speaking geographies across an estimated 500 million farming acres with a combined dealer network of over 3,000 stores. With critical mass established in this market, the company will then include multi-lingual support and roll out the PaaS model internationally with particular attention on Europe and South America.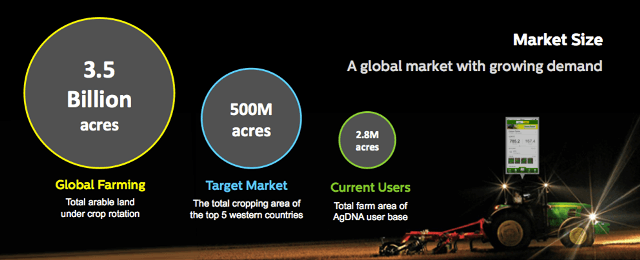 Competitive Landscape
The company enjoys a first mover advantage in this space and is one of only a handful of organisations to be approved by the world's leading OEM's for production access to their API data streams. Of the known approved partners, AgDNA is the only company that has the technology stack capable of automating the collection, analysis and mobile delivery of spatial agronomic data and Evidence Based Analytics for 24/7 operation on a global scale.
What AgDNA is not… AgDNA is not just another of the countless number of new entrants the mobile "Farm Management" and "Record Keeping" space.
In fact no other company in the world has the agronomic analytics and spatial data capabilities automated in a cloud-based, mobile delivery platform accessing OEM wireless data, packaged into a private labelled platform for equipment dealers.
That's right, no other company has this capability!
Partners
Because AgDNA does not compete at an equipment or hardware level it has been very successful in developing business relationships with major OEM manufacturers around the world including John Deere, Case New Holland, AGCO, Valley Irrigation, Lindsay Corporation and many more.

*Lindsay still in discussion
AgDNA is a complimentary "bolt-on" data delivery solution that value adds to their OEM partner's products and because the platform is private labelled for each individual dealer, it provides AgDNA with immediate access to long-term trusted relationships of the local dealer. This results in immediate growth opportunities as each new dealer is signed.
By leveraging the OEM data licensing agreements and providing the dealer with a branded solution, AgDNA becomes an indispensable gateway for data between the OEM and the equipment dealer and grower user base.
Customer Testimonials
iTunes AppStore Reviews
Wonderfully detailed…
5 Stars by Red Dwarf Fanatic
Really enjoying the auto-recording function for my field activities.
Great app
5 Stars by Robbo2883
Exactly what I need without having to pay for expensive GPS devices.
AgDNA
5 Stars by CA farmer
This is an excellent tool to help improve on farm communication with multiples managers, and to connect PCAs with the farm owners.
Email Feedback
"I absolutely love this app it's so handy." Aaron, United States
"Great app that is going down a storm on our farm." James, United States
"Thank you very much… a happy Spanish farmer!" Jaime, Spain
Dealer Channel Feedback
"AgDNA's data services are like going from 3G to 4G. Once you have 4G you will never go back." Neal, USA
Planned Use of Funds
The funds will be used for: 
Channel Development
With a successful dealer strategy already being rolled out, a high emphasis will be placed on accelerating growth. This includes additional Account Managers, training and support resources primarily focused on the North American market.
Analytics Engine
The high resolution geo-spatial seeding, soil, yield, topography and climate data already flowing through the system allows for tremendous insights into each and every acre. The Evidence Based Analytics (EBA) engine will be further enhanced as "big data" permeates throughout the platform. Additional funds will be invested into the engineering and data science team to extend the "secret sauce" and competitive advantage in automated data analysis.
OEM Data Integration
With the technology stack, system architecture, analytics engine and delivery model already in place, significant growth can be achieved through the addition of new OEM data streams. Funds will be allocated to resourcing the engineering and business development activities to integrate this data and on-board new channel partners.
Leadership and governance of funds invested:
The AgDNA leadership team and board of directors have extensive experience in the commercialisation of disruptive technologies in precision agriculture and the company's data scientists have worked on complex data processing projects including mapping the arctic polar ice caps and interpolating Mars rover imagery for NASA.
The experienced leadership team will manage the allocation of funds wisely to further develop the company's innovation pipeline and channel to market to ensure it maintains its current position of technology leadership and superior competitive advantage.