iCrowdNewswire - May 14, 2015
WAY – Your Personal Skincare Companion
A simple device and mobile app aggregate real time data from your skin and surrounding environment.
Skincare Just Got Easier with WAY!
WAY is a personal skincare companion, which aggregates real time data from your skin and its surrounding environment. It is a simple, beautifully designed device and connected mobile app which provides practical beauty tips to your smartphone.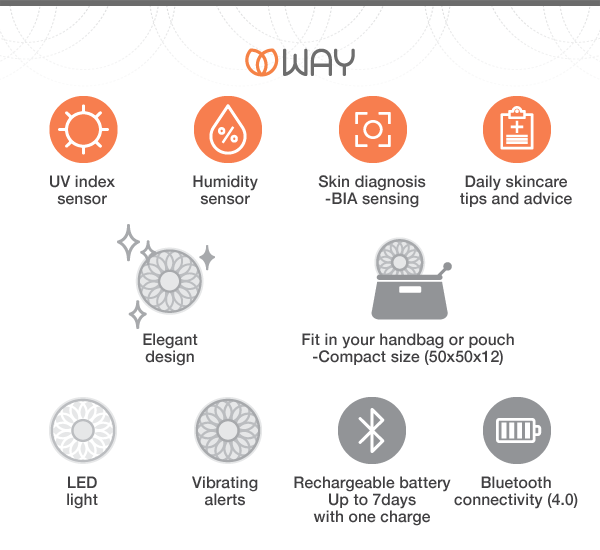 A small, beautifully designed device, WAY easily slips into your handbag and looks comfortable next to your luxury beauty products.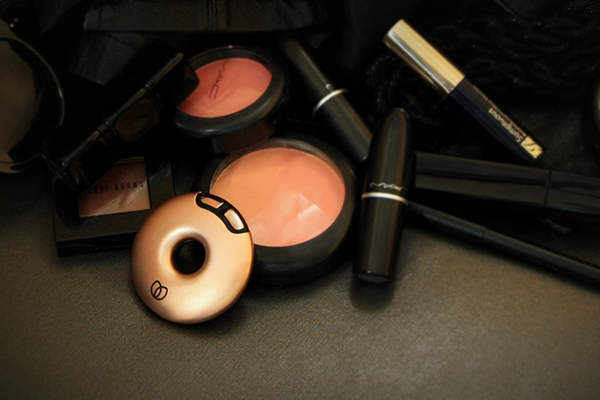 Why you need WAY 
Busy professional women and mothers lack time for themselves. And maintaining healthy, youthful skin takes time and dedication. With WAY, you can easily analyze your skin condition in just 3 seconds. 
WAY makes it easier to manage your beauty routine and stay healthy!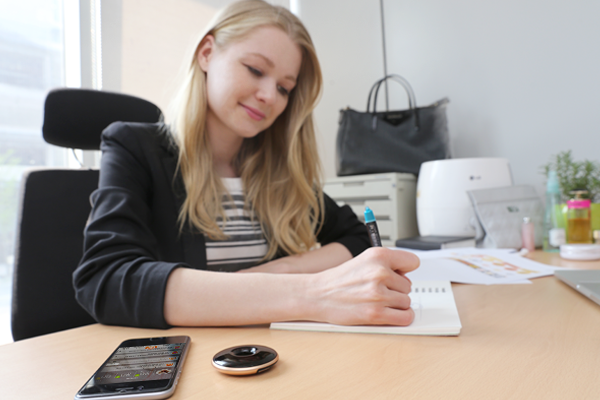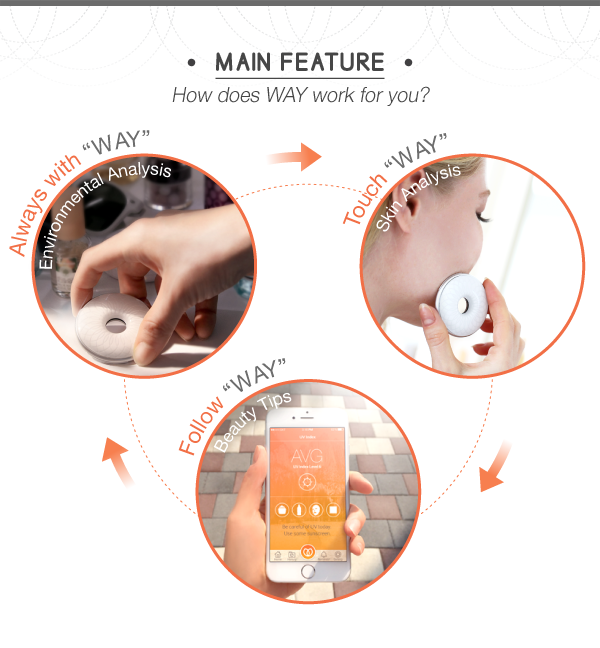 Touch WAY
WAY's built-in BIA skin sensor analyzes the moisture content & oil balance of your inner skin. You can check your skin condition on your connected device in real time.
Touch your skin with WAY at least once a day. Let WAY do the rest.
* BIA Skin Diagnosis: BIA skin sensors in the device detect the moisture and oil content of your inner skin. This is the layer beneath the surface, which is a much more powerful indicator of the overall health of your skin than a surface reading.
By performing this deep level of diagnosis and providing tips for your skincare routine, WAY can help you better maintain the health and beauty of your skin.
Always WAY
WAY monitors environmental factors, such as UV and Humidity levels in real time.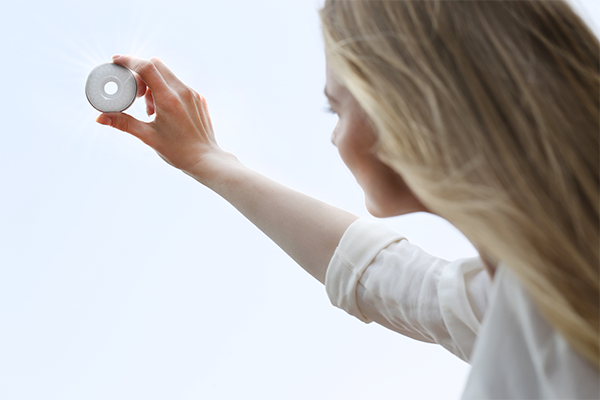 Protect your skin from harmful UV Radiation
WAY constantly tracks UV exposure and provides tips to help you stay safe, whether outside or under UV lighting.
*Why you need UV Protection (From World Health Organization)
While some UV exposure is essential for production of vitamin D, over-exposure can lead to serious long term health concerns, including skin cancer. As well as excessive exposure to UV rays from the sun, artificial lighting indoors can contribute to skin damage. 

Protect your skin from dry conditions
WAY was designed to help you track both the moisture content of your skin and environment, taking the mystery out of skincare. Based on data collected by WAY, you receive tips on skincare which can help you stay healthy and looking gorgeous.
*Why you need to monitor dry condition 
Dry conditions can contribute to premature skin aging. Therefore moisturizing is a vital step in keeping your skin healthy and beautiful. However,  most of us don't know how dry our surrounding environment is and how it affects our skin.
Follow WAY
WAY provides personalized beauty tips, using data from your skin and environment.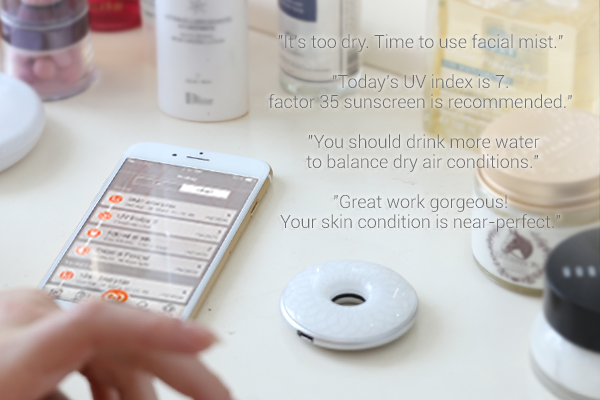 Data collected from your skin and surroundings is aggregated with other real-time information (such as weather reports), to send practical skincare tips to your smartphone.
WAY helps you improve your skincare routine through personalized skincare suggestions, and contributes to an improvement in overall health and well being.
* Why WAY is special
A number of solutions exist that monitor skin condition, but none currently offer a full range of analysis (environment and skin condition). WAY goes one step beyond, providing personalized beauty tips on your connected device. At WAY we are proud to have built the world's first 'total IoT skincare solution' which combines data from a number of sources and automatically provides beauty tips to our customers.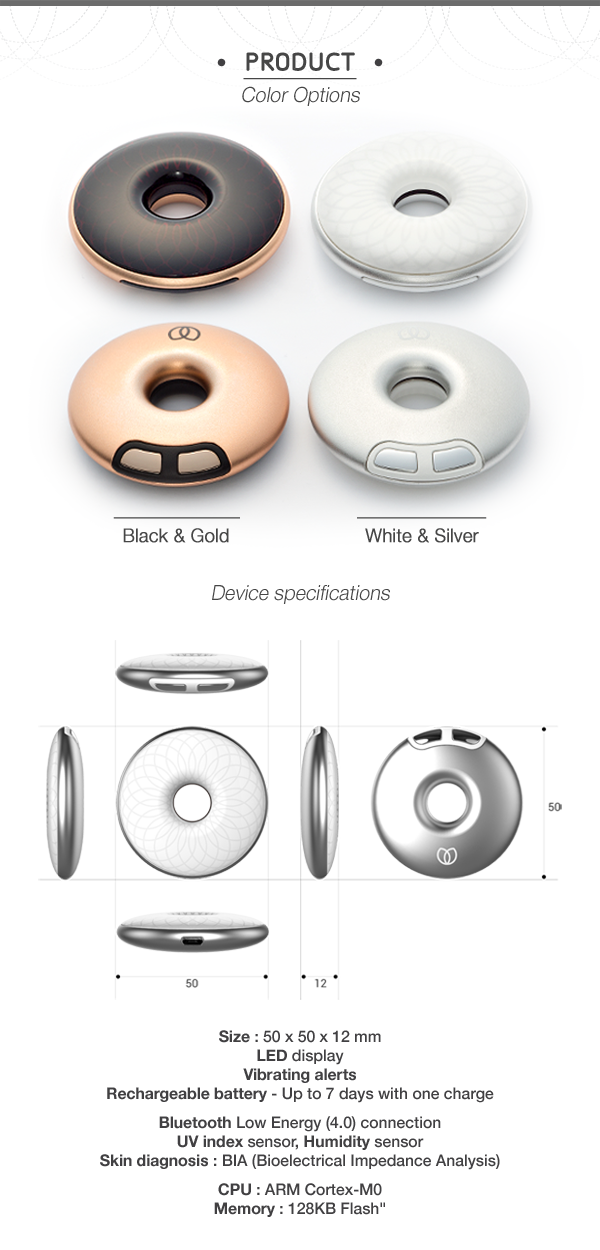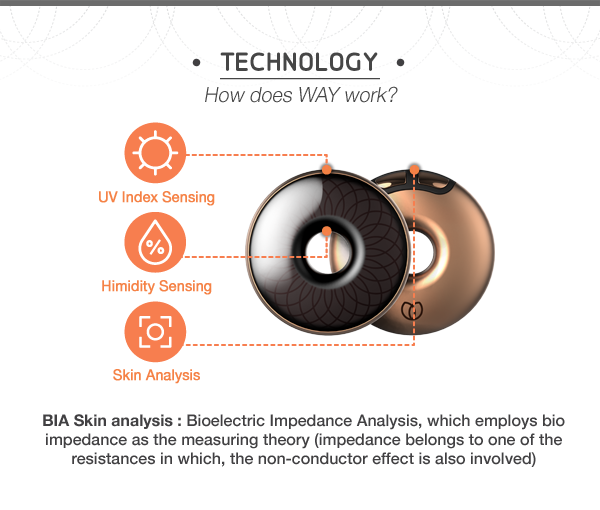 Qualified technology solution
WAY has teamed up with professional Dermatologists and Korea's leading medical university for both development and validation of our technology. With this team of industry experts we are continuing to analyse initial clinical data to continuously improve the value of our service.
Note: While WAY provides qualified information about your skin and delivers tips for improving your skincare routine, it is not intended to replace medical instruction from a certified dermatologist.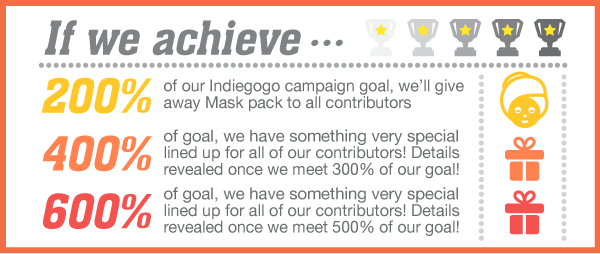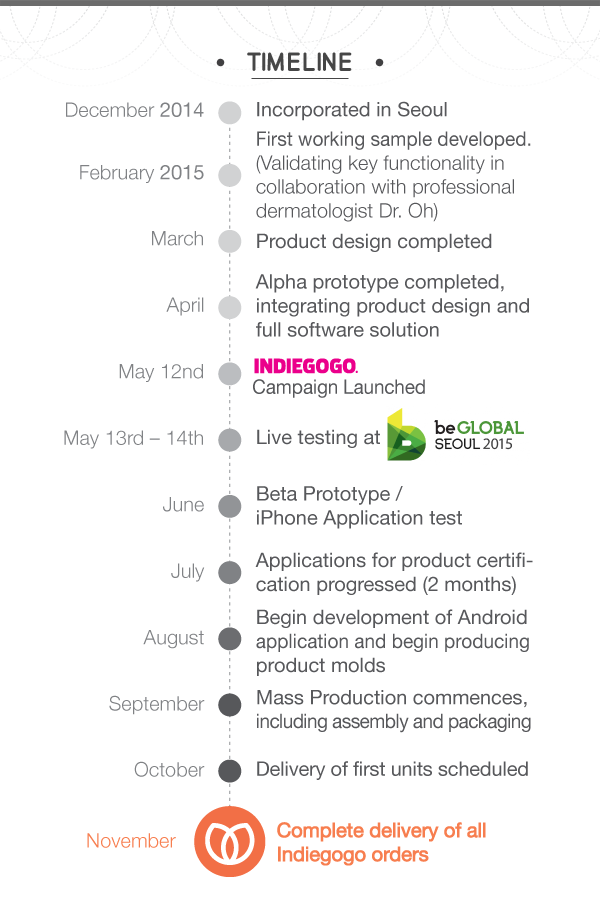 The team at Way is passionate about creating services for women that maintain beauty and a healthy lifestyle. Founded in 2014 in Seoul's trendy Gangnam district, WAY is designed to meet the beauty and skincare demands of a modern woman's busy lifestyle.
Future Plans
At WayWearable we have been exploring the intersection of beauty, skincare and technology to bring you services that maintain your beautiful life, keeping you healthy and looking your best. WAY version 1.0 is just the first step.
Beyond providing practical beauty tips, we are working hard to further develop our recommendation service to include specific product recommendations, which target your unique beauty concerns.
Imagine if your WAY was able to assess your skin condition and environment and suggest specific products based on this data? You would be able to make better informed product choices, save money, and ultimately improve your beauty routine. We're not there yet, but with your help we'll be one big step closer.
We are building a better WAY for women to improve their lives and maintain their natural beauty. WAY is your personal skincare companion.
Follow your WAY, and join our mission to transform the beauty industry.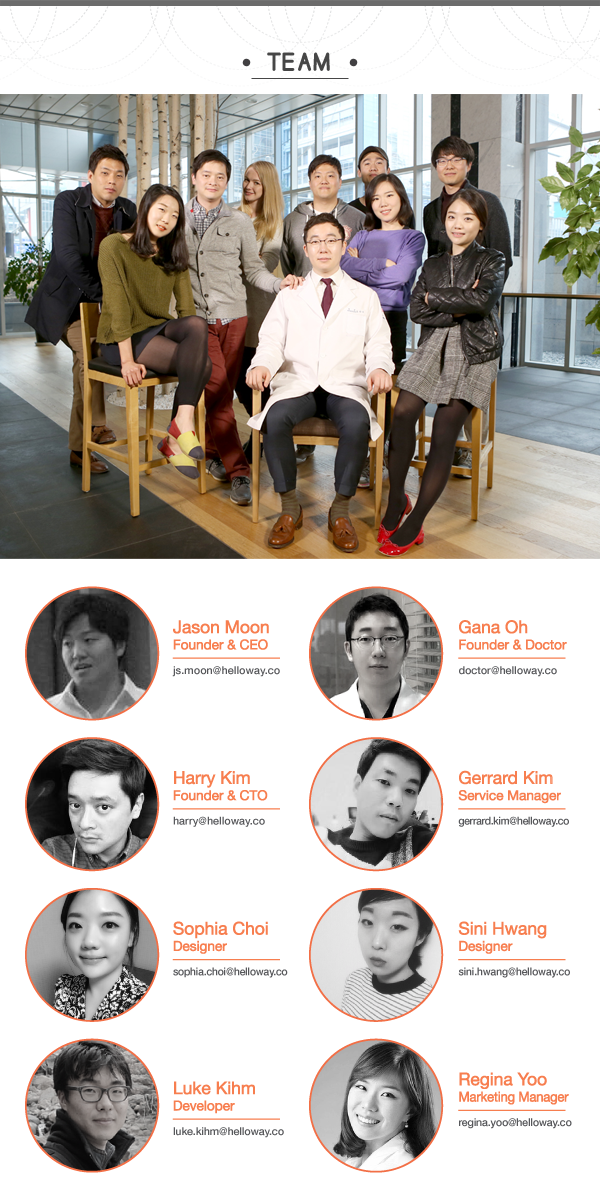 WayWearable's CEO holds a major in economics from Yonsei University and prior to founding WAY Wearable operated as CEO of another healthcare startup, Design Your Body, for three years.
WayWearable's CTO has a background in hardware and software development as well as  experience in IT consulting and Marketing in Hewlett-Packard.
In addition, WayWearable Co-founder Dr. Gana Oh, is a professional dermatologist at 'Choice Dermatological Hospital' in Gangnam and has helped the team build additional expertise in this area.
Other members of the team are engineers from Cornell University and experienced designers who have operated in the cosmetics industry and won a prestigious Red Dot Award.
Risks and challenges
Delivering hardware products on schedule is always tough. Thankfully WAY has been able to secure a prestigious manufacturing partner, Vision Scape in Korea. They extensive previous experience in working with wearable and IoT device companies, including Misfit Shine. We are confident that they have the expertise and capability to deliver on time and the proximity to our head office in Seoul will also be a major benefit. We are confident that together we will be able to rise to the challenges of meeting our projected shipment dates, with all pre-orders from Indiegogo delivered in November 2015.
We have now completed development of our Alpha Prototype, even before launching our campaign on Indiegogo, and this is a major boost. We are now progressing with obtaining KC, FCC and CE certifications, which will likely take 2 months.
We have also been running continual testing on our combined hardware and software solution with our Co-Founder Dr. Oh, who is a professional dermatologist. Results have confirmed that the service will provide reliable and accurate skincare advice. We will be running live testing at Korea's top technology and entrepreneurship event, beGLOBAL Seoul 2015, on May 14th ~ 15th in Seoul.
Why You Can Believe Us
Hardware development, production and distribution is tough, but we are well placed to deliver on our promise. Below are some of the concerns we've identified, with our action plan to secure success.
Manufacturing: We have already contracted an established manufacturing company in South Korea, which is capable of producing our product to the time frames we have set. The facility has extensive experience in manufacturing IoT products and has been thoroughly vetted by our internal team and external advisors.
Investment: We have already signed deals with local investors who have made financial commitments to WAY Wearable and are helping us connect with strategic partners and future clients.
Strategic Partners:  We are currently in discussions with a number of world renowned cosmetics manufacturers in Korea. They are providing strategic support and will offer powerful global marketing assistance once we begin full production. Once final details of partnerships are confirmed, we will update.
Business Acceleration: Our company and product development is being accelerated by SparkLabs, one of Asia's most respected business incubators. We are proud to have been accepted into their current batch and with the help of their staff, mentors, and investors we are moving rapidly towards our goals.
Why we need your support
We have already raised finances to cover product development and testing, but to bring WAY to market we an additional USD $50,000 to manufacture the first 1,000 units and kick off our marketing activities. Once we have achieved this we will have validated our business concept with investors, with whom we have forged relationships over the last year. Achieving this mile-stone will also help us secure distributors. At this stage we would be able to ramp up to full production capacity.