iCrowdNewswire - May 13, 2015
STRANGERS- An original series by Mia Lidofsky

My name is Mia Lidofsky and I'm a writer/director/producer based in NYC, and a "maker of things" for Beachside Films in Venice, CA. I'm beyond excited and proud to share that I've been selected for the highly competitive 2015 American Film Institute's Directing Workshop for Women. As part of the program, I'll have the extraordinary opportunity of being in class and learning from some truly ground breaking and endlessly inspiring female filmmakers, such as Jill Soloway, Jamie Babbit, Angela Robinson, and so many more.  I will also be making the pilot episode of an original series I created, Strangers, about one young woman's experience renting out the spare room in her house via Airbnb.
Strangers is a personal story for me in many ways. Six years ago I moved to NYC (the day after graduating from college) to work on the set of John Cameron Mitchel's RABBIT HOLE.  I spent the following year hustling from set to set, on a vast array of films and TV shows including GOSSIP GIRL, IT'S KIND OF A FUNNY STORY, LOLA VERSUS, and DELOCATED.  I went on to assist director Jesse Peretz for two years on various sets, most notably two seasons of GIRLS, where I studied the world through his lens while starting to develop my own eye. I learned about finding humor in the darkness, and how important it is to tell stories that are raw and personal. 
In the Fall of 2013, I decided it was time to pursue my dreams of becoming a director, and realized that to do so I would need to leave the security of Jesse and the GIRLS family, and venture West. I didn't want to go, but NYC was simply too expensive a place to live while I tried to navigate the world of making movies on my own. I left my position with Jesse (who remains a close friend, mentor, and Executive Producer of Strangers), put my NYC studio up on Airbnb, and moved across the country. 
Airbnb changed my life. It has allowed a bicoastal lifestyle and the financial freedom to be an artist in a city that has priced out its artists. It has opened my heart to a myriad of people, places, and stories I would have never known before, all the while creating a safe way for me to feel home when I'm away from home. But that's not to say it hasn't been a wild journey full of funny and sad, sweet and painful stories. I'd like to share some of these stories with you now. 
Strangers is a dramatic comedy about one young woman,  Isobel Song, and her experience renting out the spare room in her house via Airbnb. Isobel is the assistant  to a high powered mommy blogger, and ironically spends most of her professional awake hours raising her boss's kids. In the throes of a messy and painful breakup, resulting from Isobel cheating on her long-term boyfriend with a woman, she can no longer afford rent and decides to become a host on Airbnb to generate extra income. With the help of her androgynous lesbian best friend, Cam, she navigates the most emotionally complicated time of her life, in terms of both her sexual and professional identities, all the while dealing with a revolving door of new guests in her home. This is a series about the intricacies of human connection, about the messiness and chaos of modern life, love, and womanhood, and what happens when strangers come together and share the most intimate of places: their home. Strangers is about the families we don't always get to choose—as well as the ones we do—and the beautifully serendipitous moments between strangers in a city where anything feels possible.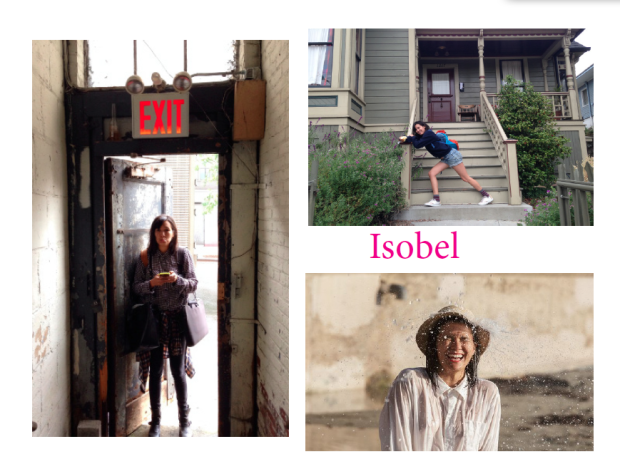 Over the course of season one, Isobel will open her home and heart to all sorts of strangers. Each episode will feature a new Airbnb guest, and together they'll explore the ever-evolving spectrum of sexuality, and the places where intimacy and identity collide.
During the first season, Isobel will explore the freedom and loneliness of her newfound single-dom, go deeper in her friendship with Cam, take steps towards leaving her job and its perks of security, and open her heart and mind to people she never imagined would cross her path, much less sleep in the room next to her.
Isobel will be propositioned for a threesome by honeymooners, hold dance rehearsals for "Annie" with a 10 year old and her manager mom, connect over the shared experience of loss with a man in town for a funeral, help a young woman find her birth mom for the first time, deliver a baby, go on a mushroom adventure with a man going through a mid-life crisis post-divorce, and so much more. 

As part of AFI's Directing Workshop for Women, I will be shooting the *pilot episode of Strangers in July, 2015.  It will be a 5 day shoot, with several locations, and an incredibly exciting and talented cast. 

The $15,000 will go towards making the pilot episode of Strangers this summer. I've assembled an extraordinary team to help me make this project, but we need money in order to put Strangers on the screen. So I turn to you, dear friends, family, and strangers, and ask for your financial support in turning this dream into a reality. 
This money will go to:
Locations
Equipment: camera, lights, sound
Props and wardrobe
Crew Kit Rentals 
Cast travel and housing
Post production: sound mix, color correction, and title design
Meals and craft services!!!

Be the first to watch Strangers, see the creative process of developing a series and bringing it to the screen through script drafts and look books, be a part of the action on set, be on camera, walk the red carpet and dance the night away with the cast and crew, or even become a member of the Strangers family!
Also, check out this amazing tee shirt and Strangers poster designed by my roommate/ life guru/ graphic designer extraordinaire, Teddy Blanks!: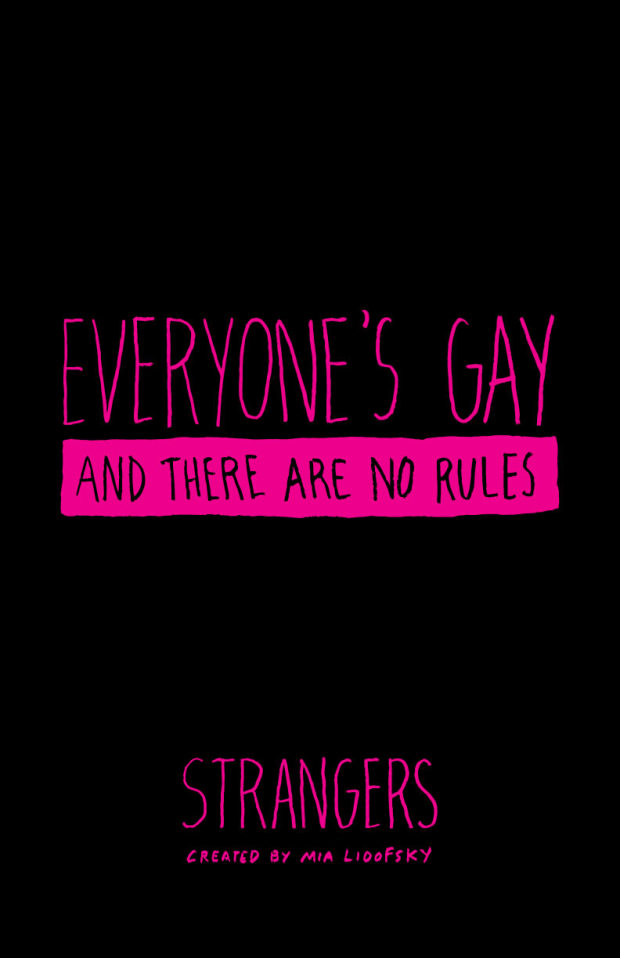 Anything and everything will help to get Strangers on the screen. I am forever grateful for any contribution, whether that be a donation, a hug, or helping me spread word about this campaign via Facebook, Twitter, Instagram.
Thank you for your support!!!

Mia Lidofsky- Creator/ Director/ Writer
After assisting and learning first hand from many great directors, Mia cut her teeth directing music videos. Her latest video for the song "Colors" by Genevieve Schatz premiered on NPR's All Songs Considered. 
Mia's first two projects with Beachside Films, PEOPLE, PLACES, THINGS by writer/ director Jim Strouse, and TIG, a documentary about standup comedian Tig Notaro, premiered at Sundance 2015. She is currently developing her first feature to direct for Beachside, as well as her original series, Strangers, to be made in the summer 2015 with your help. 
Although the industry has progressed leaps and bounds, there are still too few of our voices sharing and representing our stories. I am excited to be one more voice for women.
Zoe Chao- Writer/ Actor
Zoe will playing the lead role of Isobel Song.
Zoë Chao was born and raised in Providence, Rhode Island.  She received her B.A in Art History from Brown University and her M.F.A in Acting from UC San Diego.  TV credits: The Comeback, The Protector, Hart of Dixie.  Regional theatre credits include: La Jolla Playhouses' Sideways(dir. Des Macanuff), Surf Report (dir. Lisa Peterson), and its WOW Festivals' Our Town (dir. Tom Dugdale). Ensemble Theatre Company's Amadeus (dir. Jonathan Fox).  Chao has also worked with directors Christopher Guest, Les Waters, Ping Chong, Chris Ashley and was just nominated by the International Academy of Web Television as best female performance in a comedy for her work inGod Particles, a web series.
Chad Hartigan- Writer
Chad Hartigan was born in Nicosia, Cyprus and attended the North Carolina School of the Arts, School of Filmmaking. He wrote and directed his first feature, LUKE AND BRIE ARE ON A FIRST DATE in 2008, which premiered at the Hamptons International Film Festival and was remade for Latin American audiences in 2013 as LUNA EN LEO. His second feature, THIS IS MARTIN BONNER, premiered at the 2013 Sundance Film Festival where it won the Audience Award for Best of NEXT and went on to also win the John Cassavetes Award at the 2014 Film Independent Spirit Awards. He is currently in Germany prepping his next feature, MORRIS FROM AMERICA.
Jesse Peretz- Executive Producer
Jesse Peretz is a feature film and TV director.  He has worked as a producer/director on the HBO show Girls and Showtime's Nurse Jackie for the last several seasons.  Most recently he directed the pilot for the HBO show The Divorce and has just begun filming season 5 of Girls.  Jesse got his start directing music videos and commercials, and has directed several features: First Love, Last Rites (1998) based on the Ian McEwan short story of the same name;  The Chateau (2001);  The Ex (2007) and in Our Idiot Brother (2011). Jesse is an amazing cook, father, collaborator, and mentor.