iCrowdNewswire - May 13, 2015
Pit Cream Natural Deodorant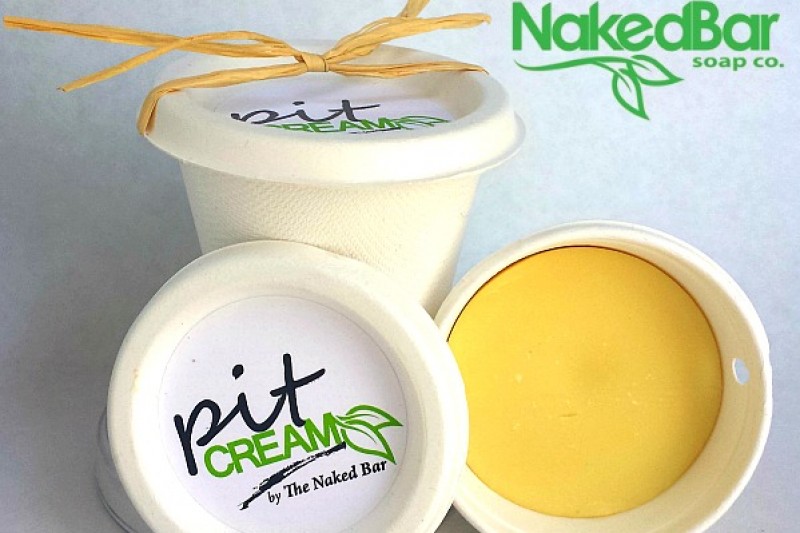 In 2011 Natasha Gaylon founded Naked Bar Soap Co. to begin selling her handmade soaps and bath and body creations. 
Jennifer Peets and Natasha had been friends for years and initially Jennifer wanted to do some marketing for the business. After realizing how much they could benefit one another a business partnership was formed.
The term "naked" means undisguised, blatant, and devoid of concealment. The ingredients in our products are not only recognizable but pronounceable and do not require a dictionary. We did not want people to second guess or question what an ingredient is or what it does. This is what we want the products in our company to represent – natural, completely obvious, not hidden or changed in any way.
On both the maternal and fraternal sides of Natasha's family a total of 6 women have been diagnosed with breast cancer.  Every day personal hygene products such as deodorant contain "questionable" ingredients such as aluminum.  Studies of the relationship between commercial antiperspirants and breast cancer have provided conflicting results. This was enough to give Natasha the inspiration to create a chemical free deodorant using all natural ingredients. 
 Sweating is actually a good thing! It helps to release toxins from our bodies and keeps us cool. Bad odor is a result of these toxins being released. We use natural ingredients in our Pit Cream that work to banish the funk! 
Coconut oil contains lauric acid which kills odor causing bacteria. The combination of baking soda and cornstarch makes for a naturally drying deodorizer. Shea and cocoa butter are used for healing and moisturizing properties. Pit Cream is lightly scented with Tea Tree essential oil which is used for its anti-bacterial and anti-fungal functions. 
Combining all of these ingredients together formulates the ultimate odor fighting cream – Pit Cream! 
Instead of the typical plastic containers of most commercial deodorants, Pit Cream is packaged in a susatinable and eco-friendly bagasse container. Bagasse material is made from sugar cane stalks. This makes our container recycable, biodegradable, and compostable. 
Little did we know Pit Cream would go on to be our best selling and most revered product. It has  been well received here in the Central Florida area and has generated a steady demand from consumers both locally and nationwide.  As of now, Pit Cream can be found in 4 retail locations in the Orlando area.
So why do we need you your help? We want to introduce our amazing product nationally and take our Pit Cream to the next level. Pit Cream will show people that natural deodorant works, smells great, and is affordable. We have done everything we can including using personal assets before we decided to seek financial assistance in order to achieve this goal.
The money raised for this project will help us:
1. Obtain a larger production space in order to expand retail/wholesale distribution. 
2. Procure a manufacturer that will help to locate/create a proprietary, eco-friendly container that is custom made for our product.
3. Trademark and register the name Pit Cream to establish full ownership.
4. Expand our Pit Cream to include a variety of natural scents.
Please check out our five star reviews for Pit Cream @
http://www.nakedbarsoapco.com/collections/205350-essentials/products/1949745-4-oz-pit-cream-deodorant
Thank you for your time and we appreciate your support.