iCrowdNewswire - May 13, 2015
Milla Says – Digital Signing Language Platform
Milla Says is a digital platform for communicating and learning based on user generated content.
The uniqueness of the product – an easy-to-use mobile, tablet and PC app
What the app does
Milla Says is a digital service including an app connecting the users with each other in a network around the child. The content of the service is user-generated and follows the child in the teaching process.
Administrators (parents) can create and share signs by using the Milla Says app on their favorite device or computer. Parents, grandparents, neighbours, friends and e.g. employees in the kindergarten can download the app and be granted access to the child's network. All people within the network can follow the child's sign teaching and be active participants. They will be notified when new signs are added and the child improves the understanding and can do the signs. The administrator has the privilege to set the access control to the different functions withing the app for all the members in the network. 
The app takes care of the day-to-day communication between kindergarten, parents and special education teachers. The child's teaching progress is monitored and different reports will be generated based on real-time data.
The story behind Milla Says
The first of December 2011, I became father to Milla. She was swiftly delivered into this world, and soon after, we learned that she had Down syndrome.
 In the beginning, our time together with Milla was characterized by a kind of shock and uncertainties of what the future would bring. Yet, Milla is now a little more than three years old, and is a beautiful and lively girl who runs around and takes life just as it comes.
The way to where we are today has been featured by much learning and many experiences, some good and some bad.
Try to imagine the feeling of your child not having developed sufficiently in relation to motor functions and language skills. Consider carrying the thought that it might always be like this and that she never might reach a level where she can govern her own life and answer for herself.
Imagine having a constant feeling of not having done enough for the development of your child, and that you therefore always carry a bitter feeling of powerlessness.
Based on these feelings is the driving force for always trying to do the utmost for our child. And for this we have found that there is a great potential for improvement in training materials in language and communication skills intended for Milla and other children with similar needs.
Today Milla uses signs instead of verbal language, while our goal is that she shall develop a spoken language. It took some time before she was able to make signs for what she wanted to communicate. We as parents also needed some time to realise this to be very useful to all of us, as we suddenly had a common ground for understanding each other. Every day Milla uses many different signs, and thus we communicate a lot with each other. Her older brother is also very eager on this, as he thinks it's great fun to communicate with his little sister.
We have found that a lot of the material for teaching the support language of signs to speech is not very well adopted for easy and motivated use. Most of what is available today are too cumbersome, while also based on paper.
Another challenge we have found is that communication and sharing of information between parents and pre-school is not optimal in relation to Milla's signs and their development.  
In October 2014 I therefore started the company Milla Says, because I wanted to make a difference.
Follow us on our way to a product that will ease the learning of language skills for many children with late language development.
What is Milla Says?

ISSUE: To master a language is the most important prerequisite for learning about the surrounding world and for well adopted functioning with others. The development of a language is considerably delayed by many groups of children, for instance by those with poor hearing, with the Down's syndrome, with autism and with other specific issues related to the evolvement of language skills. Most children are quite frustrated in a period of time when they are able to understand spoken language, but not able to express themselves. For most children this period last for a few weeks or months, while it for children with delayed language development can last for many years. They understand, but do not manage to express themselves, and therefore sometimes become obstinate and difficult in their behaviour.
POSSIBILITIES: Communication by the aid of signs is what is easiest for children. It stimulates them to learn new words and concepts and to understand the world. Later it stimulates their verbal language development. But for this to be most effective, all the adults around the child also need to learn the signs and get involved in the training and sign development. Millas Says is founded from the frustration of parents who have not had facilities to effectively learn and share signs with the child's network.
SOLUTION: Milla Says is an internet based application with unique possibilities to illustrate and organize the child's assortment of signs. Furthermore, it effectively connects all the grown ups around the child in a digital network, making them work together for the learning and employment of signs on a daily basis. It contains a series of modules which together are suited for increasing the child's and the surroundings' utilization of signs. Thus, Milla Says will stimulate the child's linguistic and general development and reduce the child's frustration of not being able to adequately express itself in communication.
USEFULLNESS: Milla Says might make it possible to increase the learning of signs both for children and adults while also improve the cooperation for this. As soon as a child acquires a new sign, Milla Says will immediately make it possible to apply it at home, at pre-school or with other relatives. It will save a lot of time from meetings and educational procedures because of its asynchronous coordination through the internet, so that learning and updating can take place when it suits the user. Milla Says might reduce frustration, increase life quality, stimulate the development of the child as also improve communication and cooperation around the child.
MARKED: Millas Says can be useful for many different groups of children. Still, there is not a big marked for such an app in Norway. Theoretically it might be of current interest for about 3000 children, and for about 1000 new one's pr. year. However, Milla says might with simple adaptations be used with other languages and hence in other countries, with an equivalent potential marked in relation to the size of the population. Therefore it is important that the first version of Milla says is made for many languages – especially for the Nordic and the more prominent European ones.
Short Summary – the solution
Learning – motivating – increased vocabulary
Learning Sign Language in a way that more easily motivates parents and the network. By more people learning Sign Language, the child will increase its vocabulary and ability to communicate with the surroundings. Motivating by improved visual teaching, by entertainment and by games.
Sharing – home – pre-school – the close network
Having the aim that as many as possible in the child's network shall learn Sign Language, the signs have to be shareable. This is especially important for the parents in the beginning. If the pre-school starts the work of producing signs, it will more easily motivate the parents and the close network. In addition, the service will make it easier to share information about the child's development of signs internally at pre-school, so that everybody will know what the child is communicating.
Evaluations – Reports – Messages
A good daily dialogue between the pre-school and the parents creates a more harmonic and confident relationship. This is important for the child. Furthermore, parents with children that has special needs often have a fear that their child will not be seen. They need to know that plans and objectives are followed up.
A daily and more smooth communication, by the aid of the app, will create this confidence. One will by this learn to know that the information one gives out is received and apprehended by the right person, and also that one as parents receives information about how the day has been.
The evaluations are to ensure that the child is developing in accordance with certain common objectives, from month to month and year to year. They will ensure that the development of language, motor functions, social behaviour etc. are followed-up, while also give assurance to the parents. In addition, it would be good to evaluate the child's development of signs, to see if special measures ought to be made and if it is progressing in the right direction.
Making better solutions based on existing knowledge
The importance of signs to speech and the value of involving the child's surrounding network have been subject to research for more than 30 years. Many studies show that children with the Down's syndrome who had received signs to speech training at the age of 6 – 36 months in average used more words when they were three to four years old than the comparison group who had not received signs to speech training.
Competence and experience are available, yet we believe that there is a want of a simple and motivating solution to learn signs to speech.
Networking is one of the cornerstones of the well-known Karlstad model of research on signs to speech. In this, regular physical meetings of the network, to share experiences and discuss the development of the child, is emphasized and considered important. This includes among others sharing of experiences related to the development of signs, new signs and prospective signs. 
What we want to do is to take the essence of these procedures and make them digital. Then we will not be dependent on time, place or money from the government to make the employees in pre-schools available for meetings.
The development of the project
Having for some time searched for optimal solutions to teach spoken language based on signs, I started a process for creating this myself.
After having made sketches of functions, notes and specifications on napkins, notebooks, case papers and appointment books for two years, while I was fully employed in a Norwegian hosting company, I found that the process took too long. 
By the frustration and desire for Milla to have a product that really could help her, while also because of a growing network, I finally concluded that it was now or never. On September 2014 I quit my job and started developing the product Milla needed. Since then the network has been developed, while Innovation Norway, Bergen Teknologioverføring and others strongly have contributed from the sideline with competence, economy and the building of the network.
The sketches have developed concurrently with user testing and presentations. They have evolved on the basis of my preferences and from dialogues with parents, grand parents, pedagogues and pre-schools around in Norway that has children with late language development. But also, and not in the least, from the answers of more than 100 parents who participated in a survey, which in addition confirmed that there is a strong need for such a product.
Today I have gathered a strong working team of competent persons, including two highly qualified enthusiasts. I have delegated the responsibilities for the design of the product to Are Vindenes on UX/UI design, who has more than 15 years of experience in the field. Furthermore, I can lower my shoulders in respect of the programming and support of the product, as this is going to be done by Runar Brøste, a great programming expert. We also have engaged friends, as the movie and television company Myreze, who will make the presentation movie for Milla Says and the design company Limedrop, who will do all the profile designs.
What is the significance of your support for the implementation of Milla Says?
GOAL 1: 200 000 NOK
To be able to produce a basic product of value to the target group, we have a budget of 200 000 NOK.
If we manage to achieve this budget target, we can start making something that can be helpful to the target group, and therefore be tested in practice. In addition, it will give us necessary owner's capital to apply for support at Innovation Norway, among others. It will all together give us an economic foundation invaluable to realize Milla Says. If we, however, don't achieve the minimum budget target at Indiegogo, the way to realization will be more difficult.
What are we ready to deliver by a start budget of 200.000 NOK?
Estimated delivery time for the pilot version: August 2015
 Modules for
making signs
sharing signs with a network
a collaboration-platform for day-care centers / schools and their professional networks
a common platform for parents and their private network
a sign bank
The pilot version with these modules is being made
only for smart phones and the operative system iOS or Android, depending on what the majority of the test persons have
only in Norwegian
THE OBJECTIVE 2: 250 000 – 400 000 NOK
If we are able to achieve more than the minimum budget target, we can implement more functions already in the first phase.
Estimated delivery time for the pilot versions: September 2015
Modules:
message journal for daily communication between home and day-care center /school
a report function describing the child's language development
the service also made for tablet computers, both iOS and Android
a pilot version both in Norwegian and English
OBJECTIVE 3: 600 000 – 800 000 NOK
If we are able to achieve more than three times the minimum budget target at Indiegogo, Innovation Norway or one or two external investors, we will also start developing several report solutions and not at least, fun and educational games based on signs from Milla Says. Moreover, it will make the international launch possible already in 2016.
OBJECTIVE 4: 2 000 000 NOK
This is the total financial requirement to implement the solution
in its totality
on all mobile platforms
for all operative systems
on a website
in a Norwegian, English, Spanish, French, German, Portuguese and Russian version.
Progress plan dependent on the level of financing
By reaching the budget target of NOK 200 000, we can immediately start producing a minimum version, see description above.
3 weeks after the start of production, the pilot users will be able to use the product and partake in its further development based on their recent experiences in the pilot phase. We want to work closely with the users in all phases of the development and improvement of the product by using their feedbacks.
If we just achieve the minimum budget target from our crowdfunding project at Indiegogo, the development will start in the same way as it would with the maximum amount that we hope for. But in the latter case, there will be more potential for creating more modules at an early phase.
In addition, all contributions increase the possibility for more support from Innovation Norway, which again will motivate investors needed to bring the product to its maximum level in terms of content and user friendliness. Pilot users contributing financially through our crowdfunding project are also important by demonstrating that there is a market for the product, while it also might help us making it better.
Perks
We want everybody contributing through the crowdfunding of Milla Says to receive something in return that they will appreciate, because they have helped realizing the product. This might for instance be to continuously be informed about the development of Milla Says or by becoming a pilot user, and thereby personally contribute to further development of the service. We also have packages giving a twelve month to life time subscription on the full service. If you are one of the big contributors, we can discuss adaptation of your package to your personal needs in terms of time length of the subscription or of how many private and professional users you want to connect to your network.
We also want to give you a visible symbol of your support and participation and have therefore made different key rings showing your role as a supporter of Milla Says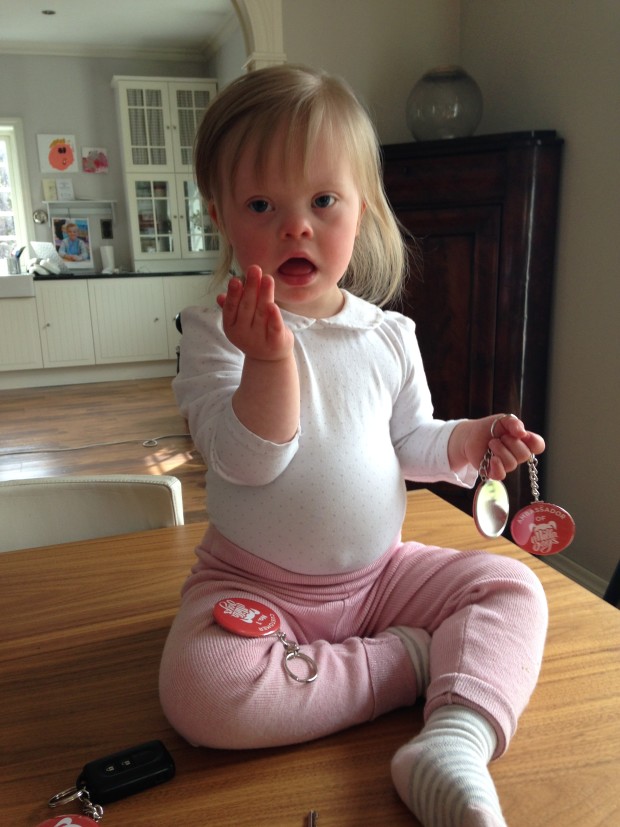 Tell the world about Milla Says.
Tell the world about Milla Says.
Please, help us make fuss about the Milla Says Indiegogo project.
Tell your friends about us, use the indiegogo share tool. Tell them to help Milla Says:)
Thanks