iCrowdNewswire - May 13, 2015
Bakeovers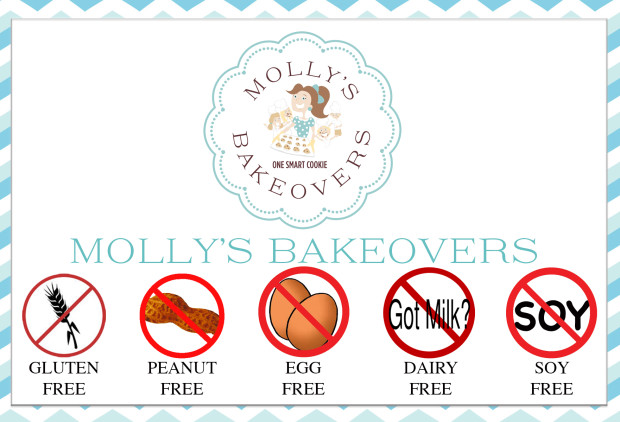 If you are trying to eat healthier, or are limited by what you can eat because of illness or food allergies, there is little on store shelves to choose from that isn't made with either tons of sugar, loads of genetically modified ingredients, artificial colors, preservatives, and more. That's especially true of treats. I want to change that.
My love affair with cookies started at an early age. Some of my happiest memories are of making cookies from scratch with my mom.
I wanted to share those same memories with my four kids, but I was eager to make something they would love, with ingredients that would love them back. I wanted to make them a treat that I could feel good about giving them, not guilty. And one that was safe for my kids – all of whom have food allergies.
And my kids are not alone….
I couldn't find a treat that tasted great, packed a nutritional punch, while being free of the top food allergens – gluten, peanuts, dairy, egg, and soy. So I set out to make over – or bake over – my favorite baked goods, starting with cookies. With that, my first Bakeover was born…One Smart Cookie!
Bakeovers are made from only natural ingredients, nothing genetically modified or processed. And they're free of gluten, peanuts, dairy, egg and soy. Bakeovers' One Smart Cookie tastes so good that you'll never know they're good for you! You'll reach for another. And another. Without the remorse.
We took our cookies to anyone who would taste them – with or without food allergies. Friends, strangers, retailers, chefs – anyone with taste buds and an affinity for a good chocolate chip cookie. To read what others have to say about our cookies, please visit our Facebook page at https://www.facebook.com/bakeovers.
To date, we've accomplished the following: 
Finalized & Tested our Recipes until we had one that was fantastic
Completed Food Analysis & Secured FDA Approved Food Labels
Obtained UPC Product Codes necessary for selling the cookies in grocery stores and other retailers
Designed Product Packaging
Lined up Initial Grocer Accounts
Set up an eCommerce Web Site for when we launch
Sourced Ingredients from reputable suppliers who provide only natural ingredients that have not been genetically modified and are not produced with any of the top food allergens (gluten, peanuts, dairy, egg, and soy)
We need your help for the home stretch – building an allergen free commercial kitchen in which to make 
Bakeovers
. There are no allergen free commercial spaces – we need to build one and our goal will enable us to acquire the equipment and open a space. Every dollar above our goal will go towards third party certification to further ensure the safety of our facility.
Please consider backing our campaign to raise the bar on the foods we eat. We are incredibly appreciative of any support you can give. And if you'd consider sharing our story with friends and family via email, Facebook, or other social media, you would really help us to make it possible to open an allergen free commercial kitchen in which to make Bakeovers.
Thank you!
Bakeovers is committed to supporting those in need, and will donate a portion of every bag sold to local food banks and soup kitchens.