iCrowdNewswire - May 10, 2015
WALLET DRONE – World's Smallest Quadcopter
Tiny Quadcopter Docks and Charges INSIDE of a Wallet Sized Controller that Fits In Your Pocket!
Axis Drones™ of Rochester, NY (a division of Morrison Innovations) is proud to introduce the Wallet Drone™ – World's Smallest Quadcopter™ – a drone so small it fits INSIDE the wallet sized controller, which fits perfectly inside your pocket!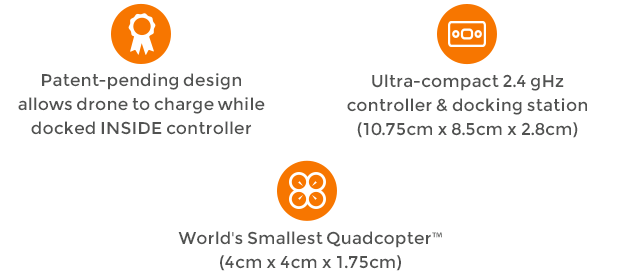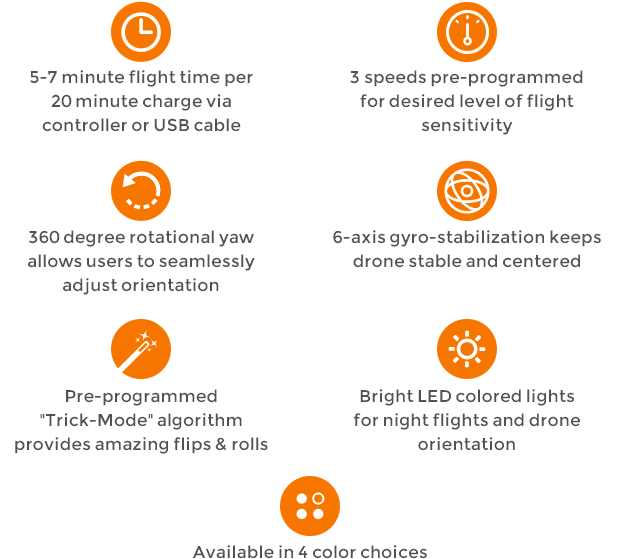 We have designed the smallest, most compact quadcopter and controller that will allow you to have fun and practice full flight mechanics everywhere you go!

We asked what you wanted to see in a drone and you told us you wanted a drone that you could take anywhere-one that didn't require a bulky carrying case

You also  indicated a desire to be able to charge the drone on the go
The Wallet Drone combines both ideas into one design: a compact controller that docks the World's Smallest Quadcopter™ inside of its case and charges the drone without the need for wires or access to a USB port.
With the Wallet Drone, you can enjoy full quadcopter flight anywhere you go: both indoors and outdoors-at the office, in the park, in your dorm and beyond!

The Wallet Drone is designed to be so small and lightweight that you can simply place it in your pocket, purse, backpack (anywhere a wallet would fit), making it ideal for everyday fun and practice!
Being able to charge the Wallet Drone on the go without wires, outlets or a computer allows you to take it on any type of adventure.
The Wallet Drone™ is able to charge while docked INSIDE of the controller, using 4-AA Batteries (not included) OR you can charge the Wallet Drone™ with the included USB cable.

The Wallet Drone comes fully assembled and ready to fly after a short 15 minute charge with 4-AA batteries in the remote control docking station or via the included USB cable.
Each Wallet Drone comes with the Drone itself, a wallet sized 2.4gHz remote controller/docking station, a USB charging cable and one spare set of blades.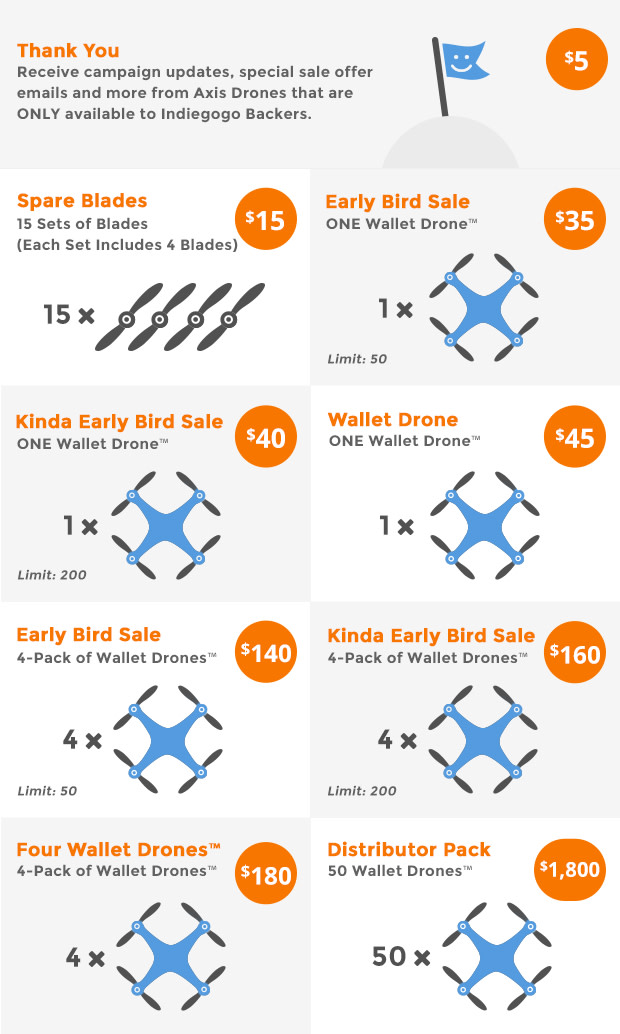 Choose from Green, Yellow, Orange and Blue!
At just 4cm, the Wallet Drone truly is the World's Smallest Quadcopter™
Even the controller has been designed to be small, slim and super portable!

We need a total of $11,894 for final tooling, packaging, production costs and quality testing to complete our first run of Axis Wallet Drones ™ and fulfill backer perks.

This is the second model in a rapidly growing line of inexpensive, feature-packed and fun-to-fly quadcopters and drones that Axis Drones has lined up for 2015.
The Axis Nano Drone for Beginners was successfully funded on Indiegogo in April and is currently in production and has already finished shipping to all backers as scheduled. 
By backing the Wallet Drone you are supporting a small business that is family owned and operated in Upstate New York. With your help we will continue to create more local jobs and grow our small business, it is of course, the American Dream!
Risks & Challenges:
This will be Morrison Innovations' seventh crowdfunding campaign (Axis Drones' Second), we are very familiar with the process, obstacles and challenges that we will encounter.
As always, we try to minimize any impact to you. Our schedule may be fairly aggressive, but we have accounted for time to adequately test and double-check everything so that you get an awesome new Wallet Drone ™.
We don't anticipate problems, but we recognize that product development sometimes hits snags with delays or iteration. We'll keep you informed every step of the way so that you know what to expect.
Other Ways You Can Help:
We know that contributing to the campaign isn't always a possibility for everyone- so if you believe in our product and the brand we are building, please contribute in other ways! We love all of the support we can get.
Share this project on your Social Media Profiles, Walls, Forums, Pages etc

Email your friends and family members that may be interested

Write to online tech sites and ask them to feature our campaign

Send us a message of support and encouragement 🙂
Press Inquiries and Media Kit:
For all press inquiries, media kit requests and wholesale options please send an email to Megan [at] AxisDrones [dot] com
Find This Campaign On