iCrowdNewswire - May 6, 2015
Patent for Multi Chic Design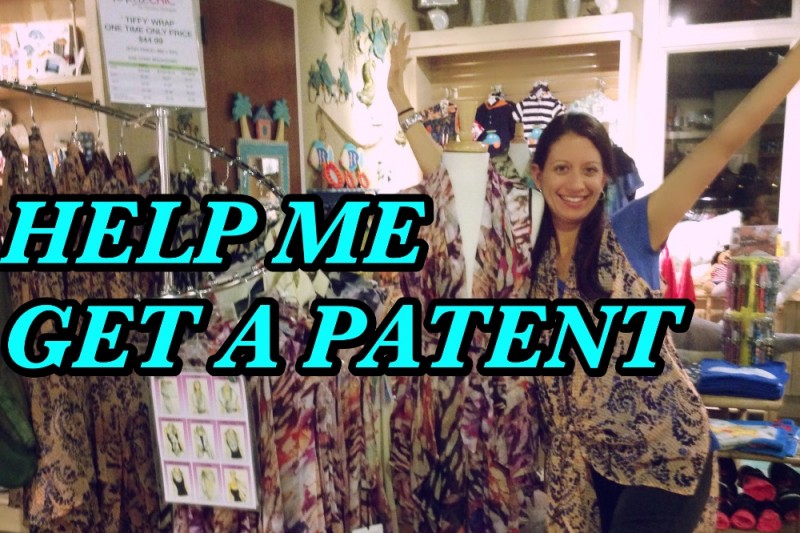 Hi!
First let me just say THANK YOU for taking the time to read this…it means so much to me.
My name is Christine DeAngelo and I am the Founder and Designer of the line, "Multi Chic by Christine DeAngelo".  It has been my dream ever since I can remember to start my own fashion line and sell my garments all over the world.  Last year I had the opportunity to do just that.  On April 26, 2014 I sold my first shipment to a store in SC and it blew out in 2 weeks! (click link below for quick video). 
In the following 2 months, I was able to sell a total of 68 pieces!!  Everyone went crazy over my idea to be able to wear one garment 20 different ways, people were even buying them in multiples, which told me, "ok now I'm on to something".  I decided at that point to stop the line and pursue getting a patent so that no one else in the market could copy and profit from my idea.
I began my search of looking into the various patent options as well as patent lawyers and I started to realize this was going to be a huge financial commitment.  Some lawyers wanted as much as $25,000!!!  Are you kidding me?!?!  Finally after a few months I found a lawyer who gave me a rough estimate of $5-6,000.  This was better but still very much out of my reach and so I put it off as long as I could hoping I would find a way to pay for it.
Now I am basically out of time as the USPTO requires that all patents must be filed within one year from the first public exposure of the product- which for me is Sunday April 26th!!!!  So I hired a lawyer and started the filing process and now I NEED YOUR HELP and I need it FAST!
I have less than ONE WEEK left to raise the initial $3,500 deposit needed to file for the utility patent.  This patent will help deter other designers and companies from copying my design and taking the profits for themselves as well as help me stand my ground in case someone does decide to copy my idea.  Eventually over the next 18 months, while the Patent Office is reviewing my file, I could, and probably will, end up spending close to $6,000 when everything is said and done.
I've never been the type of person to ask for help.  My whole life I've been very independent, always doing and paying for everything I needed on my own.  I worked very hard with my jobs so that I could make enough money and at the same time I always made sure to live within my means.  Even when I did need help with something I was often too prideful and afraid to ask.  I just felt like it was a sign of weakness.  But now I know otherwise.  To ask for help is a sign of STRENGTH, to be able to humble yourself and admit that you can't do it alone.  Plus we weren't designed to do things alone, that's why God created not only Adam but Eve.  Eve was Adam's helper (Genesis 2:18).
On top of this, I've always had a HUGE fear of failure.  I was afraid that if I started my own business it would fail and nothing would come of all my hard work and effort.  But now I'M DONE with living in a constant state of fear!  Matthew 6:33-34 says, "But seek first His kingdom and His righteousness, and all these things will be given to you.  Therefore do not worry about tomorrow, for tomorrow will worry about itself."
So I am humbly asking for your HELP.  I've been working for myself for the past 18 months trying to get my business going on my own but now it's time to take this line to the next level!  And your help can come in many forms, it doesn't always have to be financially 🙂
So how can you help?
By doing one or more of the following;
1. DONATE!!!
-Donate something, ANYTHING, even $5 means the world to me!
–SOLD OUT! Donate $50 or more and receive $10 off the purchase of one wrap (Limited to first 5 donors)
– SOLD OUT! Donate $100 or more and receive $20 off the purchase of one wrap (Limited to first 5 donors)
-Donate $175 or more and get a 'Tiffy' wrap for FREE! (Limited to first 3 donors)
– SOLD OUT! Donate $300 or more and get 2 'Tiffy' wraps for FREE! (Limited to first 3 donors)
***Multi Chic Tiffy Wraps retail for $85-120 USD***
SCROLL DOWN TO BOTTOM OF PAGE TO TAKE   ADVANTAGE OF THE REWARDS!
2. SHARE THIS PAGE!!!
-Take 2 minutes RIGHT NOW & share this page on social media through Facebook, Twitter, Instagram, Pinterest, Youtube, Linkedin etc!
-Take 2 minutes a day for the next 7 DAYS & share this page on social media
-Take 5 minutes and send this in an email to your closest 20 contacts
3. HELP ME SELL THE LINE!
-Email me if you know of a great boutique that could carry the Multi Chic Wraps!  The boutique can be anywhere in the world.  I still have inventory leftover so if I can sell them, the money can then go towards the patent.
-Purchase a 'Tiffy' wrap yourself!  They make great Birthday and Mother's Day gifts 🙂
4. PRAY FOR ME!  
-Your prayers mean more to me than anything so if you can't donate and you don't use social media, please pray!
With a little help and a lot of prayer I know we can make this happen!  I worked so hard to get to this point, I would hate for it to all go down the drain because I didn't protect my ideas properly.
Once the patent is filed, the next step will be streamlining my production so I can produce and sell more wraps, as well as expand my product offerings (I'm already working on the next design).  Eventually I plan to go on SharkTank to raise the rest of the money needed!
Your support is SOOOOO appreciated.  I feel so blessed and grateful that so many of you have already helped me get to this point, please continue to support me to see my dreams come true.
Thanks in advance for all your HELP & SUPPORT!
You can also donate via paypal if this is easier for you.  Just use the Transfer to Friends/Family option as there are no fees.  Please use my personal email address. 
With Love,
Christine DeAngelo
Fashion Coach/Designer/Image Consultant/Speaker
Blog: http://fashionangelwarrior.com/
FB: http://facebook.com/fashionangelwarrior
TW: http://twitter.com/FashionWarrior1
Pinterest: http://pinterest.com/fashionwarrior2
Youtube: http://youtube.com/fashionangelwarrior
Shop: http://etsy.com/shop/MultiChic
#Grateful #Blessed #MultiChicWrap #MultiChic #GoFundMyPatent